Identifying safe toys for pets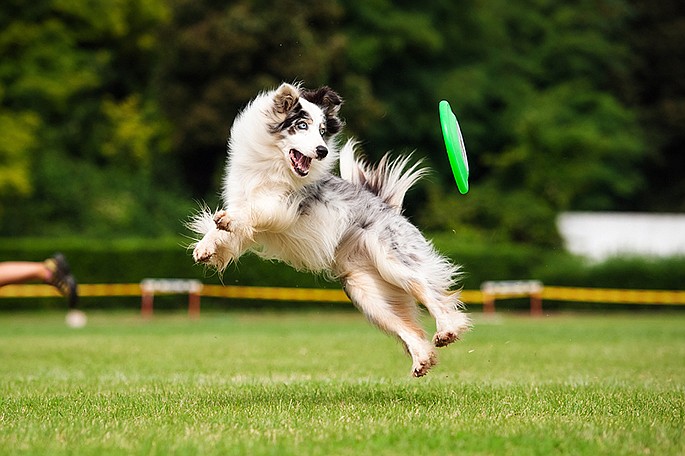 Having the right toys about can keep a pet happy and healthy, but it's important to put some thought into which toys to buy when shopping for pet supplies. The wrong toy can lead to gastric issues or choking.
CONTRIBUTED PHOTO/TEXAS A&M UNIVERSITY
by
CONTRIBUTED REPORT/TEXAS A&M VETERINARY MEDICINE & BIOMEDICAL SCIENCES
|
May 22, 2023 1:30 AM
It is never desirable to leave a pet at home alone, but when it is necessary, it is nice to know the pet will be entertained. But the price of entertainment can be high when the pet is left with inappropriate toys; some toys may cause choking or even require surgery to eliminate the problem.
Buying safe toys for your pet is a must in order to keep them safe from harm. The problem is that most people are not aware of the potential hazards that pet toys may cause their animal.
Fortunately, there are people like Dr. Mark Stickney, veterinarian at the College of Veterinary Medicine Biomedical Sciences, to lend their expertise. When looking for a toy for a dog Stickney recommends, "Don't buy anything too soft where the dog could bite off pieces and swallow them." Stickney warns that the dog could choke on these pieces or even swallow them. If the dog was to swallow the pieces, surgery may be needed in order to remove them. Toys that may be too soft are toys made of soft plastic or rubber; these materials are easy for dogs to bite through.
Stickney also recommends that toys not be too hard. He strongly suggests that dogs not be given animal bones. Bones are too hard, leading the dog to chip or even break its teeth.
Stickney advocates the use of raw hide chews. He believes that dogs enjoy playing with them and that they are the safest material for the dog. He also urges pet owners to buy toys that are appropriate for the size of their dog. If the dog is smaller, naturally the toy should be smaller; and the same holds true for larger dogs. Stickney proposes that a safe toy is one that the dog can easily hold in its mouth without its teeth puncturing the toy. Yet, the toy should not be small enough to fit down the dog's throat.
The best toys, in Stickney's opinion, are called 'Kongs.' They are tubes that are filled with treats in the center. They come in a variety of different sizes for different dogs, and are hard enough that the dog cannot chew through them. The tubes even have weight recommendations on their boxes, signifying the most appropriate tube for the weight of the dog.
Cats are a bit different with their toy preferences than dogs. They tend to like toys that move and are stimulating to the eye. Stickney admits that, "Cats tend to like toys that are free." Such as playing with small aluminum and paper balls. "Any toy that a cat can place under its paws and the toy springs out, cats will often love."
Stickney cautions that cat owners should not give their cats toys that have long strings. The cat may swallow the string causing choking. Cat's preferences on toys tend to be more varied than dogs, but most prefer round toys that move.
The best places to purchase these safe pet toys are places with a wide selection of pet toys, such as PetCo and PetSmart. These places usually have a large variety, and if a toy has proven to be harmful, they are good about taking it off the shelves.
Pet Talk is a service of the College of Veterinary Medicine & Biomedical Sciences, Texas A&M University. Stories can be viewed on the Web at vetmed.tamu.edu/news/pet-talk. Suggestions for future topics may be directed to editor@cvm.tamu.edu.
Recent Headlines
---