News Bites for May 19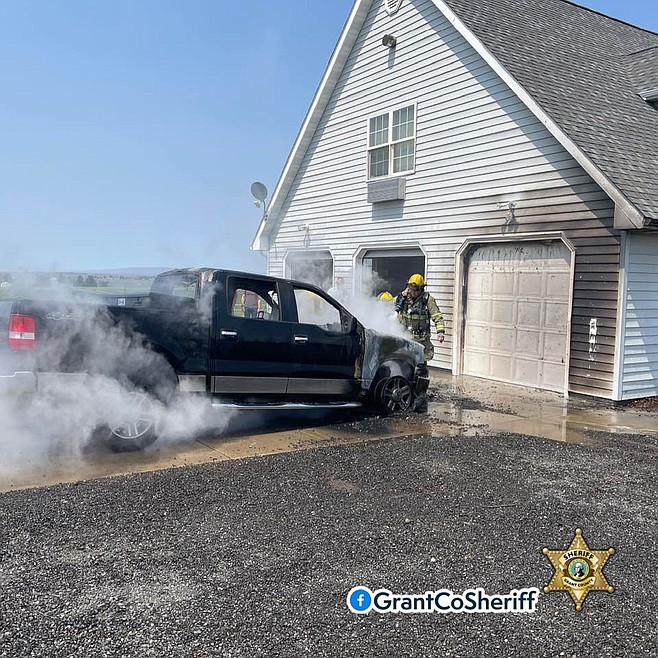 Fire crews responded toa vehicle fire just north of Moses Lake on Wednesday. No-one was injured and the fire did not spread to the home itself, though some smoke and suit may have caused damage to the home.
COURTESY PHOTO/GCSO
by
STAFF REPORT
Staff Report
|
May 19, 2023 1:30 AM
The information for the news briefs below were gathered from statements made by the agencies indicated.
EPHRATA – Grant County Fire District 13 released a statement Tuesday indicating that smoke currently in the air is primarily coming from wildfires in Western Canada. To check smoke forecasts, the department encourages area residents to keep an eye on fire.airnow.gov and https://bit.ly/FIRESMOKE1.
MOSES LAKE – Grant County Fire District 5 responded to a vehicle fire shortly after noon Thursday in the 8900 block of Road K.3 NE just north of Moses Lake, according to a statement from the Grant County Sheriff's Office. Nobody was injured in the fire and firefighters were able to keep the blaze from spreading to the nearby home.
The Moses Lake Police Department has said a kayak was found on May 16 near Montlake. The owner can claim the kayak by contacting MLPD at 509-764-3887 and providing details about the watercraft. Reference number: CR# 23ML07150.
ROYAL CITY – Deputies responded to a call around 8:10 a.m. for a burglary in progress at a home in the 11600 block of State Route 26 W. near Royal City. The homeowner had received an alert from a surveillance camera system showing a man entering and exiting the home. The homeowner had driven home and found the suspect's vehicle in the driveway. The suspect then drove off with the homeowner following. A deputy found the vehicle at a gas station in Royal City. The suspect was detained and was matched with the image on the surveillance footage. Deputies discovered the door to the home and the associated garage had been forced open. Erasmo Gutierrez, 47, of Othello was arrested on suspicion of second-degree burglary and held at the Grant County Jail. He told investigators he had entered the home to get a battery to jump-start his car, according to a GCSO statement.
MATTAWA – Grant County Fire District 8 will be holding a breakfast fundraiser on Saturday, May 27 from 7 a.m. to 11 a.m. Volunteers and staff will serve breakfast and take donations to help community members in need. The event will be held at the Desert Aire station at 7 Desert Aire Drive SW. Donations of $100 or more will earn the donor a chance to dunk Chief Hyndman in a dunk tank.
GCFD 8 also recognized volunteer EMT/IV Technician Elivia Greisen as the member of the week on May 8. Greisen has been with the district for 25 years and first volunteered as an interpreter and firefighter but became an EMT in 2007 and EMT/IV Tech in 2011. She also works for the Wahluke School District as a counselor and spends as much time as she can with her grandchildren and friends.
Recent Headlines
---