Mavs' Moore signs on to swim at Willamette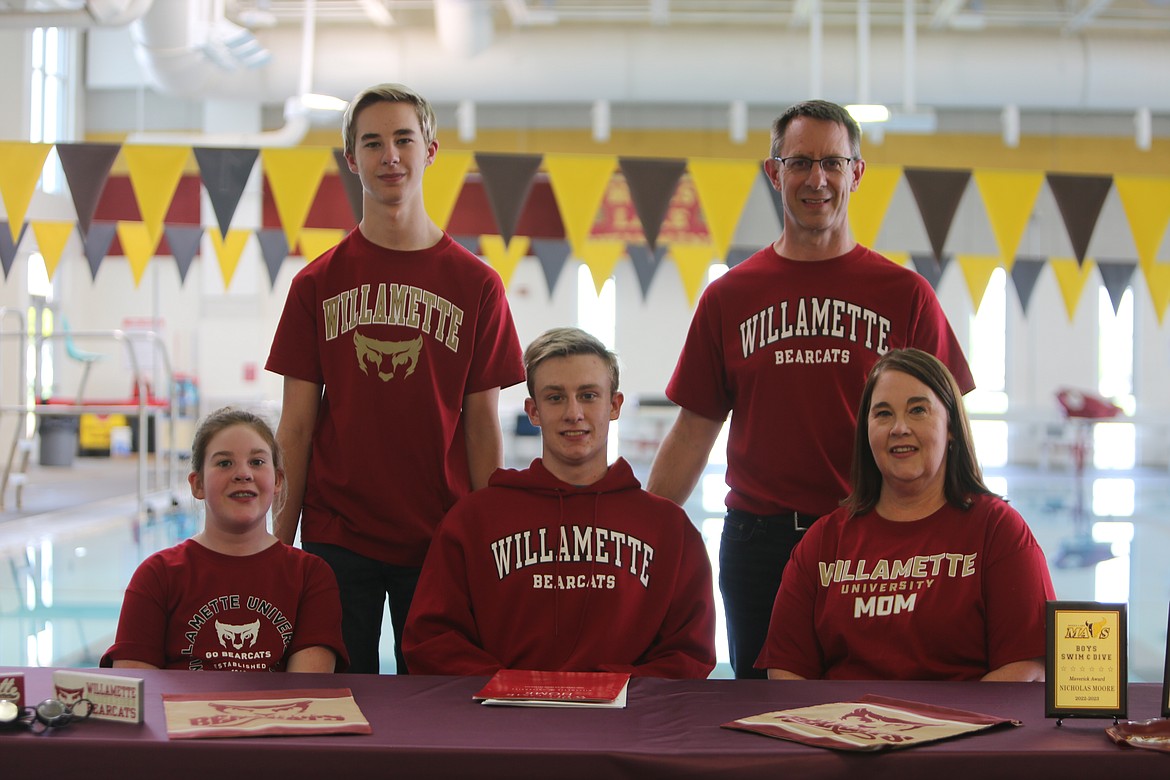 Moses Lake senior Nicholas Moore, center front row, signed on to swim at Willamette University in Salem, Oregon on Friday.
IAN BIVONA/COLUMBIA BASIN HERALD
by
IAN BIVONA
Sports Reporter
|
May 19, 2023 8:52 PM
MOSES LAKE – Maverick senior Nicholas Moore signed on to continue his swim career at the collegiate level on Friday, signing with Willamette University in Salem, Oregon.
"I'm definitely excited to get more into the upper distance that you don't see that often in high school or club," Moore said. "When you swim in college, you swim (events) like the mile."
The senior qualified for state in 2022 and 2023 and now carries on to the college level.
"As a team captain, the dude just understands how to make good choices," Moses Lake Head Coach Jason Hart said. "I think he's going to be a hack of a leader someday."
Willamette's location was a big draw for Moore, he said.
"It's a nice location, and it's still close enough to home where it's not going to be a two-day drive," Moore said.
Moore started swimming competitively when he was 11 years old after attempting other sports.
"I tried a lot of the sports at that time, like end of elementary school when you start to experiment – I tried football, baseball, all the other sports," Moore said. "I did swimming, and swimming was my favorite so I stuck with it for the past seven years."
It was the combination of individual and team aspects that eventually drew Moore to stick with swimming through high school.
"It was how it combined individual work with teamwork," Moore said. "Obviously you have your individual events – for high school, you swim two individual events, but you also swim two relays. A lot of it is working on yourself to better yourself, but you're also working to benefit the team as a whole."
Moore said his forte in high school was in the distance events, which he projects to swim at Willamette.
"I'll probably be swimming mostly the distance races, but they might try to plug and play me around to other more niche events," Moore said. "I definitely feel like that's going to be one of my main roles on the team."
The future Bearcat joins fellow Moses Lake swimmer Makhaela Parrish as Mavs moving on to swim in college. Parrish is swimming at Whitworth, Hart said.
"It's awesome," Hart said. "They take what they learn as little kids swimming for the Manta Rays, and take it college."
Though Moore will go on to make more memories in the pool at Willamette, there's one that stands out in his memory during his time with Moses Lake – a swim-off at the 2022 state tournament in Federal Way.
"We had a three-way tie for the last spot in the A final," Moore said. "We had to go swim it again. We barely won – we weren't expected to win that race. Somehow, we did it."
Ian Bivona may be reached at ibivona@columbiabasinherald.com.
Recent Headlines
---