Washington lawmakers pass, Inslee signs Blake fix
by
By ED KOMENDA and GENE JOHNSON Associated Press
|
May 16, 2023 6:20 PM
OLYMPIA — Gov. Jay Inslee on Tuesday signed into law a bill that keeps illegal drugs illegal but focuses state and local efforts and resources on treatment and recovery rather than incarceration.
"Both parties worked hard to reach this agreement," Inslee said during the late afternoon signing ceremony. "This is not designed to fill our jails, it's designed to fill our treatment centers."
The bill was crafted during a special session of the state legislature, and is the result of a compromise reached earlier in the week between Democratic and Republican leaders as they sought to bridge a gap between liberals who believe drugs should be decriminalized and conservatives who insist the threat of jail is necessary to force people into treatment.
The bill retains criminal penalties for drug possession, making it a gross misdemeanor punishable by up to six months in jail for the first two offenses and up to a year after that. But police and prosecutors would be encouraged to divert cases for treatment or other services, and the measure provides $44 million for diversion programs and to provide short-term housing for people with substance-use disorders across the state.
"This will actually get treatment accomplished," Inslee said. "This is a statewide solution to a statewide problem."
The Senate voted 43-6 in favor; the House 83-13 in favor.
Rep. Tom Dent, R-Moses Lake, said the fix to the Washington State Supreme Court's 2021 Blake Decision, which found the state's drug laws unconstitutional, is a start.
"Are we finished? No, we're not finished," Dent said. "We need more consequences than are in that bill. But that's how things are done here, one day at a time."
Lawmakers were under pressure to pass a bill not just because of the soaring addiction crisis, but because of a self-imposed deadline: A temporary, two-year-old law that makes intentional drug possession illegal is due to expire July 1.
Unless the compromise becomes law, drug possession – even of fentanyl and other dangerous opiates – will become decriminalized under state law. The only other state that has tried decriminalizing drug possession is neighboring Oregon, where the experiment is off to a rocky start.
Gov. Jay Inslee called lawmakers back to the Capitol for the special session after they failed to pass a new drug law last month.
Several lawmakers made emotional statements about losing close relatives to addiction. Sen. Ron Muzzall, an Oak Harbor Republican, broke up as he described how his niece, Rachel Marshall – the creator of the popular Seattle company Rachel's Ginger Beer – died last month.
"If we cannot offer hope for these people that are in the throes of addiction, what good are we?" he said. "I failed. My niece, whom I loved and had a great relationship, she hid that addiction from me."
Another Republican, Sen. John Braun, of Centralia, lost a nephew two years ago and said in recent weeks he has often thought of him and what the state could do differently to help others.
"If we want to save people's lives, if we want to help people – and I think everyone in this chamber does – we have to try something different," he said.
Sen. Yasmin Trudeau, a Tacoma Democrat, said she would support the bill as a first step. But she urged her colleagues to be ready to do more to shore up housing and behavioral health resources.
"We've got so much work to do beyond this bill to actually achieve anything that's in it," Trudeau said. "We're not going to achieve it with one bill. … And we are not going to achieve it by simply criminalizing those that are deep in their addiction, deep in poverty, and deep in pain and trauma."
Sen. Judy Warnick, R-Moses Lake, said the new measure gives more opportunities for treatment for people looking to overcome addiction as well as giving law enforcement and prosecutors more options as well.
"It's trying to be compassionate and find the right balance," Warnick said.
Under the agreement, the sale of drug paraphernalia, such as glass tubes for smoking fentanyl, is a civil infraction. But possession is not banned, and public health programs would be allowed to distribute such materials as well as test strips that can detect the presence of fentanyl or other substances in drugs.
Cities and counties would not be allowed to ban drug paraphernalia, but they would be allowed to regulate recovery residences and harm-reduction programs such as those that provide methadone or other medication to treat addiction, just as they regulate other essential public services.
In 2021, the Washington Supreme Court struck down the state law making drug possession a felony as unconstitutional because it did not require prosecutors to prove someone knowingly had the drugs. Washington was the only state in the country without that requirement.
In response, lawmakers made intentional drug possession a misdemeanor and required police to refer offenders to evaluation or treatment for their first two offenses. But there was no obvious way for officers to track how many times someone had been referred, and the availability of treatment remained inadequate. Lawmakers made the measure temporary and gave themselves until this July 1 to come up with a long-term policy.
Charles H. Featherstone contributed to this story.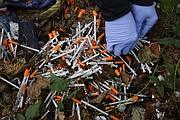 Recent Headlines
---