News bites for May 16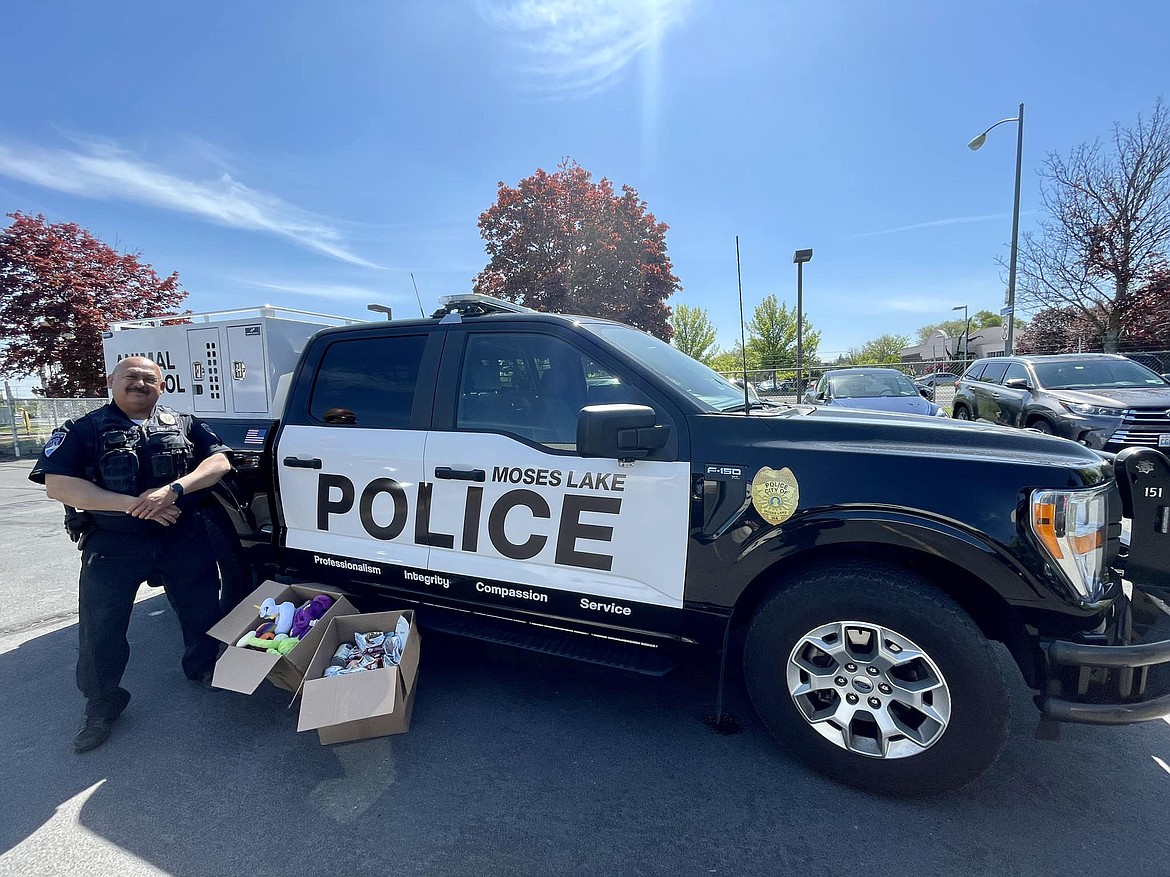 The Moses Lake Police Department said it is grateful for donations received that will help them with outreach with pet owners facing homelessness.
COURTESY PHOTO/MLPD
by
STAFF REPORT
Staff Report
|
May 16, 2023 1:30 AM
Below are a collection of announcements from first responder agencies that serve the Columbia Basin. These reports are based on press releases and media statements made by those agencies.
MATTAWA – Grant County Sheriff's Office detectives are investigating the death of a man whose body was found in an irrigation canal near Mattawa Saturday afternoon. A woman had walked into Fire Station 81, near Mattawa, to report a drowning. Deputies and firefighters recovered the man from the 23000 block of Road U SW. Measures were taken to revive him but they did not work. The man's remains are in the care of the Grant County Cororner's Office who will confirm the man's identity, notify his family, and perform an autopsy, according to a GCSO statement. Anyone with information on this drowning is asked to call 509-762-1160 and refer to case number 23GS05139.
GCSO has announced a car seat education event on Wednesday, May 24. The event is focused on helping parents understand how to properly use car seats to keep children safe in vehicles. The event will be held at 510 Government Way in Mattawa and will include assistance from nationally certified technicians. For more information, contact Suleyma Barahas at 509-488-5256 X7113 or via email at SuleymaB@CBHA.org.
EPHRATA – Grant County Fire District 13 has issued a statement advising caution as higher temperatures and dryer weather hit the Columbia Basin. Vegetation is drying rapidly and fires will start easily. With wind getting involved, those fires can spread rapidly and destroy homes, vehicles and crops and injure livestock and people.
RALSTON – The Washington State Patrol announced a one-vehicle, rollover accident near the intersection of SR 261 and E. Sackman Road, north of Ralston. The accident occurred at about 5:40 p.m. Saturday evening. The driver, Mia A. Rouleau, 18, of Washtucna was transported to Sacred Heart for treatment after her she left the roadway and overcorrected, ending up on the western side of the road as she was traveling north. She was not wearing a seatbelt, WSP reports. Rogers Towing collected the vehicle.
OTHELLO – A WSP announcement also detailed an accident involving three vehicles at about 2:40 p.m. Saturday afternoon at the intersection of SR 17 and W. Cunningham Road, just east of Othello. The first car, a 2017 Chevy Malibu driven by Amber A. Lisenby, 34, of Ritzville was crossing SR 17 while heading eastbound on W. Cunningham Road. The second vehicle, a 2013 Ford Edge driven by Bobby Cook, 67, of Moses Lake, struck Lisenby's car as she crossed SR 17 and he was heading south. This caused Lisenby's car to cross into the northbound lanes of SR 17 where it struck the third vehicle which was driven by Dakota Burgstaler, 31, who was driving a semi. Lisenby, Cook, his wife Brenda, 64, Moses Lake, and Burgstaler were all transported to Othello Hospital for treatment. All of them were wearing their seatbelts.
MOSES LAKE – The Moses Lake Police Department issued a statement of thanks to the Animal Rescue Friends Society of Grant County – also known as ARFS – for sharing donations of pet items from Pawsitive Alliance. The donations will be used by MLPD officers to help those facing homelessness with pets.
Recent Headlines
---