Rehaume selected as interim Othello police chief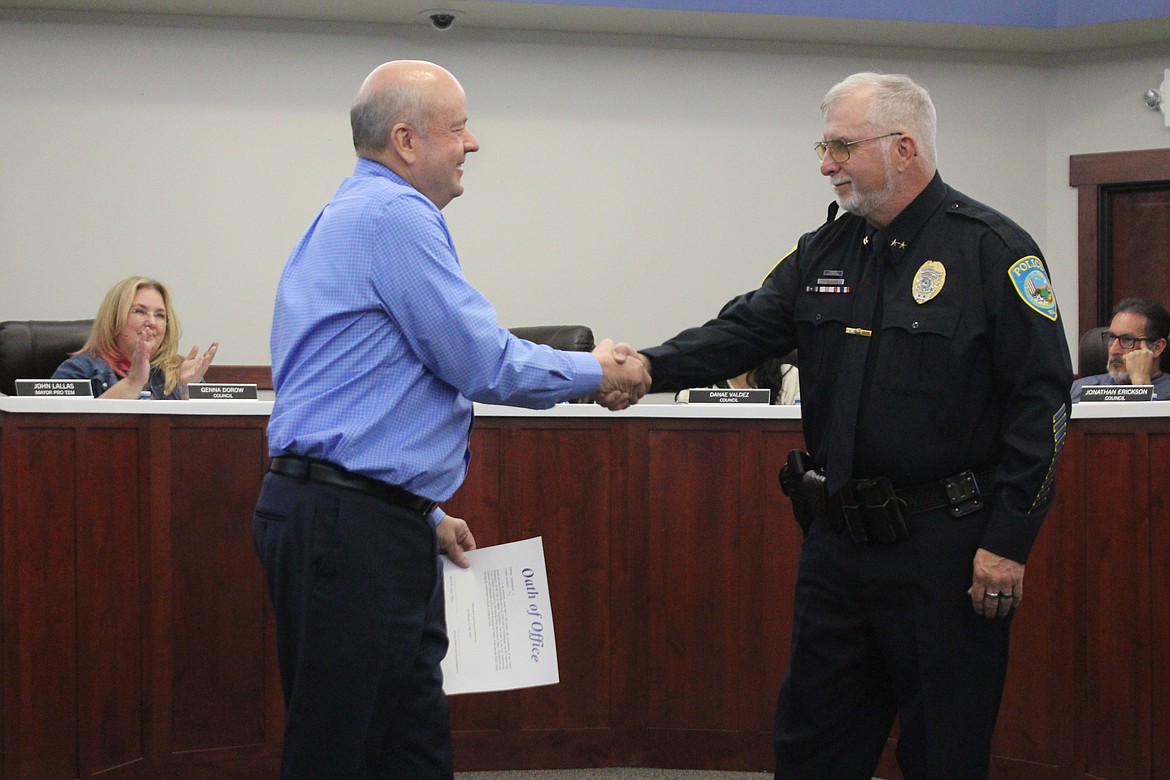 Assistant Othello Police Chief Dave Rehaume, right, shakes hands with Othello Mayor Shawn Logan, left, after Rehaume was sworn in as interim chief.
Cheryl Schweizer
by
CHERYL SCHWEIZER
Staff Writer
|
May 9, 2023 4:27 PM
OTHELLO — Othello Police Department Assistant Chief David Rehaume has been named as the interim chief while city officials conduct a search for a permanent replacement. Rehaume will take over June 1.
"He's been a 30-year-plus member of the Othello Police Department," said Mayor Shawn Logan prior to Rehaume's appointment by the Othello City Council. "This will be the second time in the last 10 years that we've sworn Dave in as our interim police chief. He certainly knows the department, he certainly knows what is expected and he knows what the responsibilities are."
Rehaume will replace Phil Schenck, who announced his retirement last week, effective May 31. Schenck has accepted a job as a teacher at Othello High School.
Rehaume expressed appreciation for what he learned from Schenck, and added there's still work to be done.
"We have several projects that are still in the works, more upcoming," Rehaume said. "We're always working toward success with our department, always looking forward to getting better. That's something that's going to continue no matter who is in that (chief's) office. We're always trying to be better."
He paid tribute to Schenck, and said the two of them share information on a daily basis.
"I can't thank him enough. He's been a great mentor," Rehaume said.
Logan also paid tribute to Schenck for his work.
"One of the things I think we're all grateful for as a council, we've become accustomed to Phil's excellence, and his putting together a police department, taking us from a small town community police department into something I think we're all proud of," Logan said.
City officials and residents were worried about gangs when Schenck started his tenure, and he helped the city address that, Logan said.
Logan will meet with mayor pro tem John Lallas and council members Corey Everett and Jon Erickson later this month to determine the procedure for finding a permanent replacement for Schenck, he said.
Cheryl Schweizer can be reached via email at education@columbiabasinherald.com.
Recent Headlines
---