Lots of opportunity in FFA, 4-H programs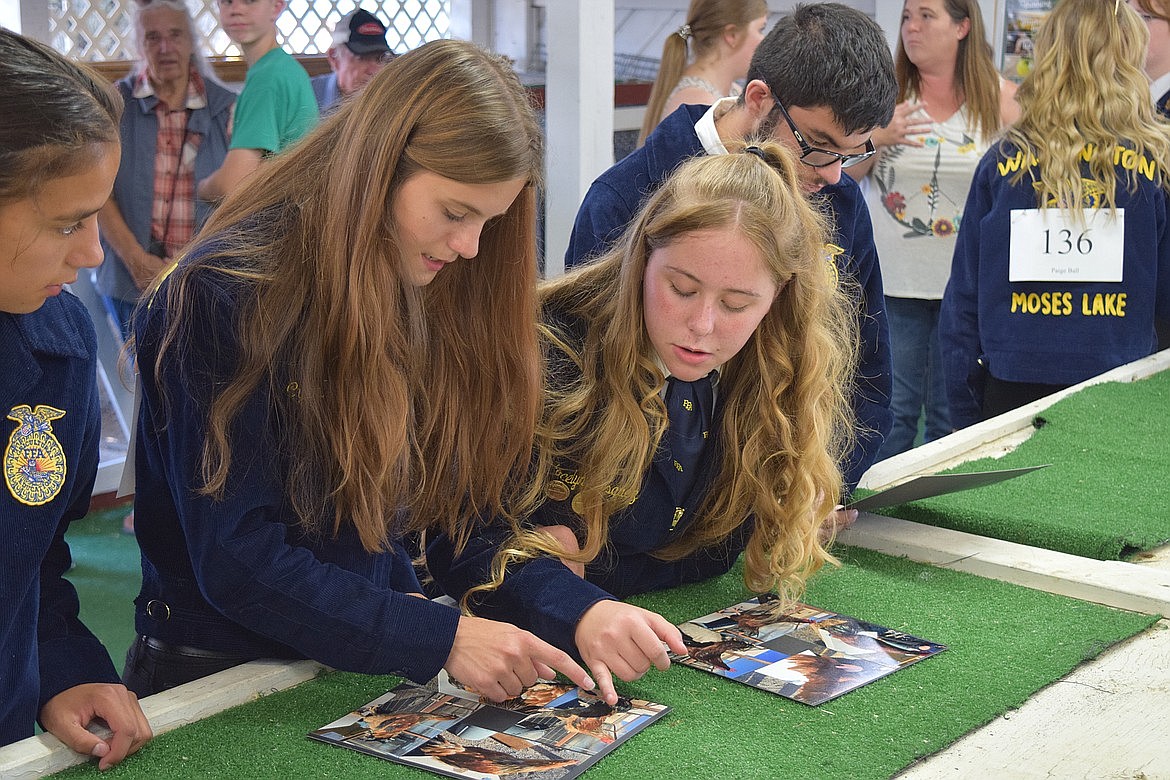 Medical Lake FFA advisor Jennie Wagner said FFA prepares participants to meet unexpected challenges – like the poultry show at the 2022 Grant County Fair, which was canceled due to bird flu. Poultry show participants, pictured, discuss which picture will show their birds to the best advantage.
FILE PHOTO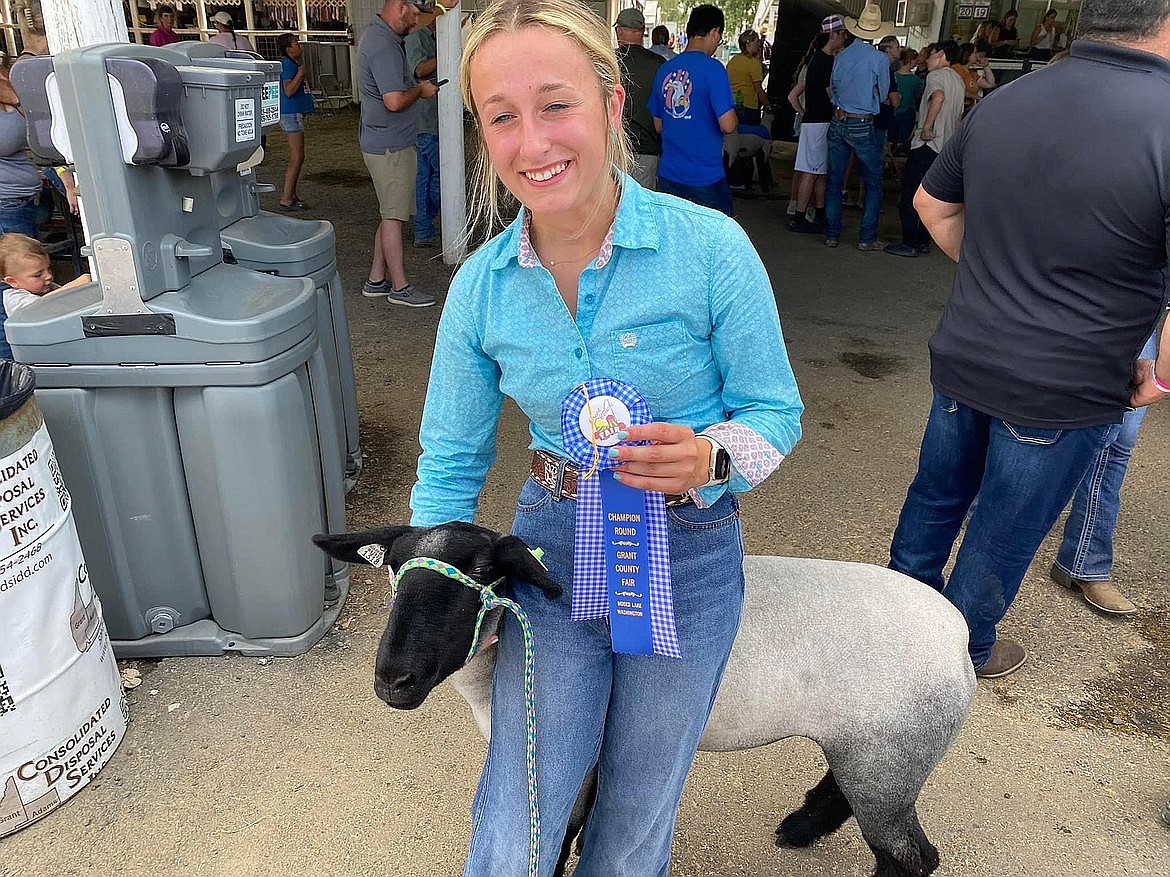 Moses Lake High School FFA member Kyia Hunter worked with her lamb during the summer, and the work paid off with awards at the 2022 Grant County Fair.
Previous
Next
by
CHERYL SCHWEIZER
Staff Writer
|
May 8, 2023 1:30 AM
MOSES LAKE — Medical Lake High School ag teacher and FFA advisor Jennie Wagner said some of the people in the Medical Lake HS FFA chapter will go on to careers in agriculture, and some of them won't. All of them, however, have picked up important skills through FFA - something that's also true of the young people in the 4-H clubs she used to lead.
"I think people, a lot of times, think FFA is just all those kids (raising) animals, or they wear those blue jackets," Wagner said. "But what it really does is, it allows them to try things out in a safe environment and have experiences they wouldn't get (in other clubs). Because it covers so many avenues, from public speaking to learning parliamentary procedure, raising animals, evaluating livestock, just tons of stuff."
Wagner said the 4-H program gives young people the same opportunities.
"You just start when they're eight (years of age) instead of 14," she said.
Scarlet Wilson, leader of the Small Town Ranchers 4-H group based in Ephrata and Soap Lake, said 4-H also provides an opportunity for young people to polish their social skills.
"All social media stuff goes away and they have to learn how to interact with each other. I think that's a really big thing too," Wilson said.
"Another huge thing that a lot of kids don't get to do is they get to be part of their community. "One of our funnest activities throughout the year is community service. We're always looking for ways to brighten something up or help someone out, and we have the most fun doing that because we're all working together when we do it," she said. "They're meeting with each other, engaging with new people and doing something positive. They always feel so good when we're finished with a community service project."
Leading by example
Wagner is a 4-H veteran herself.
"When I was a kid I did cooking and sewing. My kids all raised pigs and did horses and that kind of thing, but they learned the same skills. Giving demonstrations, public speaking, keeping records, all those things," she said.
"And it's also a chance for (young people) to explore and see what things might interest them," Wagner said. "They get to kind of find their path."
Moses Lake High School senior Kyia Hunter also took advantage of the options in 4-H, learning about photography as well as raising animals.
"I think it's a really good organization for kids to be a part of," she said. "It gives you a lot of opportunities to grow, because part of the 4-H idea is that the older kids should be helping the younger kids.
"And it's really interesting to see that dynamic in the barns at fair. Parents really aren't allowed to help, so the older kids have to help the younger kids. So it's really interesting to see the things that the younger kids will pick up and how they'll pass those things along when they're the older kids" Hunter said.
Various skills
Many FFA and 4-H participants will go into an agriculture career of some kind. Quincy High School senior Miles Lee was raised on the family farm and intends to keep farming. Hunter and QHS senior Brody Wallace (the son of longtime QHS ag instructor Mike Wallace) are planning careers in ag education.
Moses Lake High School senior Ian Cox, on the other hand, is planning a career in computer programming.
"I am nowhere close to a farm kid," he said. "My parents don't live on a farm, my grandparents don't live on a farm. There are farms around us, but we are not farmers personally."
Cox got a lot out of FFA regardless.
"You definitely learn a lot of things that you aren't expecting to learn," he said. "It's very cool."
Hunter said the FFA creed contest, which she first entered as a freshman, really sparked her interest in agriculture.
"That contest required a lot of studying about agriculture issues," she said.
She qualified for the state contest, and that prompted her to stay involved, she said.
"And (FFA) helped me with finding leadership skills, public speaking and that sort of thing," she said.
Cox is the Moses Lake FFA chapter treasurer, Hunter is a FFA chapter and District 9 officer. Wallace and Lee are state proficiency award winners and District 9 Star Farmers, completing a series of projects and tests that provided an extensive test of their skills.
Quincy ag teacher Rod Cool said earning those designations took a lot of work. He estimated about 4,600 hours for Lee and more than 3,000 hours for Wallace. That didn't, Wallace said, count the midnight calls.
As Wallace explained it, those are part of the reality of farming and ranching, the late-night phone calls that cattle had escaped and needed to be herded back home.
"So they both put in the time and work to get where they are," Cool said.
"It just starts to get easier and easier once you get more experience," Wallace said, "and it just becomes fun because you're not trying to learn how they want to do everything."
Something for all
Cox said FFA has taught him about an industry he might not know much about otherwise, and given him skills that can be transferred to any career.
"It taught me basic work skills, like be here on time, commitment (and) loyalty," Cox said. "For me personally, I think it's more than future farmers or people who want to go into the ag industry. It's also good for people who are going into other industries. I've still learned so much here that I wouldn't have learned in other places. I like it a lot."
"I think I've grown as a person, as a whole," Hunter said. "Time organization - leadership skills, definitely. I feel like it's just made me a well-rounded person overall. I've had so many opportunities to go places and experience different things."
The Medical Lake School District isn't really farm or ranch country, Wagner said, and the FFA program, along with her ag classes, expose her students to learn about an industry that otherwise might be a mystery to them.
"That is my mantra. That's what I always tell them, "I know you're not going to be a farmer. But if you can have some understanding of where your food comes from after you get done taking this (program), if you have some idea of what farmers are up against, then I've done what I need to do,'" she said.
This story first appeared in our sister publication, the Basin Business Journal. For more business and ag news focused on Eastern Washington, visit www.basinbusinessjournal.com.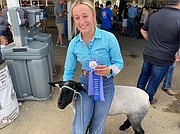 Recent Headlines
---