Moses Lake piano student honored for original composition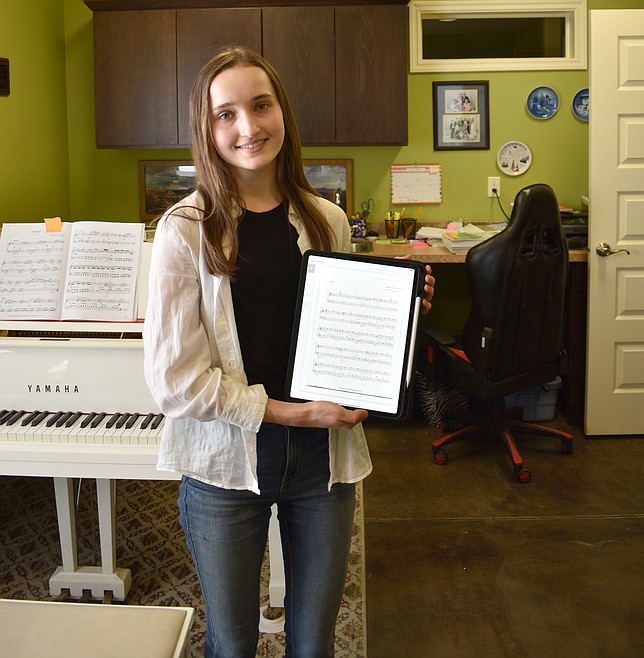 Moses Lake music student Dariya Karnafel holds up an image of the handwritten manuscript for her composition "Sea of Memories," which recently won second place in the Young Composers Project competition.
JOEL MARTIN/COLUMBIA BASIN HERALD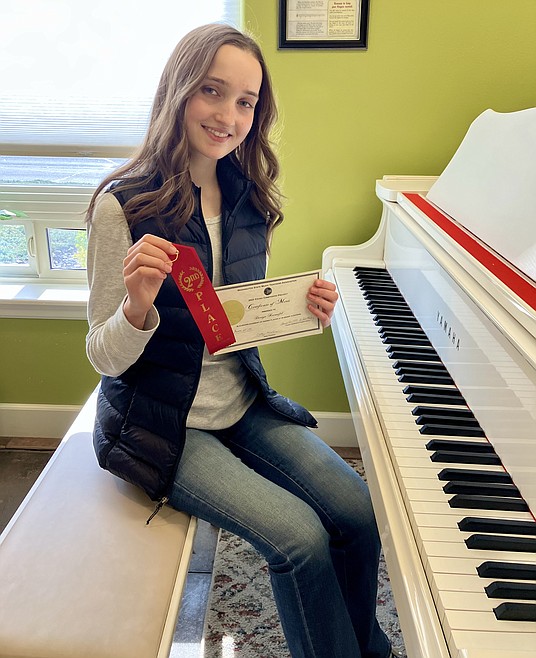 Dariya Karnafel sits at the piano and displays the award she won for her composition, "Sea of Memories." This year was Karnafel's second participating in the Washington State Music Teachers Association's Young Composers Project.
Previous
Next
by
JOEL MARTIN
Staff Writer
|
May 5, 2023 1:30 AM
MOSES LAKE — A Moses Lake High School senior was honored recently for an original piano composition.
Dariya Karnafel, 17, took second place in the Washington State Music Teachers Association Young Composers Project with her original composition "Sea of Memories."
"We do it every year and this is my second time doing it," Karnafel said. "And I wasn't really expecting that kind of place."
The Young Composers Project is open to students at various grade levels, according to its website. Each competitor begins by writing out their composition by hand, as well as making an audio recording of it.
"We take a picture of our manuscript, and then we submit it as a PDF," Karnafel said. "And then once they review it, they give notes to the teachers, and you can get advice from the professionals who review your music."
"Sea of Memories" had multiple inspirations, Karnafels said. The sea part was inspired by a family trip to Florida, where she saw the ocean for the first time, she explained. She was also going through what she described as an interesting time in her life, which also came through in the finished piece.
"I get these little melodies in my head," she said. "Sometimes I'll record them just so I don't forget them. And then at church, sometimes you get people asking, 'Hey, I'm gonna say this poem, can you play for me?' So you'll be thinking of things on the spot, and then some melodies stick to you."
Charles Halka, assistant professor of Composition and Theory at Western Washington University, judged "Sea of Memories" for the competition and said, "What a lovely piece! Your chord voicing at the piano are very clear- nice job. Your harmonic progressions are very logical and inevitable sounding. I love duality between D minor and D Major. Your middle section that goes through the descending fifths sequence is very appropriate. Congratulations on writing this beautiful piece."
Karnafel also conducts her church choir, she said. While she's passionate about her music, she isn't planning to make a career of it, she added. She's currently in Running Start at Big Bend and plans to enter the nursing program there.
Karnafel's teacher, Marina Munter, said that she tries to teach her students to go beyond merely playing.
"Sometimes piano teachers just teach (students to) play piano, to read notes," Munter said. "I taught in a music school in Estonia. In European music schools, we teach theory; we teach composition, choir and improvisation. So all that is just musical language. You have to not just read, but know more and experience more."
"I think that a lot of compositions, good pieces, come from not just people who know how to compose music from a basic formula," Karnafel said. "It has to be poured out with emotion. So maybe that's why I liked how this one turned out. I felt like a lot of emotion, now thinking back on it like, 'Oh, I remember, that's how I was feeling.'"
Joel Martin can be reached via email at jmartin@columbiabasinherald.com.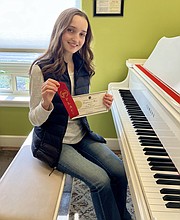 Recent Headlines
---