'The new Cape Canaveral'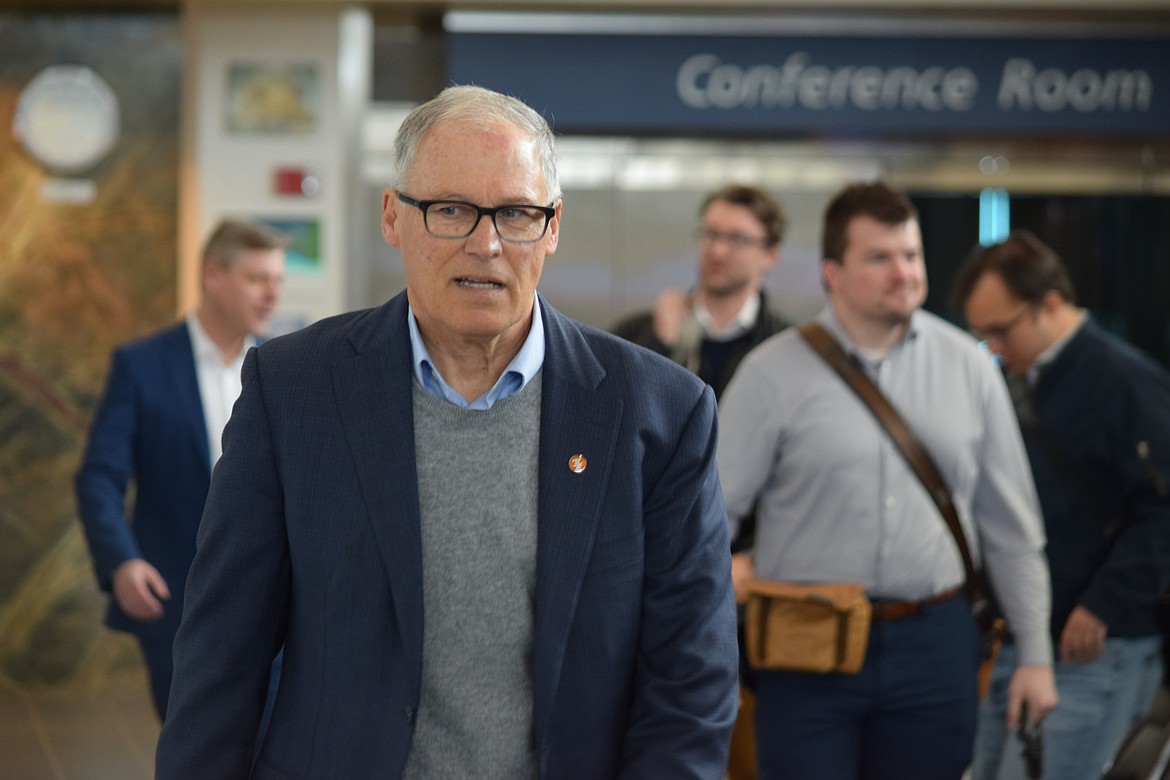 Gov. Jay Inslee walking through the terminal of the Grant County International Airport on Tuesday during a visit to meet local high-tech business leaders in Moses Lake.
CHARLES H. FEATHERSTONE/COLUMBIA BASIN HERALD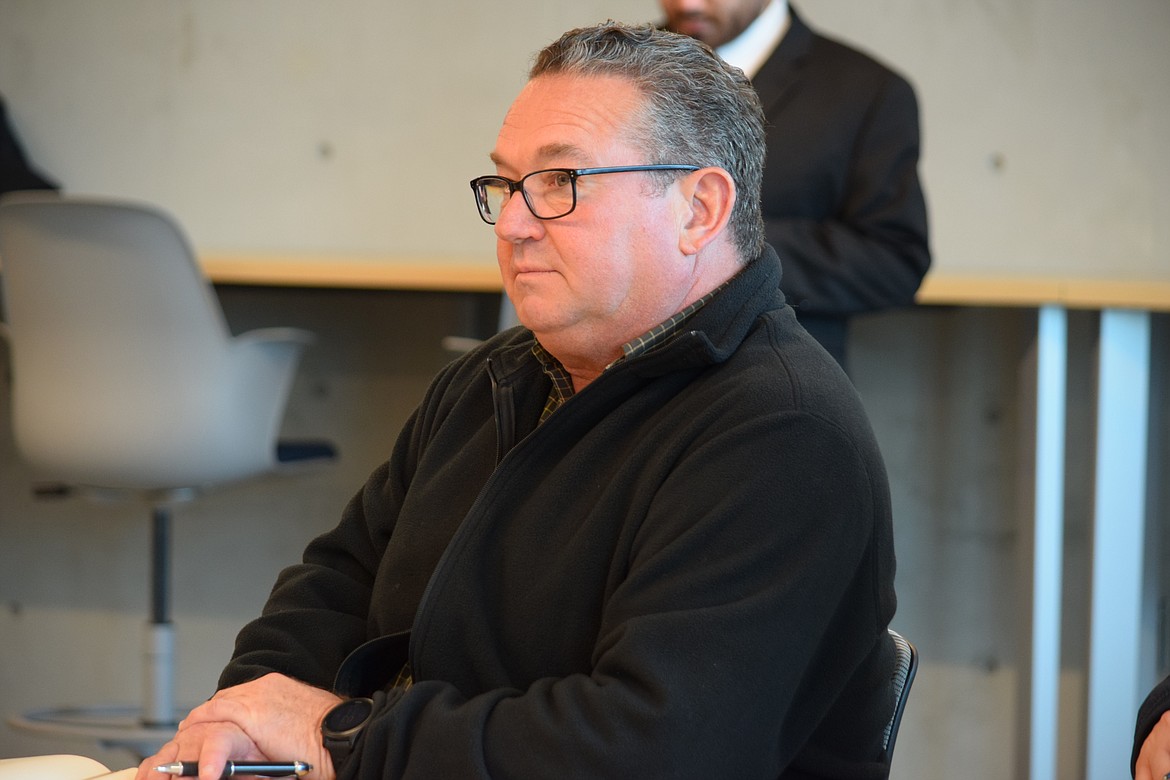 REC Silicon CEO and President Kurt Levens.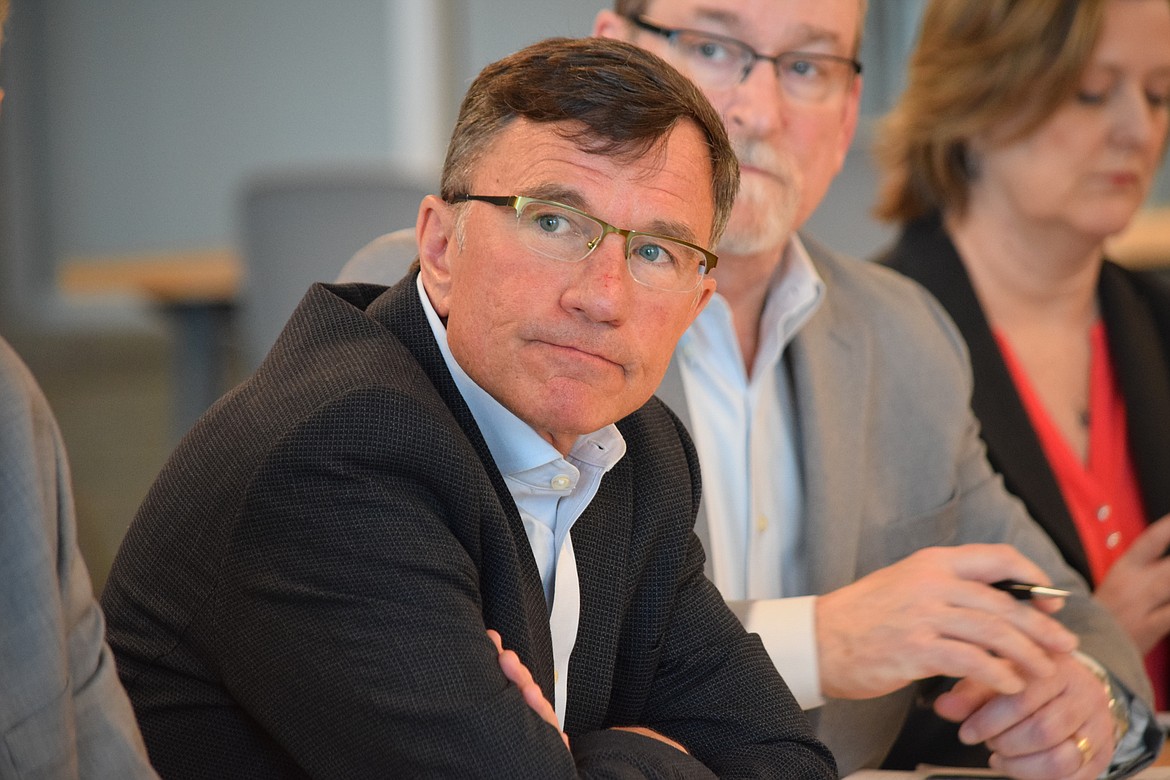 Group 14 Technologies co-founder and CEO Rick Luebbe.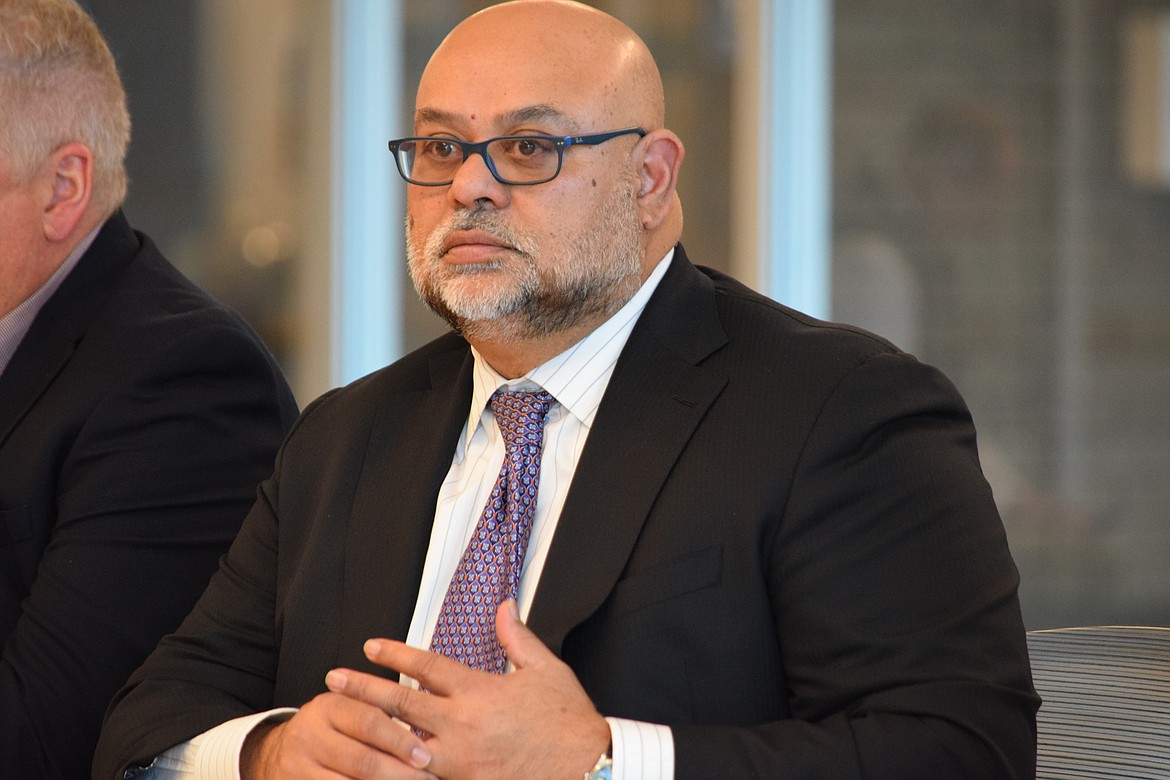 Sila Nanotechnologies Chief Financial Officer Warren DeSouza.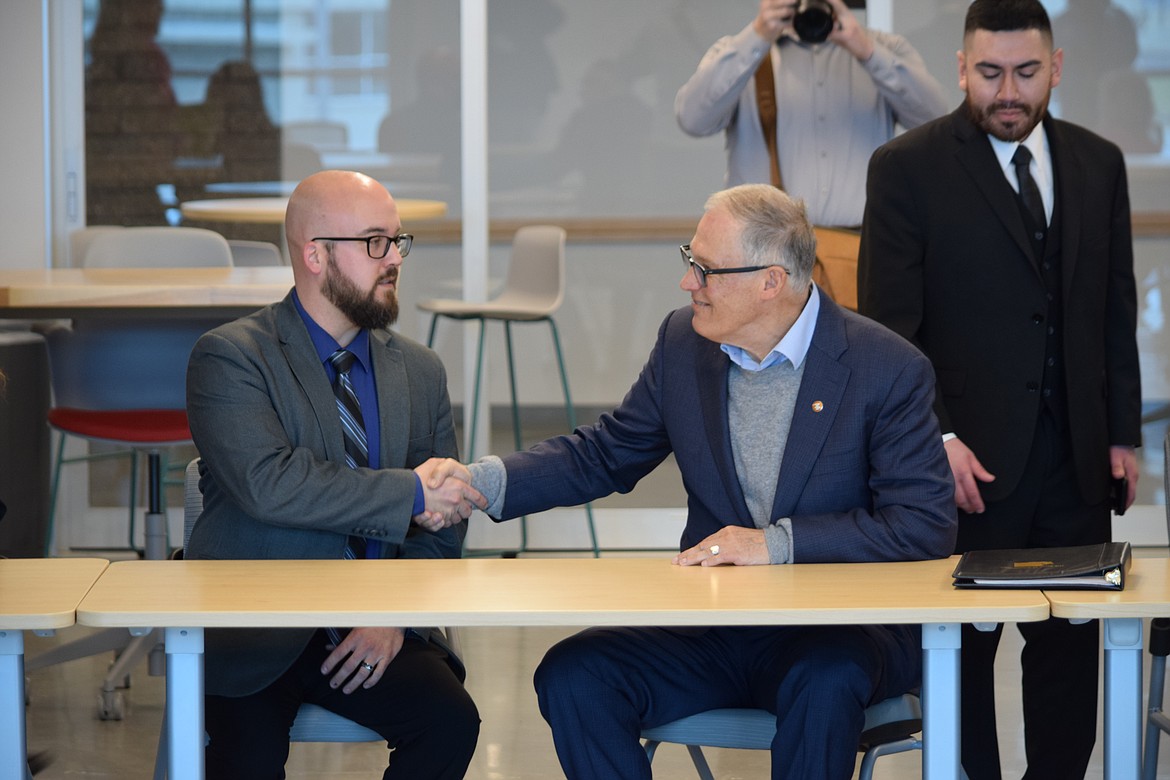 Governor Jay Inslee, right, shakes hands with Moses Lake Mayor Don Myers during a visit to the area Tuesday where Inslee sought to offer support for local tech companies.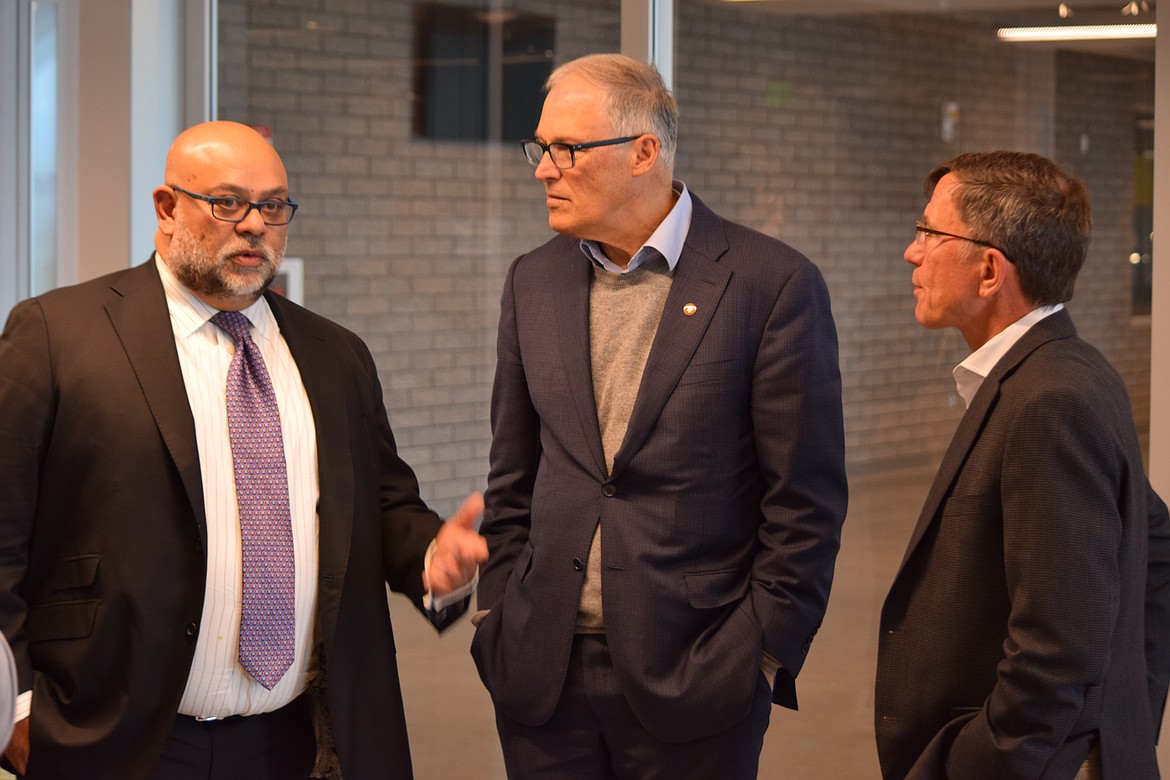 Sila Nanotechnologies Chief Financial Officer Warren DeSouza, Gov. Jay Inslee and Group 14 Technologies CEO Rick Luebbe talk after a roundtable on advanced battery technology at Big Bend Community College during Inslee's visit to Moses Lake on Tuesday.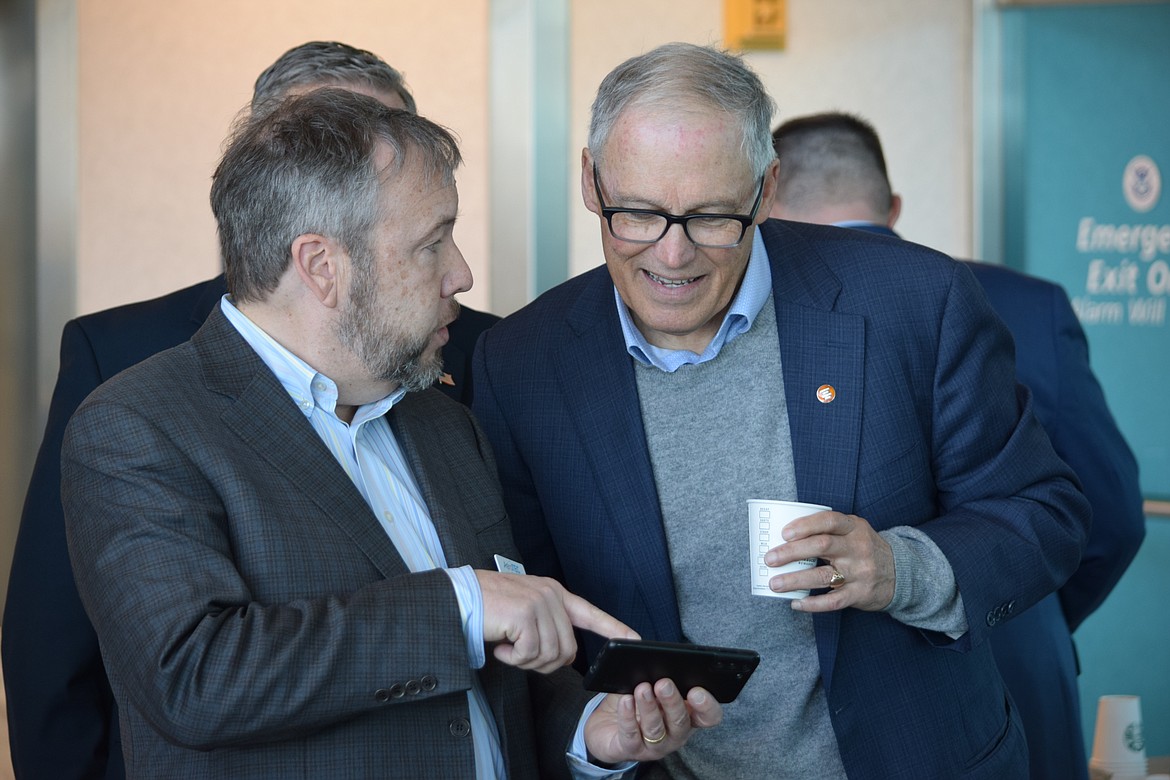 AeroTEC CEO and President Lee Human talking with Gov. Jay Inslee on Tuesday.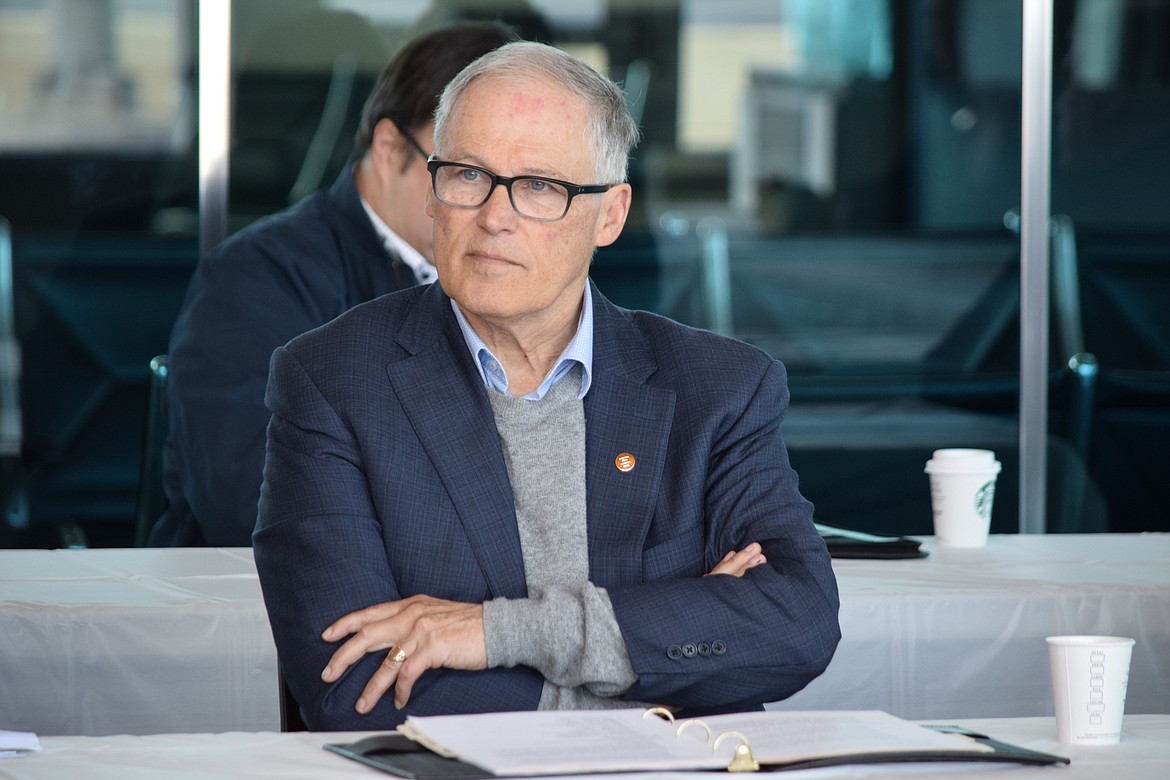 Gov. Jay Inslee in the departure lounge of the main terminal of the Grant County International Airport on Tuesday, where Inslee met with executives from AeroTEC, Eviation and MagniX as well as with the Port of Moses Lake and Grant County Economic Development. Known as "The Fishbowl," the lounge is frequently used for conferences and receptions.
Previous
Next
by
CHARLES H. FEATHERSTONE
Staff Writer
|
March 29, 2023 1:31 AM
MOSES LAKE — "How can we help you?"
It was the question Gov. Jay Inslee asked several times on Tuesday during a visit to Moses Lake to meet with the heads of several local technology companies in aviation and advanced battery technology during separate roundtable discussions at the Grant County International Airport and Big Bend Community College.
Inslee said he was impressed with the new technologies being pioneered by companies working in Moses Lake, especially by the recent tests of all-electric aircraft and by the commitment of two major battery startups to produce silicon-based components for the next generation of rechargeable lithium-ion batteries.
"When I was a kid, the most exciting place in America was Cape Canaveral. Dreams were taking flight," Inslee said during the roundtable talk at the GCIA, adding that much of the research, testing and development in Moses Lake is the equivalent of the 1960s space race.
"This is the new Cape Canaveral," the governor said of Moses Lake. "And that's really not too much of an overstatement."
But like much of the science and technology work during the Cold War and the Space Race, Inslee said things like silicon batteries and electric aircraft and a planned hydrogen-fuel hub will need significant state support — particularly in the form of infrastructure investment, tax breaks and incentives to build homes and apartments for workers.
"What do you think your challenges are? What do you think is the best thing Washington state can do for you?" Inslee asked.
For Warren DeSouza, chief financial officer for Alameda, California-based Sila Nanotechnologies, which has bought a large facility on Road N NE in Moses Lake and is converting it to make silicon anodes for the next generation of rechargeable lithium-ion batteries, it comes down to making sure there's enough electricity, an educated workforce and housing for as many as 1,000 new workers and their families.
"I think the more power we can get here, whether it's us, or (Group 14 Technologies) doing something similar, or REC Silicon which will be starting up where we'll get our feedstock from hopefully, this area is going to need a lot more power than it currently has," DeSouza said.
Rick Luebbe, co-founder and CEO of Woodinville-based Group14, said the most critical jobs his company will need to fill in Moses Lake involve process control — the complex work of overseeing and managing the chemical production processes — could benefit from the kind of partnerships companies and governments have formed in other parts of the state.
"It's a fairly sophisticated role, high pay, technical, but it can be entry-level" with the right kind of training, Luebbe said.
Luebbe cited a program that Bellingham Technical College has to train process control specialists and told Inslee that the state should also encourage similar specialists in the petroleum industry in Texas and Louisiana to come to work processing silicon in Washington.
Inslee, who came primarily to listen and gather information, did not have many answers for the assembled business leaders on Tuesday but did say there is a commitment by the state legislature to deal with Washington's housing crisis this legislative session, with Inslee noting his idea is for the state to issue $4 billion in bonds to build 20,000 housing units — houses, duplexes and apartments — statewide.
"This might be one of the greatest demands," Inslee said of the need for housing.
The goal of the visit, Inslee said, was to go back to Olympia and find ways to help these companies with everything from tax breaks to funding sources for research to infrastructure investment.
However, that also didn't stop Inslee from asking a very specific question of REC Silicon CEO and President Kurt Levens.
The governor wanted to know if REC would have silane — silicon gas — available for local companies like Sila and Group14, both of which will need silicon gas to create their products. REC earlier this year signed an agreement with South Korean chemical and solar panel giant Hanwha Solution to provide 100% of the company's output over the next 10 years once production at the plant restarts later in 2023.
"We do expect to have silane capacity left over that we'll be able to utilize to supply outside," Levens said. "If the demand is there, I see no reason why other companies should be building silane (capacity) when we are the largest silane producer outside of China, and the largest supplier of silane globally."
However, Levens said increasing production capacity at the company's Moses Lake facility — which has been shut down since 2017 following a now decade-old trade dispute over solar panel tariffs with China — will take time.
"It's not something that can happen in 18 months," he said. "That's a 36 to 48-month time frame."
Speaking at BBCC, Inslee said the future is bright for all the companies involved in the Tuesday roundtable because government actions mandating clean and renewable energy has helped to create a market for the products companies like Eviation, electric airplane motor maker MagniX, Group 14 and Sila are working to make.
"We have created an enormous demand for clean energy. And so we've created a marketplace for you," he said.
Charles H. Featherstone can be reached at cfeatherstone@columbiabasinherald.com.
Recent Headlines
---