Record hunt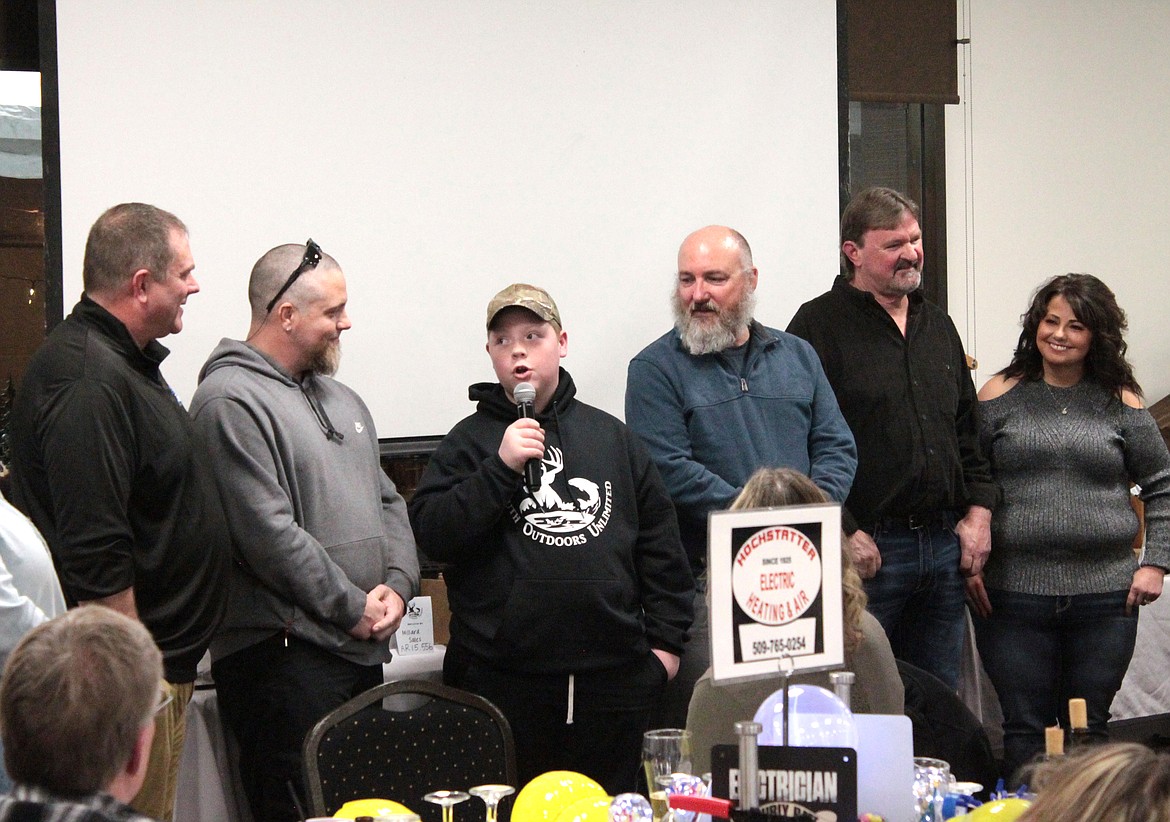 Fourteen-year-old Gavin Wilsey tells attendees at the Youth Outdoors Unlimited banquet Saturday about his deer hunting experience. From left: Kurt Beckley, David Wilsey, Aiden Wilsey, Cole Brisbin, Bill Dodson and Lisa Dodson.
JOEL MARTIN/COLUMBIA BASIN HERALD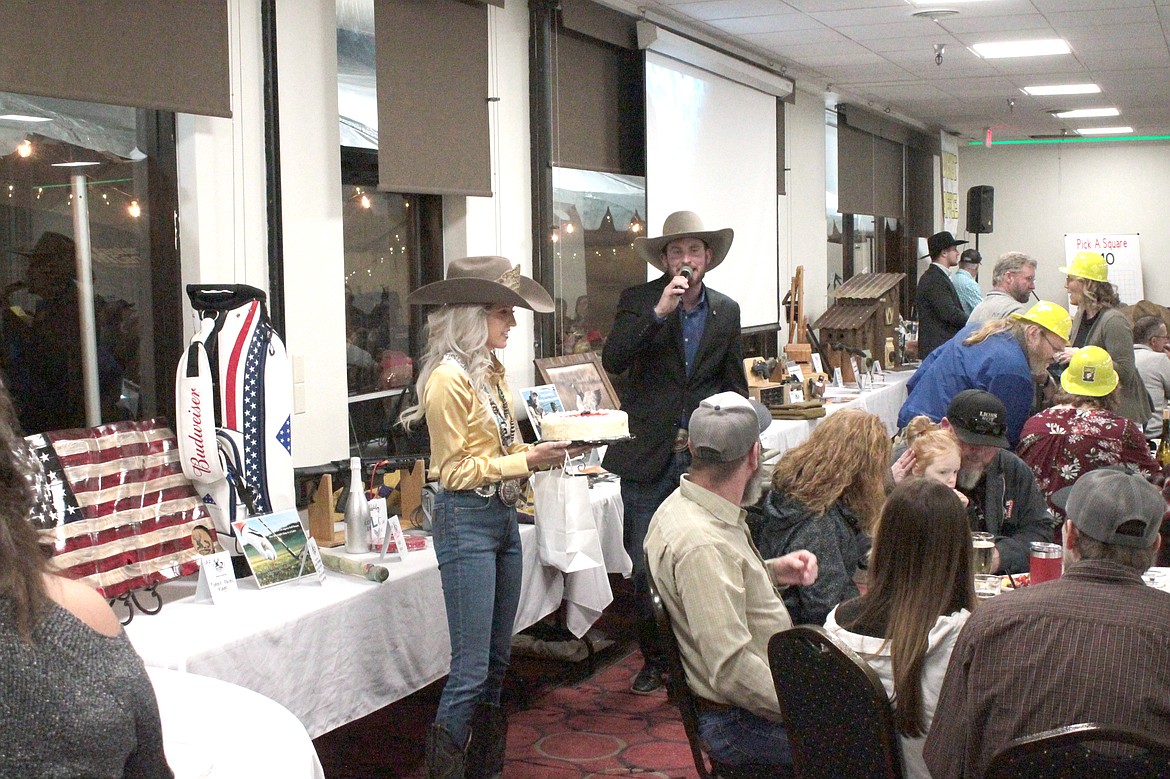 Auctioneer Tucker Cool, with the help of Miss Moses Lake Roundup Annabelle Booth, ramps up the enthusiasm – and the price – on a dessert at the Youth Outdoors Unlimited banquet and auction Saturday.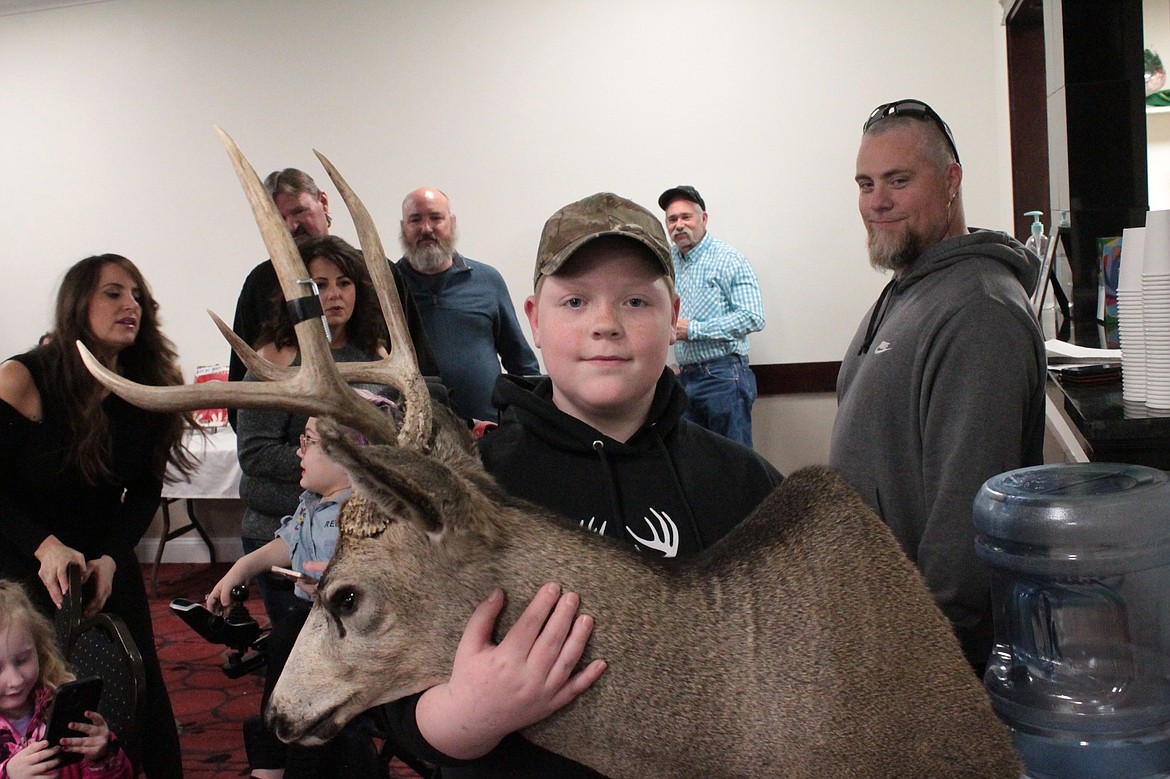 Aiden Wilsey displays the trophy head of the buck he harvested last year with Youth Outdoors Unlimited.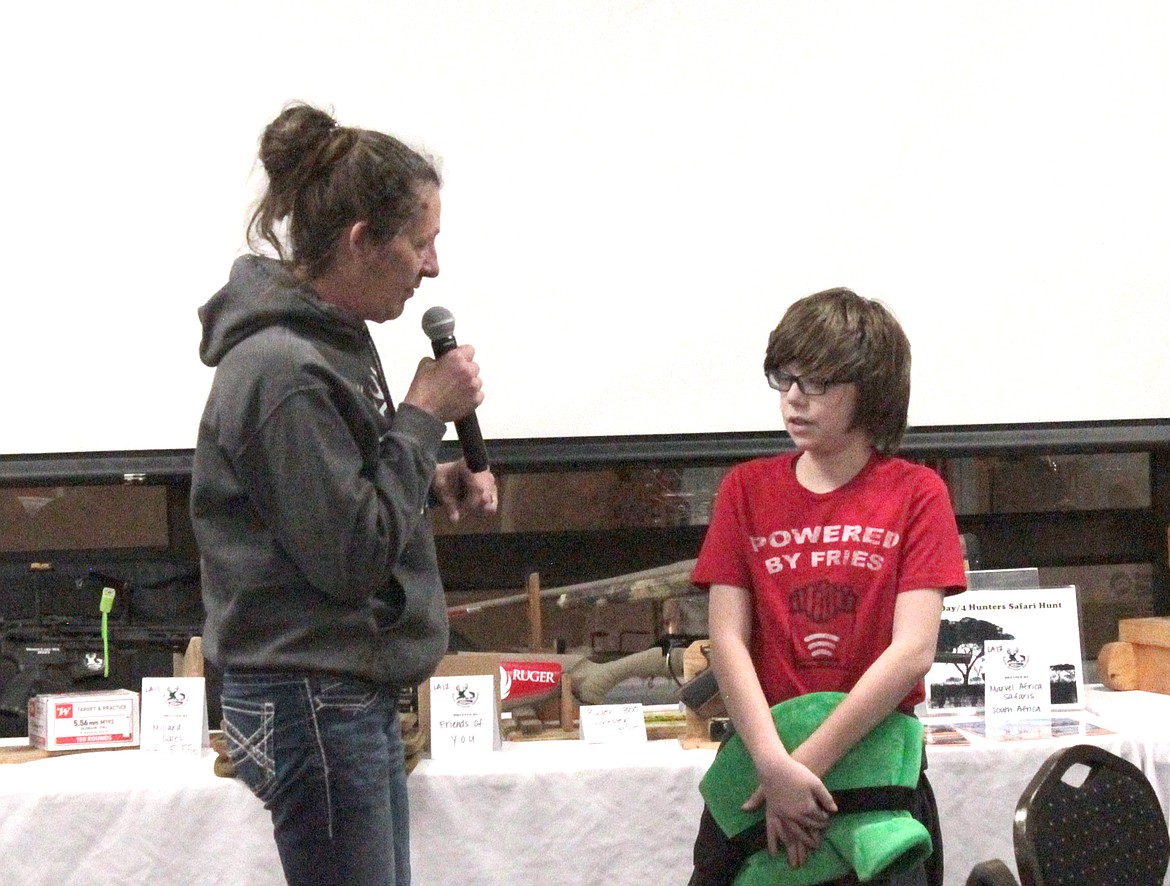 Youth Outdoors Unlimited Director Cindy Carpenter talks with 11-year-old Gavin Richards about his upcoming hunting trip.
Previous
Next
by
JOEL MARTIN
Staff Writer
|
March 24, 2023 1:35 AM
MOSES LAKE — The room was brimming with both people and emotion at the Youth Outdoors Unlimited fundraiser banquet the evening of March 4.
"We made a little over $129,000, which is an all-time record," said YOU founder and director Cindy Carpenter. "We are so blessed to have such generous support from our hometown."
The event brought in about 250 people at the Best Western Plus Lake Front for raffles, a silent auction and a live auction. Appetizers were served and there was a no-host bar. The auctioneer for the event was Tucker Cool and his crew, with guest appearances by Miss Moses Lake Rodeo Annabelle Booth and Miss Rodeo Washington Bailey Nachtigal.
Items to be auctioned included a number of firearms and guided hunting and fishing trips, among other things. There was a table of desserts that were auctioned off individually. One cheesecake alone went for $1,150.
Youth Outdoors Unlimited, started in 2011 by Carpenter and her husband Joe, takes children and teens with disabilities or life-threatening illnesses on guided hunting and fishing trips. Everything from guides to equipment to meat processing and taxidermy is donated, so the child and family can concentrate on just having a great experience.
YOU Board Member Kurt Beckley spoke about his experience leading hunts with kids. Beckley was involved in a number of civic organizations through his work, he said, but when he encountered YOU discovered the distinction between groups he had to be part of and ones he really wanted to be. He's been helping with hunts for six or seven years, he said.
"All of these hunts that we've gone on, they've never been easy," Beckley said. "But I can tell you unequivocally that God puts an animal in front of every one of these kids for a reason. And it's because they deserve the opportunity to feel valued and the families deserve the opportunity not to have to worry about ... whether their kid is feeling poorly or anything that goes along with the diseases or with the afflictions that they have. They get an opportunity during that time to just forget about that."
Fourteen-year-old Aiden Wilsey, who's been doing battle with a brain tumor, was Beckley's hunting companion last year and was presented with the head of his buck at Saturday's banquet. The taxidermy was donated by Bill Brewer of Ephrata, who has retired from the business but still donates his services for YOU kids, Carpenter said. Gavin Richards, 11, who has cysts behind his eyes, will be one of the kids going on a hunting trip this year.
"I'm pretty passionate about this," said Lisa Dodson, who organizes the YOU auctions in Tri-Cities. "I'm pretty passionate because I was the city slicker that married the country boy, and we have mountain property that they hunt on. When I first met Kurt, I was like, 'You want me to do what? You're gonna skin that here?' But then I saw the child, and my first hunter said to me, 'I am a great white hunter.'"
Dodson held her arms up high.
"And he stood up like this. You know what his mom said? 'That's the first time he's ever been able to raise his arms like that.'"
"It really does change you," she continued. "Look at it through somebody else's eyes, what these guys go through every single day that we take for granted. We can get up and move around, and these kids are challenged. And for that, I'm grateful to be part of this great organization."
Joel Martin can be reached via email at jmartin@columbiabasinherald.com. To find out more about Youth Outdoors Unlimited and hunting and fishing in the Basin, check out our Hook & Bullet section on pages B2 and B3 of Friday's paper.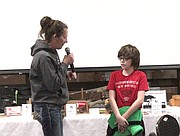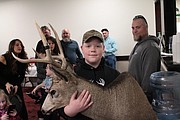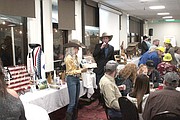 Recent Headlines
---