Exploring the Seep Lakes can pay off for anglers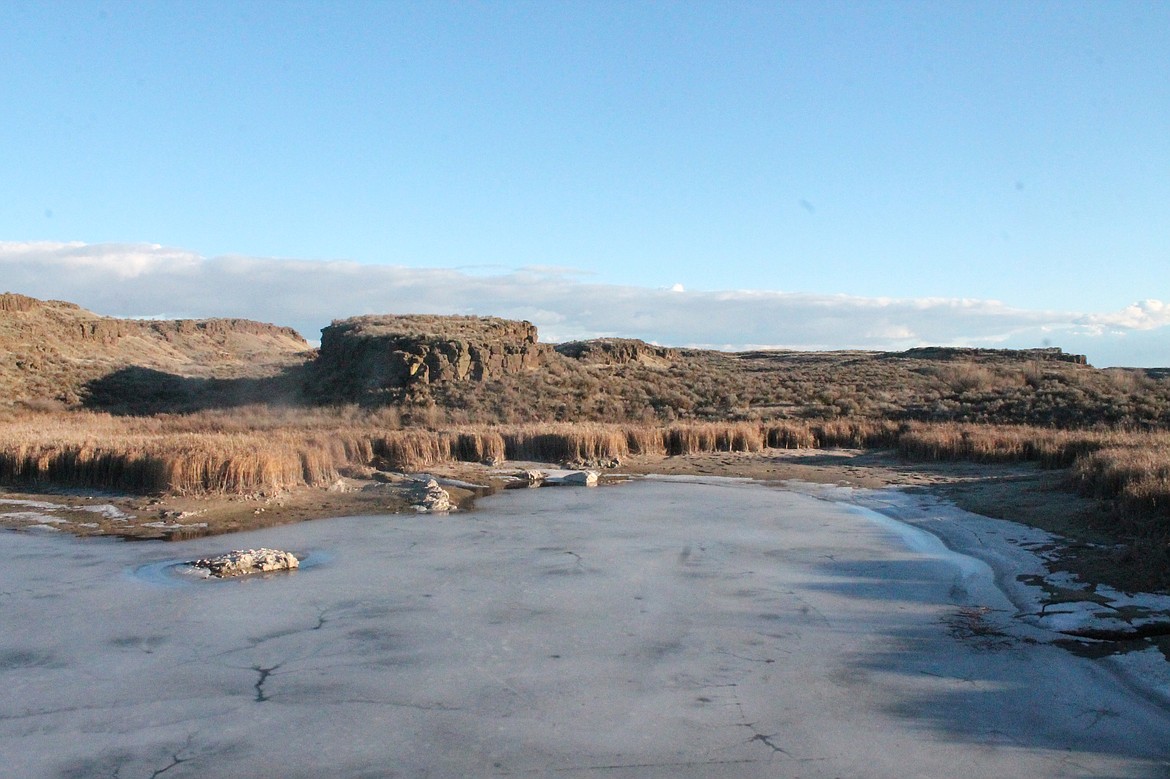 Mallard Lake, just west of Soda Lake, is one of the myriad Seep Lakes south of Potholes Reservoir that offers good fishing to those who are willing to go a little off the beaten path.
JOEL MARTIN/COLUMBIA BASIN HERALD
by
JOEL MARTIN
Staff Writer
|
March 24, 2023 1:30 AM
MARDON RESORT — Between Moses Lake and Othello, there's a great big reservoir that boasts excellent bass, walleye and other fishing. Potholes Reservoir is kind of a well-known mecca for anglers.
Head a little south and the landscape is dotted with myriad little spots of blue, somewhere around 70 of them – nobody really seems sure. These are the Seep Lakes, and they're one of the Basin's best-kept fishing secrets.
A lot of the lakes are stocked annually with trout, said Pete Fisher, who works for the tackle store at MarDon Resort and is the local go-to guy for local fishing conditions. Some, but not all, are open to fishing year-round, he said. Many of them open the fourth week in April.
"As far as the Seep Lakes, this coming year. Upper Goose is an awesome trout lake. Always has been. It's (got) decent walleye, good smallmouth and largemouth. It has everything the reservoir has."
Soda Lake, which is just south of O'Sullivan Dam and one of the largest Seep Lakes, had a really good year last year for walleye, Fisher said.
"Mainly for numbers of fish," he explained. "Size was on the smaller side. But a lot of 12- to 16-inch fish, and some better."
Perch was also plentiful at Soda Lake, he said.
For a map of the Seep Lakes showing the seasons and species of fish for many of them, visit the MarDon store, 8198 Hwy. 252 SE, Othello.
A little way beyond Soda Lake is the Pillar-Widgeon Chain, which consists of a string of more than a dozen teeny lakes. There the ratio of numbers to fish size is flipped around, Fisher said.
"The Pillar-Widgeon Chain is typically really good for large fish," he said. "It may not be a numbers fishery, but it's very good for quality fish."
Herman Lake, just off McManamon Road on the south end of the Seep Lakes, is good for trout, but also has really large bass, as does Heart Lake, Fisher said.
"Corral, right across the street from MarDon, that's just a consistent year round lake," he said. "It consistently produces a good average trout, 12- or 14-inch trout. It seems to fish well year-round where a lot of other ones kind of get that opening day push and then taper off."
Lots of the Seep Lakes are too small even to have names, but those are still good for panfish like bluegill and crappie as well as for bass, Fisher said.
For those inclined to do some walking, the rewards can be great, he said, like at the Coyote Creek chain south of McManamon Road.
"You park at Deadman (Lake)," he said. "And you can fish that chain and it has quality bluegill, bass, that type of thing. There's probably about a four-mile round trip through some fairly rugged (terrain)."
One thing to be wary of, Fisher added, is rattlesnakes.
"They're pretty prevalent around the Soda Lake area," he said. "Always just be listening for them. They're not hard to miss."
Joel Martin can be reached via email at jmartin@columbiabasinherald.com.
Recent Headlines
---