Search leads to catalytic converter seizure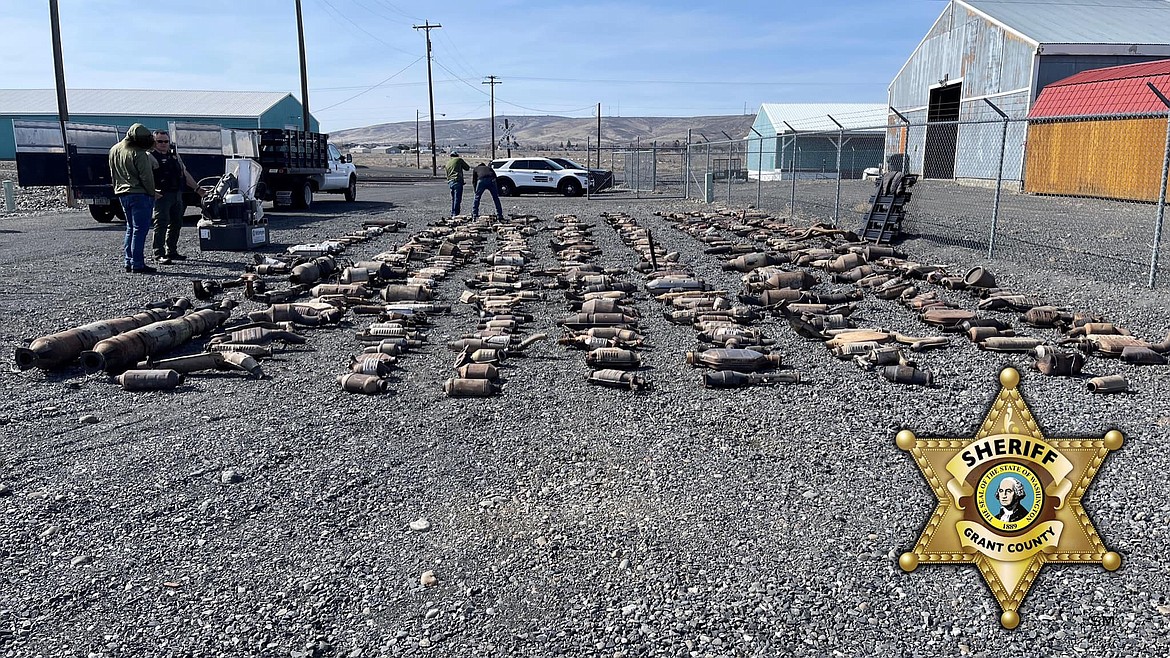 Some of the catalytic converters found at by law enforcement officers in a raid on a scrap metal business in Kennewick.
Grant County Sheriff's Office
by
STAFF REPORT
Staff Report
|
March 16, 2023 5:08 PM
KENNEWICK — Hundreds of catalytic converters were seized from a Kennewick business a day after the search of a Moses Lake business and home by officers with the Interagency Narcotics Enforcement Team from the Grant County Sheriff's Office.
Law enforcement officers served a search warrant at PDX Scrap Metal Wednesday afternoon, according to a GCSO press release. They seized 533 catalytic converters, the press release said, as well as raw materials from catalytic converter cores and equipment used to extract precious metals from catalytic converters.
"The search warrant was executed after a lengthy investigation into the trafficking of stolen property and money laundering," the statement said.
Officers interviewed Eleuterio Domingo Sanchez Vazquez, the owner of CEM Catalytic Converter LLC, and Carolina Sanchez Villanueva, 23, Sanchez Vazquez's daughter and owner of PDX Scrap Metal LLC.
"Neither was arrested and both cooperated with investigators," the press release said. "Charges will be forwarded to the Benton County Prosecutor's Office at the conclusion of the investigation."
The seizure follows the search of the Dos Tesoros Smoke Shop on Stratford Road and the residence behind it on Tuesday. Officers from the Kennewick Police Department, Pasco Police Department, Benton County Sheriff's Office and Washington State Patrol also were part of the search and the investigation, the press release said.
Recent Headlines
---