Big Bend looks to increase Mattawa offerings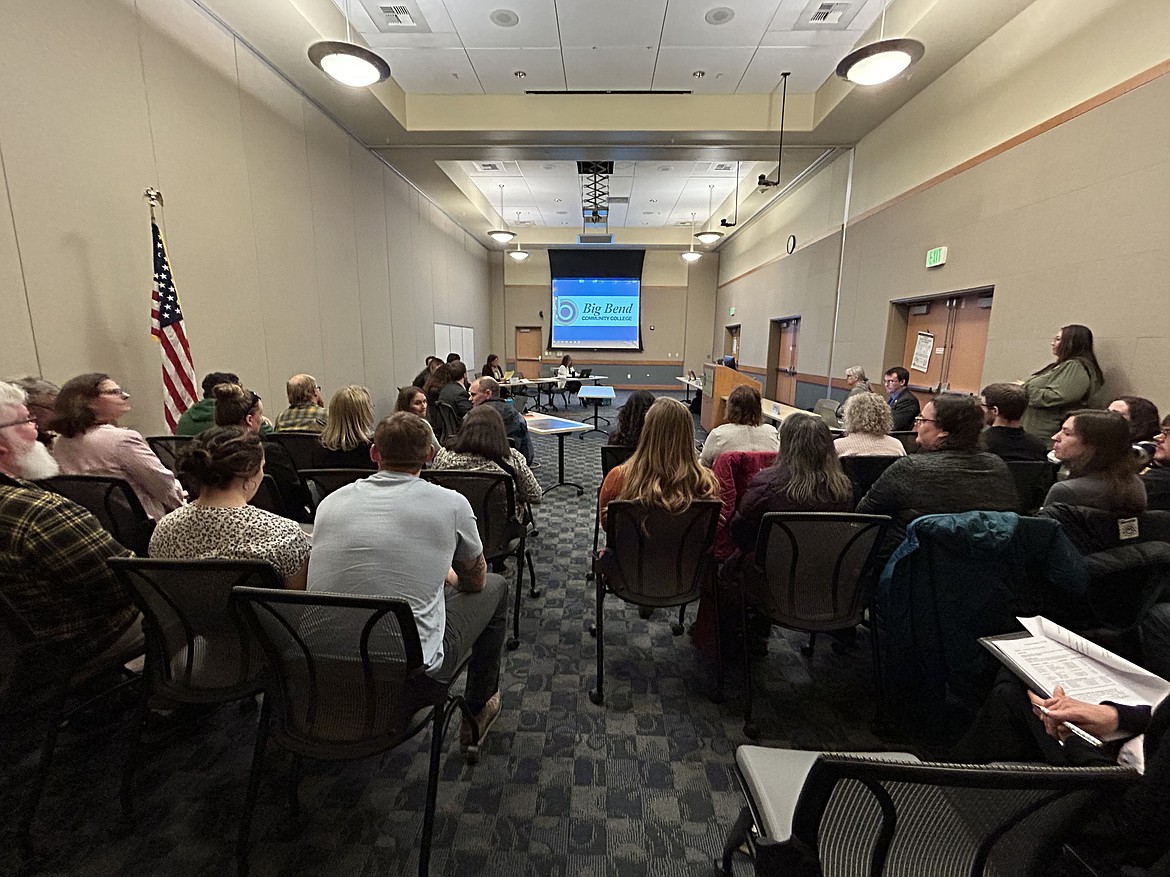 Big Bend Community College faculty gather at the college's regular Board of Trustees meeting on Wednesday. During the meeting, BBCC President Sara Thompson Tweedy said the school wants to expand its course offerings in Mattawa.
Caleb Perez
by
Caleb Perez/Special to the Herald
|
March 16, 2023 4:01 PM
MOSES LAKE — Big Bend Community College is looking at expanding the college's offerings in Mattawa, according to President Sara Thompson Tweedy during a meeting of the BBCC Board of Trustees on Wednesday.
Tweedy said the college teaches English language classes, high school completion courses, a commercial driver's license class, pre-elementary education, and business information and management classes in Mattawa. Tweedy said the college is looking at offering medical receptionist certificates, medical assisting, and college in the high school.
Vice President of Learning and Student Success Bryce Humphries outlined where BBCC stands in the upcoming Northwest Commission on Colleges and Universities accreditation process — a process that's important because it keeps the school eligible to receive federal funding.
"Without accreditation, we'd all be looking for another job," Humphries said.
Big Bend had its last comprehensive visit from the NWCCU in 2020, which ended up being a virtual visit due to the circumstances of the pandemic, he said. Regardless, BBCC received four commendations and one recommendation which is a very impressive feat by Big Bend, he said.
"Two of the commendations that we received were about our data-focused culture, the other one was the library," he said. "The library does amazing work and especially during the pandemic getting through the center of every service."
Big Bend's other achievements included the ability to close the achievement gap for underrepresented students and being able to foster a proactive environment, he said. The college had a few things to work on in advance of the upcoming accreditation visit in October, Humphries noted.
"We are in a good spot and I'm thrilled with the work everyone's done," Humpherys said.
STEM Coordinator Dori Miller and chemistry instructor Lindsay Groce told trustees they would like to see more students transferring to Central Washington University in Ellensburg and Eastern Washington University in Cheney to get science-related degrees. To encourage that, Groce said the STEM Center is organizing more career events and college trips to show students what opportunities are available to continue their math and science educations and find gainful employment.
"We really just want to get more students heading to Central," said Groce.
Recent Headlines
---