Spreading love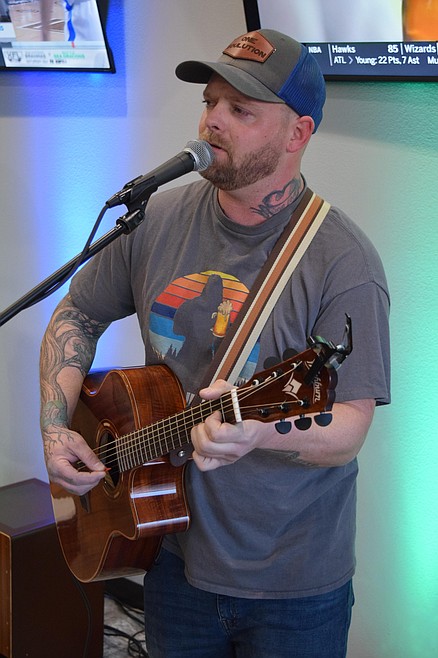 L.J. Polmateer of the local band One Solution warms up at the Moses Lake Taproom as he gets ready to perform.
CHARLES H. FEATHERSTONE/COLUMBIA BASIN HERALD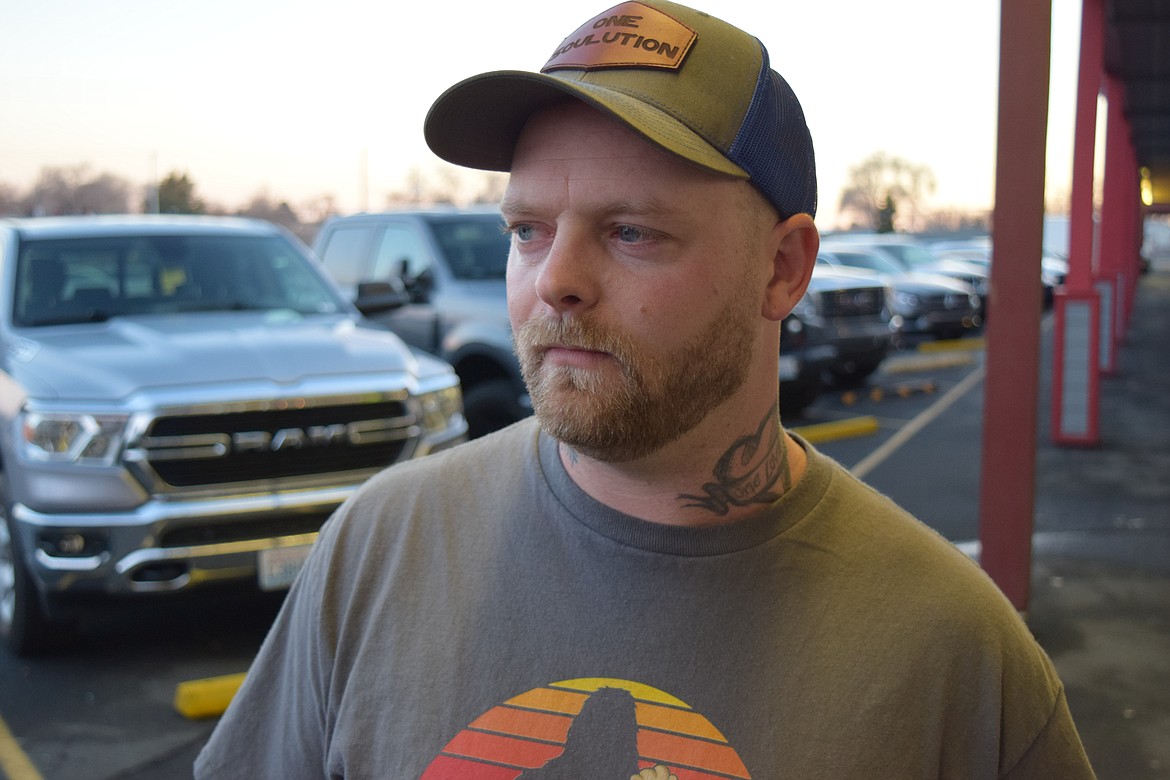 L.J. Polmateer outside the Moses Lake Taproom, where he performed on Friday. Polmateer said that, while he knows he isn't likely to get rich because of music, he loves performing and entertaining the people of the Basin.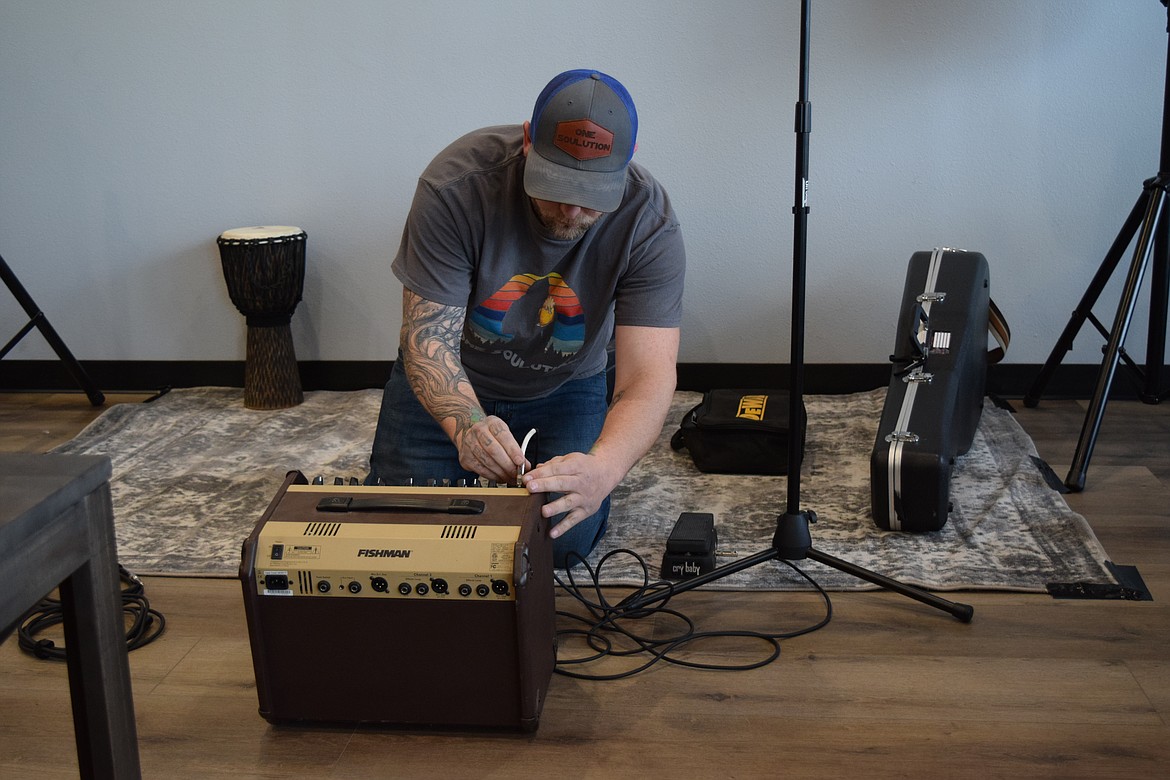 L.J. Polmateer sets up his monitor amp as he gets ready to perform at the Moses Lake Taproom during the taproom's opening weekend in early March.
Previous
Next
by
CHARLES H. FEATHERSTONE
Staff Writer
|
March 15, 2023 1:30 AM
MOSES LAKE — For L.J. Polmateer, music is a labor of love.
"I love playing music. I love taking care of my family, and what got me into music was the message of love," Polmateer said. "I like trying to spread that message of love."
A guitarist, Polmateer has been playing his reggae-flavored music in and around Moses Lake both as a solo artist and as part of One Solution with percussionist Cotey Fondren for about 12 years now, keeping busy as he raises his family and works full-time during the days on RVs.
"Bob Marley and Peter Tosh were really big inspirations of mine," he said. "Their lyrics and their music, they're always pushing a positive mentality of love for everybody," Polmateer said.
A recent Friday evening found him and Fondren setting up in the Moses Lake Taproom, adjusting lights and testing his sound system to ensure patrons of the busy taphouse could hear him. It's another place to place in a town he said once had a lot of venues for live music but now doesn't.
Polmateer notes the Taproom, which invited him to play as part of its grand opening, and said he's played at Rick's Eatery and Entertainment, a time or two at Sporty's Steakhouse, and will be playing in downtown Moses Lake as part of Brews and Tunes this weekend.
"We're doing this because the community is screaming for it," said Connor Stakelin, one of the owners of Moses Lake Taproom. "People love it, and we love to showcase local talent as well. I think it's super important to support that community, and we've had a lot of people reach out with interest."
For Stakelin, bringing Polmateer in is just the beginning of what the Taproom hopes to offer in the way of live music, both from local musicians and from some nationally known names as well.
"We have Grammy-nominated country singer Chris Ward coming in at the end of April, so we're starting to build that calendar," Stakelin said.
While he's acquired something of a following during his decade of performing in Moses Lake, Polmateer said it's different when he tries to play outside of the area because many venue owners want an artist to be able to bring some kind of crowd with them.
"Basically, you know, I'm not that big. And I don't have fans in your town," he said of his conversations with bar and club owners outside Moses Lake. "They'll pay me $100 bucks or something, and basically that's my gas. … I'm not expecting to get rich, but it's nice to make a few bucks."
Polmateer said another thing he likes about going out and playing is meeting other musicians, no matter what style of music they play.
"A lot of musicians have mutual respect for each other, and it's really cool. It's just like a big circle," he said.
But it's about the love and even the high he gets simply from playing that keeps him going to places like the Taproom, hauling his gear, tuning his guitar, and playing and singing.
"I'm addicted, straight up addicted to music. I can't put it down," he said.
For more information, or to hear some of Polmateer's music, check out One Solution's page on Facebook at www.facebook.com/onesoulutionmusic/ and YouTube channel www.youtube.com/@onesoulutionmusic8769/, or at his website www.onesoulutionmusic.com.
Charles H. Featherstone can be reached at cfeatherstone@columbiabasinherald.com.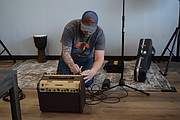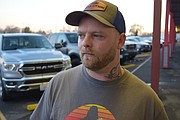 Recent Headlines
---