Mary Ann Bolyard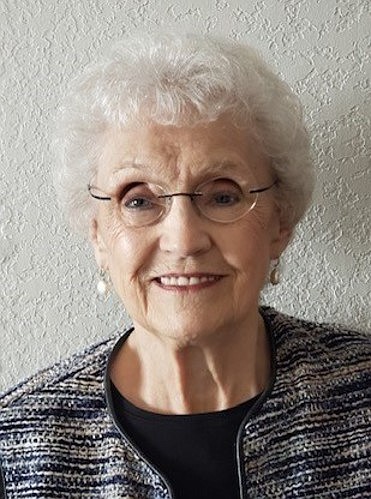 Mary Ann Bolyard, 88, of Soap Lake, Washington, sadly left us on March 9, 2023, at home with her family.
January 13, 1935 – March 9, 2023
Mary Ann Bolyard, 88, of Soap Lake, Washington, sadly left us on March 9, 2023, at home with her family.
Mary Ann was born to Palmore and Mary Clayton in Bozeman, Montana, on Jan. 13, 1935. She was the oldest of eight children. In 1951 her parents came to the Ephrata area. Following that she met Perry Bolyard and was married June 7, 1953, in Coulee City. Soon after their marriage they moved to Soap Lake, Washington where they lived out their lives. They had two children, Pamela and Darrell Bolyard.
Mary Ann worked at the phone company in her early years and then became office manager for the family business at Country Boys Farm Supply.
Mary Ann enjoyed spending time and traveling with her family and friends, gardening, antiquing and attending church. Her faith in her Lord and Savior, Jesus Christ, was very important to her. She was able to be a big part of her grandchildren's lives by chaperoning school trips, cheering them on in their activities and traveling with them.
Mary Ann was survived by her three sisters Nola (Gene) Williams, Adelle (Russ) Rath and Lora (Larry) Fronsman; daughter Pam (Sherman) Clayton; daughter-in-law Karen Keezer; grandchildren Alison (Garrett) Beget, Brooke (Daton) Bolyard and Shawn Rich. great-grandchildren Riley and Aiden Rich and Weston and Ainsley Beget as well as many nieces, nephews and cousins.
She was preceded in death by her parents; husband Perry Bolyard; son Darrell Bolyard; son-in-law Sherman Clayton and four brothers David (Nadine) Clayton, Don (Yvonne) Clayton, Richard (Linda) Clayton and Chet (Martha) Clayton.
A viewing will be held March 17, 2023, from 12 to 2 p.m. at Nichols Funeral Home. A graveside service will be held March 24, 2023, at 10:30 a.m. at Soap Lake Cemetery with a Celebration of Life to follow at 11 a.m. at First Baptist Church of Soap Lake.
The family would like to give a special thanks to the caregivers and people that were a part of Mary Ann's life. She will be deeply missed by everyone whose lives she touched.
Arrangements are under the care of Nichols Funeral Home. Please leave your thoughts and memories for the family at www.nicolesfuneralhome.com.
Recent Headlines
---