WA Senate passes police pursuit bill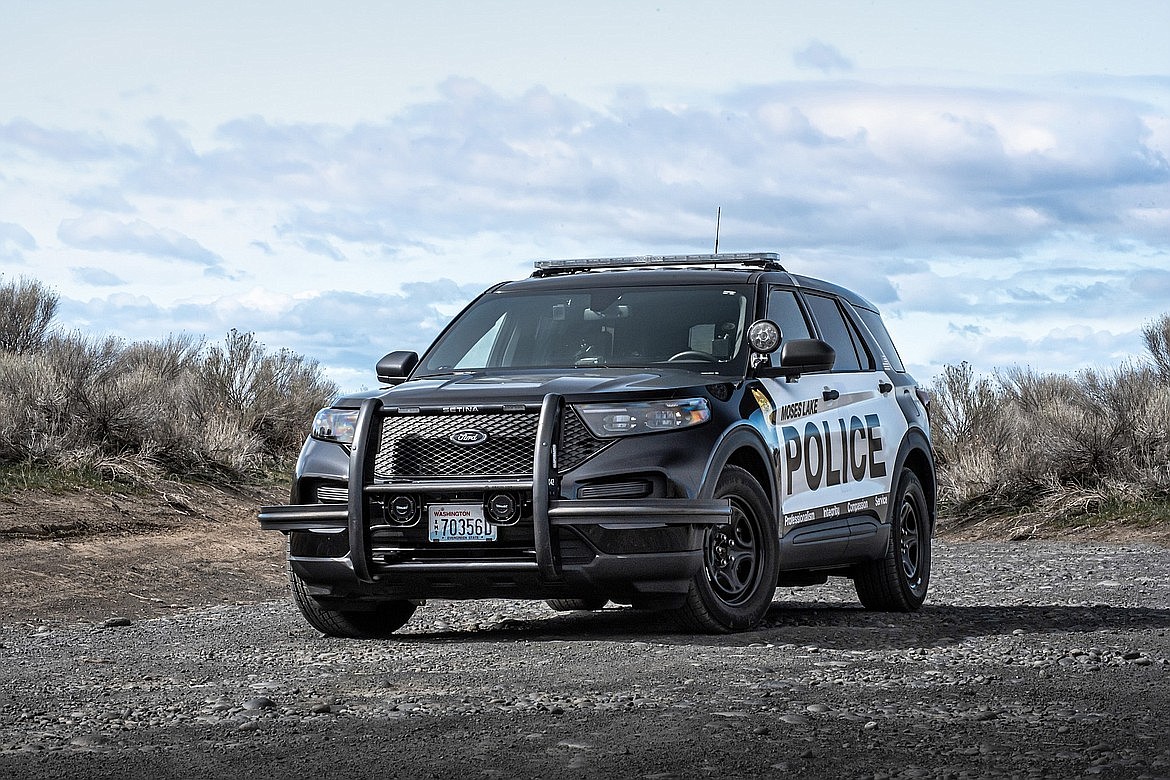 Senate Bill 5352, a bill related to vehicular pursuits, passed the State Senate floor last week and moved on to the House. Local police and legislators say the bill is not enough though to deal with the skyrocketed property crime and other offenses.
FILE PHOTO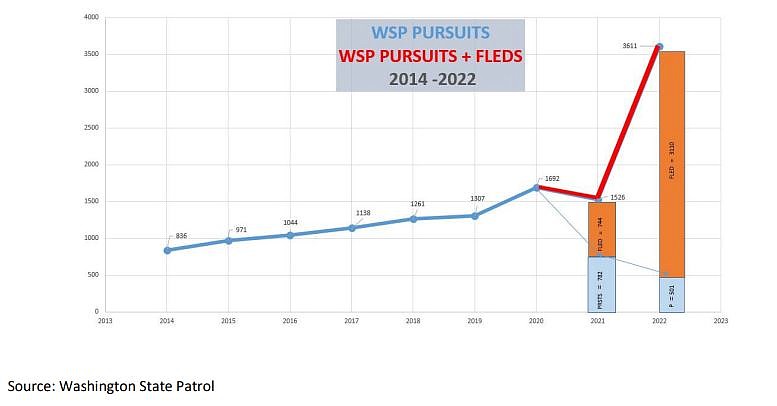 This graph shows Washington State Patrol pursuits from 2014 to 2022, with a breakdown in 2021 and 2022 of actual pursuits and vehicles that fled that were not pursued, but would have been under the previous pursuit guidelines.
Previous
Next
by
REBECCA PETTINGILL
Staff Writer
|
March 14, 2023 5:20 PM
OLYMPIA – Senate Bill 5352, a bill related to vehicular pursuits, passed the State Senate floor last week and moved on to the House. Local police and legislators say the bill is an improvement, but not enough though to deal with skyrocketed property crime and other offenses.
"There are still some gaps but for the most part this is a good bill," said Moses Lake Police Chief Kevin Fuhr. "It restores reasonable suspicion, instead of having to have probable cause which is huge for us," said Fuhr.
Fuhr said the current law has also narrowed the list of crimes that police can pursue for down to basically homicide and rape. This new bill expands the list to add vehicular assault and domestic violence assaults one through four, but that it has to be a domestic violence related assault.
"What I'll say is, this is a great starting point in getting us the reasonable suspicion back, adding the domestic violence cases on there is a great starting point for this bill," said Fuhr.
He noted the lack of being able to pursue for stolen vehicles will only increase the number of stolen vehicles because since the pursuit law was changed in 2021, there has already been a large uptick in stolen vehicles and cars that fled from police.
The Washington Association of Sheriffs and Police Chiefs, citing information from the Washington State Patrol, reported that since the law change in July 2021, "actual pursuits did decrease, down to 501 in 2022 (from 1,692 pursuits in 2020), but an additional 3,110 drivers fled and were not pursued, under the new law, from State Troopers making lawful traffic stops (total pursuit and fled 3,611). In other words, the data shows that after the law change, the number of people fleeing troopers more than doubled."
A release by WASPC in July 2022 states that motor vehicle theft increased 27.3% in 2021, and theft of motor vehicle parts increased 100%.
"The new pursuit bill that we are debating now in the legislature does not include stolen vehicles so we will continue to see still more stolen cars," Fuhr said. "And we will continue to see people get away with it because we can't chase them."
SB 5352 was first introduced on Jan. 13 and referred to the Senate Law and Justice Committee. No action was taken until March 8 when rules were suspended and placed on the second and third reading where it passed with 26-23 after floor amendments were adopted.
Some Senators sent out press releases justifying their yea or nay vote on the bill – many citing that it wasn't a proper fix.
"As much as I want to see a bill pass to deal with the police-pursuit issue, I cannot vote for this inadequate and shameful bill," said Senator Jim McCune (R-Graham) in a release by his office.
Some amendments to the bill that didn't make the cut on the floor would have added other crimes such as auto thefts but did not get adopted and deterred some legislators from voting yes.
"The amendments offered today were important, common-sense changes that should have been adopted," McCune said on the day of the vote. "We had amendments to include reckless driving, auto theft and other violent crimes on the list of offenses that would allow an officer to use his or her discretion in deciding to pursue a fleeing suspect."
Despite those amendments not being adopted, some lawmakers took the stance that some steps in the right direction were better than none at all.
"I was hoping for a better blue-and-red bipartisan outcome," Senator Jeff Wilson (R-Longview) said in a release by his office. "The bill today didn't go far enough, and I'm afraid we gave a green light to those who would steal a car or drive recklessly. But the alternative was even worse. Our current law is a disaster, and even a half-solution is better than no solution."
Part of the push for reckless driving to be amended into the bill relates to two children who were killed in a crash on Feb. 28. A man, who was clocked driving at 111 miles per hour, was unable to be pursued under current state pursuit laws and collided with another vehicle just a short time later in Sunnyside. The speeding driver was going the wrong way on I-82 and hit the other vehicle head-on resulting in the deaths of a 6-year-old boy and an 8-year-old girl.
"As we debated the bill today, I couldn't help thinking about the two kids who were killed, Timothy Escamilla and Delilah Minshew," Wilson said. "Those of us who serve in the Legislature should remember their names."
The bill moved on to the House where on March 10 it was referred to the Community Safety, Justice and Reentry Committee.
Now that the bill is in the house, District 13 Representative Alex Ybarra (R-Quincy) said he would vote to pass the bill if it goes to the floor. However, he echoed some of the same things that Fuhr and Wilson said; that the bill is a step forward but is not where it needs to be.
"It's not where we want to be, not even close, but it's closer than it was before," Ybarra said."I can tell you that I'm probably going to vote for it in whatever shape it's in, just because it's better than it was before. We went 10 steps back, now we're going one step forward."
The companion bill, HB 1363, failed to advance after being referred to the House rules committee for review in late February.
Rebecca Pettingill may be reached at rpettingill@columbiabasinherald.com.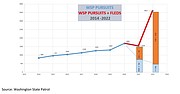 Recent Headlines
---