Local aerospace developer, Stoke, gets historic launch site for testing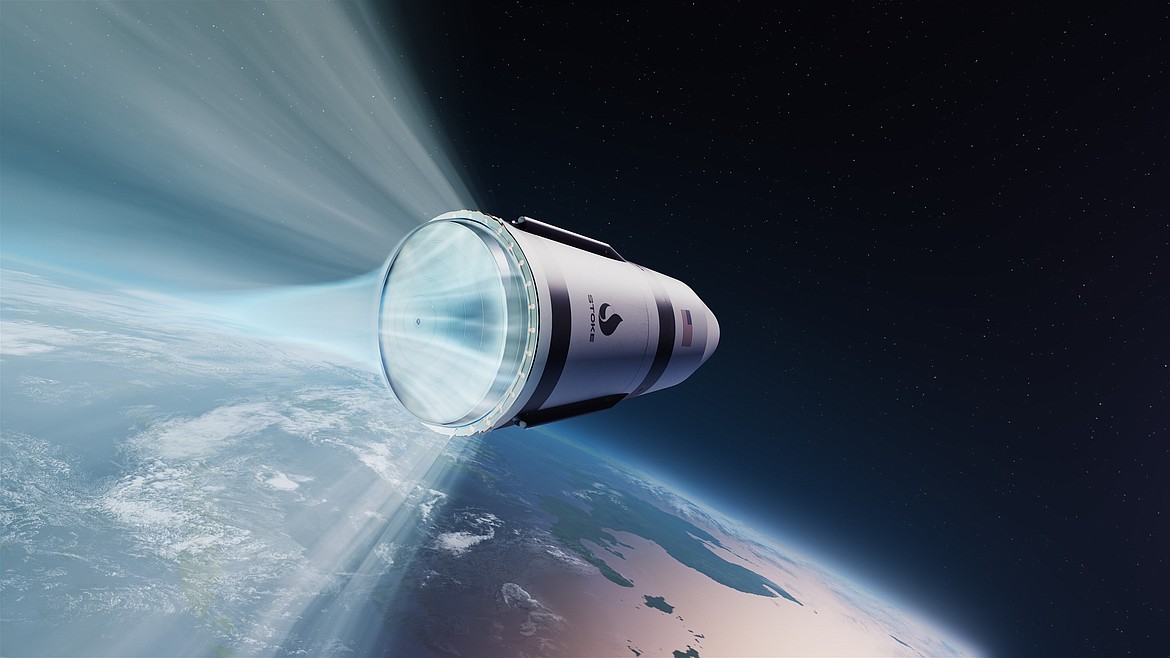 An artist's rendering of Stoke Space Technologies' reusable second-stage rocket orbiting the earth. The company, which tests its reusable rocket engines in Moses Lake, has been awarded a launch site at the Cape Canaveral Space Force Station, according to a Stoke press release.
COURTESY IMAGE/STOKE SPACE TECHNOLOGIES
by
CHARLES H. FEATHERSTONE
Staff Writer
|
March 9, 2023 1:30 AM
KENT — Reusable rocket engine maker Stoke Space Technologies announced late Tuesday that it has been assigned a launchpad at the Cape Canaveral Space Force Station in Florida for continued testing of the company's proposed reusable rockets – currently in testing in Moses Lake – by the U.S. Space Force, according to a Stoke press release.
According to a Space Force press release, Stoke was assigned Launch Center 14, the pad and tower where John Glenn's Friendship 7 mission launched, making him the first American astronaut to orbit the earth in February 1962.
"We are over the moon excited by this opportunity," said Julia Black, director of range operations for Stoke Space Technologies, in the press release. "To be trusted with the reactivation of the historic Launch Complex 14 is an honor, and we look forward to adding to its well-distinguished accomplishments for America's space program."
Kent-based Stoke Space Technologies is working on a ring-shaped cluster of engines designed to make the second stage of a rocket reusable. Stoke has been testing its engine cluster in Moses Lake. According to company co-founder and CEO Andy Lapsa, the goal is to create a 100% reusable rocket capable of boosting satellites and other payloads into orbit.
"We're standing on the shoulders of giants," Lapsa said in the press release. "And we're beyond humbled by the historic significance of LC-14. The opportunity to reactivate this site is a profound responsibility that our entire team holds in the highest regard."
According to the Space Force press release, Stoke Space Technologies is one of four companies that have been allocated three older space center launch sites for testing purposes. El Segundo, California-based ABL Space Systems, which is working on creating a quickly-built and easily-deployed orbital rocket system, has been allocated Launch Complex 15, which was last used in the early 1960s to test Titan ballistic missiles.
The Space Force press release also said Tucson, Arizona-based rocket maker Phantom Space Technologies and Cocoa, Florida-based rocket maker Vaya Space have been allocated Launch Complex 13, used in the 1960s and 1970s to launch military satellites and currently used by SpaceX as a landing site for reusable boosters.
Charles H. Featherstone can be reached at cfeatherstone@columbiabasinherald.com.
Recent Headlines
---