Green hired as chief of Quincy PD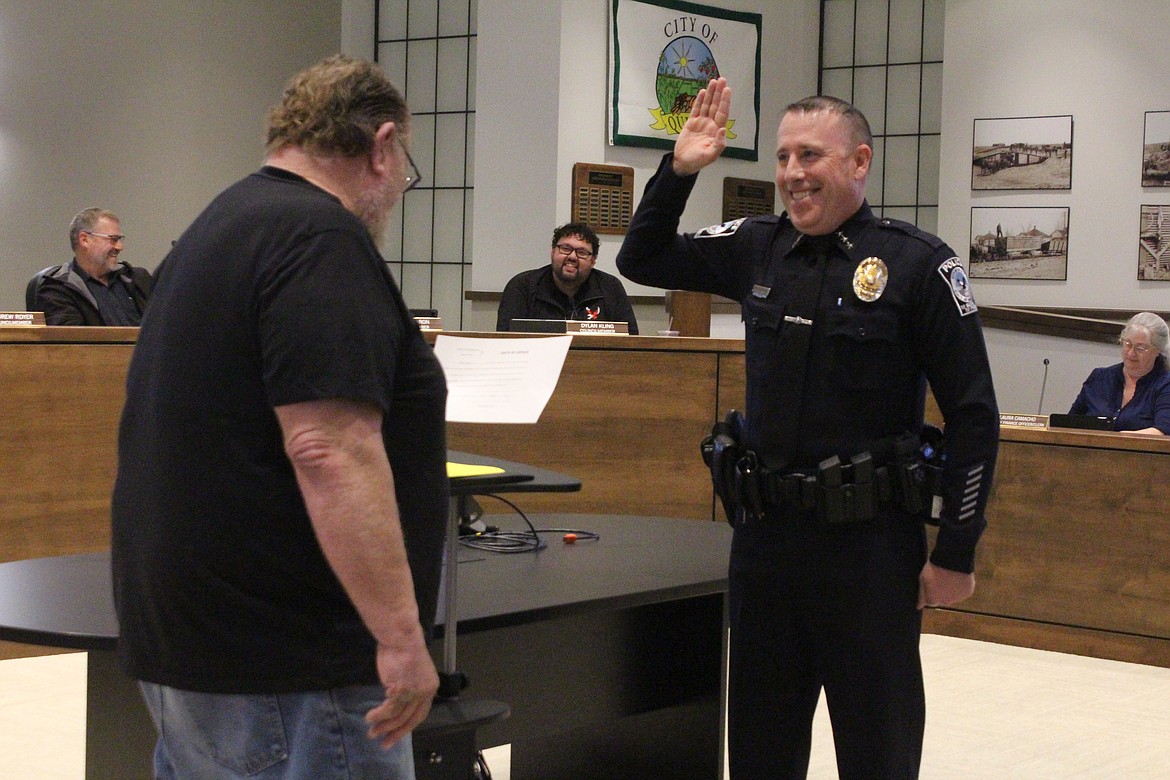 Ryan Green, right, is sworn in as the new Quincy Police Chief by Quincy Mayor Paul Worley, left, at the Quincy City Council meeting Tuesday.
CHERYL SCHWEIZER/COLUMBIA BASIN HERALD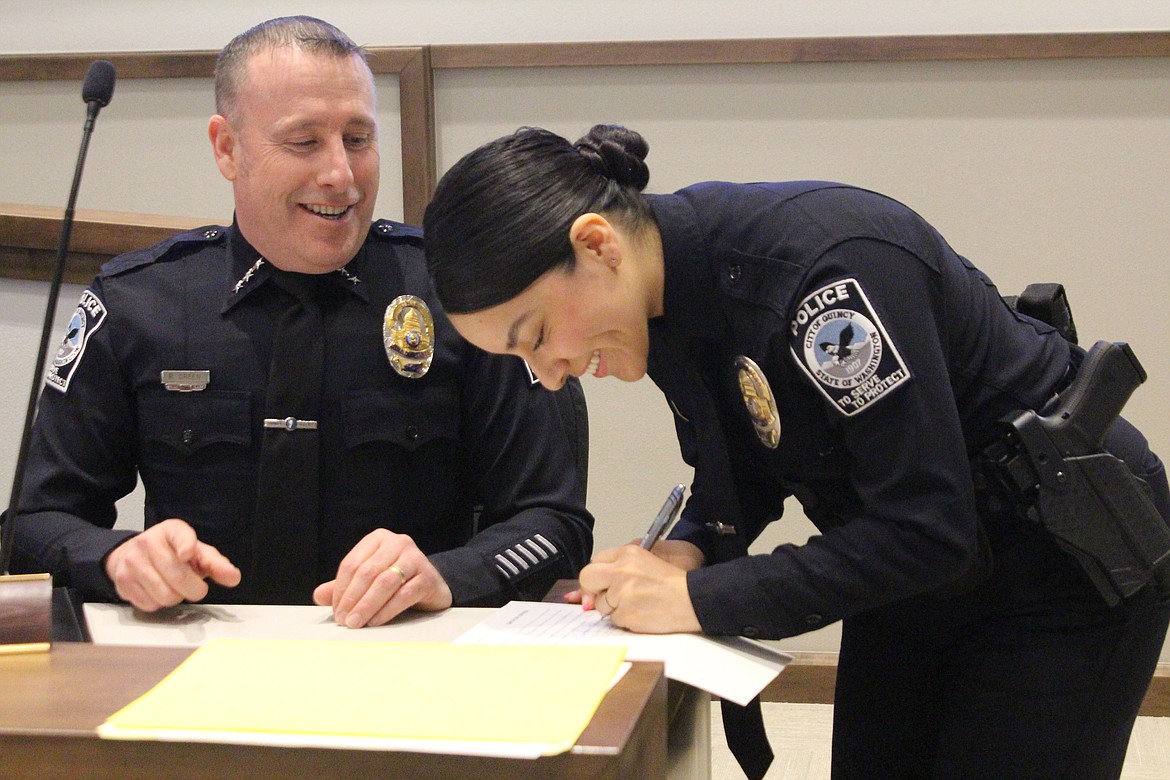 New Quincy Police Department Officer Joanna Navarro signs her oath of office with new QPD Chief Ryan Green Tuesday.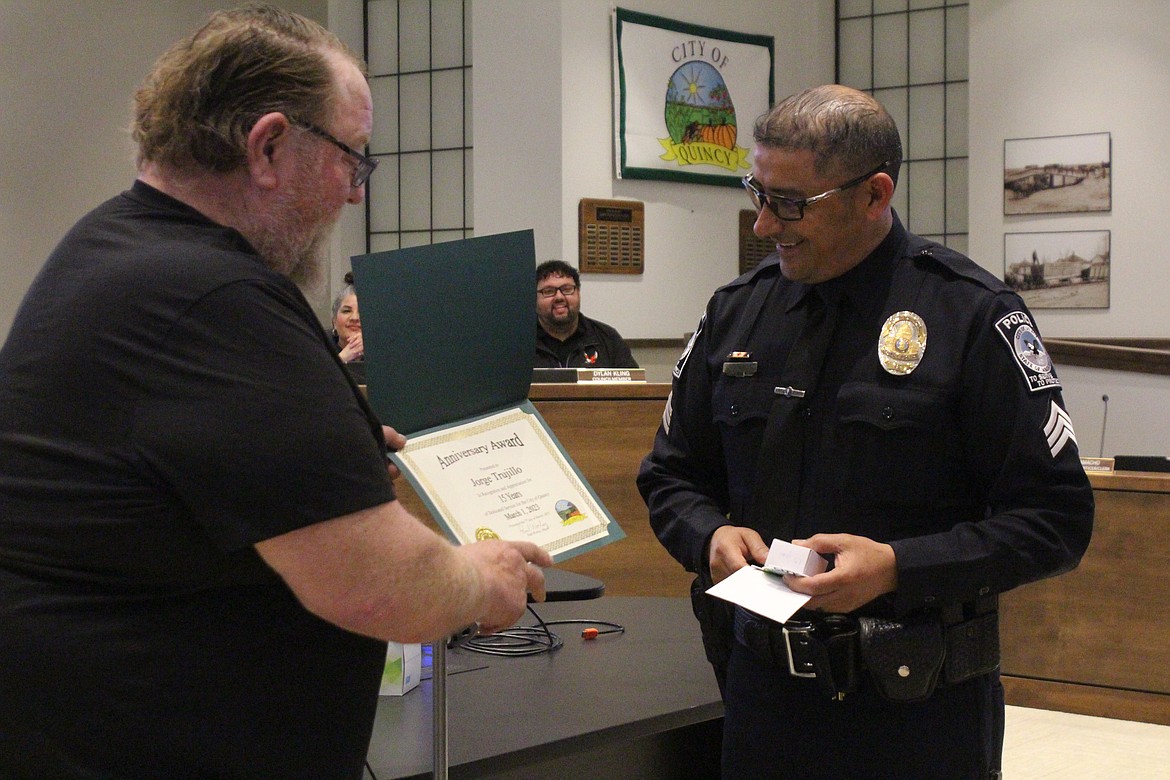 Quincy Mayor Paul Worley, left, presents Quincy Police Department Sergeant Jorge Trujillo with a certificate recognizing his 15 years with the QPD at the Quincy City Council meeting Tuesday.
Previous
Next
by
CHERYL SCHWEIZER
Staff Writer
|
March 9, 2023 1:30 AM
QUINCY — Ryan Green was sworn in as the new Quincy Police Department Chief at the Quincy City Council meeting Tuesday. Green had been serving as the interim chief following the resignation of Kieth Siebert in February.
Council members voted 5-0 to approve a contract with Green and appoint him as the new chief.
Under the terms of the contract, Green will be paid $123,795 plus benefits.
Green said he's been a police officer for 22 years, seven of them with the QPD, all as a captain. Prior to that he worked for the Grant County Sheriff's Office and the Ephrata Police Department.
His goal, he said, is to keep doing what the QPD has been doing, and to improve the department where it can be improved.
"The big thing is to continue to build on the progress that we've made," he said.
Hiring and retention are important challenges in Quincy, he said, as they are in law enforcement in general. The best way to retain staff is to provide quality equipment and training, he said, and to promote an atmosphere where officers feel valued.
Green started March 1 and has the job for an indefinite term, according to the contract. The chief is considered an "at-will" employee and can be fired at any time, with or without cause, according to the contract.
"Are you ready for this?" Mayor Paul Worley asked Green before he administered the oath. "Last chance."
Green said he was ready to go ahead anyway, and after Worley had sworn him in, Green administered the oath of office to new QPD officer Joanna Navarro.
City officials also recognized QPD Sergeant Jorge Trujillo, who's worked for the QPD for 15 years.
"Thanks for 15 years," Worley said as he presented Trujillo with a medal and certificate. "Hope to see you another 10."
Green said the department would be looking for candidates to fill his captain's job.
In his report to the council, Green said Stephen Harder has been promoted to sergeant. Harder and QPD detective Jazzlynn Silva received awards from the city in February for their rescue of a woman from a burning house Jan. 10.
Cheryl Schweizer may be reached at cschweizer@columbiabasinherald.com.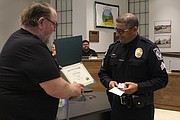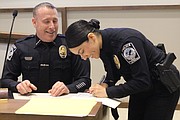 Recent Headlines
---