Rolando Ramirez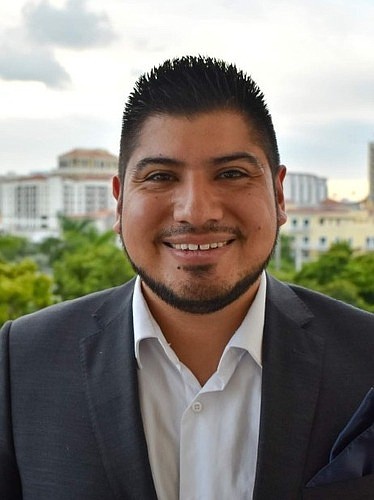 Rolando Joel Ramirez, known to us as Roland, who grew up in Moses Lake before settling in Coral Gables, Florida, passed away peacefully on Feb. 25 surrounded by family and loved ones in Fort Lauderdale. He was 30.
Rolando Joel Ramirez, known to us as Roland, who grew up in Moses Lake before settling in Coral Gables, Florida, passed away peacefully on Feb. 25 surrounded by family and loved ones in Fort Lauderdale. He was 30.
Roland was born in February 1993 to Rudy Ramirez Jr. and Rosalinda Saenz. In middle school, Roland began his passion for music that influenced him to follow his dreams of being in the music industry. Roland earned numerous awards and honors playing for the high school band, which was capped off by earning a spot in the Honor Band to perform at Carnegie Hall in New York City, after an audition. He graduated from Moses Lake High School in 2011. After graduating high school, Roland earned his associate's degree at Big Bend Community College and continued to follow his dream and went on to earn a bachelor's degree in music performance with an emphasis in jazz from Washington State University, graduating with cum laude honors. In July of 2020, Roland received a call from the Frost School of Music at the University of Miami, letting him know he was accepted in the music program. You could not wipe the smile off his face. Hours later, he received another call. It was from the Los Angeles College of Music, where you guessed it, it was too late. Not that he would have chosen differently. Roland packed his belongings and along with a buddy, drove across the U.S. and found his new home in Coral Gables. Roland graduated spring of 2022 with a master's degree in music business and entertainment. The day of graduation, while preparing for the ceremony, Roland received a call and was offered his first job with his master's degree, as a music data analyst. He was currently working for 1021 Creative. He was very self-driven and motivated, and worked tremendously hard to earn all his accomplishments.
Roland was a very gifted and talented musician. He rocked the hell out of drums but could play pretty much any percussion instrument. Eventually he picked up a keytar and would create videos that he would share for all to enjoy. His heart was always as a percussionist. Roland was an amazing drummer and during his free time here locally, he was a member of an '80s cover band, HLS. He loved to get together with the band mates, who were some of his best friends, and rock out in '80s attire and hair and even wearing tight spandex! He had a love and appreciation for all genres of music and enjoyed sharing his knowledge and passion with all. On some weekends, Roland found joy in working for the Pedal Pub giving tours in downtown Miami. He loved to entertain and show all a great time. He was the life of the party.
Roland had an amazing heart and a joyful spirit. He had an awesome laugh, a great sense of humor and an incredible personality. He loved his family and friends so much. Roland always brought joy, happiness and laughter to all that knew him. Besides listening and playing music, Roland loved being an uncle to his nephew and niece. He loved to barbecue, go boating with his family, collect vinyl records, smoke a good cigar, have great conversations and simply spend time with his friends and family.
Roland is survived by his mother Rosalinda Saenz, his sister Jessica Bertholf (Jake), his brother Rudy Ramirez III, his nephew and niece Cassius and Harlee, grandmother Mary A. Saenz and numerous aunts, uncles, cousins and friends.
He is preceded in death by his grandparents Lupe M. Saenz and Rudy C. and Lucy G. Ramirez, his father Rudy Ramirez Jr., his uncle Ruben Ramirez and his cousin Adriana Lopez.
Roland will be missed by all who loved him. Go Canes! Go Cougs! Rock on!
A funeral service will be held on Monday, March 13, 2023, at Our Lady of Fatima Catholic Church in Moses Lake, Washington with Rosary beginning at 10 a.m. and Mass at 10:30 a.m. There will be a burial following Mass at Guarding Angels Cemetery in Moses Lake, Washington.
"How sad we are now, but how lucky we were. And how fortunate we are still to have all the stories and experiences and memories we shared. Let us find peace in the past to carry our hearts forward." — Unknown
Please express your thoughts and memories at www.kayserschapel.com. Arrangements are under the care of Kayser's Chapel of Memories of Moses Lake, Washington.
Recent Headlines
---