Warden Cougars bring home third-place trophy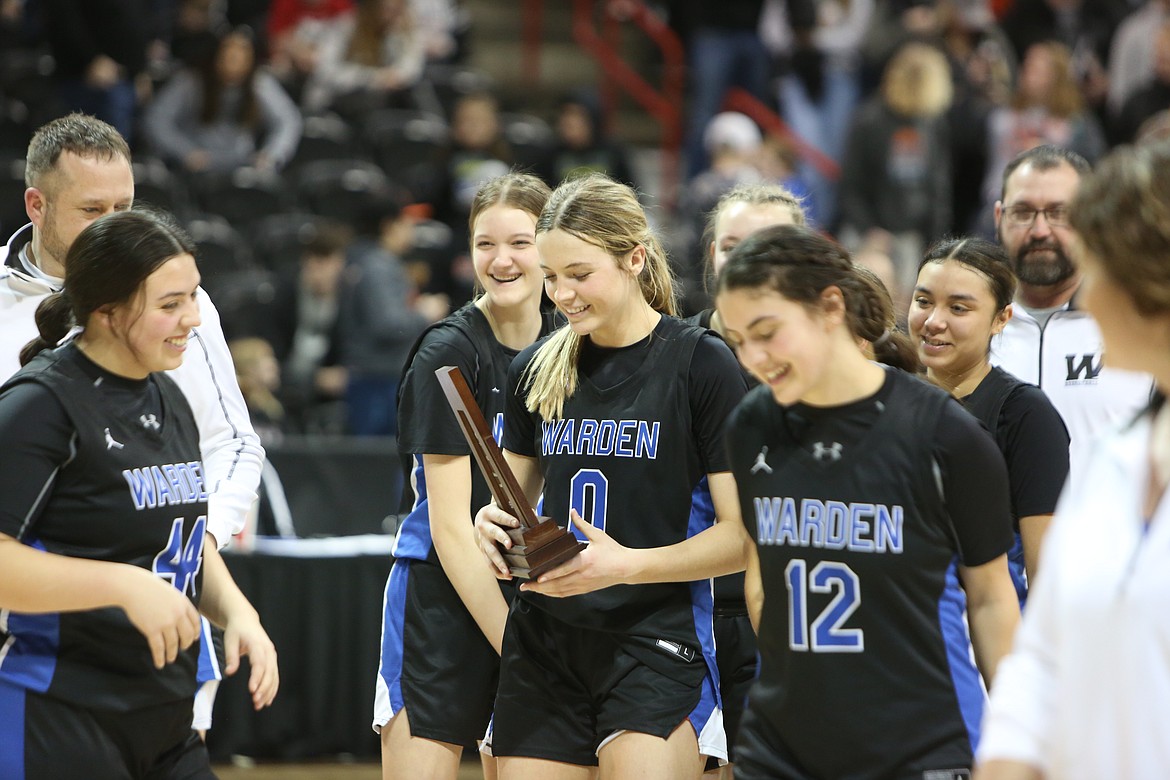 Warden junior Lauryn Madsen (0) smiles while holding the 2B girls state tournament's third-place trophy after the Cougars defeated Napavine 54-47 on Saturday.
Ian Bivona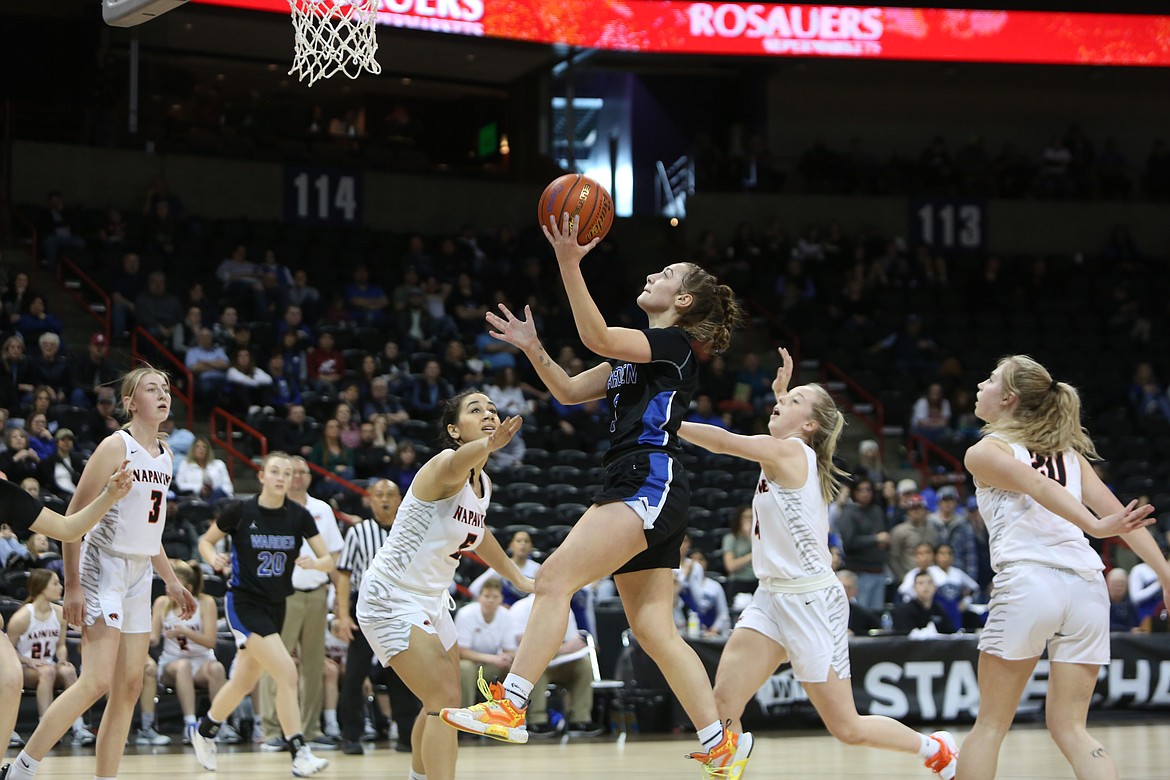 Warden senior Quinn Erdmann races past Napavine defenders for a layup in the second quarter of the Cougars' 54-47 win over the Tigers.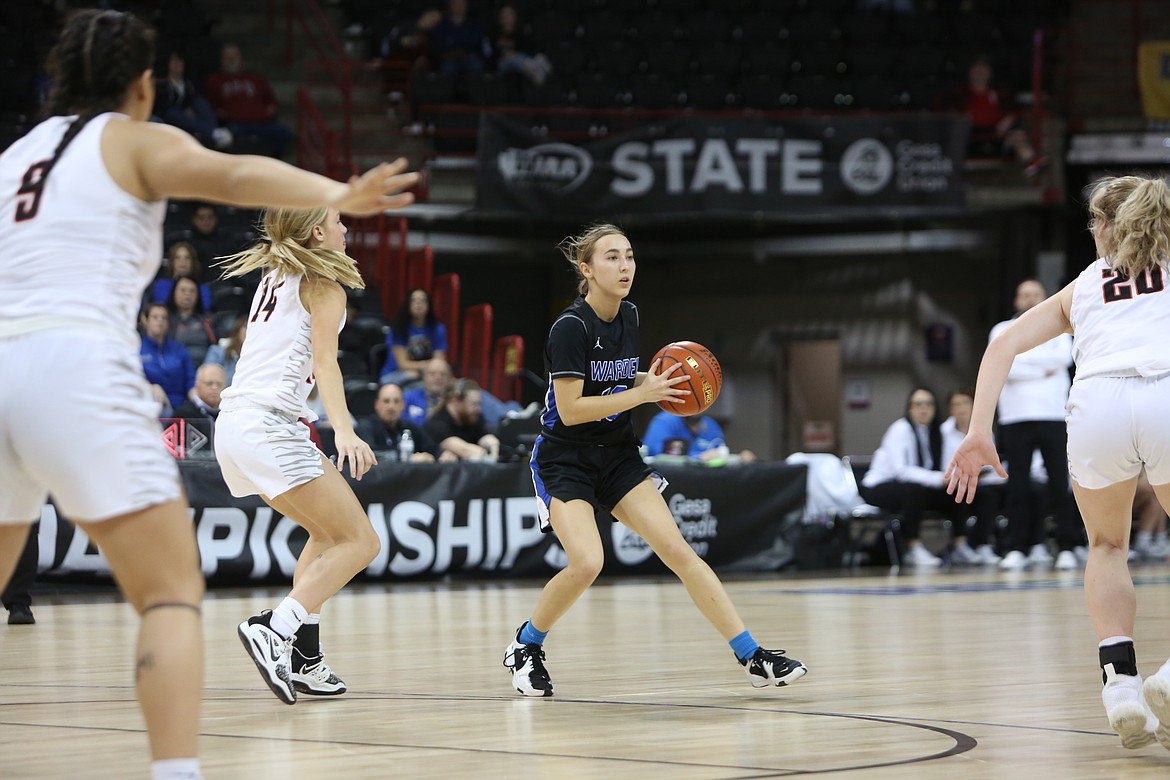 Warden senior Kaylee Erickson, in black, looks for an open teammate during the second quarter against Napavine in the state third/fifth-place game on Saturday.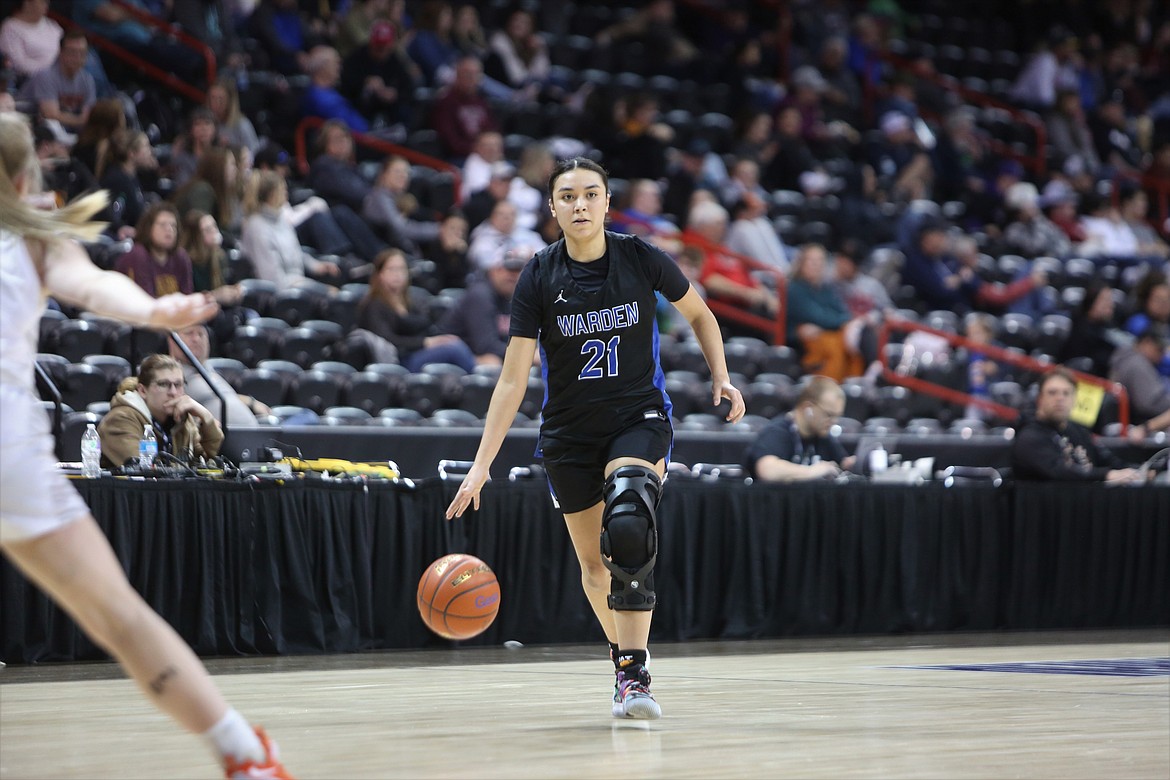 Warden senior JLynn Rios dribbles the ball up the floor in the second half against Napavine.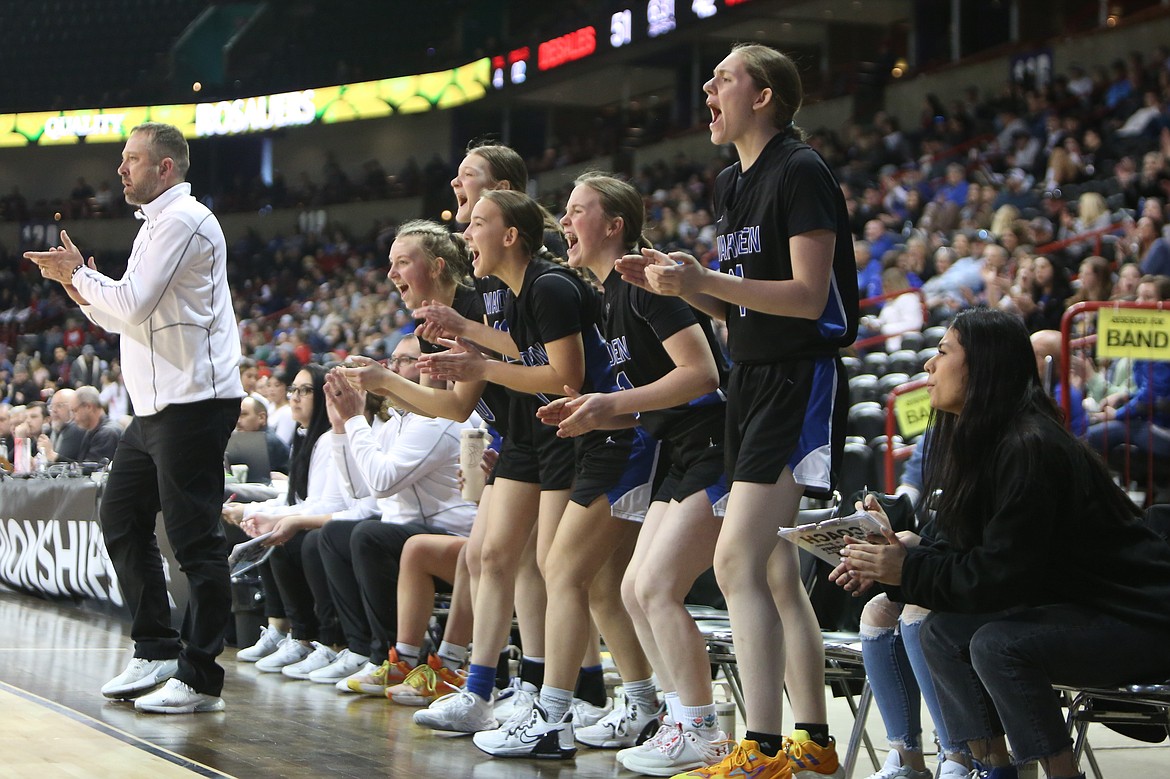 Players on the Warden bench cheer after a made layup by junior Molly Sackmann.
Previous
Next
by
IAN BIVONA
Sports Reporter
|
March 4, 2023 4:29 PM
SPOKANE – After falling to No. 1 seed Colfax in the 2B girls state semifinals, No. 4 Warden bounced back with a 54-47 win over No. 3 Napavine in the third/fifth-place game on Saturday, placing in the top three for the second-straight year.
"We've got a lot of really tough-minded girls," Warden Head Coach Josh Madsen said. "A lot of hard-working girls. Made a lot of sacrifices the past couple of years, but have a lot to show for it."
Warden took the court less than 24 hours after falling to the Bulldogs on Friday night.
"We knew we lost to a good team," Lauryn Madsen said. "It wasn't some team we should have beat or anything, so of course we were upset but I think we used that in this game to push us because we knew we wanted that third-place trophy."
Even without a state title to play for, senior JLynn Rios said the Cougars still found motivation for Saturday's third/fifth-place game.
"We all took our anger out from losing (Friday night) and put it all out on the court," Rios said. "We all worked hard and got the dub."
The Cougars started Saturday's third/fifth-place game on a 10-2 run over Napavine, but the Tigers rallied to take an 11-10 lead with 1:27 remaining in the first quarter of action.
Warden was able to retake the lead in the second quarter, and a hook shot by senior Quinn Erdmann just before the shot clock rang out put the Cougars up seven right before halftime.
Napavine added a basket with four seconds remaining in the half, but the Cougars took a 27-22 lead into halftime.
"We talked about starting fast, and then we got caught sleeping a little bit and took some breaks," Josh Madsen said. "Let them back into it, that was pretty frustrating. The great start was awesome, but we gave it right back to them and we were in a dog fight the rest of the game."
The Cougars took a 14-point lead early in the fourth quarter on a three-pointer by Lauryn Madsen, but the Tigers dug deep and fought to stay in the game.
"We allowed them to hang around, and that's very dangerous territory," Josh Madsen said.
A 10-4 Napavine run cut the Warden lead to 48-40 with 3:25 remaining, but the Cougars took advantage of being in the bonus and made their free throws down the stretch.
"We tried to keep grinding and keep trying to get stops," Josh Madsen said. "Eventually we'll hit a shot or something will bust through, and it did. We never fully got in track, we had some really good looks that we just didn't make. We had a pretty rough shooting game overall, but we kept scratching and clawing defensively that kept us in the game."
A year after winning it all, the Cougars once again left a state championship event with hardware. This year's senior class has placed at each state tournament they'd been to in their high school careers.
"We talked about that a little in the locker room, they'll go down as the most accomplished team to ever go through the Warden High School girls basketball program," Madsen said. "Sixth-place finish at 1A state as freshman, summer state champs during the COVID year – finished undefeated that year, they were really good as sophomores – state champs as juniors and then third this year. Pretty impressive resume for that group."
Seniors Kaylee Erickson, Rios, Lexi Leinweber and Erdmann all smiled for photos on the court with each other after the game.
"We've always got to grow as a group," Erdmann said of what made this year's senior class so successful. "It's special."
For the younger Warden players, Josh Madsen said his hope is for the players to see what it's like to place at state.
"We hope that some of these girls got a taste of it and are hungry for more now and ready to take that next step," Madsen said. "Make those same sacrifices and pay the price to be able to take that next step."
While the Cougars will lose starters in Erdmann, Erickson and Rios to graduation, Lauryn Madsen and fellow starter Aliza Leinweber – along with key role players in Makenna Klitzke and Molly Sackmann – still have at least another year with the team.
"I think we'll go great next year too and for years to come," Lauryn Madsen said. "We have a really great program that my dad's coached up, and I think it shows all the hard work we've put in."
Ian Bivona can be reached at ibivona@columbiabasinherald.com.
Box Score
Warden 12-15-12-15 54
Napavine 13-9-8-17 47
Warden game stories from 2B girls state tournament
Cougars vs La Conner: http://bit.ly/3ZognZK.
Cougars vs Colfax: http://bit.ly/3SSYLD0.
Recent Headlines
---