Broncos take fifth at 2B boys state tourney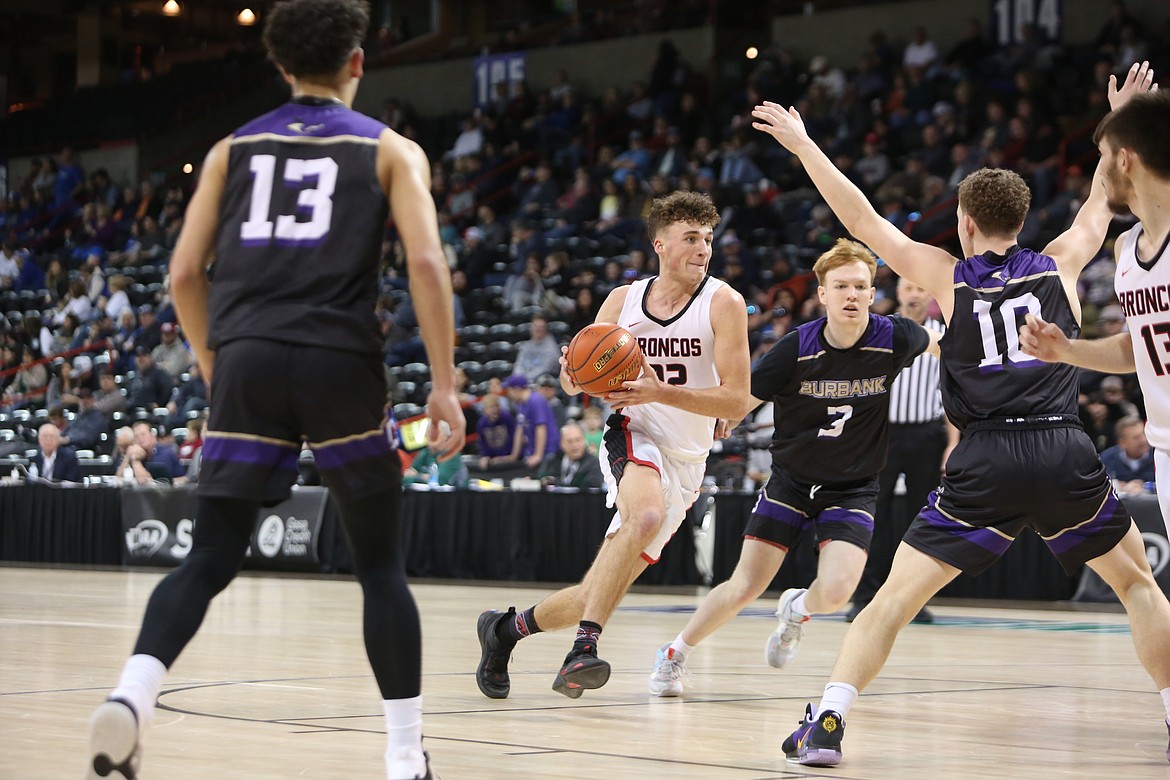 LRS senior Chase Galbreath, in white, drives through an open lane to the rim in the fourth quarter against Columbia (Burbank).
Ian Bivona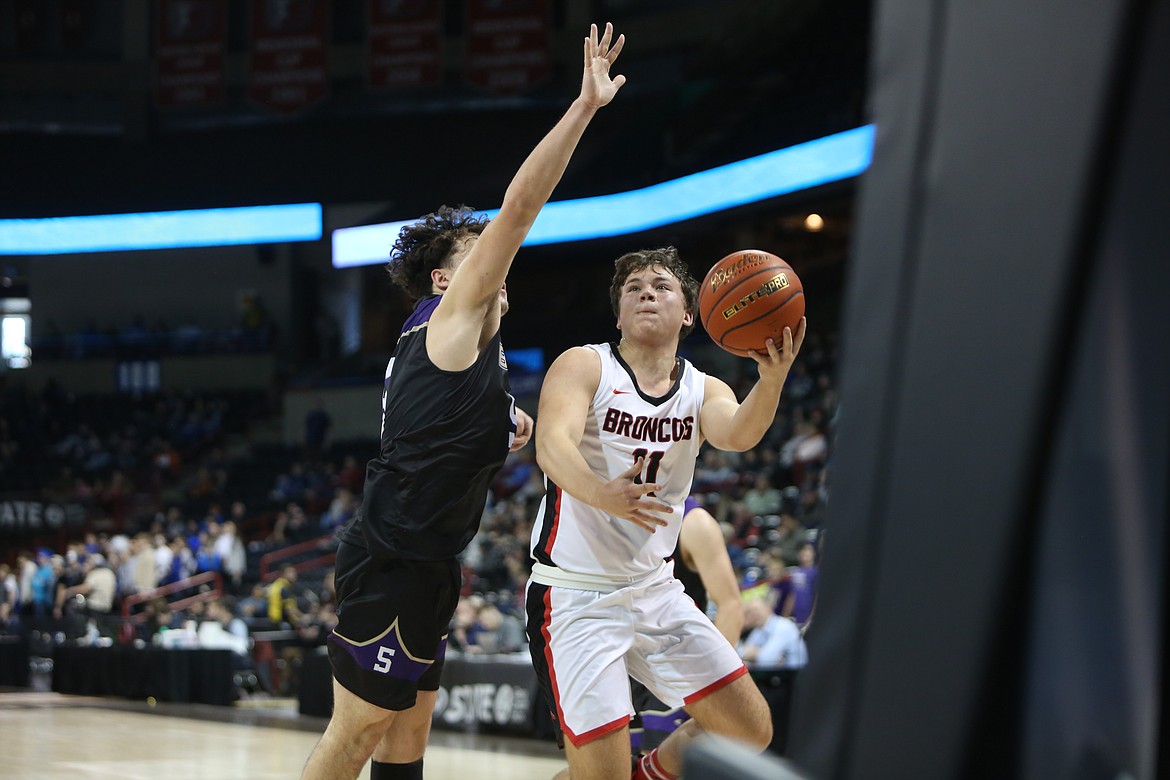 LRS senior Hunter Dinkins said playing in the state tournament was a "dream come true."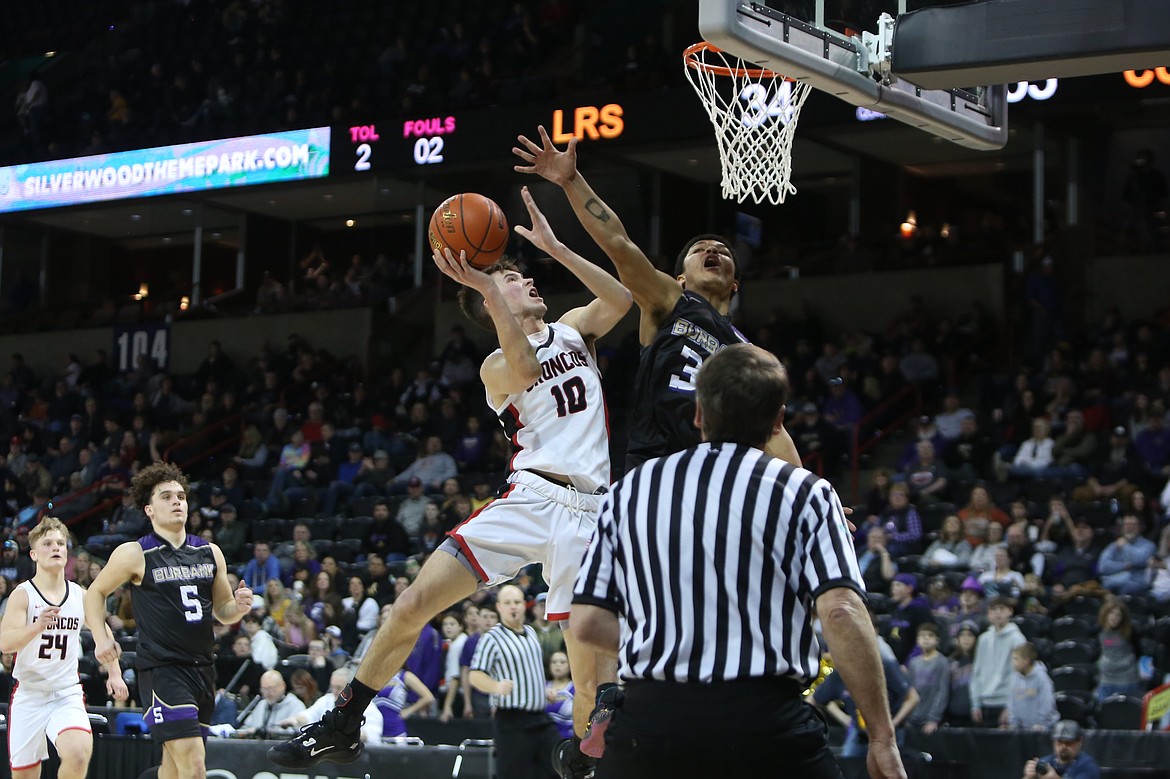 LRS sophomore Jayce Kelly gets fouled while attempting a shot from under the rim. Kelly made the shot and the ensuing free throw for a three-point play.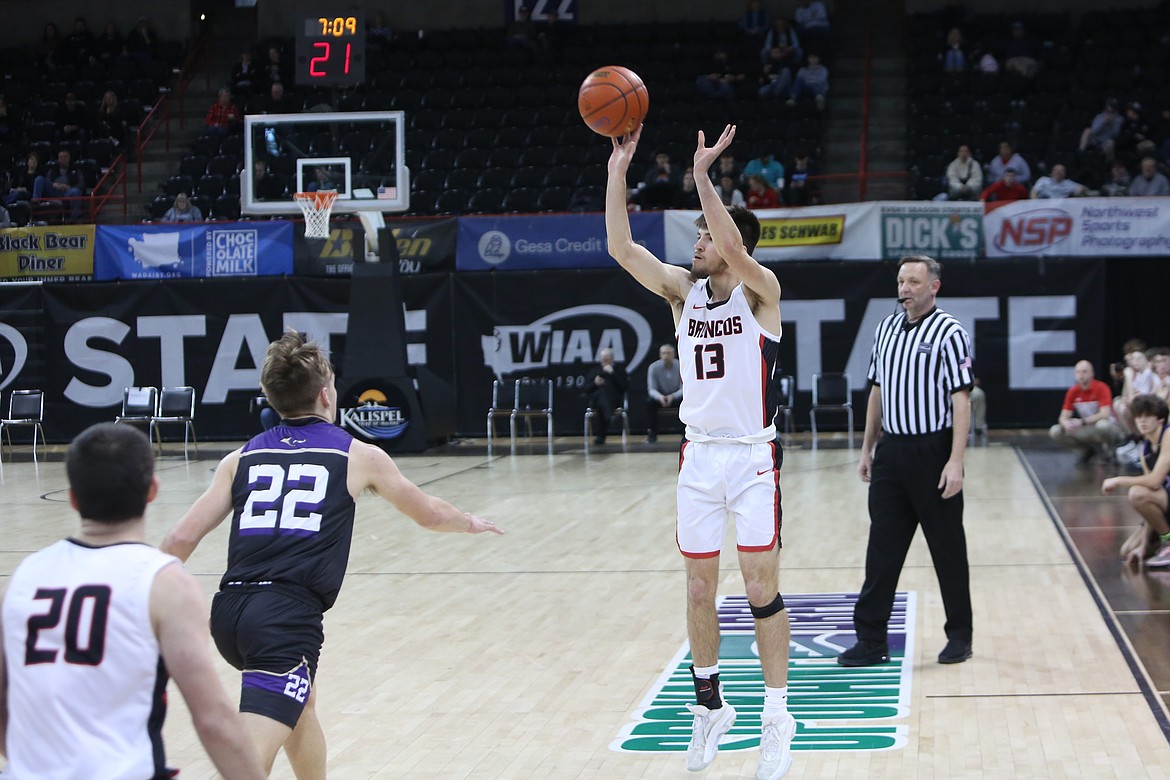 LRS senior Nick Labes shoots a three-pointer in the first half against Columbia (Burbank). Labes is one of five Bronco seniors that wrapped up their careers with a state trophy.
Previous
Next
by
IAN BIVONA
Sports Reporter
|
March 4, 2023 4:00 PM
SPOKANE – The exhaustion of playing four games in as many days at the 2B boys state tournament finally started to wear on the No. 9 seed Lind-Ritzville/Sprague Broncos, as they fell to No. 4 Columbia (Burbank) 70-49 in the third/fifth-place game in Spokane.
"It seems like we've been in playoffs forever, which we kind of have," LRS Head Coach Dustan Arlt said. "It's been a month – really, we've been in a lot of loser-out games trying to get to this point and place. A lot of tough matchups. The kids stuck together. Played our best at the end of the season this last month, there's no question about that. To get hardware as a nine seed is a great accomplishment."
LRS left Spokane with a fifth-place trophy and was the highest seed among any classification, boys or girls, to make it to the state semifinals.
"We're all down because we lost, but we're all deep down not sad because we came out with a trophy," LRS sophomore Jayce Kelly said. "We're all happy. We got a taste of it, and we know we want to come back next year and the year after that. We're going to work hard now."
Sophomore Zach Klein started with a basket to give the Broncos an early lead, a lead they extended to four points on a three-pointer by junior Brock Kinch to end the first quarter of action.
Then it flipped for the Coyotes in the second quarter, who took their first lead of the game on a three-pointer with 5:26 remaining in the half. Columbia opened the second quarter on a 7-0 run, and after both sides traded scores, they closed the half on an 8-1 run to take a 31-24 lead into the halftime locker room.
"I thought we came out pretty well," Arlt said. "Burbank's a talented team though, a lot of athletes. They played one less game, they didn't play Wednesday, which wasn't working in our favor."
The Coyotes picked up their defensive energy in the second quarter, swarming to Broncos in the paint and switching onto LRS players in possession of the ball.
Kelly was able to quickly cut the Columbia lead to 33-30 with back-to-back three-pointers to start the second half, but the Coyotes were able to adjust and take away the Broncos' three-point shooting. Columbia answered Kelly's shots with a 13-0 run and outscored the Broncos 20-4 down the stretch of the third quarter.
"We closed it right at the start, but you could tell four days in a row wore on us a little bit," Arlt said.
The final eight minutes of the 2022-23 season for LRS saw both squads exchange baskets, but the 19-point deficit was too much for the Broncos to overcome. LRS fell 70-49 to Columbia but still left the Spokane Arena with some hardware.
"No matter how you look at it, we're going to look back and be happy with a fifth-place (finish)," Dinkins said. "Hardware is hardware. We were the No. 9 seed, we weren't even supposed to make it past the first day. We upset the No. 2 seed, so we have something to be proud of."
Two minutes before the final buzzer, all five of the Bronco seniors – Dinkins, Chase Galbreath, Hayden Melcher, Cooper Miller and Nick Labes – stepped onto the court with each other one final time.
"I know a lot of (the seniors) were big into football, and it was kind of a tough draw and how it ended was tough for them," Arlt said. "So to have this basketball season to take some steam off a little bit – a great experience these last for days at the arena, beating some great teams, getting to compete here, really having this life-long experience – it's huge."
For the younger players on the LRS roster, Arlt said he hopes this year's experience in Spokane will give the Broncos an edge in their tough league next year.
"There's little things you learn in the ups and downs of a season and competing at the highest level," Arlt said. "... You hope, if we're in this spot next year, maybe this little experience we gained this year and playing through this gauntlet over the last month to get out of our league, you hope it gives us that extra, little bit more."
For many players, dreams of playing in the state tournament came true this season.
"We come to the 2B tournament every year, so to be able to come here and play in it, it's a dream come true," LRS senior Hunter Dinkins said. "My dad won the state championship here when he was in high school, so it was fun and see what he went through."
Ian Bivona can be reached at ibivona@columbiabasinherald.com.
Box Score
Broncos 14-10-10-15
Coyotes 9-22-22-17 70
LRS game stories from 2B boys state tournament Broncos vs Adna: http://bit.ly/3ZmHynR.
Broncos vs Morton-White Pass: http://bit.ly/3EVN0G7.
Broncos vs Brewster: http://bit.ly/3EYbcYt.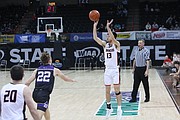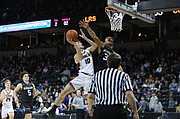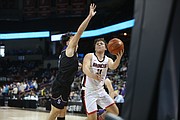 Recent Headlines
---