GCIA hosts another first in electric flight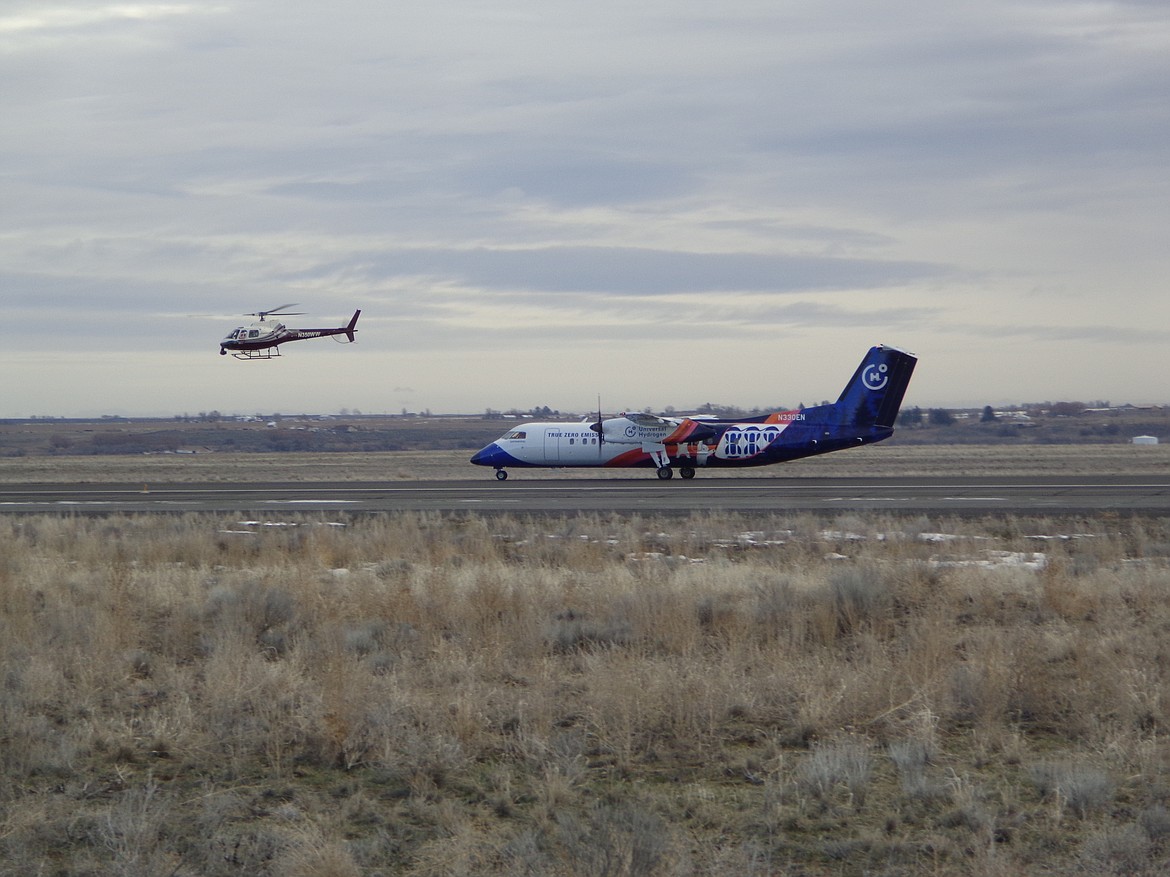 An observation helicopter observes a Dash-8 commuter airliner with one engine modified by California-based Universal Hydrogen to run on electricity generated by hydrogen fuel cells as it taxis down the main runway of the Grant County International Airport on Thursday.
Cheryl Schweizer/Columbia Basin Herald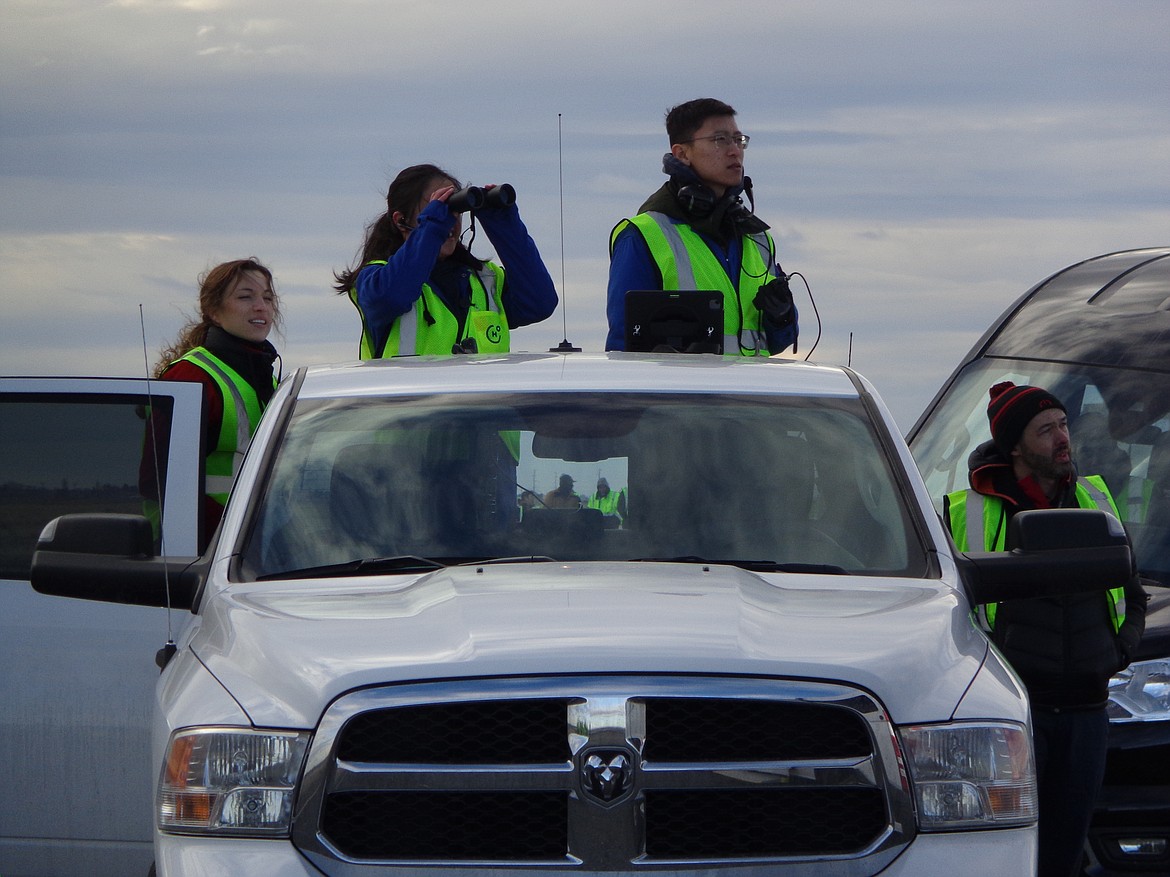 Members of Universal Hydrogen's flight test team watch as their Dash-8 commuter airliner partially converted to run on a hydrogen fuel cell flies around the Grant County International Airport on Thursday.
Previous
Next
by
CHARLES H. FEATHERSTONE
Staff Writer
|
March 2, 2023 3:16 PM
MOSES LAKE — It was another day for the aviation record books at the Grant County International Airport on Thursday.
"We are, I think, the second-largest hydrogen airplane ever to fly after the Tupolev 155, which the Soviet (Union) flew in 1988," said Paul Eremenko, the co-founder and CEO of Hawthorne, California-based Universal Hydrogen. "But I think we can reasonably claim to the fact that we are the largest to cruise principally on hydrogen."
Eremenko spoke to a crowd of about 100 people gathered in the GCIA main terminal following a roughly 20-minute test flight of a special Dash 8 commuter airliner which flew with one electric engine powered by a hydrogen fuel cell system created by Universal Hydrogen.
The twin-engine aircraft flew a series of wide figure-8s over GCIA while a helicopter followed, and at one point throttled down the conventional engine and flew entirely on electricity generated by the hydrogen fuel cell, Eremenko said.
"You are the leading edge, the spear's tip, in driving the single biggest transformation in commercial aviation, I think, since the birth of the jet age," Eremenko said as he addressed the handful of venture capital companies, aircraft manufacturers and airlines that invested in Universal Hydrogen.
The fuel cell system pioneered by Universal Hydrogen uses electricity to split water molecules into hydrogen and oxygen, liquefy and store the hydrogen in tanks contained in special pods designed to fit in planes about the size of the Dash-8, and then use that hydrogen in fuel cells to generate electricity. Fuel cells use metal catalysts to combine hydrogen and oxygen to create power, which is then used to drive an electric motor powering the aircraft.
The goal is to reduce the burning of fossil fuels and the emission of carbon dioxide, Eremenko said.
"When it comes to decarbonization, time is of the essence. So you've got to move fast, and you've got to move fast and you've got to move early," he said. "And I think what we have here is the only serious solution, really. The only alternative to hydrogen, or to getting to zero emissions in aviation, is curtailing traffic volumes."
"And I'm guessing that's not the future that any of us want for the aviation industry," Eremenko added.
Universal Hydrogen came to Moses Lake to work with aviation testing and certification company AeroTEC and electric aircraft motor maker MagniX to customize the Dash-8 for flight testing.
"We're very excited to be part of the program with Universal Hydrogen," said AeroTEC CEO Lee Human. "We've been working on this project for about a year and a half now from cardboard box mock-up to a flying aircraft. … And now we'll show the world what's possible."
AeroTEC, which is based in Seattle but has its testing facility at the GCIA, is also involved in several other major electric aircraft projects, Human said. The company is part of a major, NASA-funded program with partner MagniX to create an electric aircraft propulsion system, and is working with California-based commuter airline Surf Air to certify and build a number of all-electric Cessna Caravan aircraft for commercial use.
In addition, AeroTEC has overseen the test flights of several all-electric aircraft over the last three years.
"We've done a lot of very ambitious test programs. But now is the time to bring it home with a real electric aircraft that the flying public will get to enjoy," Human said.
GCIA Director Rich Mueller said flight testing is very important to the Port of Moses Lake, which owns and operates the former Larson Air Force Base, and keeps the airport busy despite not having regularly scheduled passenger air service.
"It's a chance for us to be a part of the future of aviation. We're uniquely suited with our large airfield and open airspace," he said. "We've had to work hard to be that world-class test center."
Charles H. Featherstone can be reached at cfeatherstone@columbiabasinherald.com.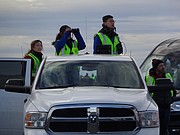 Recent Headlines
---