Cannabis concentration bills fail to grow in state legislature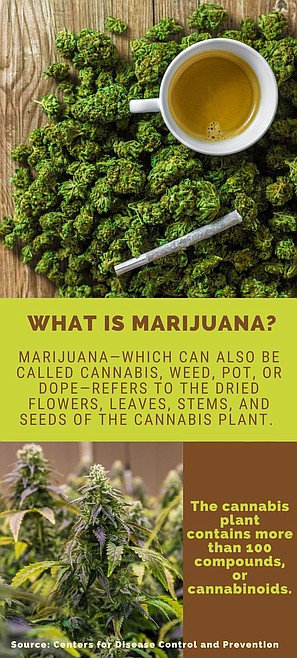 Source: CDC/Canva/Columbia Basin Herald
by
REBECCA PETTINGILL
|
March 1, 2023 4:39 PM
OLYMPIA — Two bills that aim to limit the potency of cannabis products have not progressed through the Washington House and look like they will not make the final cut this session.
"The high use of recreational drugs concerns me a lot," said Representative Tom Dent (R-Moses Lake), secondary sponsor of the bills.
House Bills 1641 and 1642, if passed, would have created a graduated cannabis excise tax based on THC concentration and limit the potency of cannabis concentrates.
"It really concerned me because they are so much stronger than they used to be," said Dent.
HB 1642 would have limited retail outlets to the sale of cannabis concentrates with a THC concentration less than 35% unless the retail outlet holds a medical cannabis endorsement and the concentrates that have a THC concentration higher than 35% could only sold to patients and providers who have medical cannabis state approval.
A legislative snapshot by the Washington CannaBusiness Association on Feb. 17 states that House Bills 1641 and 1642 "ignores the prevalence of a wide spectrum of cannabis products for thousands of years before the legal marketplace was established in Washington." The snapshot also said with HB 1641 that a graduated excise tax based on potency may be an approach in Washington that supports a safe, quality-controlled and regulated cannabis marketplace that keeps products out of the hands of kids, but the policy is complicated and requires close study.
"Representative (Lauren) Davis (D-Shoreline), who is the prime sponsor of the bill, is a drug and alcohol counselor and we share a lot of the same passions around this kind of stuff; we wish it wasn't so readily available," said Dent. "We have seen how the potency has grown over the years. The marijuana of today is not the marijuana when I was a kid, you know 40, 50 years ago."
Both HB 1641 and 1642 had a public hearing in the House Committee on Regulated Substances and Gaming on Feb. 2 but no further action was taken.
The Washington State Liquor and Cannabis Board declined to comment on the legislation's stalling.
Rebecca Pettingill may be reached at rpettingill@columbiabasinherald.com.
Recent Headlines
---