Moses Lake's Holterhoff signs with CWU
by
IAN BIVONA
Sports Reporter
|
June 9, 2023 1:00 AM
MOSES LAKE – Coaches, family and friends gathered inside the Moses Lake High School gymnasium to celebrate with Maverick senior Camryn Holterhoff, who signed on to run both cross country and track at Central Washington University on Thursday.
"It's like a dream come true," Holterhoff said. "Looking back at my freshman year, if you would have told my younger self that I would be here, I don't think she would have believed me. It's pretty surreal, but I feel really blessed to be here."
Having started competitively running when she was in the sixth grade, Holterhoff said her love for cross country began once she reached the high school level of competition, citing the influence of her coaches as a reason why.
"I'd say (it was because of) my coaches," Holterhoff said. "Especially coach (Larry) Dagnon – he really helped me find a love for cross country."
That freshman year began with wanting to love up to the legacies of former Moses Lake runners, according to Dagnon.
"It's amazing; it's monumentous – especially for (Holterhoff)," Dagnon said. "She's worked so very hard for her entire career, and for us just to watch what she started out as – just an eager freshman wanting to live up to two or three really good athletes on her team."
A two-time state qualifier in cross country in 2021 and 2022, now Holterhoff leaves behind a legacy of leadership at Moses Lake.
"She's been as good as anyone we've had," Dagnon said. "She's been a leader on every stage. She's talked the talked and walked the walk at every step. She has really mentored everyone below her, and helped our team achieve an amazing culture. I can't say enough great things – she's been an amazing athlete. I hate to see her run here end, but such is the life of a high school athlete."
Central Washington's proximity to home and knowing athletes to go through the Wildcat's program were draws for Holterhoff.
"I liked that it was pretty close to home, and I knew of a couple people that I had liked Central and their program," Holterhoff said.
Holterhoff moves on to Central to compete in both cross country and track, where she'll run as a distance runner for the Wildcats.
"I'm just looking forward to continuing competing and bettering myself," Holterhoff said. "I think it's nice that it's not quite over yet. Got a little bit longer."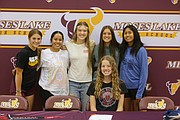 Recent Headlines
---