Othello hosts baseball tourney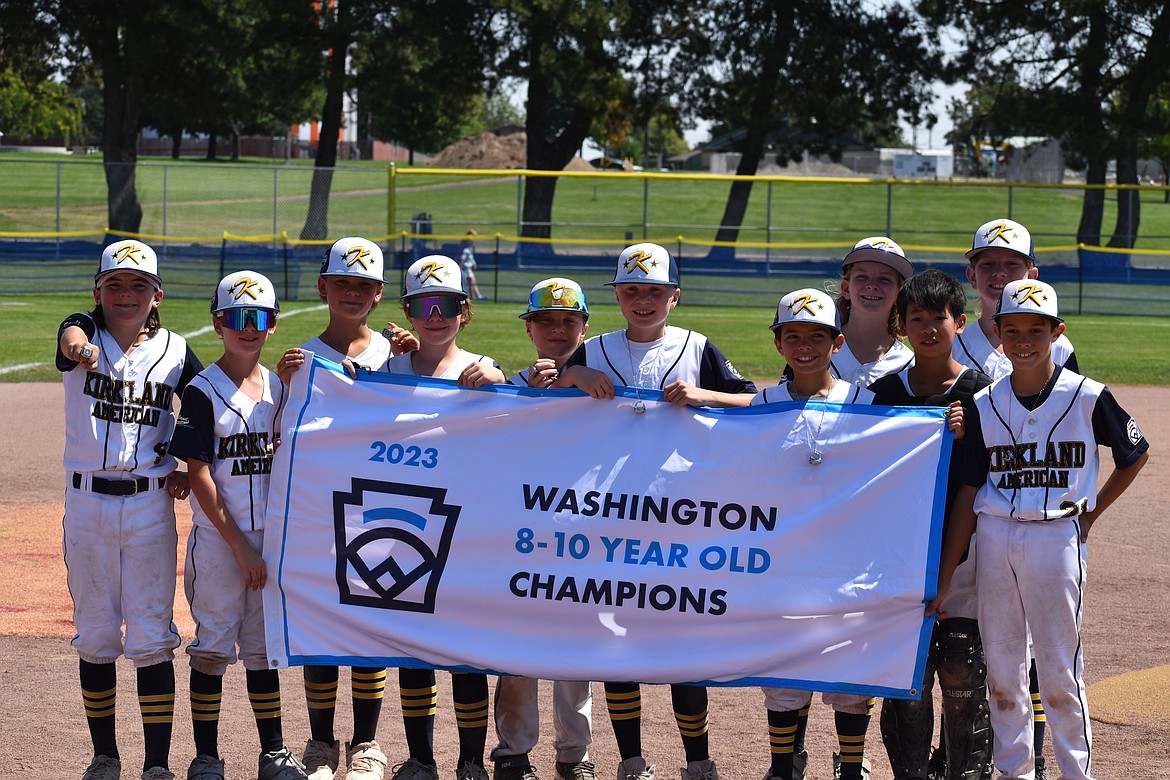 Players for Kirkland American smile while holding a championship banner at the Washington Little League 8/9/10U State Tournament in Othello on Saturday.
IAN BIVONA/COLUMBIA BASIN HERALD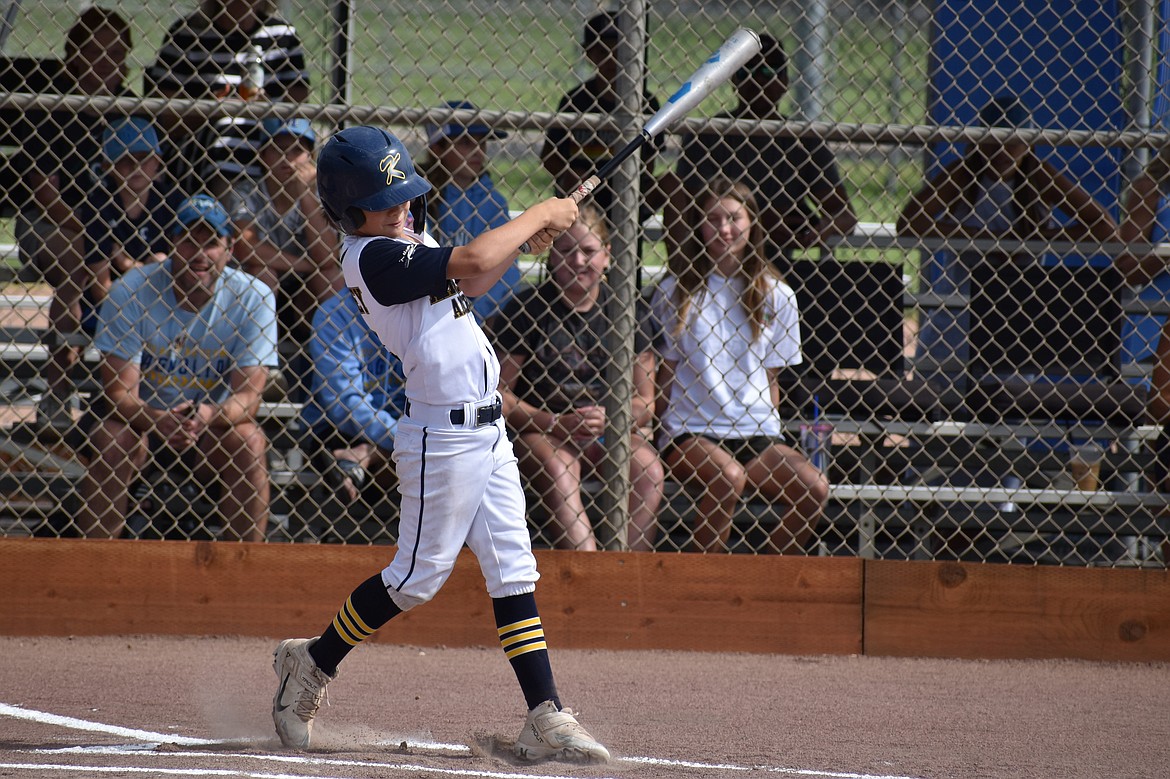 A Kirkland American player swings at a pitch against Magnolia in the championship game of the Washington Little League 8/9/10U State Tournament on Saturday.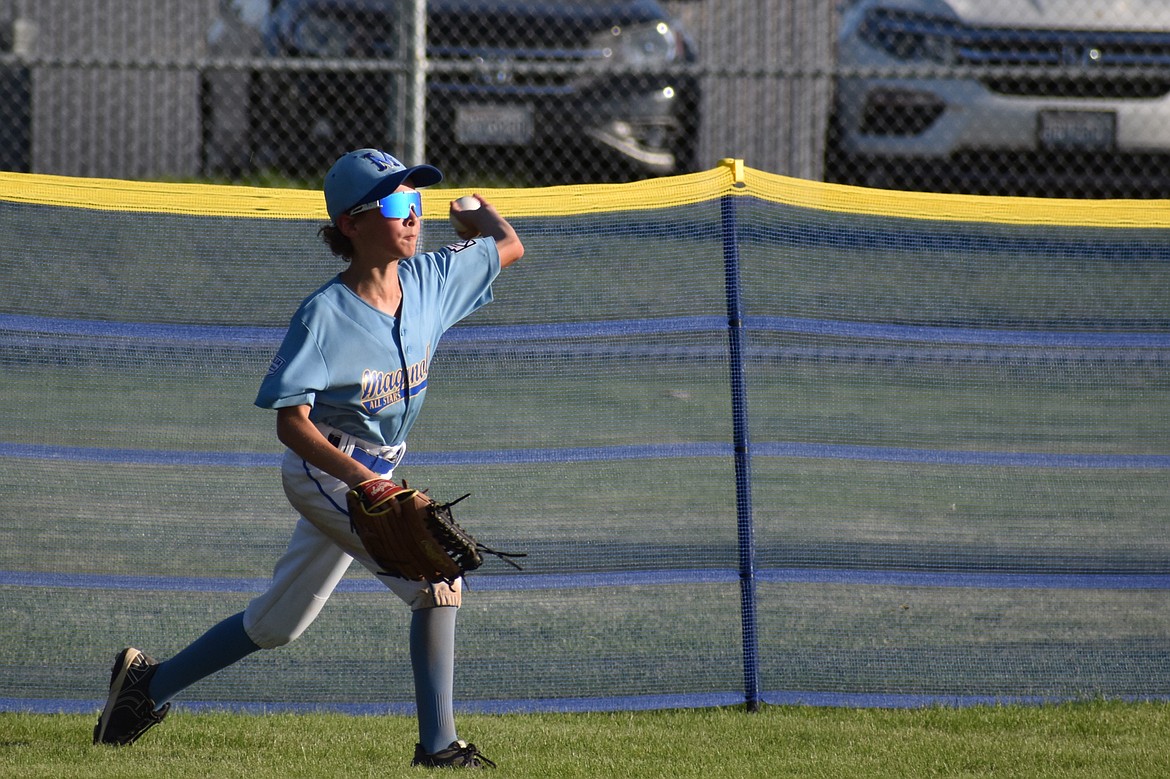 An outfielder for Magnolia throws a ball back toward the infield on Friday's consolation final against Mill Creek.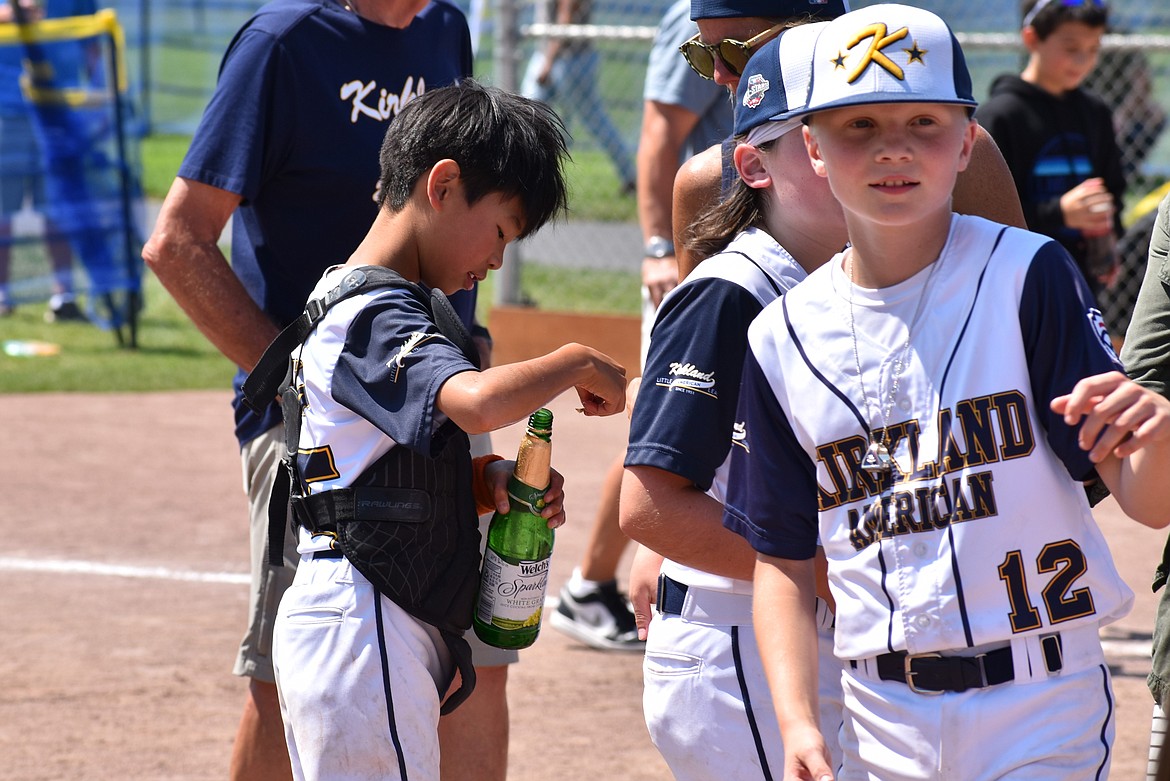 Kirkland American players sprayed sparkling cider in celebration on the baseball field at Lions Park in Othello after winning the Washington Little League 8/9/10U State Tournament.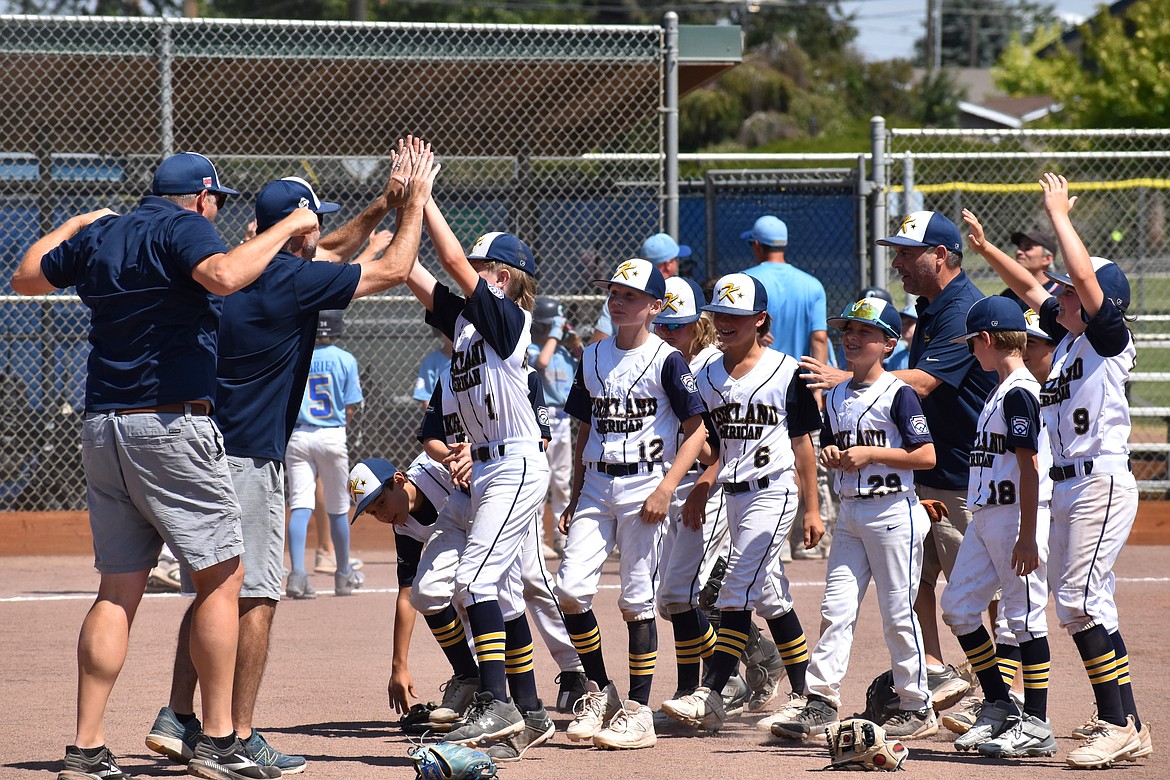 Kirkland American players and coaches celebrate after winning Saturday's championship game 7-3 over Magnolia.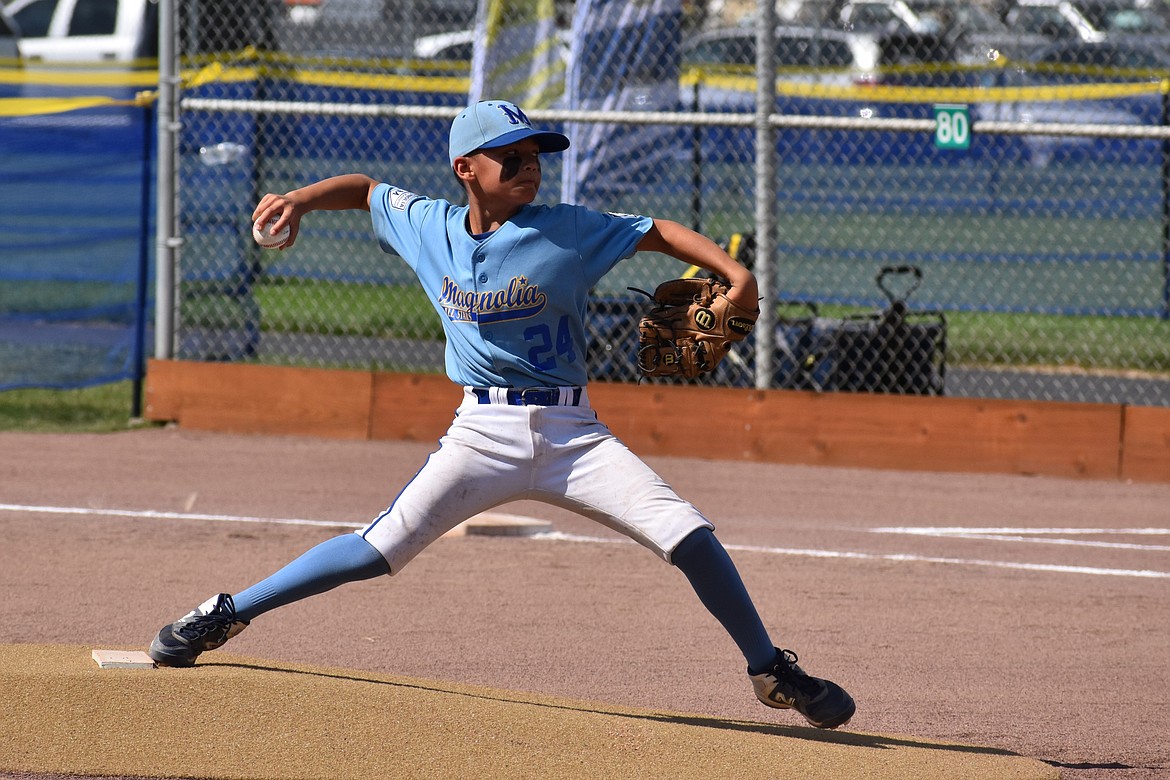 A pitcher for Magnolia tosses the ball against Kirkland American in the championship game of the Washington Little League 8/9/10U State Tournament in Othello on Saturday.
Previous
Next
by
IAN BIVONA
Sports Reporter
|
July 31, 2023 4:50 PM
OTHELLO — The weeklong Washington Little League 8/9/10U State Tournament ended on Saturday in Othello, with Kirkland American coming out on top of Magnolia with a 7-3 win in the tournament's title game.
"It (took) great teamwork," Kirkland Head Coach Todd Greenberg said. "We had our ups and downs throughout the whole tournament, every game different players stepped up whether it was offensively or defensively. They picked each other up."
After two scoreless innings to open the game, Kirkland added three runs in the top of the third to take a 3-0 lead. Magnolia added two runs of its own later on in the bottom of the fourth to cut the deficit to one run.
"We knew it was going to be a fight," Greenberg said. "It started off as a pitcher's duel, (Magnolia's) pitcher was fantastic. We knew it was going to be a grind, and the kids grinded out every at-bat. Even though we didn't get any runs the first few innings, the kids put pitches on the pitcher. We knew at some point we'd break through, and that's what we did in the third inning."
Despite Magnolia gaining some momentum Kirkland American quickly got the bases loaded to begin the top of the fifth inning. After an RBI single, Kirkland's Grady Smith batted in his third and fourth RBI of the day on a two-RBI single to give his team a 7-2 lead.
"It felt great to help my team as much as I could, getting all the runs across and do what I can," Smith said.
Each hit just added to the team's confidence, which went a long way in securing Saturday's win despite the slow start, according to Greenberg.
"Once we broke through the confidence raised in the kids collectively," Greenberg said. "They started playing with that confidence in addition to the passion and the grind that they always do."
Kirkland went undefeated in the tournament, notching wins against West Seattle (10-1), North Kitsap (10-1), Mill Creek (14-4) and Magnolia.
After a 9-4 loss to Mill Creek, Magnolia advanced to the championship game out of the consolation bracket, defeating Richland (9-6), Bonney Lake-Sumner (3-2) and Mill Creek (1-0) in the consolation bracket to reach the final.
Both squads received hardware for qualifying for the championship game, with Magnolia players getting silver medals and the champion Kirkland American players being given championship rings.
Othello hospitality
JP Pittman, the district administrator for Washington Little League Districts 5 and 13, praised the City of Othello for its welcoming of Little League players from across the state into Othello for the week-long tournament.
"The City of Othello has embraced the baseball mindset," Pittman said. "They want to do baseball big-time, and they invested in these fields. That shows a lot of forethought, a lot of future thinking. When they extrapolate that down to the individual player experience, they treated these players like they were royalty."
Whether it was throwing parties for the players, showing support at restaurants and hotels or cheering at games, Othello residents helped to make the tournament special for the all-star players.
"This has been the best week of their lives," Greenberg said. "Between the time they spent together at this tournament, the baseball, the bonding between them – they're loving it. This is something they'll remember forever. I think Othello and (Washington Little League District 5) did an amazing job."
Greenberg said the friendly nature of Othello residents is what stood out about the city during Kirkland American's week-long stay in Othello.
"The kindness of people," Greenberg said. "Just that small town, nice feel when everyone's trying to help, and that kindness of everybody here at the ballfield has been amazing."
With Othello's "good showings" at district tournaments and Lions Park showing "potential" in hosting a state tournament, the city was selected as this year's host site for the tournament. Upon being selected, Othello's Parks and Recreation Coordinator Valerie Hernandez began the process of upgrading Lions Park.
Upgrades were made to the concession stand, fields, bleachers, dugouts and speaker system at the park, as well as adding a new press box. Now, players were able to hear their names called as they stepped into the batter's box.
"Everyone likes to play when they hear their names announced, and they like to play on fields that look like big-league fields," Pittman said. "It makes them play better, but it makes them feel like they're special."
Players on the 12 teams at the tournaments are composed of all-stars from the 13 Little League districts in Washington, who each qualified for state after their own respective district tournaments. District 5's representative, which covers Grant, Franklin, Walla Walla, Columbia, Garfield and Asotin counties, was Asotin County. District 13's representative, which includes Adams, Whitman, Lincoln, Spokane, Ferry, Stevens and Pend Oreille counties, was West Plains.
"Those district teams are made up (of) the best players from the league," Pittman said. "It's only that league, and they're only Little League players that can be selected to an all-star team. Those all-stars go to districts, and this is happening all over the world – not just in Washington and not just at one level."
While the competition for the 8/9/10U teams ends at the state tournament level, when players reach the 12-year-old bracket is when competition begins to reach the Little League World Series, which is held every August in Williamsport, Pennsylvania and broadcasted on ESPN.
"The kids you see here playing in this tournament, you'll see them possibly playing on ESPN," Pittman said.
Ian Bivona may be reached at ibivona@columbiabasinherald.com.
Recent Headlines
---