CWU expects art history program to draw students regionally
by
CONTRIBUTED REPORT/CENTRAL WASHINGTION UNIVERSITY/DAVID LEDER
|
July 25, 2023 2:24 PM
ELLENSBURG — Central Washington University's newest degree program has been a long time coming, and this fall it will finally become a reality.
After ironing out the details for the past 18 months, the Department of Art + Design will be introducing a Bachelor of Arts in Art History, giving a number of current students an opportunity to pursue their passion without having to go elsewhere. The new degree offering will also provide an incentive for art history aficionados to consider Central.
"There are a lot of students who are excited about art history — more than you might think," said Dr. Erika Pazian, a CWU assistant professor who has been developing the curriculum since she arrived on campus in 2021. "We were the only public university in Washington without an art history major, and we have seen some students transfer out because we don't offer one. I've wanted to do something like this since I came to CWU two years ago, and I'm really excited to get it started."
Pazian worked closely with Department Chair Gregg Schlanger and Professor Dr. Ellen Avitts over the past year and a half to establish the parameters for the program. Interim Dean of the College of Arts and Humanities Jason Knirck gave the Art + Design faculty the official go-ahead last fall, and the rest is (art) history.
"Jason was very supportive, and the process went fairly smoothly," Pazian said, adding that the degree was approved by the Faculty Senate in January. "The biggest question was 'what additional resources do you need?' But we didn't need any. We have all the faculty we need, and many of the required credits are already offered in the department."
Pazian noted that the Art History BA program is highly interdisciplinary, offering ample crossover with other Art + Design degrees. The new program features 29 required credits—including Surveys in European Art, Art Beyond the West, Recent Art, and Methods and Theories of Art History—all of which will be taught by Pazian and Avitts.
The remaining credits will come from studio art courses (9-12 credits), upper division art history courses (20 credits), and related area courses (11-15 credits), such as American Indian Culture, Asian Studies, Black Diaspora Studies, and Museum Studies.
"This degree fulfills many of CWU's goals, and it will provide great opportunities for our increasingly diverse student body," Pazian said. "The art history field is largely monochromatic, and we are excited to help our own students go on to grad school so they can contribute to the diversity that is lacking in the profession."
Pazian explained that art history is often viewed as a "field for the elite," and she is seeking to help remove that notion from the conversation.
"There are a lot of career opportunities, including specific positions that are trying to address the issue of diversity," she said. "We want people to know that this really is a field that students from any background can feel like they are a part of."
One of the goals of the new Art History BA program is to "globalize the curriculum," so that the instruction is not centered around only art from the United States and Europe. That's where the idea for the Art Beyond the West course arose. Pazian will be taking a class to Mexico City this fall to give her students an entirely new perspective.
"We want our students to receive a global education so they can see themselves in the art we are talking about," she said. "We have heard students say they enjoy learning about Latin American art. They know it exists, but they haven't been exposed to the historical context. It really means a lot to me that we're going to be able to offer something like this."
Now that the new program is officially in place, three CWU students — Ivy Shearer, Joshua Collins and Van Parsons — will be graduating with art history degrees next spring. Pazian also pointed to her first "recruit," Elle Seidensticker of Cashmere, who will be a freshman this fall.
"Elle's senior project was to shadow someone in a career of interest," said Pazian, who also serves as her department's faculty liaison for College in the High School. "She wants to be an art history professor, so she came to campus and shadowed me for a day. That experience solidified her decision to pursue a degree in art history at CWU—and we're confident she's the first of many."
Pazian added that she has high hopes for the program in the years to come. She applauded the efforts of her colleagues, specifically Schlanger and Avitts, and she believes the art history discipline will soon become a valuable recruitment tool for CWU.
"This is the most supportive studio art faculty I've ever worked with, and they all see how art history connects with what they're doing," Pazian said. "Art history has many real-world applications, and I would love to see it become the fastest-growing major on campus."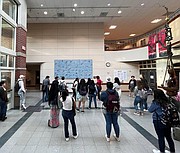 Recent Headlines
---