George approves Quincy Valley Regional Parks District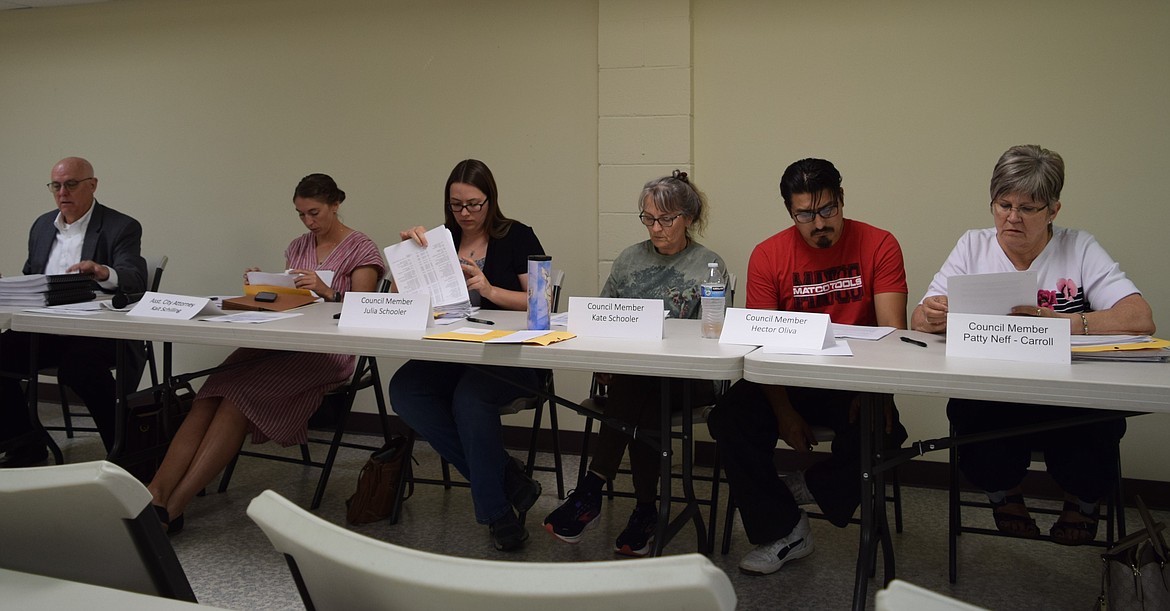 From left, City Attorney Chuck Zimmerman, Assistant City Attorney Kait Schilling and George City Council members Julia Schooler, Kate Schooler, Hector Oliva, and Patty Neff-Carroll discuss George's possible participation in the proposed Q-Plex indoor recreation facility.
Gabriel Davis/Columbia Basin Herald
GEORGE — The George City Council voted unanimously Tuesday to approve the city's participation in a proposal to form the Quincy Valley Regional Parks District. The proposal, which is scheduled to be on the November general election ballot, would fund a new field house and swimming pool in the city of Quincy
Pat Haley, Quincy city administrator, spoke to the council about the planned facility, called Q-Plex, and answered any questions council members had regarding the parks district.
"We wanted to make it regional so that it invites people into our town…and that's what I'm proposing, that it becomes something that has value for everybody in the district," said Haley.
Haley said that the city of Quincy is constructing the park facilities in order to give citizens in Quincy and surrounding areas more recreational opportunities throughout the year.
"Now Quincy's a tweener town, along with George. You know what I mean by tweener town? We're in between Moses Lake and Wenatchee. There's nothing to do in tweener towns, so you have to go out of town to do anything," he said.
According to the Q-Plex website, the 143,000-square-foot facility is intended to serve as a major hub for the region and support activities ranging from sports to community and regional events. According to the website, Q-Plex will include a range of sporting fields and courts, as well as other indoor facilities and more.
Haley could not confirm whether the use of the facility would be free but did specify that local residents would pay less if there was a fee. Haley also said that the increase in property taxes caused by the new facility would equate to about $13 a month for an average $350,000 house. He said that increasing those taxes cannot go up without a vote of the district, and it is more likely to decrease as the project moves along.
George City Attorney Chuck Zimmerman informed the George City Council of the significance of approving the parks district, which would then include George voters in the vote for the facility in November.
"Your voters could say, overwhelmingly, 'We don't have an interest in this,' but yet it could get approved overwhelmingly by all the others, and then you would be a part of it. The other way around works too…You don't have a lot of voters here versus the number of voters within the entire Quincy school district."
Two citizens present at the meeting expressed their opinions on approving the parks district, one for it and one against it. The council then passed a motion to approve the district without opposition.
"We don't want to take opportunities away from kids that are going to live here but go to school there and may take advantage of these facilities after school and have stuff to do there," said Council Member Julia Schooler.
Gabriel Davis may be reached at gdavis@columbiabasinherald.com. Download the Columbia Basin Herald app on iOS and Android today.
Recent Headlines
---