Hayden Homes donating new park to Moses Lake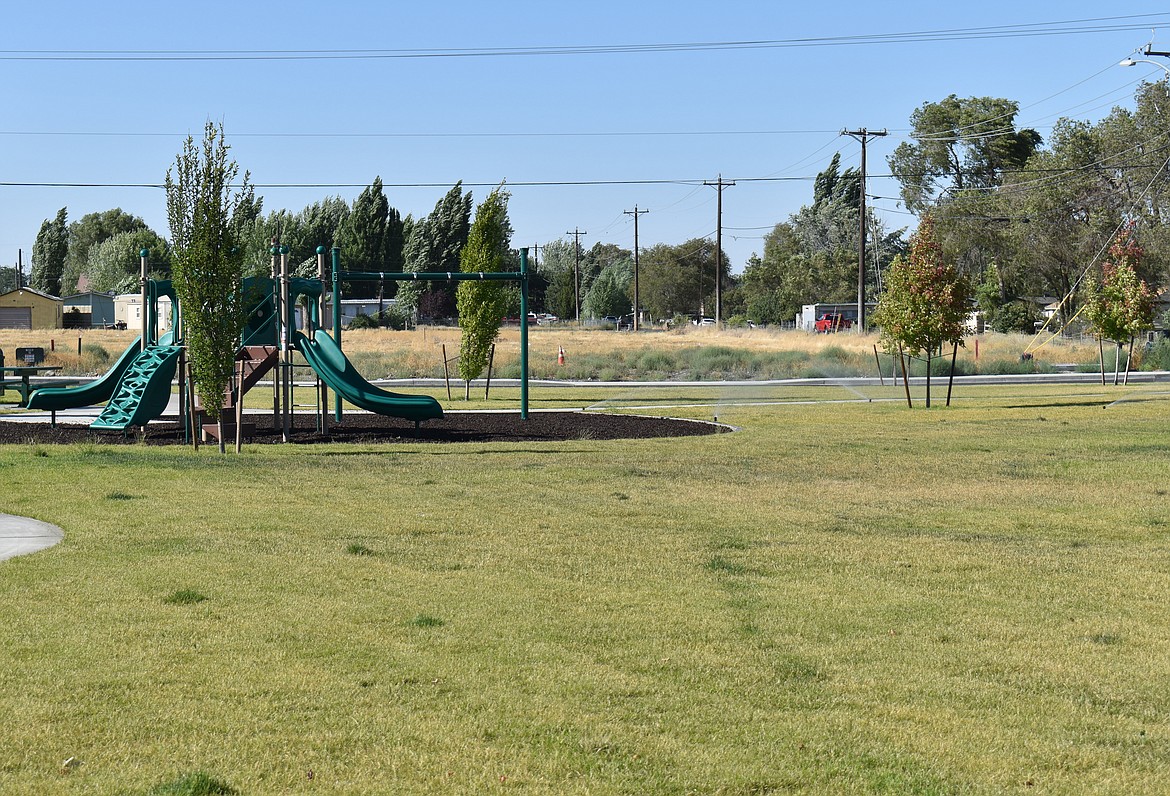 The new Maple Grove Park, at SR 17 and Grape Drive, will be dedicated Thursday. The developer, Hayden Homes, is donating the park to the city.
JOEL MARTIN/COLUMBIA BASIN HERALD
by
JOEL MARTIN
Staff Writer
|
July 17, 2023 5:43 PM
MOSES LAKE — Moses Lake will gain another park this week.
Maple Grove Park, in the new Maple Grove housing subdivision on Grape Drive north of SR 17, will be donated to the city of Moses Lake Thursday at 11:30 a.m., according to an announcement from Hayden Homes, the developer of Maple Grove.
Maple Grove Park features grassy open space, a swing set, a play structure, picnic tables, benches and a walking/riding path, providing opportunities for active and passive leisure activities throughout the more than half-acre park, according to the announcement.
"Moses Lake is so fortunate to have a community partner in Hayden Homes," Moses Lake Mayor Don Myers wrote in the announcement. "This is the second park the company has dedicated to the city in Moses Lake, and these gifts speak to the value the team at Hayden Homes puts on building a strong community. They understand that quality of life matters to families and have donated this park to ensure that folks can get out for a game of soccer or football, or just to be together. It's a wonderful gift and we are so grateful."
Hayden Homes will also donate gear and equipment to the Boys and Girls Clubs of the Columbia Basin, according to the announcement, and the city will unveil the new mobile rec ambulance. There will also be refreshments and a chance for community members to paint paving blocks to be installed around picnic tables.
"Hayden Homes is honored to collaborate with Moses Lake leaders and community members to celebrate the dedication of Maple Grove Park," Rees Wasney, regional vice president of Hayden Homes, wrote in the announcement. "Hayden Homes is dedicated to building a strong community, and we believe that community parks play a crucial role in supporting all Moses Lake residents to lead fulfilled lives. We are delighted to dedicate Maple Grove Park as a special place for community members to come together and create lasting memories."
Recent Headlines
---