Level 3 evacuation in effect for Baird Springs Road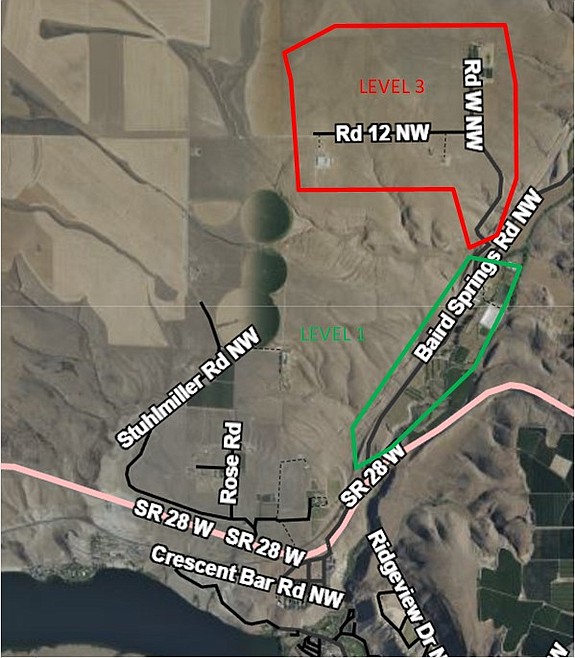 This map shows where the level 1 and 3 evacuation notices have been issued for the Baird Springs area west of Quincy.
Source: Grant County Sheriff's Office
by
STAFF REPORT
Staff Report
|
July 10, 2023 4:12 PM
Updates from Grant County Sheriff's Office:
5:20 p.m.: Red Cross emergency shelter will be at Quincy Middle School. Opening time 7:30 p.m.
5:15 p.m.: Shelter in Place Notice for Crescent Bar (stay indoors, shut off outside air intakes, close windows and doors).
5 p.m.: SR 28 closed at Trinidad rest area and near Crescent Bar Road. Fire is up to the highway.
5 p.m.: Level 1 Evacuation Notice (heads up) for Crescent Bar Road.
Level 3 evacuation notice for Road 11.2 NW and Road U NW near Trinidad/Crescent due to wildfire.
QUINCY — A level 3 evacuation notice due to wildfire has been issued for the area of Baird Springs Road and Road 12 Northwest north of Road W west of Quincy, according to an announcement from the Grant County Sheriff's Office. A level 3 evacuation means "Leave now."
A level 1 evacuation notice is also in effect for the portion of Baird Springs Road south of Road W. Level 1 means "Be prepared to leave."
Up-to-the-minute information is available at the GCSO Facebook page, https://bit.ly/GCSheriffFB.
Recent Headlines
---