MLYHA's Winter Classic faces off this weekend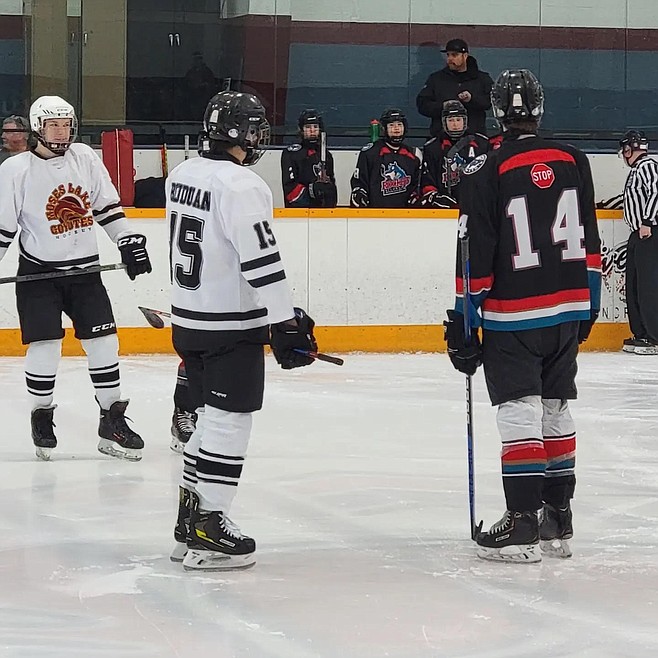 Moses Lake Coyote's Mason Solders, left, and Brayden Buduan prepare for a face off against Kelowna.
CONTRIBUTED PHOTO/TROY BUDUAN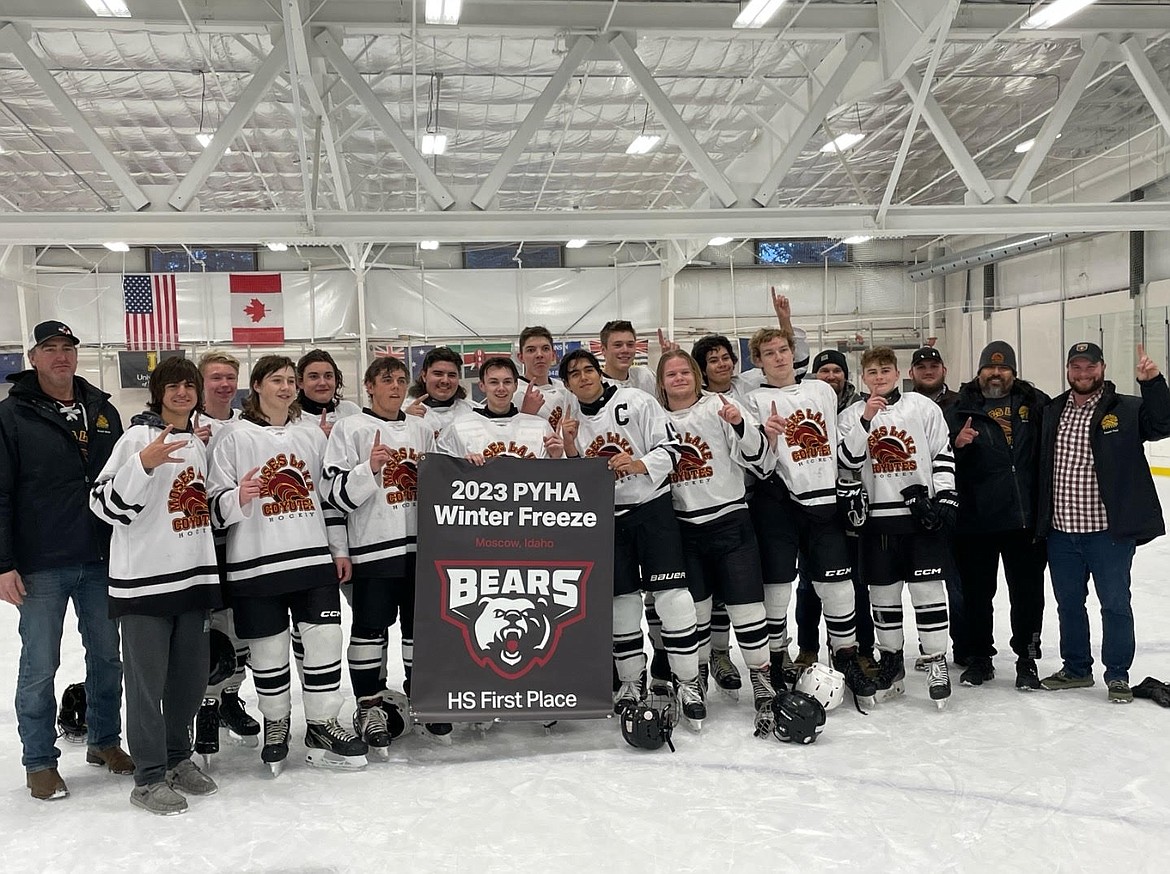 The Moses Lake Coyotes post for photos after taking first at a tournament in Moscow, Idaho. The win was the first time Moses Lake had placed first in a tournament, according to Head Coach Troy Buduan.
Previous
Next
by
IAN BIVONA
Sports Reporter
|
January 31, 2023 5:03 PM
MOSES LAKE — Seven hockey teams from around Washington, Oregon and Canada will travel to Moses Lake this weekend to join the 18U Moses Lake Coyotes in the Moses Lake Youth Hockey Association's Winter Classic.
The 18U tournament will take place from Friday to Sunday at the Larson Recreation Center.
"I love tournaments because that's when your team gels," 18U Moses Lake Head Coach Troy Buduan said. "You go on the road, you hang out at the hotel. You swim together, you eat together. You're finding out (similarities with teammates)."
Participating in the tournament are four teams from Washington: the Coyotes, Seattle Jr., Tacoma and Everett, as well as one team from Eugene, Oregon and three teams from Canada.
"(The Canadian teams) were all really excited to get into the tournament because they hadn't been able to due to COVID in the last couple of years," MLYHA Tournament Director Jill Solders said. "They've all been really nice to work with, and we're pretty excited to have them here."
The tournament will begin with a round-robin style of play, with each team playing three games between Friday and Saturday to determine seedings for the final games on Sunday. Moses Lake begins the tournament against Tacoma on Friday at 5 p.m., then plays Castlegar, British Columbia, and Seattle Jr. on Saturday.
"Everybody gets to play (on Sunday) based on where they left off with their scores and their wins," Solders said. "How it usually goes is, the winner of the 8:30 a.m. game gets to play whoever's in first place in the championship game at 12:30 p.m."
Buduan said that Moses Lake currently has 14U and 18U teams, but not enough players to form a 16U squad. The association is getting the word out to increase the number of youth hockey players.
"Especially with the Kraken now, we would love more kids just wanting to try (hockey)," Buduan said. "I wear my Moses Lake stuff around, and people are like, 'We have hockey?'"
Moses Lake had placed second at a tournament in Lewiston, Idaho, which was then the highest placing they'd accomplished until a tournament in Idaho two weeks ago.
"We rode the momentum into Moscow, and we ended up taking first place in that tournament," Buduan said. "We ended up beating that Spokane team that we'd played the week before, and we were the first Moses Lake team to bring home a first-place banner. We were very happy about it and very proud of that accomplishment."
Many of the teams Moses Lake has faced this season have gotten more time on the ice than the Coyotes have had, because Moses Lake's venue is an outdoor ice rink that requires cold weather to create ice. Buduan said that when Moses Lake started playing its games, some of its opponents had already played 20 games.
"Because our rink is considered an outdoor rink, we usually get ice around the end of November and it usually lasts until the end of February," Buduan said. "We get a late start compared to Tri-Cities and Spokane, and some of the other teams we face. That's one of the challenges that we find ourselves with."
The MLYHA Winter Classic begins at 5 p.m. on Friday and will have games played Saturday morning, Saturday evening and Sunday morning at the Larson Recreation Center's ice rink.
"Everyone has been really contributing this year, and has been buying into the system," Buduan said. "For years we've had one or two really good players and the other guys were just trying to keep up. This year, I think we've really got a full team."
Ian Bivona may be reached at ibivona@columbiabasinherald.com.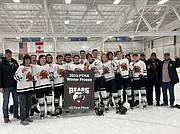 Recent Headlines
---