Makin' Gnocchi!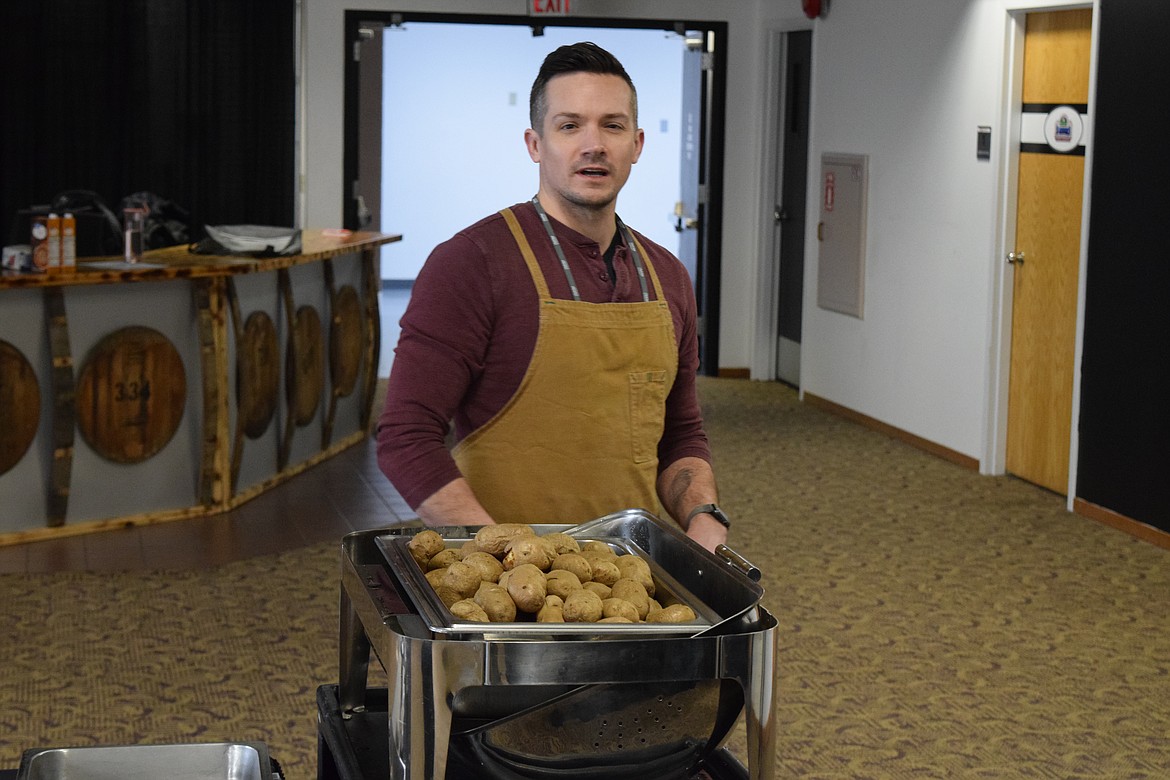 Professional Chef Ben Leonard prepares to hand out roasted potatoes at the start of a class on how to make gnocchi at the 2023 Washington-Oregon Potato Conference on Thursday. "I feel like a flight attendant pushing this cart around," Leonard said.
CHARLES H. FEATHERSTONE/COLUMBIA BASIN HERALD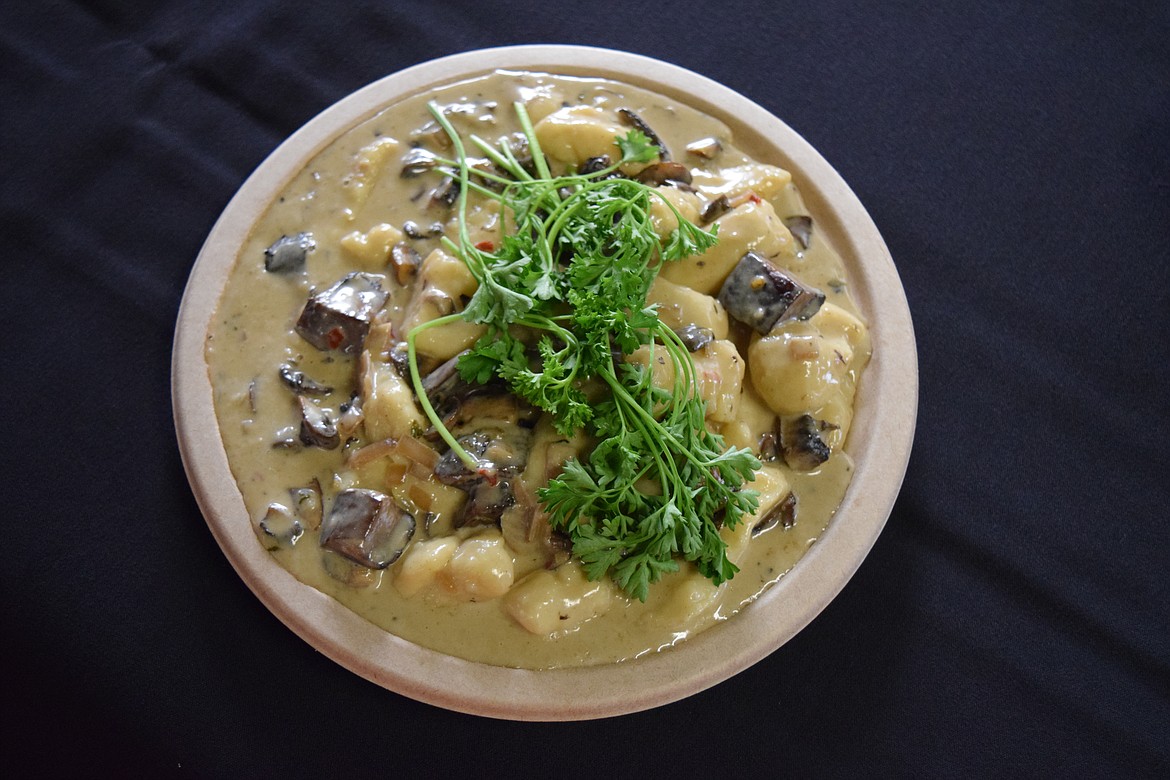 The final product, Washington potato gnocchi with wild mushrooms garnished (badly) with parsley.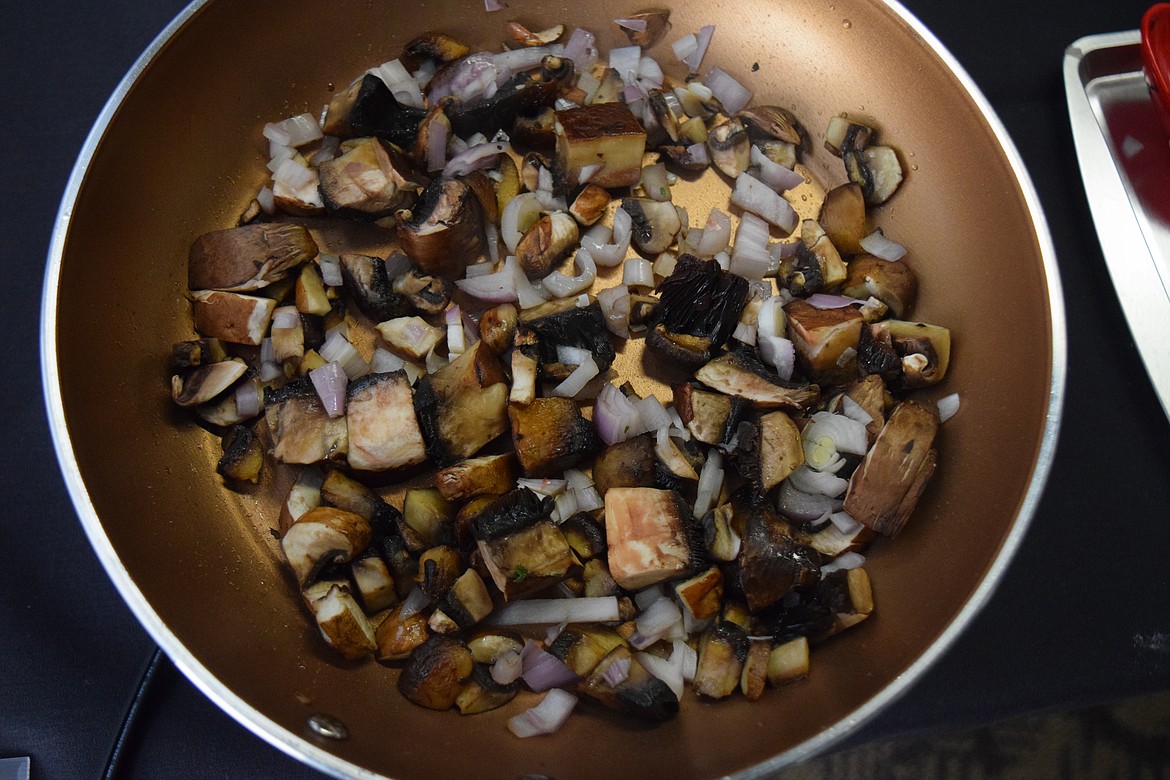 Mushrooms browning properly in a skillet. Gnocchi go well with savory sauces, like those made from mushrooms.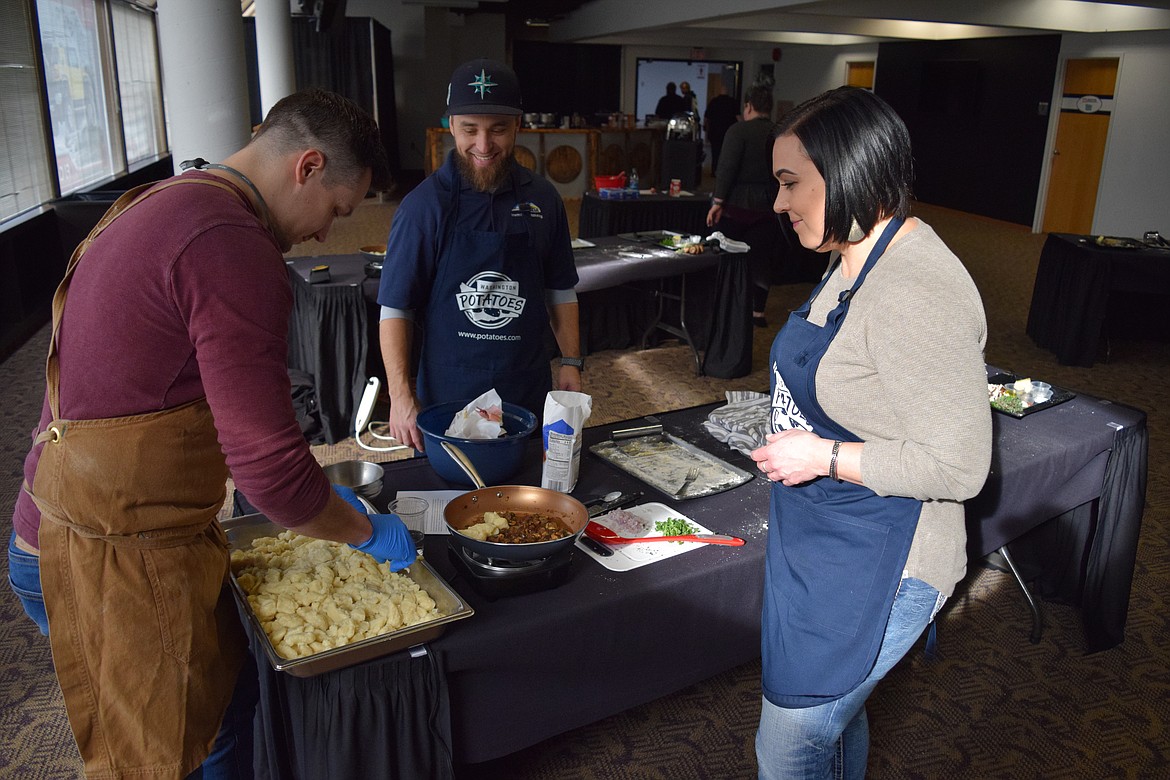 Chef Ben Leonards adds gnocchi to the mushroom saucepan of Othello resident Zack Garza and Moses Lake resident Jennica Heffop.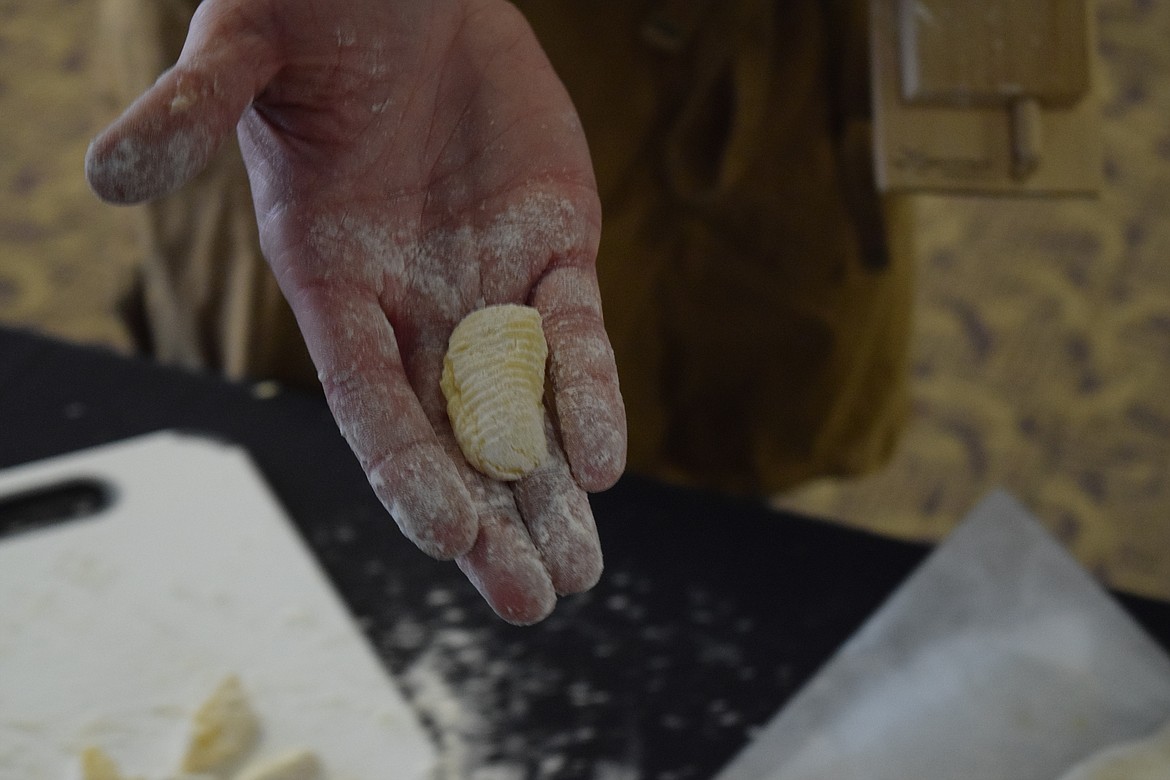 Professional Chef Ben Leonard shows off a perfectly formed gnocchi.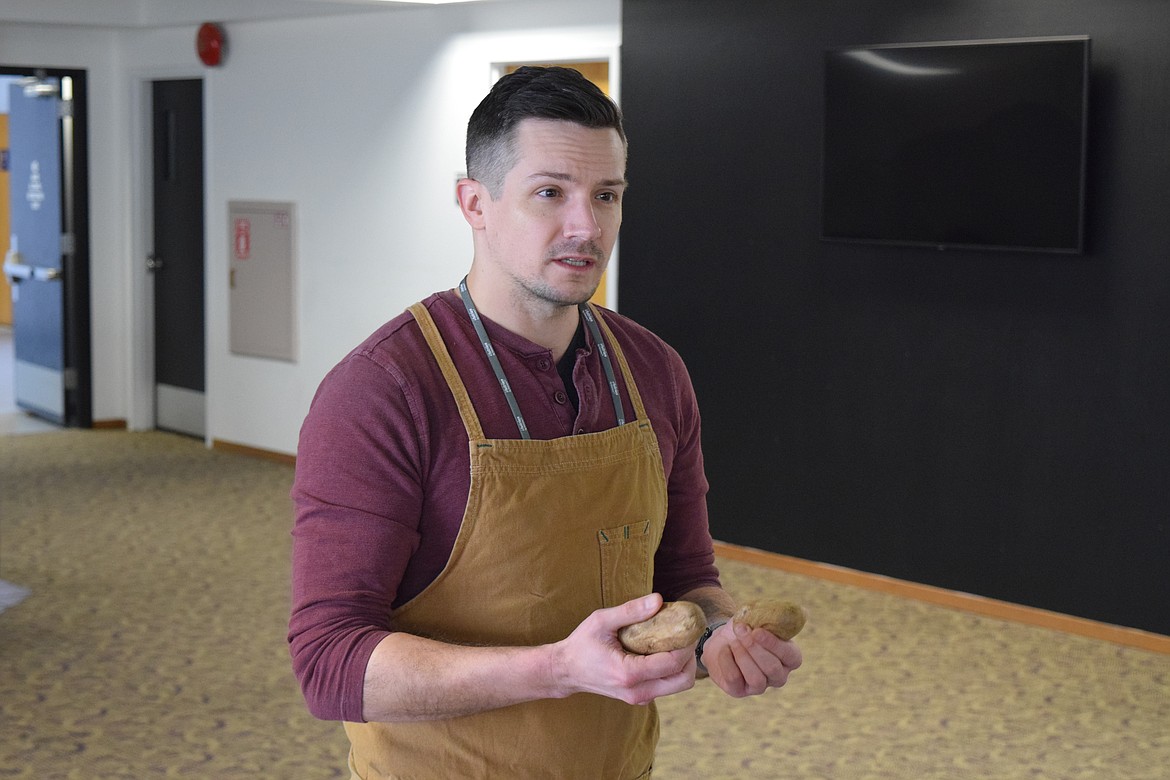 Seattle-based professional Chef Ben Leonard shows off some of the potatoes he is going to use to make gnocchi — Italian potato dumplings.
Previous
Next
by
CHARLES H. FEATHERSTONE
Staff Writer
|
January 31, 2023 1:30 AM
KENNEWICK — Chef Ben Leonard thinks more people would like mushrooms if they knew how to cook them properly.
It's why he tries to make sure the mushrooms he uses are completely dry when he cooks with them.
"I find that most people who say they don't like mushrooms just ended up having badly cooked mushrooms," Leonard said. "And so always make sure that your mushrooms are dry before they go into a pan … and make sure that you don't have an overcrowded pan because if it's overcrowded, you're just going to have steamed mushrooms."
And mushrooms, as they cook, shouldn't be stirred too much, Leonard said. Just leave the mushrooms in the pan to cook and let the pan actually do the job it was made to do, Leonard said, so they get a "gorgeous" brown color to them.
"So getting really nice, deep golden brown color on them is going to give them a great umami richness to them," he explained.
For Leonard, a professional chef based in Seattle, cooking the right kind of mushrooms was only part of the potato gnocchi with wild mushrooms he was in Kennewick to teach as part of the 2023 Washington-Oregon Potato Conference.
"I'm here to teach people an amazing dish that we can make with lovely potatoes, which I love because you can make really fancy dishes and you can make really humble dishes. And this is one of my favorite humble dishes," he said. "There's nothing too fancy here. We've got some potatoes, some mushrooms, a little bit of herbs, some cheese and heavy cream."
"Really simple ingredients to make an amazing dish," Leonard added.
"I can't wait to learn how to make gnocchi," said Meri Tschirky, whose family grows potatoes for Lamb Weston near Connell. "We look forward to seeing everybody (at the conference) and getting to meet new people and get new ideas and so it's been really good."
Making gnocchi — basically, little Italian potato dumplings — is a lot of work for a humble dish. Leonard begins by roasting the potatoes, letting them cool, and peeling them by hand. It's important to let the peeled potatoes sit until they no longer emit steam, Leonard said, because gnocchi dough is easiest to make when potatoes are dry.
"A nice, light, fluffy gnocchi has to do with having all of the moisture gone out of the potato," he said.
Once the potatoes have cooled, Leonard used a ricer to pulverize the dough, to which he adds two beaten eggs, some oil, white pepper, and a half-cup of flour.
"I like the ricer because it makes me think of my childhood and a Play-Doh Fun Factory," he said.
"Can you use a Play-Doh Fun Factory?" one participant asked.
Gnocchi dough requires a much lighter touch than bread dough, and he works the flour and egg together slowly and carefully, initially folding the dough over itself to work the egg, flour and pepper in. A proper gnocchi dough should feel slightly dry to the touch, Leonard explained, though he cautioned that dough can be too dry.
"Any baker worth their salt will tell you to err on the side of a slightly wet dough," he said. "If I was teaching you to make pasta dough or pizza dough, I would say always be on the side of a wet dough."
Once formed, Leonard cuts off chunks of the gnocchi dough and rolls it, slicing off little bits and rolling them either on a gnocchi board or the back of a fork to get each little gnocchi dumpling properly shaped. They are then boiled for three minutes, allowed to cool, and then added to the mushroom and cream sauce slowly simmering in a pan.
"This is fun!" said Moses Lake resident and conference attendee Jennica Heffop as she sauteed mushrooms with her partner Zack Garza of Othello.
For Leonard, gnocchi is a simple meal. More complex and ornate ways of using potatoes using involve recipes from France, he said, though there are no bad ways to prepare potatoes.
"Honestly, just potatoes with butter and salt is delicious, right? That's why they're just fantastic," he said.
Charles H. Featherstone can be reached at cfeatherstone@columbiabasinherald.com.
Washington Potato Gnocchi with Wild Mushrooms
Ingredients for the potato gnocchi:
2 pounds of Washington Russet potatoes
2 large egg yolks, slightly beaten
1 teaspoon kosher salt
½ teaspoon finely ground white pepper
1 cup all-purpose flour, plus more for dusting
Ingredients for the mushroom sauce:
2 tablespoons olive oil
1 pount mixed mushrooms (such as canterelles, maitake, oyster or shiitake) cut or torn into bite-size pieces
1 large shallot, finely chopped
3 sprigs of fresh thyme
¼ teaspoon crushed red pepper flakes (or more to taste)
1 tablespoon red wine vinegar
1 tablespoon tamari or soy sauce
Kosher salt to taste
Freshly ground black pepper to taste
1 cup low-sodium chicken broth
⅓ cup heavy cream
2 tabelspoons unsalted butter
2 tablespoons freshly chopped parsley
Freshly grated Parmigiano-Reggiano for serving
Procedure:
For the gnocchi, bake potatoes at 350 degrees F for one hour. After baking, let cool and then peel.
Press peeled potatoes through a ricer or flour mill and spread out in an even layer. Drizzle evenly with egg yolks, season with salt and pepper, and sprinkle ¾ cup flour on top. Start to folks the eggs and flour into the potatoes using a flat spatula or a bench scraper to bring the ingredients together.
Knead the dough gently, form into a loaf and cut of a one-inch thick slice. Roll that slice into a rope and cut off one-inch long pieces, and then gently roll each piece down a gnocchi board or the back of a fork to form ridges on one side. Place each piece on a floured baking sheet and repeat until all the dough is used.
Add the gnocchi to boiling water in a large stockpot and boil for two minutes until the gnocchi rises to the surface. Boil for an additional minute
For the sauce, heat the olive in a large skillet over medium heat. Add the mushrooms and cook for six to eight minutes until deeply brown and carmelized. Reduce heat to medium and add the shallots, the thyme and red pepper flakes, cook for about two minutes.
Pour in the vinegar and tamari (or soy sauce), scrape the skillet with a wooden spoon, and let simmer until the liquid is reduced by half.
Add the gnocchi to the skillet with ¼ cup of gnocchi cooking water, and sautee for two minutes. Then add the cream, stir evenly to combine, and then remove from the heat, adding the butter and parsley until evenly combined. Serve in warm bowls.
Recent Headlines
---