Jet jockeys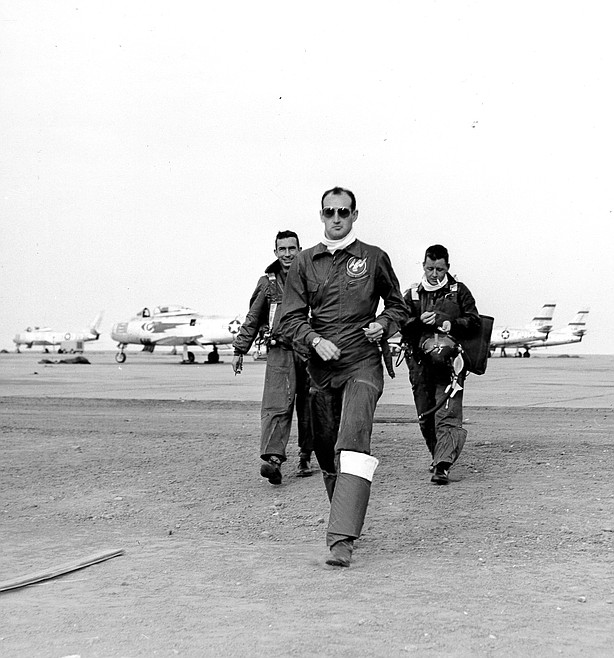 Three pilots with the 71st Fighter Squadron swagger from their fighter jets at Larson Air Force Base sometime in the summer of 1950. The photo is one of 16 found in a storage space in Southern California in 2022 that were donated to the Port of Moses Lake.
COURTESY PHOTO/PORT OF MOSES LAKE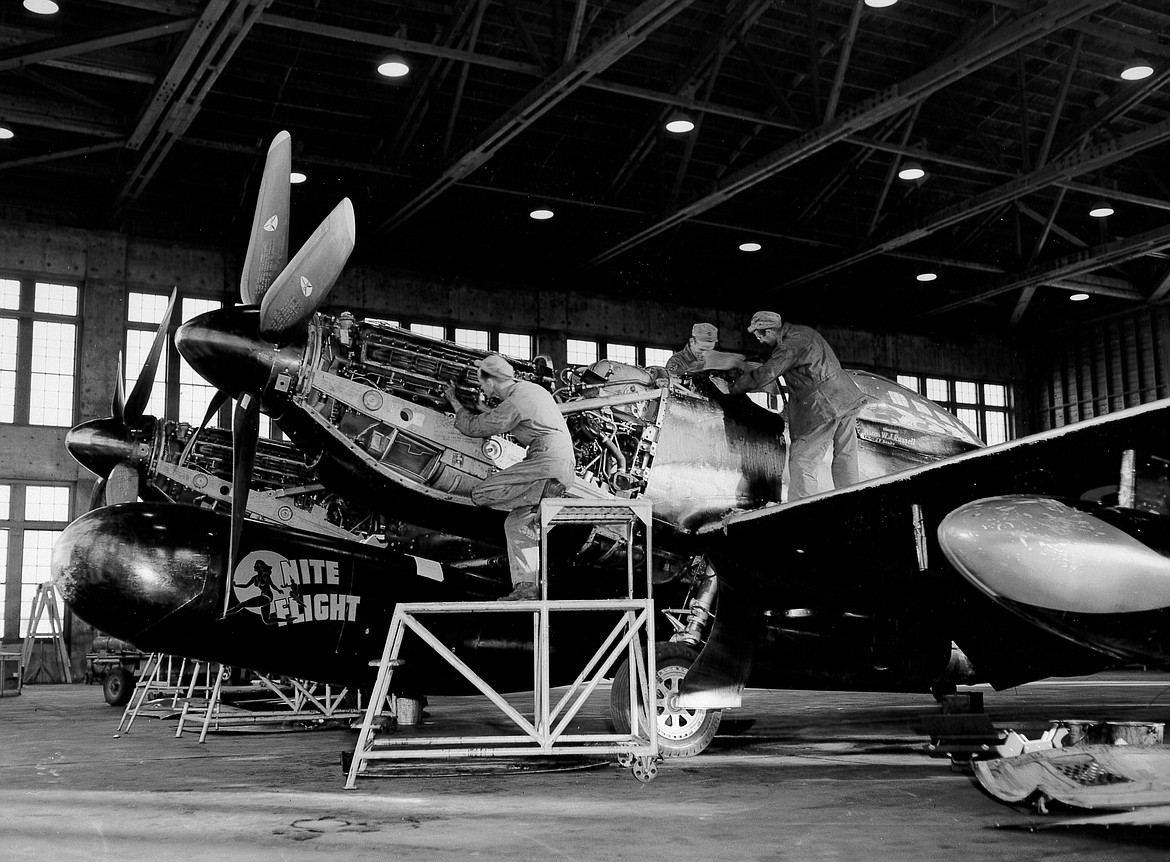 U.S. Air Force mechanics in a hangar at Larson Air Force Base work on an F-82 Twin Mustang. The USAF began replacing the Twin Mustang in late 1950 with faster and more capable jet fighters.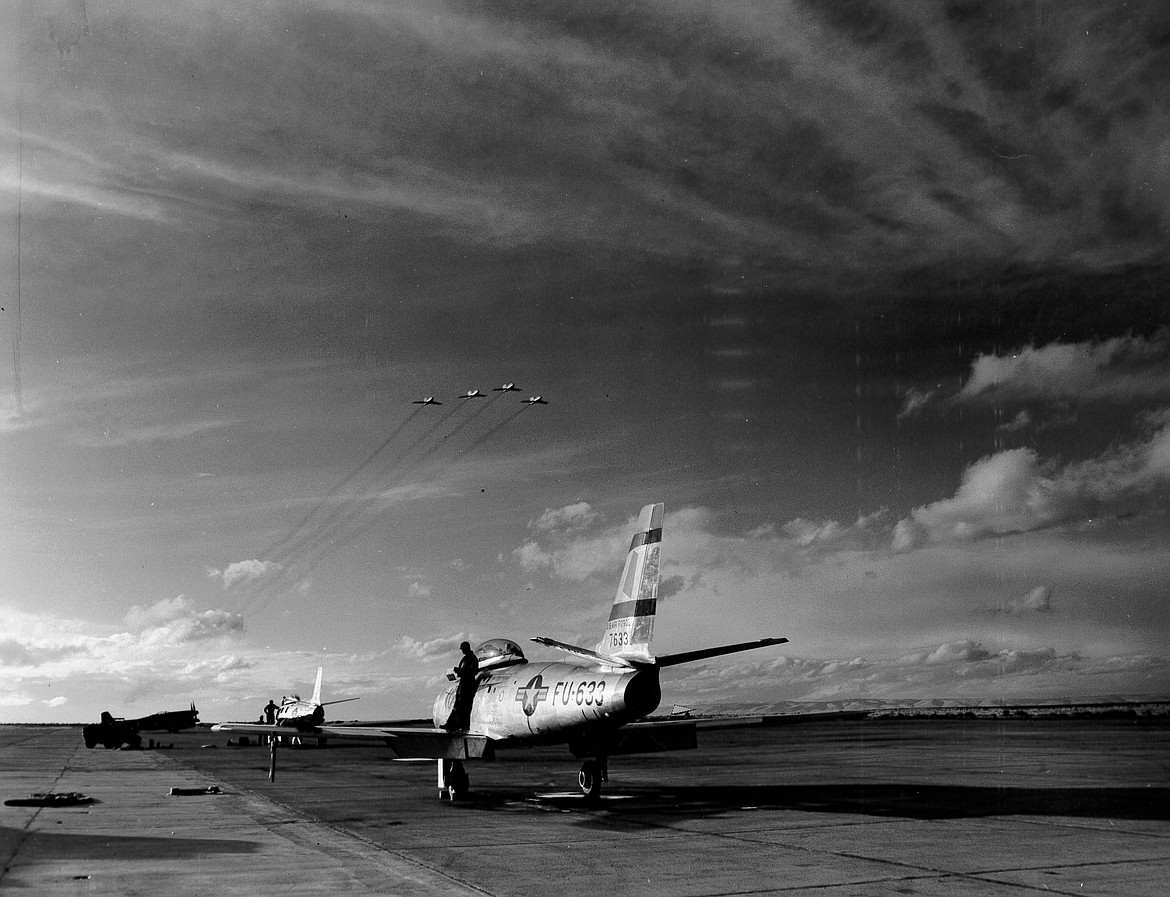 Four F-86 fighter jets, likely with the 71st Fighter Squadron, fly over a pair of jets sitting on the runway of Larson Air Force Base sometime in the summer of 1950. The view is looking west toward Ephrata.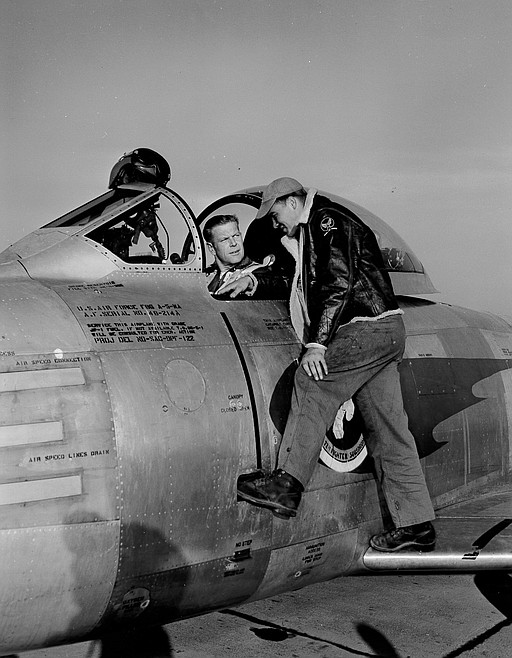 An airman who is likely a mechanic talks with the pilot of the 71st Fighter Squadron as he sits in the cockpit of his F-86 Sabre jet at Larson Air Force Base in the summer of 1950. Grant County International Airport Director Rich Mueller said the photo, like many in the collection, was likely staged.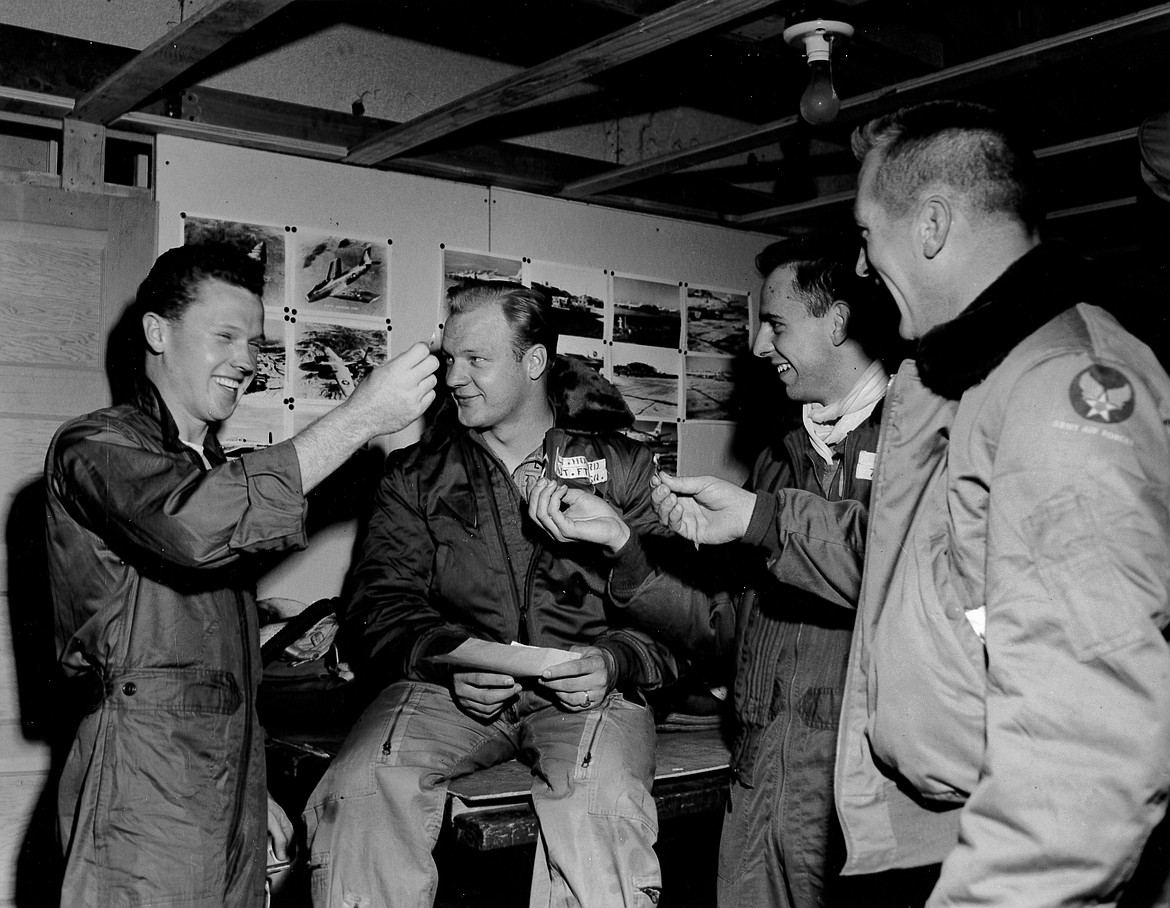 A group of airmen and pilots in a photo from 1950 appear to be having a contest to see how long each can hold a lit match in a barracks at Larson Air Force Base.
Previous
Next
by
CHARLES H. FEATHERSTONE
Staff Writer
|
January 31, 2023 1:31 PM
MOSES LAKE — The photo shows a trio of Air Force pilots walking from fighter jets with the kind of swagger expected from men who fly very expensive, very fast machines through the air, frequently with guns blazing.
Almost nothing is known about the photo, though. Not the names of the pilots, not the photographer, not even when or why the photo was taken, though it was likely sometime in the summer of 1950.
All that's known – from the unit patch on sleeves and flight suits and painted on the sides of F-86 Sabre fighter jets – is that they were of the 71st Fighter Squadron, showed some kind of special event and were taken at Larson Air Force Base. And that they were found in Southern California last year.
"A lady down in California bought the content of an abandoned storage space, and she opened it up, saw tons of pictures that said Larson Air Force Base, did some quick work and found out that it's now the Port of Moses Lake," said Rich Mueller, director of the Grant County International Airport – the former Larson Air Force Base – for the Port of Moses Lake.
"She sent them to us and said I don't know if you're interested, but here you go," Mueller said.
That lady was Teri Wilkinson, who found 16 photos in a plain brown envelope marked "Special Event, Moses AFB."
"There are no notations on the backs of any of the photos, and I do not know who the photographer was," Wilkinson wrote in the short note accompanying the photos. "I know your airport is not currently an Air Force base, however, these photos are technically part of your history, and I hope you will enjoy them."
The photos show F-86 fighter jets, some marked with the emblem of the 71st Fighter Squadron and some unmarked, parked on the ramp, with various images of pilots and aircrews talking, both on the ramp and inside a very rustic barracks (complete with wood stove), and mechanics working on F-82 Twin Mustang interceptors in the base's old wooden hangar, which was recently torn down.
According to the U.S. Air Force's official history of the 71st Fighter Squadron, currently a training unit based at Joint Base Langley-Eustis in Virginia, the 71st was never stationed in Moses Lake. In the summer of 1950, the unit received its first F-86 jets before moving to George Air Force Base in California and was then transferred as a unit to New York in August 1950.
Moses Lake Air Force Base was renamed Larson Air Force Base in May 1950 in honor of World War II fighter ace and Yakima native Donald Larson, according to information published by the McChord Air Museum in Tacoma. Moses Lake Air Force Base was originally built to train fighter pilots during World War II and was reactivated as a fighter base in 1948 to protect both Grand Coulee Dam and the Hanford Works from Soviet bombers before being converted into a base for B-52 bombers in the mid-1950s.
One of the more striking features the photos highlight is just how barren and empty the hills around Larson Air Force Base were in the early 1950s.
"That's why it really didn't matter if they missed when clearing their guns, because there was nothing out there to hit," Mueller said.
Mueller also said it's clear that most of the photos, especially those of the pilots and aircrew members talking in the barracks, were staged. That's also the case with a photo of F-86 jets on the ground while four more fighters flew over in close formation.
"I don't know if there were public affairs folks or what, but with most of these pictures you can see some effort was put into it," he said.
If you have any information about the photographs, please contact Mueller at rjmueller@portofmoseslake.com.
Charles H. Featherstone can be reached at cfeatherstone@columbiabasinherald.com.
Recent Headlines
---