New emergency powers reform bill introduced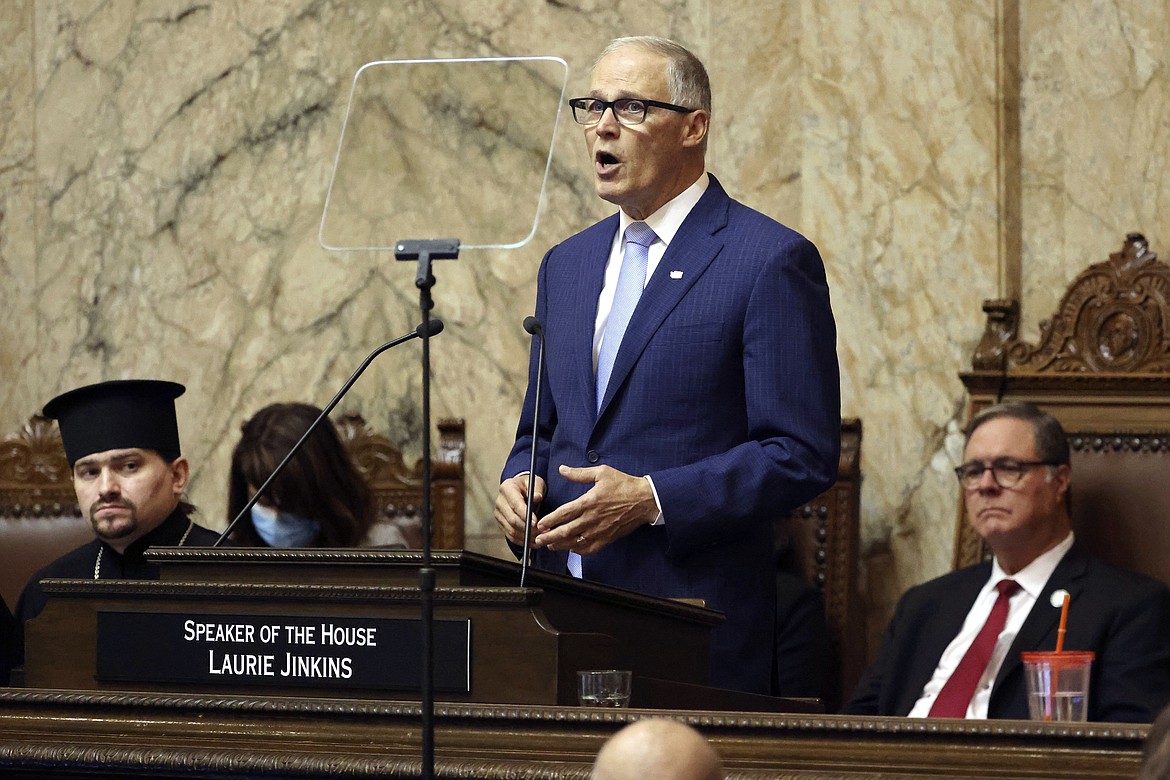 Washington Gov. Jay Inslee delivering his State of the State Address on Jan. 10.
AP PHOTO/KAREN DUCEY
by
STAFF REPORT
Staff Report
|
January 28, 2023 4:27 PM
OLYMPIA — House Bill 1535, co-sponsored by Rep. Peter Abbarno, (R-Centralia) and Rep. Chris Corry (R-Yakima), seeks to rein in the governor's emergency powers.
"No one person should wield vast powers without checks and balances or a clear expiration date, even during an emergency," said Abbarno. "Living under an emergency declaration for nearly three years exposed a serious loophole in our laws governing emergency powers, and it's incumbent on the Legislature, as the law-making body, to fix it."
According to a release by Corry's office, HB 1535 is identical to House Bill 1772, Corry's bipartisan bill from the 2022 legislative session.
Washington is one of only four states that hands over unilateral authority to the governor to declare and maintain a state of emergency, the release states. During a prolonged SOE, the legislative branch, which represents the people, has an extremely limited role in determining the policies set forth by the executive branch in Washington state. House Bill 1535 focuses on emergencies that last longer than 60 days to ensure the public – and the lawmakers that represent them – have a voice.
"There must be limits. The framers of our state constitution never intended for the governor to wield the kind of power he maintained for nearly three years. Clearly, when quick action is needed, the executive branch must be able to respond. But when a state of emergency lasts for months or even years, it's difficult to justify prolonged unilateral – nearly autocratic – authority by the executive branch," said Corry. "The public must have a voice in how to move forward. That's the job of the Legislature."
House Bill 1535 highlights:
Allows the Legislature to pass a concurrent resolution declaring the termination of an SOE.
During an SOE, the governor or Legislature may call a special session, consistent with the state constitution's guidelines, to vote on a concurrent resolution to extend an SOE.
If the Legislature is not in session, the SOE may also be terminated in writing by unanimous agreement of all four leaders in the House and Senate.
Sixty days after being signed by the governor, unless extended by the Legislature by a concurrent resolution, the SOE will be terminated.
Prohibits the governor from reinstating the same or substantively similar SOE when the original has expired.
When needed, multiple extensions of an SOE may be issued by the Legislature or, when the Legislature is not in session, by unanimous agreement of all four leaders of the House and Senate.
Requires clarification of changes to law made through an executive proclamation; all such changes must be defined and shown fully in the law, along with any changes made over time.
Changes any violation of the statute from a gross misdemeanor to a civil infraction of up to $1,000 dollars.
Recent Headlines
---