Championship earned
In his second game playing against his former team, Quincy junior Julian Ibarra led the Jackrabbits in scoring with 22 points in their 83-74 win over Omak on Tuesday night.
IAN BIVONA/COLUMBIA BASIN HERALD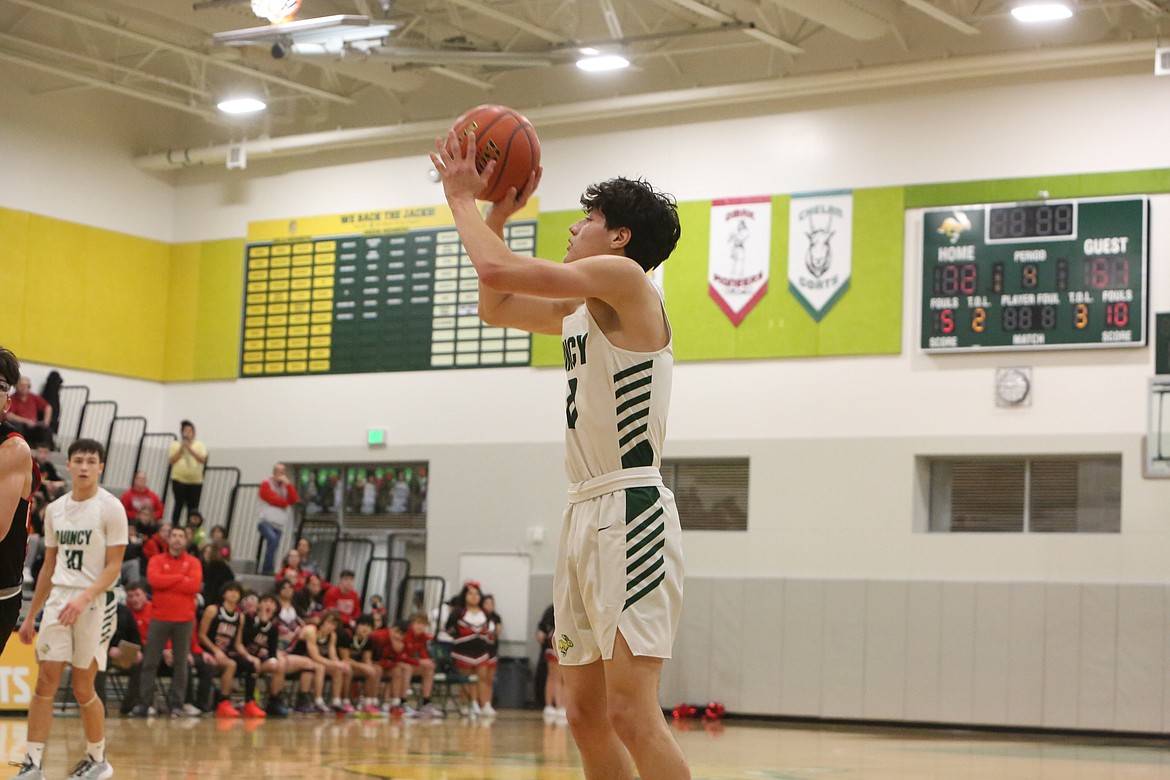 To help the Jackrabbits pull away and win their second-straight Caribou Trail League title, Quincy junior Dominic Trevino connected on back-to-back three-pointers to push the fourth-quarter lead to 14 points.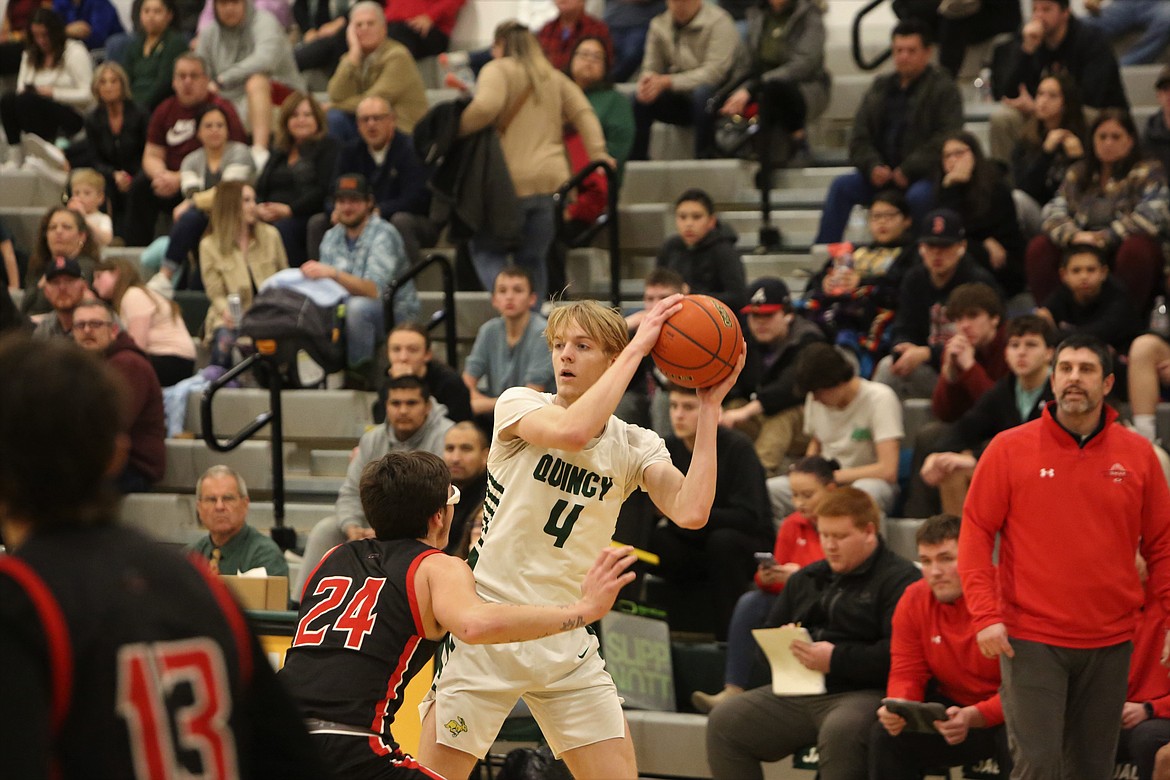 Quincy junior Aidan Bews finished with 21 points against the Omak Pioneers, scoring 11 points in the first half.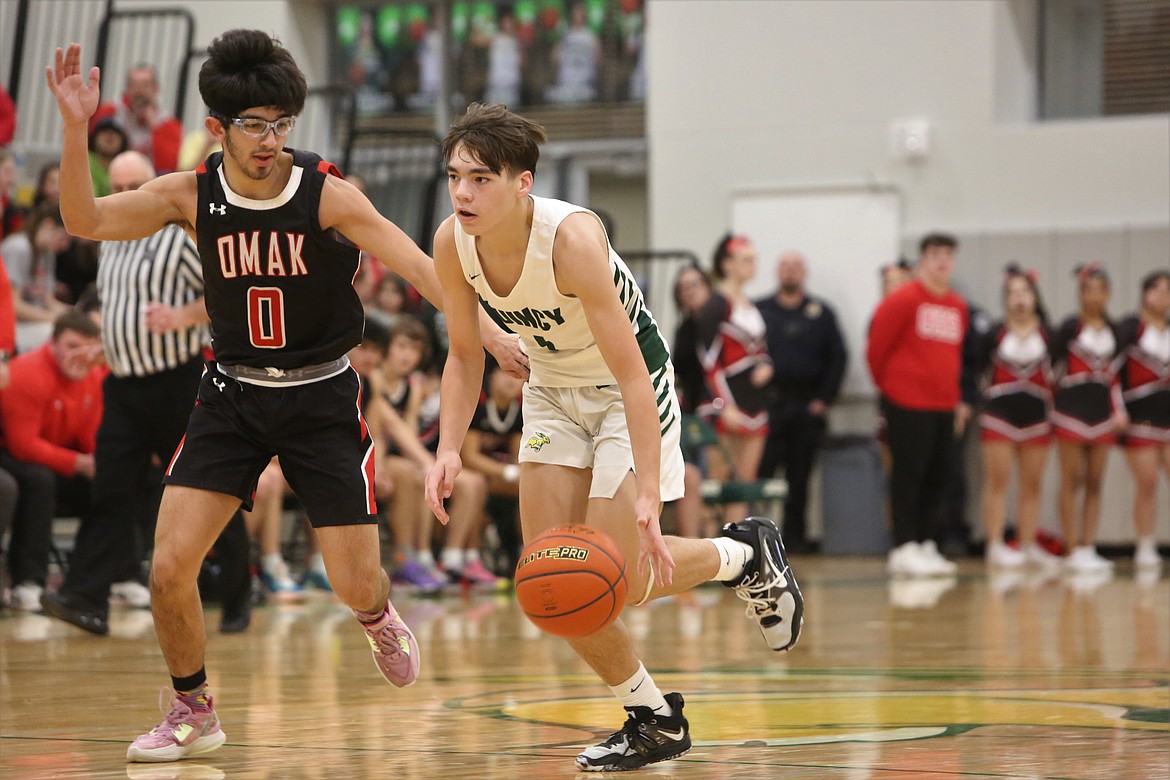 Quincy freshman Pierce Bierlink takes the ball up the floor against the Omak defense in the second half of Tuesday night's win.
Previous
Next
by
IAN BIVONA
Sports Reporter
|
January 25, 2023 8:51 AM
QUINCY – Twenty-plus point outings from juniors Aidan Bews and Julian Ibarra helped the Quincy boys basketball team lock up its second-consecutive Caribou Trail League title with an 83-74 win over Omak on Tuesday night.
Ibarra led the Jackrabbits with 22 points, closely followed by Bews with 21. Freshman point guard Pierce Bierlink scored 17 points in the win, converting three times from beyond the three-point arc.
"We just had to keep pushing through, and good thing I have Aidan Bews and Pierce Bierlink and all my guys to help me out," Ibarra said. "It wasn't easy, but I'm glad we got it done."
After commanding an 18-point lead after the first 16 minutes, Quincy staved off an Omak comeback bid by pulling away down the stretch in the fourth quarter.
"It's my first (league title), but for my teammates it's back-to-back," Ibarra said. "I'm glad I could celebrate with them."
Quincy quickly jumped out to a 12-3 lead that forced the Pioneers to call a timeout just over four minutes into the first quarter, then continued to ride the momentum to a 48-30 lead to close out the first half.
"Our guys were ready," Bierlink said. "We lost to them up at Omak – we were ready to play. They were hungry; they were excited. We had a huge crowd, and that first half was about as good a half of basketball that I've seen played here. It was phenomenal."
Having transferred from Omak after being named to the second-team All-CTL list last season, Ibarra scored 12 of his 22 points in the first half against his former squad.
"I was really emotional, Ibarra said. "I miss these (Omak) guys, I love these guys down in my heart. I'm just glad I got to play with them one more time. Good game to them, and I wish them better luck next time."
After five quick points to begin the third quarter, Omak went on a 9-2 run of its own to cut into the Jackrabbit lead. The Pioneers again went on another run to close out the third quarter, outsourcing the Jacks 10-2 to set the game at 66-53 entering the final eight minutes.
"We've just got to be able to keep our composure," Bierlink said. "They want to get into us and force us to play fast. …They want to pressure us and make us play fast, and for a while there I was thinking 'Are we the team that's down by 10 or 12?'"
The Pioneers began to ramp up defensively and forced the Jacks into turnovers to begin the second half, allowing them to go on their runs.
"We want to come down and work the ball, and make them work on defense," Bierlink said. "When they're in your grill it can make it a little bit tough. It got a little hairy there, but our guys were able to weather the storm."
Omak cut the Quincy lead to six points early in the fourth, but a basket by Ibarra and back-to-back three-pointers by junior Dominic Trevino were able to put the Jacks up by double digits once again.
"We made just enough plays there at the end," Bierlink said. "Julian (Ibarra) had a couple big buckets, (Trevino) came in and hit two huge threes for us. Just a great team effort."
Ibarra left the game with an injury early in the third quarter but returned to begin the fourth.
"He was dynamite tonight," Bierlink said of Ibarra. "He's one of those kids where you roll the ball out, I don't have to call a play for him – he can just go play. He can get buckets in a variety of ways, he's strong and he can post up. For him to come back and be able to play on it, I'm sure he had a little bit of adrenaline pumping, he came out and got a couple big buckets for us."
Quincy outlasted the Omak comeback attempt to win its second-straight CTL title, this time with a much younger team than last year's state-qualifying team that made it to the quarterfinals with 10 seniors on its roster.
"It feels pretty darn good – a little bittersweet, we didn't play real well down the stretch there – but I'm super proud of the guys, those guys have worked pretty hard," Bierlink said. "From where we started at the beginning of the year to where we are now, it's really impressive."
Even with the excitement the Jacks will soon return to work, Bierlink said.
"I think our guys are pretty excited about it," Bierlink said. "We'll enjoy it tonight and get back to work tomorrow."
The Jacks close out the regular season with a road trip to Lakeside (Nine Mile Falls) on Saturday before returning home to play Cascade (Leavenworth) in the regular season finale on Feb. 2.
"We've won (seven) games in a row now, so you always want to be playing your best basketball down the stretch," Bierlink said. "We're not there yet, but we're working our way there. It gives us a lot of momentum as we go to Lakeside Saturday and finish up the season with Cascade on Thursday."
Ian Bivona may be reached at ibivona@columbiabasinherald.com.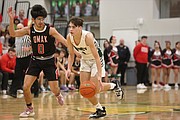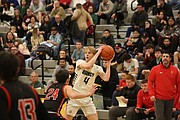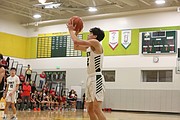 Recent Headlines
---