Lions boys, girls hoops take down Waterville-Mansfield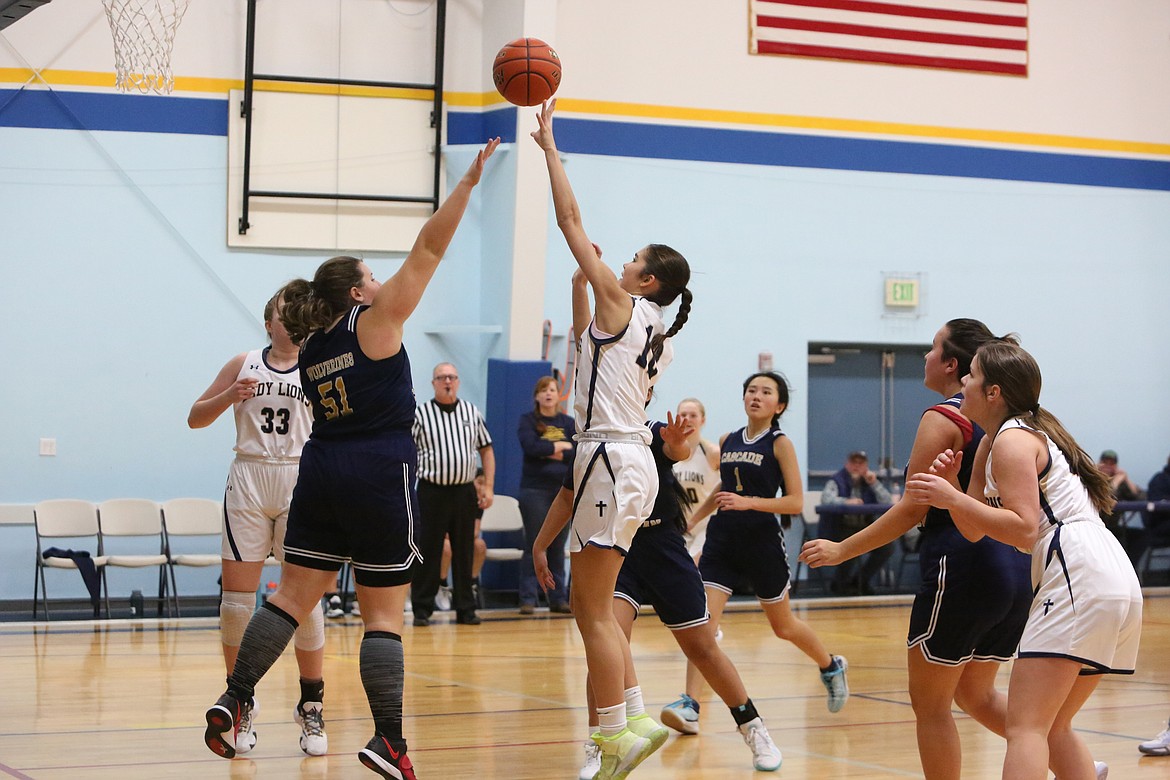 MLCA/CCS eighth grader Graycie Kast (12) led the Lions with 14 points in their 39-35 win over Waterville-Mansfield on Friday, connecting on three three-pointers in the win.
IAN BIVONA/COLUMBIA BASIN HERALD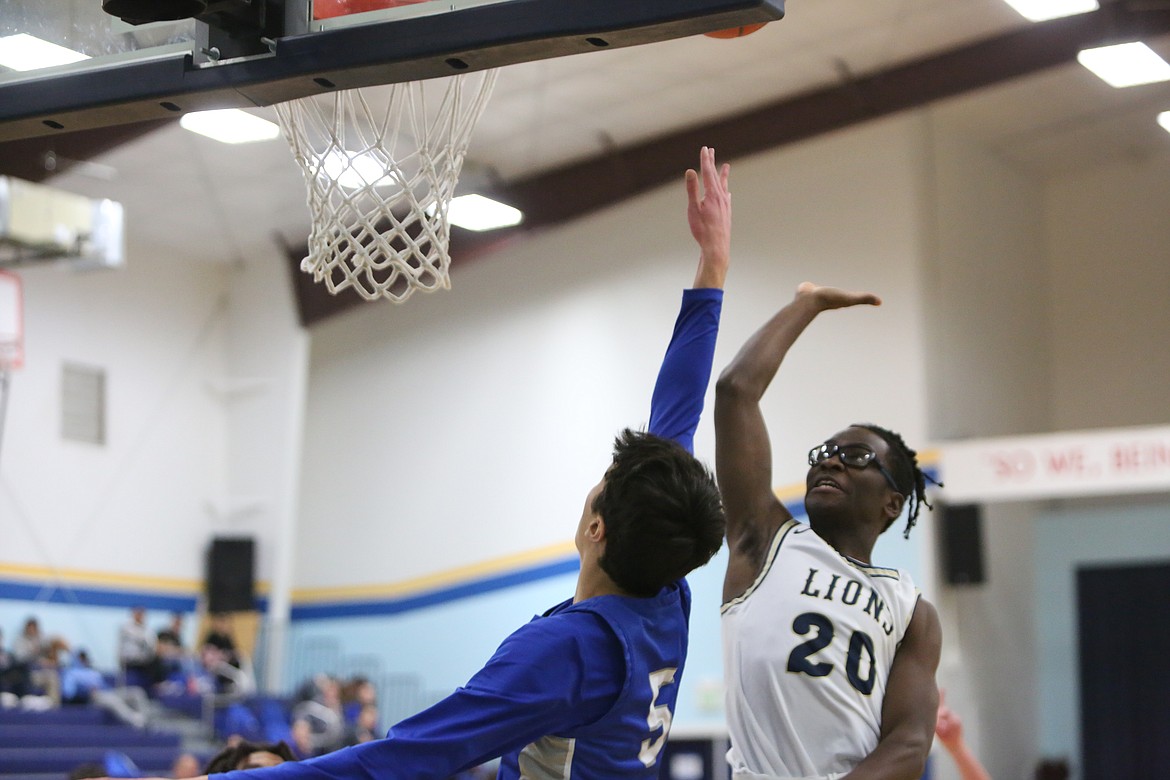 The press defense of the MLCA/CCS boys team was led by senior Jeff Boorman (20), forcing the Shockers into turning the ball over.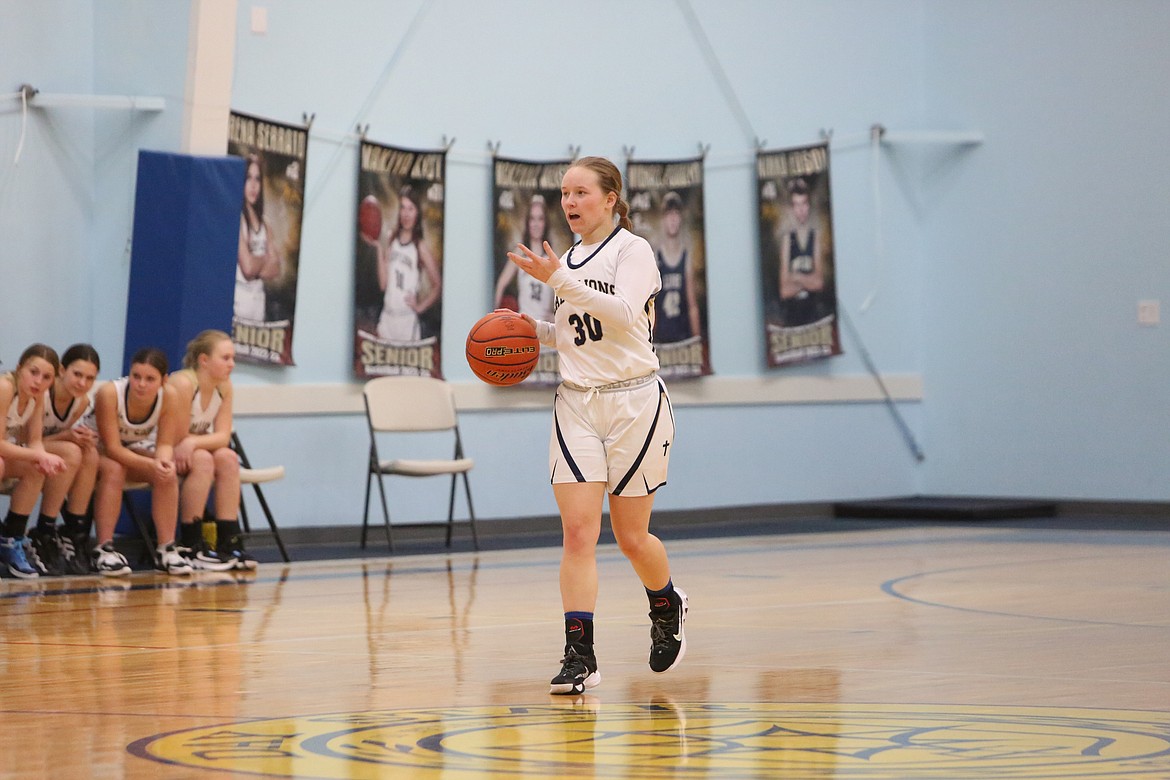 MLCA/CCS senior Ali Stanley (30) and senior McKenna Meise played a big role in covering Waterville-Mansfield's shooters, Head Coach Josh Kast said.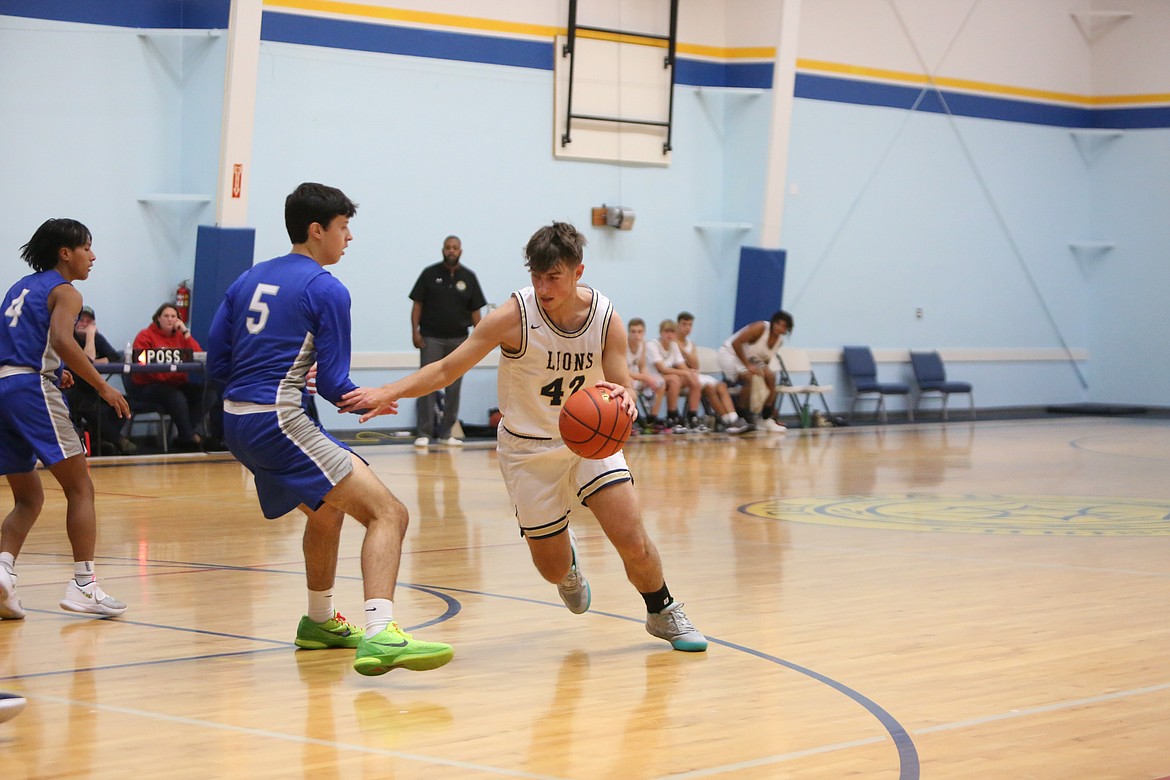 Senior Michael Podolyan's (42) 20 points led the Lions in their 57-31 win over Waterville-Mansfield on Friday night.
Previous
Next
by
IAN BIVONA
Sports Reporter
|
January 23, 2023 3:26 PM
MOSES LAKE – The Moses Lake Christian Academy/Covenant Christian School boys and girls basketball teams got closer to locking up league titles with wins over Waterville-Mansfield on Friday, moving both squads to an undefeated 6-0 record in league matches.
The girls first won 39-35 before the boys won 57-31 over the Shockers.
MLCA/CCS Girls
The Lady Lions started with an 11-3 lead in the first quarter before the Shockers began to execute their 2-2-1 press defense, forcing MLCA/CCS into turnovers and playing tough defense up and down the court.
"We hit a little bit of a stalemate in the second quarter, Waterville started to come back," MLCA/CCS Head Coach Josh Kast said. "They started playing a little bit more pressure up front, bringing the ball off the floor and we didn't handle the ball very well in that second quarter – had a couple of turnovers, and they capitalized off that and got back in the game."
Eighth-grader Graycie Kast came up big for the Lions on Friday night, scoring 14 points and securing five rebounds in the win.
"She got five points in the first quarter, so her confidence got rolling early on in that game," Kast said. "That helped her get settled in in a big game like that, and then she hit two big threes in the second half."
Against a shooting-happy team, Kast tasked seniors Ali Stanley and McKenna Meise with guarding two of Waterville-Mansfield's best shooters, twins Jimena and Jasmine Garcia.
"I really thought that McKenna (Meise) and Ali (Stanley) did a good job on their shooters," Kast said. "We almost have to faceguard them because Waterville shoots so many threes. They're active and they run off screens, so we had McKenna and Ali chasing them around most of the game and they did a good job."
The Lions hold a two-game advantage over the second-place teams in the Central Washington 1B League. MLCA/CCS got the season sweep of Waterville-Mansfield on Friday and face off against Pateros on Tuesday, both of which are 4-2 in league play this season.
"(We need to) play consistent the rest of the way out, take care of the ball," Kast said. "Pateros is going to give us a bit of a challenge (Tuesday), especially at their place. We expect them to be ready to play against us."
MLCA/CCS Boys
With a new lineup on the floor, the MLCA/CCS boys got off to a slower start against the Shockers according to Head Coach Emerson Ferguson.
"They bottled us up in the first quarter, we were only up by two at the end of the first quarter," Ferguson said. "We changed some things up, and defensive energy is something I stressed between the first and second quarter."
The Lions exploded with a 24-point second quarter to take a 36-20 lead into the halftime locker room against Waterville-Mansfield, led by energy on the defensive end.
"It all started on defense, and that made all the difference," Ferguson said. "That kind of put the game out of reach at that point."
Senior Jeff Boorman led the Lions in their press defense, which forced the Shockers into turnovers that led to easy buckets for MLCA/CCS.
"There were about four possessions where they didn't even get across half-court, and we just kept scoring – which is kind of what we do," Ferguson said.
As the defending Central Washington 1B league champions, Ferguson knows what it'll take for the Lions to have success down the stretch of the regular season.
"It's going to take consistency over complacency," Ferguson said. "We definitely have to stay focused and have a business mindset because everyone's gunning for us. We have the target on our back because we're the defending league champs, so we can't overlook anyone."
The Lions will face off against Pateros, Soap Lake, Riverside Christian and Entiat to close out the regular season. Riverside Christian is 10-2 overall and 7-1 in league play this season.
"These next four games, they're going to determine how things go," Ferguson said. "We've got to keep a business mindset, keep our foot on the gas and just keep improving each game, each day in practice."
Box Scores
MLCA/CCS Boys
MLCA/CCS 12-24-11-10 57
Waterville-Mansfield 10-10-3-8 31
MLCA/CCS Girls
MLCA/CCS 11-4-12-12 39
Waterville-Mansfield 3-9-11-12 35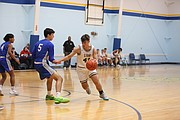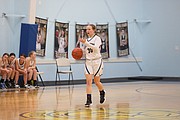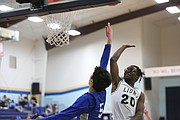 Recent Headlines
---