Huskies place second, Knights sixth at Lady Huskie Invitational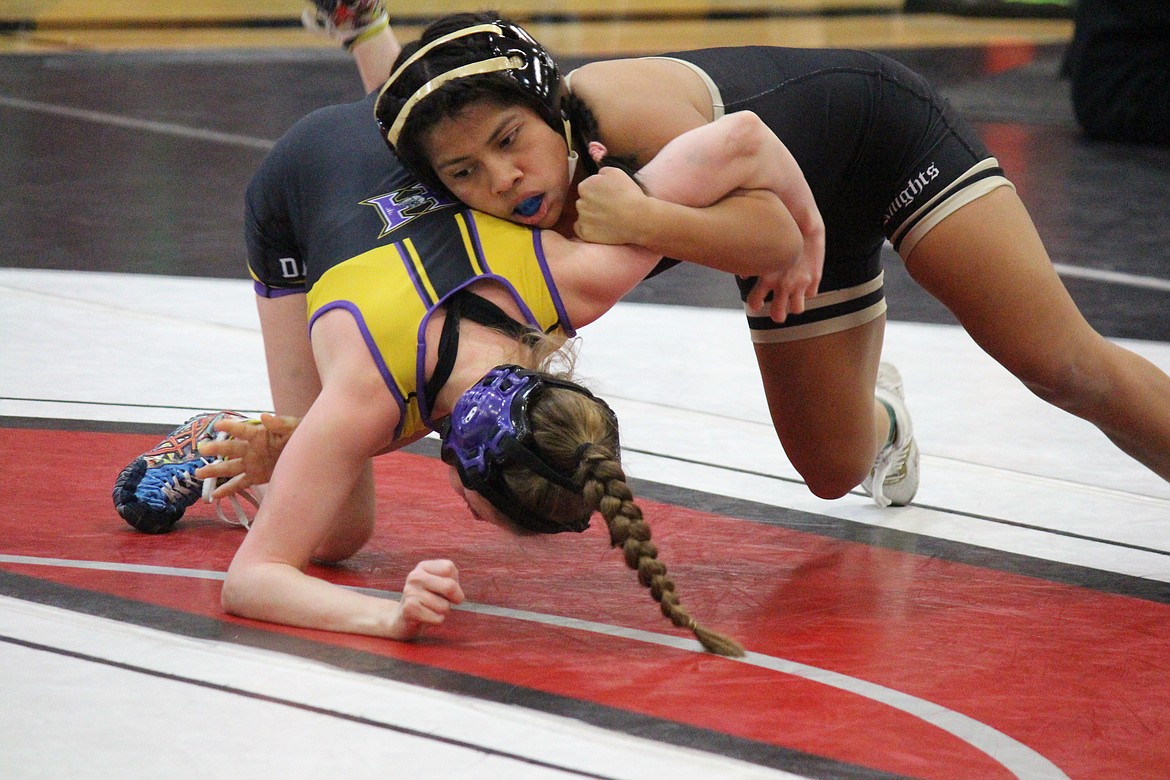 Royal's Sharon Arroyo works to turn her opponent, Ayden Foreman of Hermiston, during a match Saturday at the Lady Huskie Invitational in Othello.
CHERYL SCHWEIZER/COLUMBIA BASIN HERALD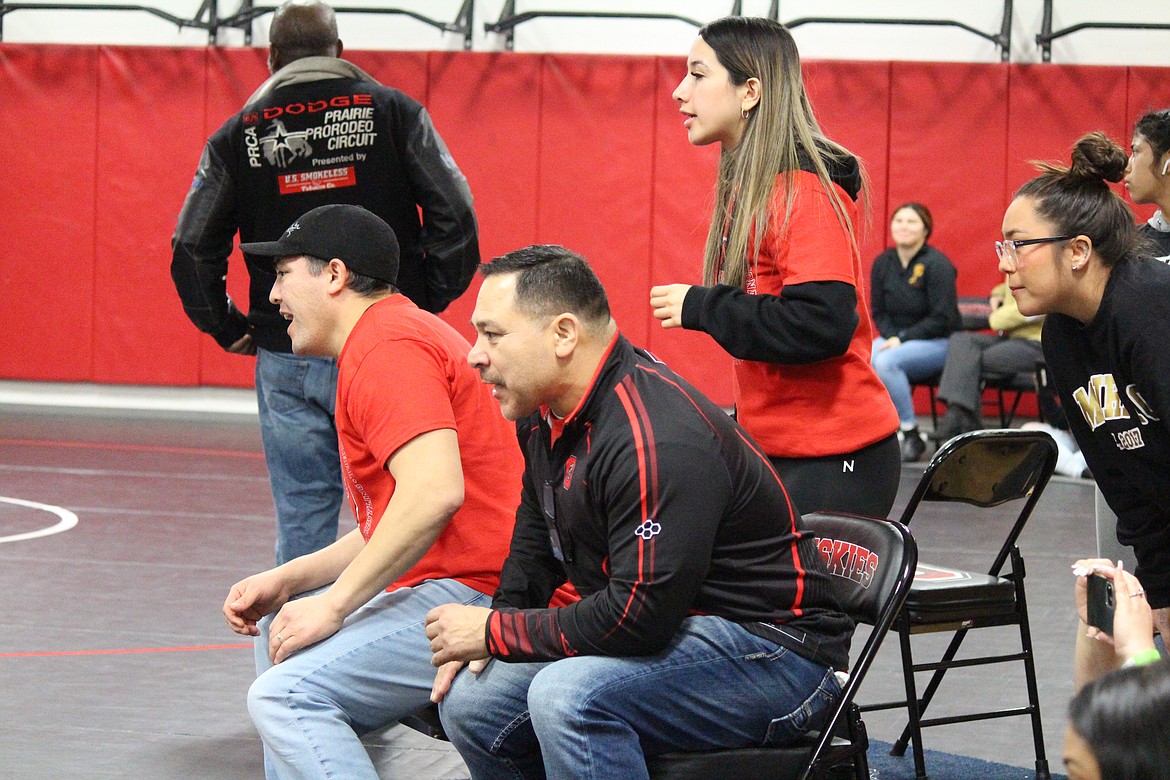 Othello Head Coach Rafael Ruiz, foreground, and the coaching staff concentrate on a match.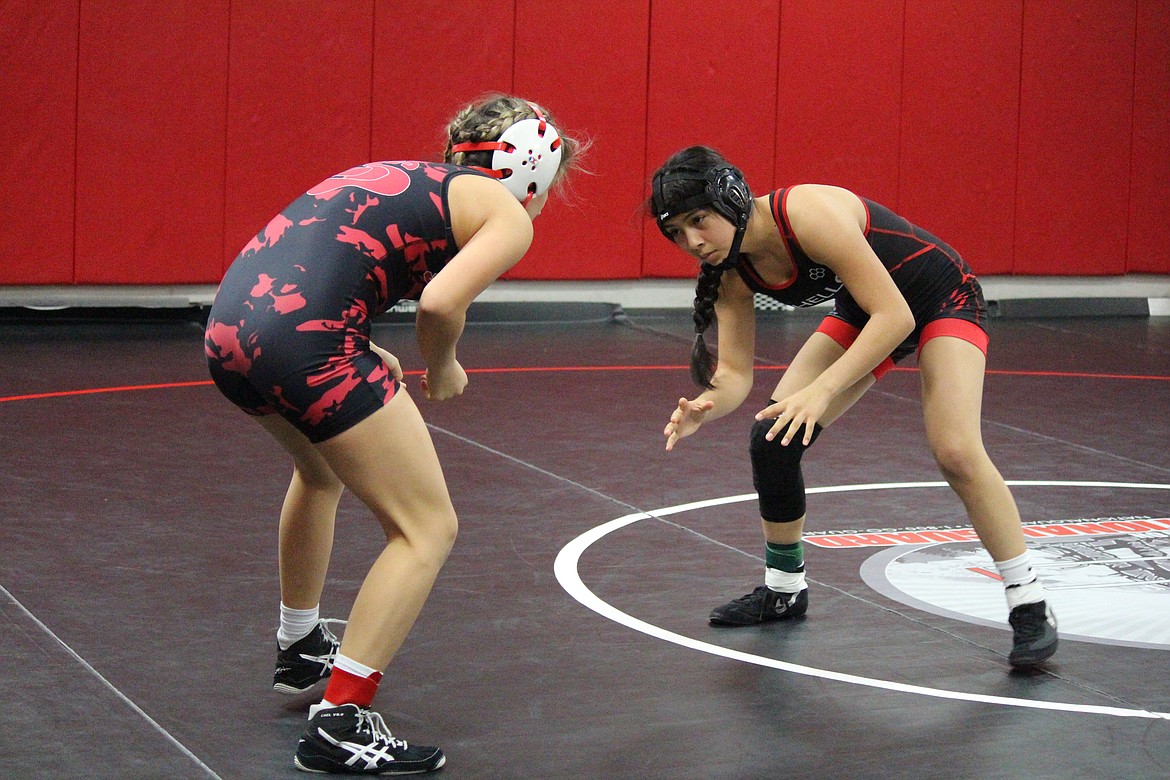 Briseida Galvez of Othello, left, eyes her opponent Kaiden McDonald of Selah.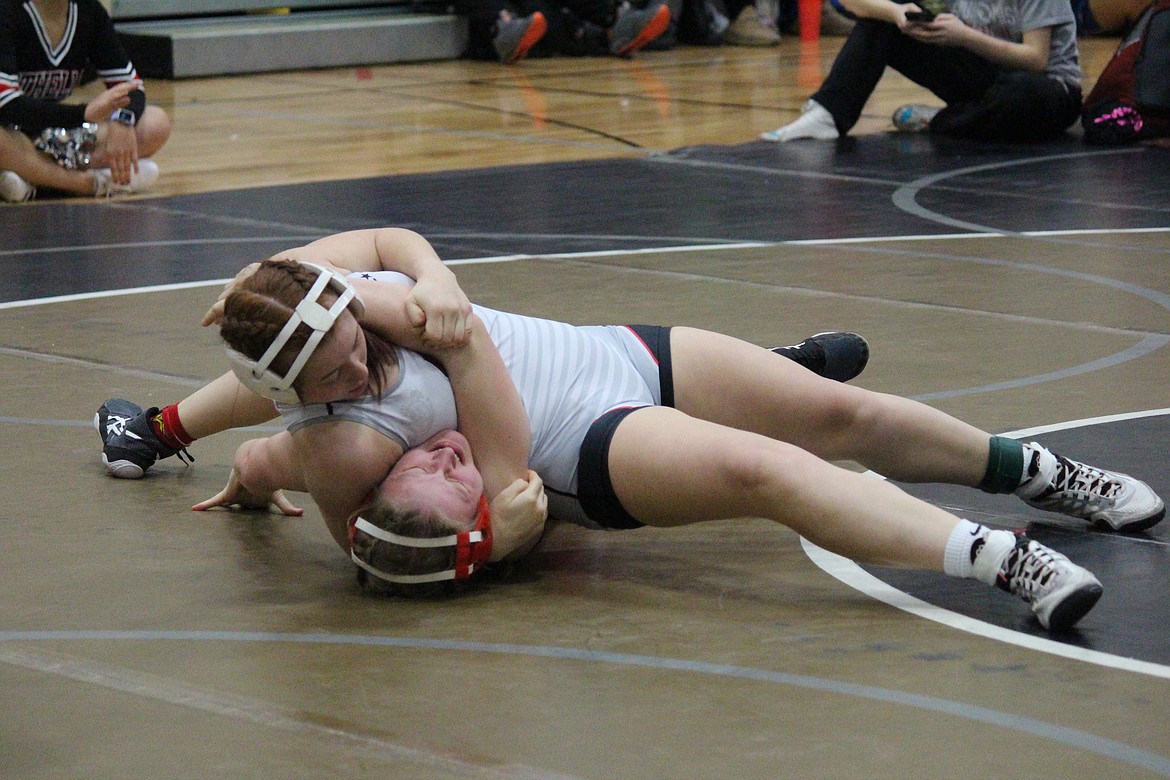 Diamond Van Cleve (top) almost but not quite pinned her opponent, Chloe Cahan of Snohomish. Cahan came back to win the match during the Lady Huskie Invitational.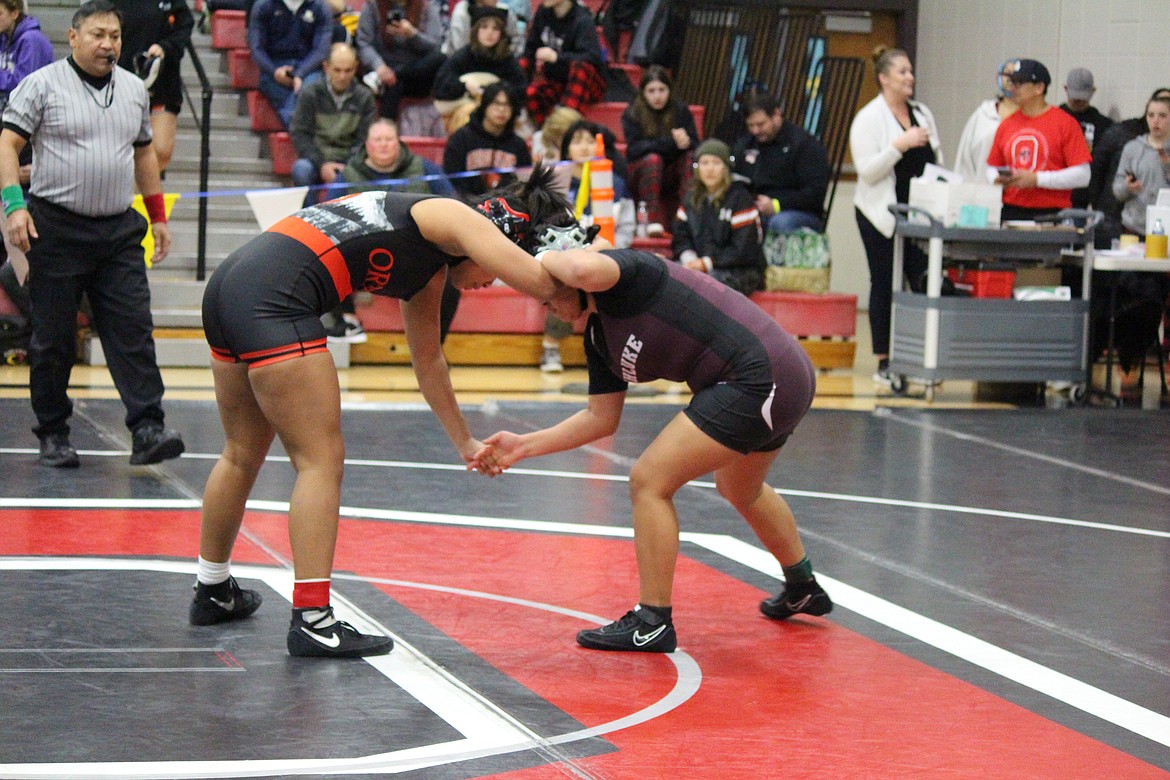 Wahluke's Citali Ramos, right, grapples with Heaven Samuels of Orting during Saturday's Lady Huskie Invitational in Othello.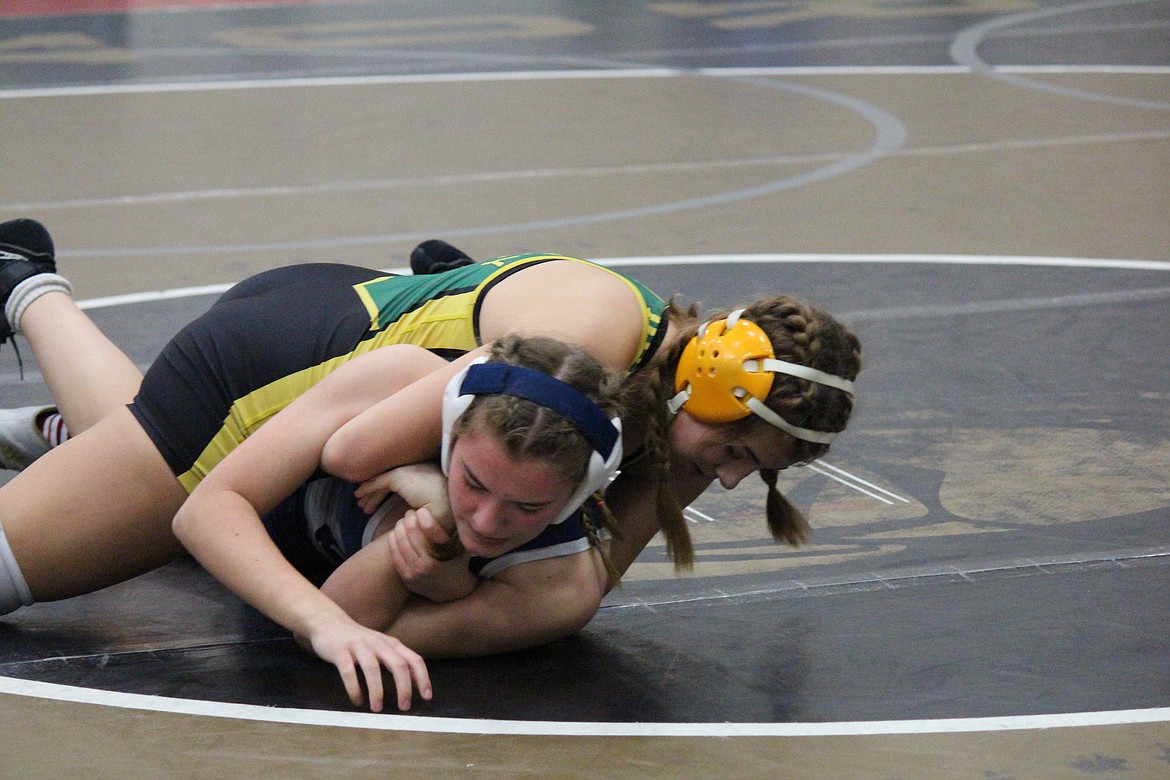 Jourdan Ferguson, of Quincy, works to turn her opponent, Ava Thomas of Glacier Peak. The wrestlers were competing in the Lady Huskie Invitational in Othello.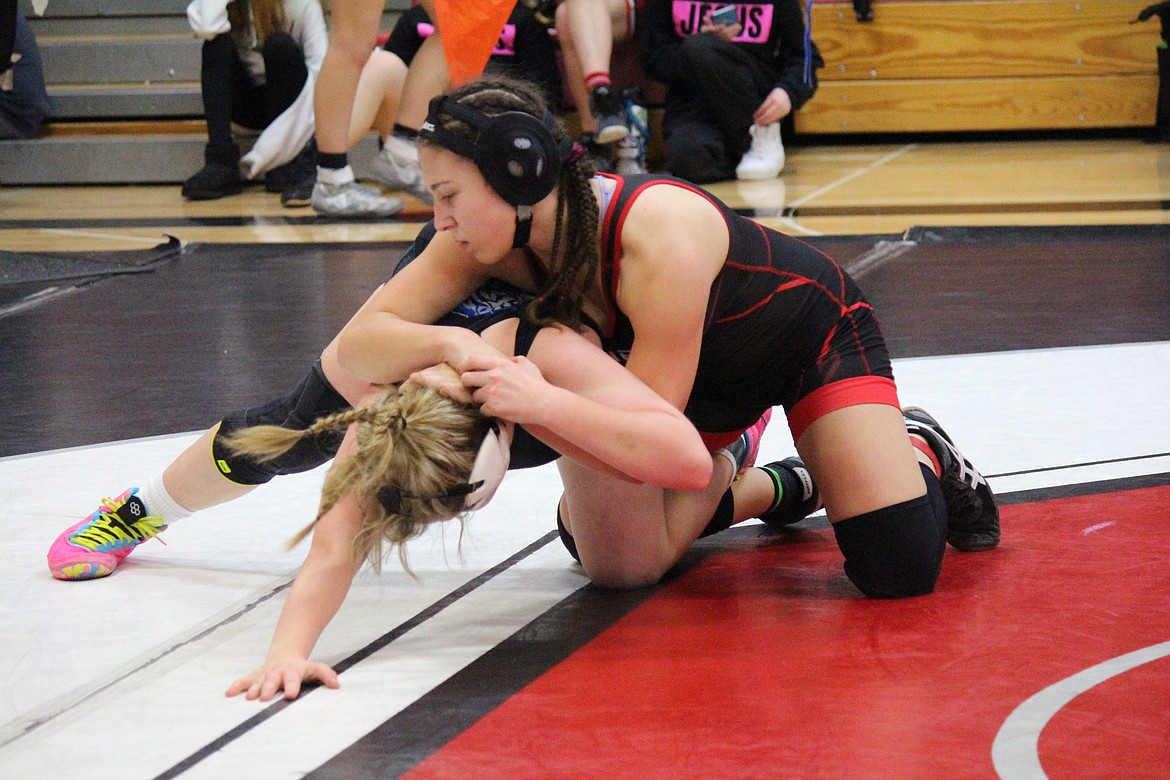 Kiara Haertling, Othello, right, puts a lock on Weslie Siemears of La Grande, Oregon.
Previous
Next
by
CHERYL SCHWEIZER
Staff Writer
|
January 23, 2023 3:12 PM
OTHELLO — The Othello girls wrestling team got points from almost every wrestler and took second place among 61 teams at the Lady Huskie Invitational, the team's home tournament, over the weekend.
"We had a lot of great matches," said Head Coach Rafael Ruiz. "I couldn't be any happier, how well they did."
Othello scored 152.5 points to take second behind meet champion Toppenish. Royal finished sixth with 112 points; Warden tied with Grandview for 12th with 78 points. Quincy took 18th with 68 points, and Ephrata finished 27th with 52. Moses Lake tied for 43rd with Republic/Curlew with 28 points. Wahluke wrestlers scored 18 points to finish in 51st place.
The tournament drew wrestlers from as far away as Ontario, Oregon; from Blaine to Post Falls, Orting to La Grande and Hermiston, Oregon.
"I was just looking at the numbers, and we had 1,025 matches," Ruiz said. "That's quite a bit."
The Othello High School parking lots and the streets around OHS were filled with cars and buses, and the number of wrestlers required six matches simultaneously, so many that OHS ran out of mats and had to borrow one from Royal High School. It's a sign that girls wrestling has grown.
"I think part of it is the opportunity for girls to be competitive," Ruiz said.
Quincy Coach Devin Silva agreed and said the growth is not just in Washington.
"Families, on a national level, are starting to realize that there's no other sport that's going to push a developing teenage girl to being as strong and as independent, or give them the same kind of lifelong connections, that the sport of wrestling is going to give them. I think that's why it's catching on so much," Silva said.
The Jacks entered four wrestlers in 2022 Lady Huskie Invitational, Silva said, and this year brought the entire team.
"We don't fill out every single weight class, but our leaders in each of the weight classes where we do have athletes competing definitely did their part to put some team points up there," Silva said.
Wrestling is, Ruiz said, a pretty challenging sport – intense, pretty tough. Ephrata sophomore Alondra Alcantar ended up with a black eye after one of her Saturday matches, but even with a black eye she's ready to keep wrestling.
"It's really fun and interesting," she said.
"My brother was doing wrestling," she said, and he urged her to try it.
She wrestled in seventh grade, dropped out for a couple of years, but returned for her sophomore season.
Othello sophomore Diamond Van Cleve said her dad T.J. is the reason she's wrestling.
"My dad got me interested in wrestling," she said. "He thought it was a perfect match for me."
And dad was right.
"It's challenging in many ways," Van Cleve said.
The full gym was a sign people who thought girls wrestling could and would grow were right, she said.
"It's an eye-opener," she said. "Nobody really had faith in girls wrestling."
But the girls proved they had both the appetite and the perseverance.
"I can do what guys can do," she said.
Cheryl Schweizer may be reached at cschweizer@columbiabasinherald.com.
Lady Huskie Invitational placings:
Othello: Thalia Gallegos, third (170); Nariah Guzman, fifth (100); Elia Velazquez, fifth (190); Diamond Van Cleve, sixth (140).
Royal: Alondra Morales, first (145); Emma Villa, first (170).
Warden: Jada Hernandez, first (115); Brianalee Martinez, third (110).
Ephrata: Kadie Mcmullen, second (140).
Quincy: Michelle Acevedo, third (130).
Moses Lake: Elyssa Armendariz, fourth (100).
Recent Headlines
---