GALLERY: Quincy Mat Animal Invitational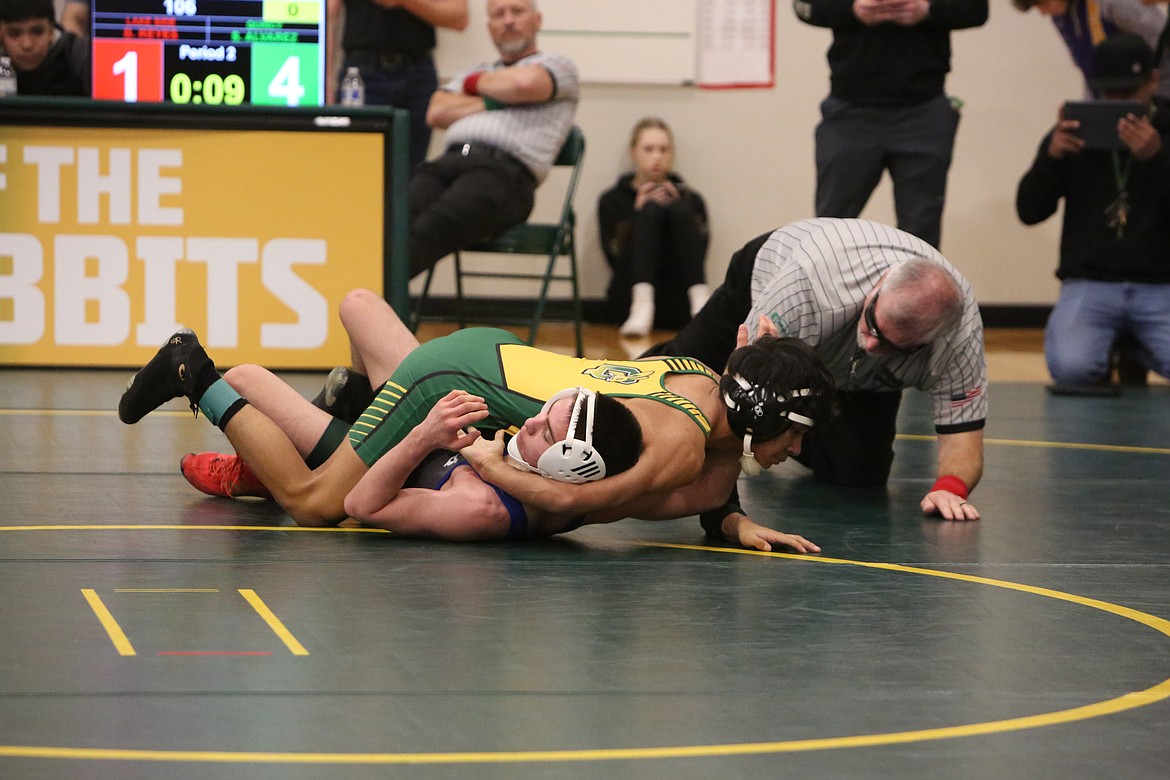 Quincy sophomore Saidt Alvarez, top, placed first in the 106 weight class at Saturday's Quincy Mat Animal Invitational.
IAN BIVONA/COLUMBIA BASIN HERALD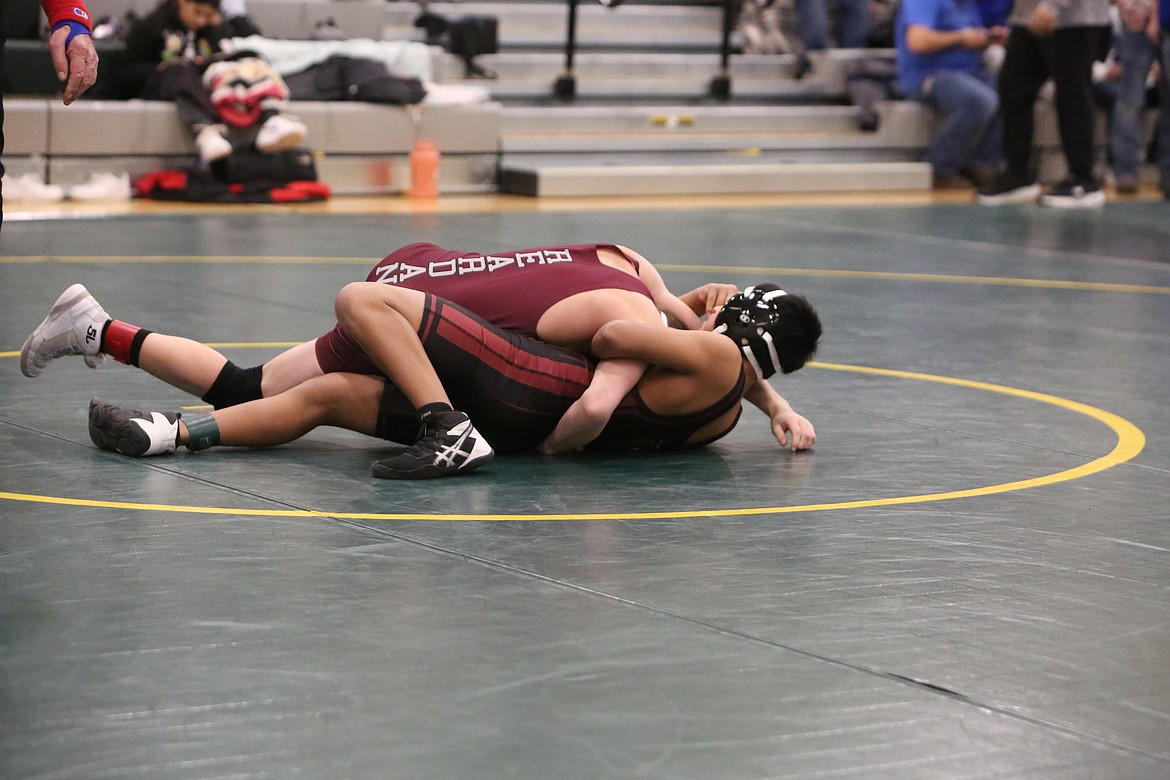 Wahluke sophomore Victor Mateo, bottom, wrestles his way out of the grip of his Reardan opponent.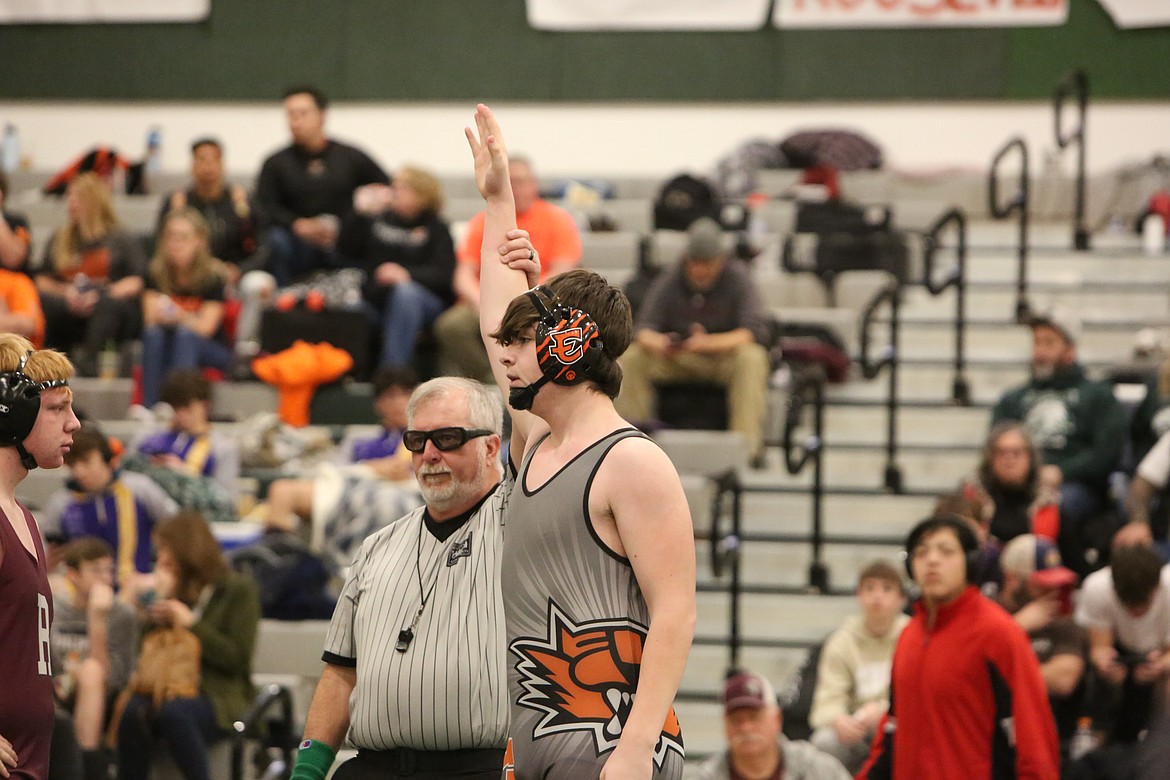 Ephrata freshman Micah Sandberg, right, has his arm raised after defeating a Reardan wrestler.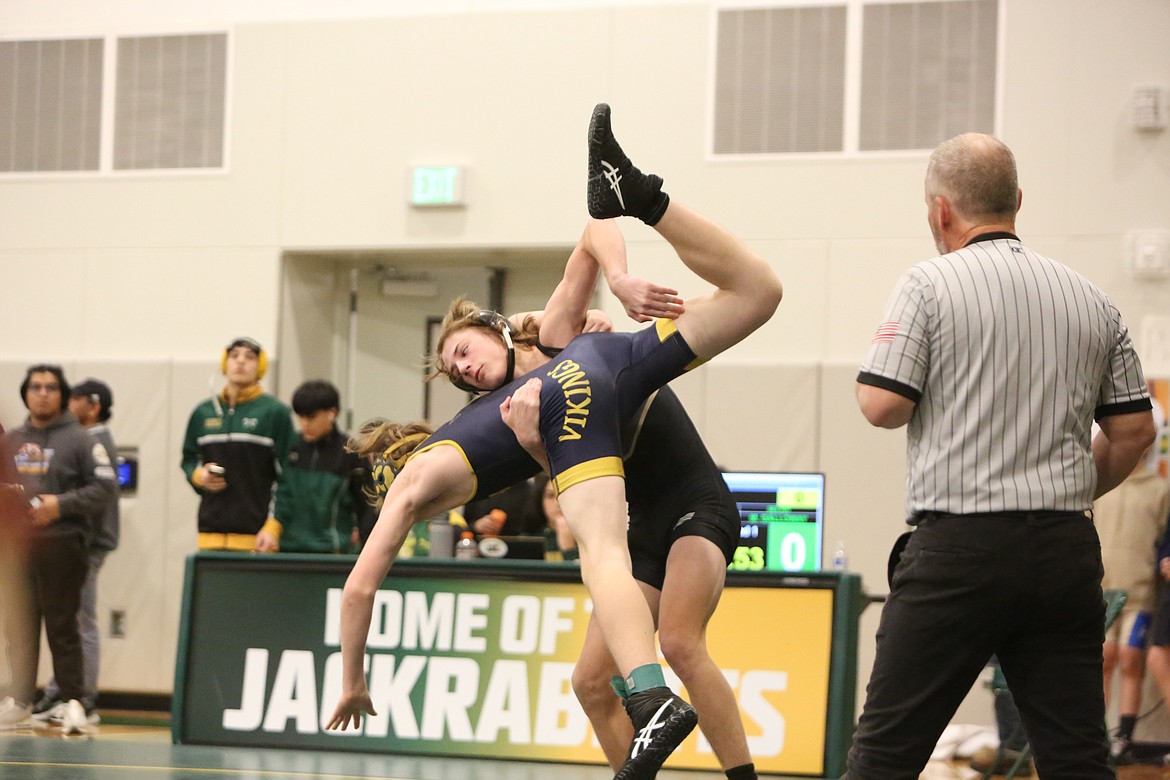 Royal freshman Shea Stevenson, center, takes down a Selah wrestler at the Mat Animal Invitational. Stevenson finished first in the 145 consolation first-place match by a technical fall over Tonasket's Sedric Mendoza.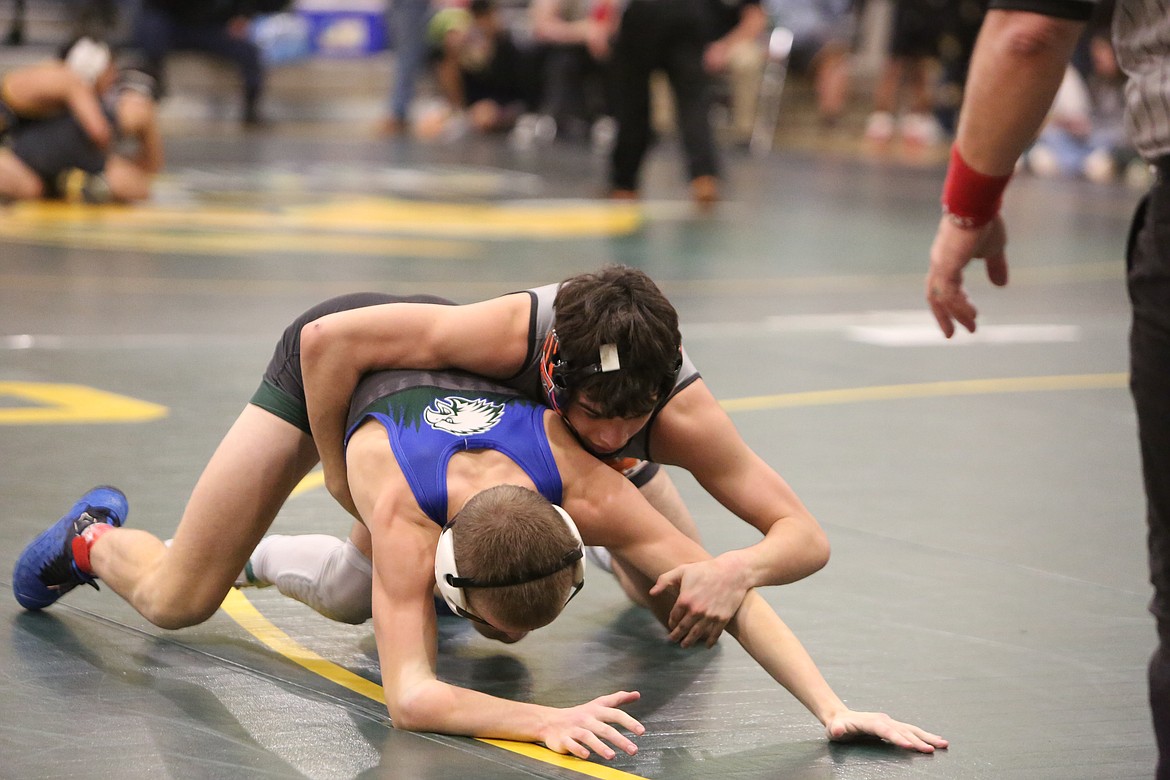 Ephrata junior Jorge Rodriguez, right, finished in third place of the 126 weight class at the Quincy Mat Animal Invitational over the weekend. Rodriguez defeated Warden's Junior Santiago in the third-place match.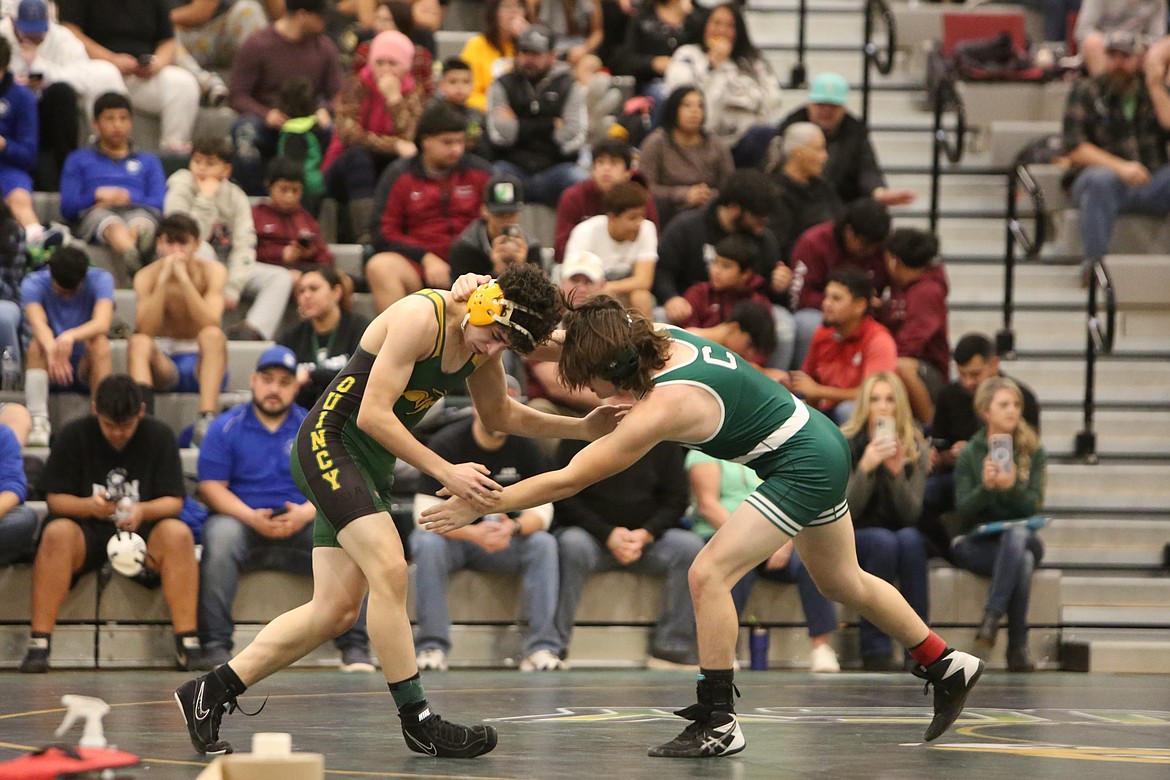 Quincy freshman Diego Diaz, left, takes on a Chelan wrestler at Saturday's Quincy Mat Animal Invitational.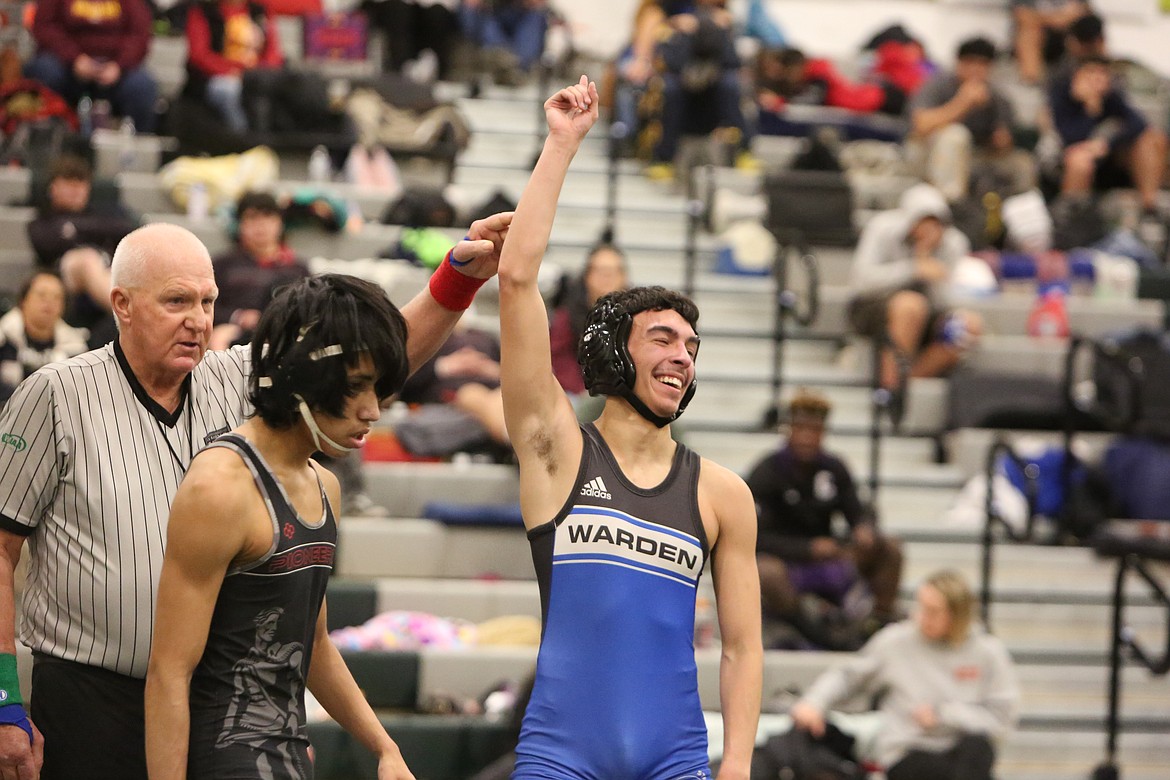 Warden senior Gio Castro, right, smiles after taking down his opponent at the Mat Animal Invitational. Castro placed fourth in the 106 weight class at the tournament.
Previous
Next
by
IAN BIVONA
Sports Reporter
|
January 23, 2023 3:42 PM
QUINCY — Tonasket came out on top of the second annual Quincy Mat Animal Invitational with 200 team points over the weekend, followed by Wapato (167.5 points), Lake Side (161), Naches Valley (140) and Ephrata (130.5) rounding out the top five.
"This is a the second year of the Mat Animal Invitational; we're as central as it gets around Washington state, so why not have our own tournament?" Quincy boys wrestling Head Coach Breck Webley said. "Last year was a great starting tournament, this one got better. It's been fun."
20 teams from around the state traveled to Quincy for the tournament, including six local squads. Four other local teams joined the Jackrabbits and Tigers, with Quincy placing ninth (112), Warden placing 10th (108.5), Royal placing 13th (84.5) and Wahluke placing 17th (42).
"We had a lot of guys with a lot of state experience at multiple weight classes," Webley said. "It really had that postseason vibe to it, where we knew we all were going to be wrestling tough wrestlers, and even wrestlers that we may see later points in the season."
With many wrestlers at the Mat Animal Invitational having wrestled at previous Mat Classics, Webley said the tournament is a great way for wrestlers to gain confidence entering the postseason.
"It's all about getting put in some big moments early in the season, or even at this point in the season, so that when we get in these big moments in the postseason it feels normal and a lot more natural," Webley said. "The kids can really grasp 'Hey, I can compete at this level in the postseason, because I just did it.'"
See below for placings of local wrestlers at the Mat Animal Tournament.
106
Quincy sophomore Saidt Alvarez, second place
Warden senior Gio Castro, fourth place
113
Royal freshman Dennis Hernandez, first place
Ephrata junior Zander Boyd, second place
120
Warden sophomore Michael Gonzalez, sixth place
126
Ephrata junior Jorge Rodriguez, third place
Warden sophomore Junior Santiago, fourth place
Wahluke senior Josue Mendoza, sixth place
132
Warden senior Angel Cruz, fifth place
Ephrata junior Walker Fulk, sixth place
145
Ephrata senior Nelson Barragan, fourth place
Quincy senior Dylan DeTro, sixth place
160
Ephrata senior Hudson Sager, second place
Royal junior Jose Chavez, fifth place
Warden junior Rufino Gonzalez, sixth place
195
Quincy senior Christian Avila, third place
220
Quincy senior David Medina, first place
Wahluke senior Anthony Zebrano, fourth place
285
Warden junior Anthony Contreras, second place
Recent Headlines
---