Mavs prepare for postseason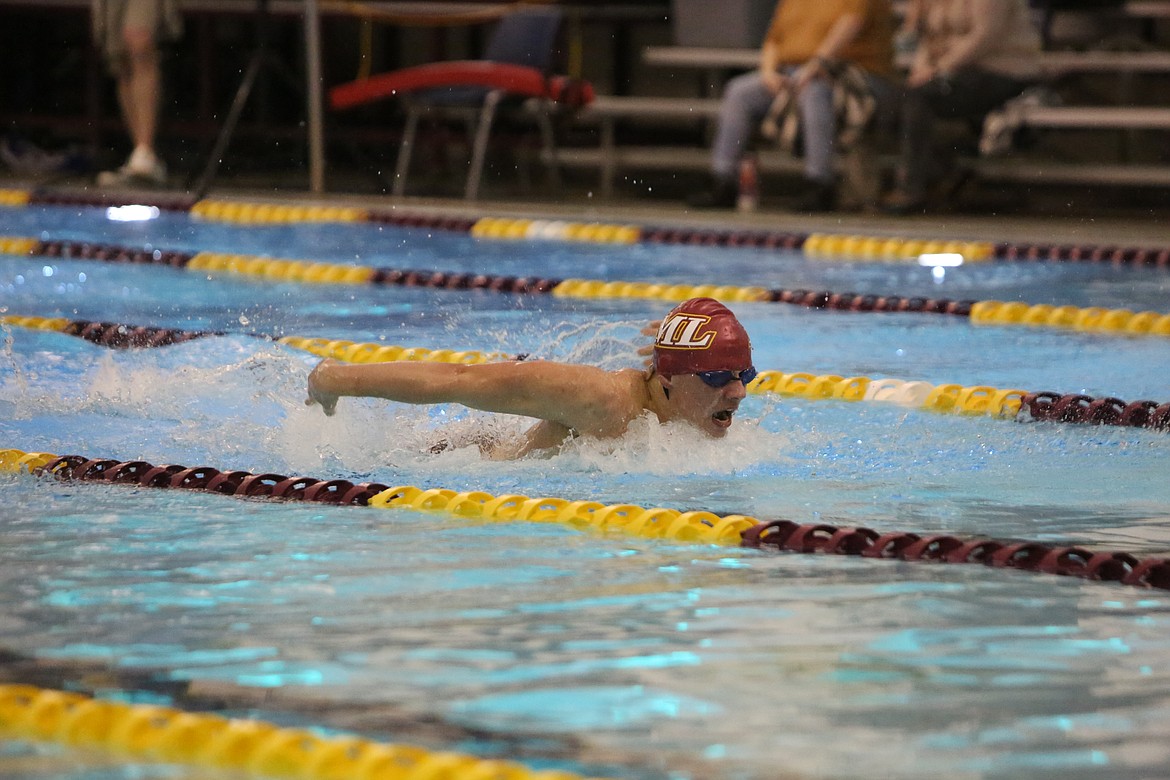 Moses Lake sophomore Luke Molitor swims the 100-yard butterfly in the Maverick's dual meet against West Valley and Sunnyside.
Ian Bivona
by
IAN BIVONA
Sports Reporter
|
January 21, 2023 2:54 PM
MOSES LAKE – With a 130-47 win over West Valley (Yakima) and a 151-22 win over Sunnyside in a duals meet on Thursday, Moses Lake boys swim and dive will look to prepare for postseason meets and finish strong down the stretch.
The Mavericks locked up a Big 9 title with a win over Eastmont on Tuesday, winning 115-63 over the Wildcats.
"The guys are so proud of themselves, and it's pretty amazing as far as what they're doing," Moses Lake Head Coach Jason Hart said.
While winning the league is an accomplishment in and of itself, Hart said the Mavs still have more to strive for this season.
"We have a goal board, and we knocked that one off," Hart said. "The next one that we're hoping to attain is to go and win districts."
Moses Lake finished the regular season with an undefeated record in league meets, including an exciting 96-90 win over Wenatchee on Jan. 12.
"We carry (momentum) into every single practice," Hart said. "The great thing about this group is they have so much energy, they are hungry and they want to get better. You can see in the work they put in. The healthy competition exists in practice."
As the regular season comes to a close, Hart said that most swimmers will "taper off" of their typical training regimen and focus on the more minute details.
"Now we're rebuilding, working on speed," Hart said. "Just trying to keep high energy and work on finer things like turns, starts and relay starts."
With the district meet in less than two weeks, swimmers will prepare to make it to the state meet in Federal Way in mid-February.
"Going to districts, we want to get as many kids qualified for state as possible," Hart said. "We've seen a look at every single team to see what they have… our goal is to put our kids in the best possible position to move on and go to state.
Moses Lake will host the Columbia Basin Big 9 Championships on Thursday, beginning at 12 p.m.
"It should be a lot of fun, all the schools will be here," Hart said. "I almost think of it as a dry run for districts the next week."
Ian Bivona can be reached at ibivona@columbiabasinherald.com.
Recent Headlines
---