Nancy Queen
|
January 19, 2023 11:57 AM
On Dec. 12, 2022, Nancy Lou Queen was taken from us suddenly and unexpectedly. Nancy suffered from an aortic dissection. She passed suddenly and painlessly at Sacred Heart Hospital in Spokane, Washington. Her passing was only seven months since the only man and true love of her life passed in May of this same year. Her surviving family and friends are comforted in knowing that the two are together again in eternity.
Nancy was born in July of 1942 to Roy and Norma Adams in Chewelah, Washington. Nancy was the first of three children. Her surviving siblings are Nikki (Adams) Lawwill of Owenton, Kentucky and Buck Adams of Moses Lake, Washington.
The Adams family eventually relocated to Moses Lake, Washington in 1954. Nancy attended Frontier Junior High and was in the first class to attend the current Moses Lake High School. Nancy graduated in 1960 and moved to Spokane, Washington with her lifelong best friend, Cathy Kersey. They both worked together at a clothing shop for a short period of time before returning to Moses Lake. Nancy soon got a job as a proofreader at the Moses Lake Herald. While working there she met Barry Queen, who was currently stationed at Larson Air Force Base. He was to become the only man and true love of her life and they were married shortly after in 1961. Nancy and Barry lived in various locations around the country because of Barry's career in the Air Force and later for the U.S. government in a GS capacity. While Barry was assigned to Hill Air Force Base in Ogden, Utah, Nancy gave birth to her son, Kelly Queen, in 1967. Their daughter Stacey Queen was born two years later in 1969.
As a family they moved multiple times, following Barry's career and enterprises. They returned to Moses Lake in 1973. The Queen family lived on the closed Larson Air Base before purchasing their final home on the lake in 1975. Over the years, they worked tirelessly to landscape and build to make the beautiful home that it is now. Their home was a major gathering place for friends and family. So many amazing memories were created there from her children learning to swim to her son getting married and family reunions that are still talked about today. Both of her children's friends considered the Queen home a second home to them and Nancy was known as Momma Queen.
In 1985, Nancy went back to work after her son left for the Air Force. She was employed at Ranch and Home as the clothing and boots department manager. Nancy worked there for 12 years before retiring in 1997.
Nancy had many joys in her life besides being an amazing wife and mother. They spent many days and years with their daughter, Stacey, and her family camping in the local hills, jeeping in the sand dunes and kayaking the local creeks and streams. After Barry retired, the two of them purchased an RV and became snowbirds to Arizona in the winter every year. They were accompanied by their beloved basset hound, Roscoe P. Coltrain. The three of them had many adventures and made amazing, lifelong friends as far away as Canada. The end of their RV adventures came after a life-altering accident in Pendleton, Oregon. While they were traveling back home in the spring one year, they were broadsided with winds over 100 mph and their truck and trailer were blown over the guard rail down the side of the mountain. By the grace of God, all three of them were spared without a scratch. Winters in Moses Lake became the norm again. Soon after, they began to visit their son in Birch Bay, Washington for the annual crab season. They would stay there in the fall for a couple of months at a time, making new friends during their lengthy stays.
Nancy was always a positive and happy person. She was loved by all that met her and were lucky enough to get to know her not to exclude her next-door neighbors who became close friends and eventually an extended family. Nancy was survived by her two children Kelly and Stacey Queen; grandchildren Mickenzie Porter, Matt Campbell and Sydney Queen and great-grandchildren Charlotte Campbell and Mars Porter.
At her request and humbleness, there will be no funeral or ceremony.
Nancy will be missed by many.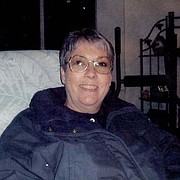 Recent Headlines
---