Moses Lake's Katelyn Kriete signs with CCS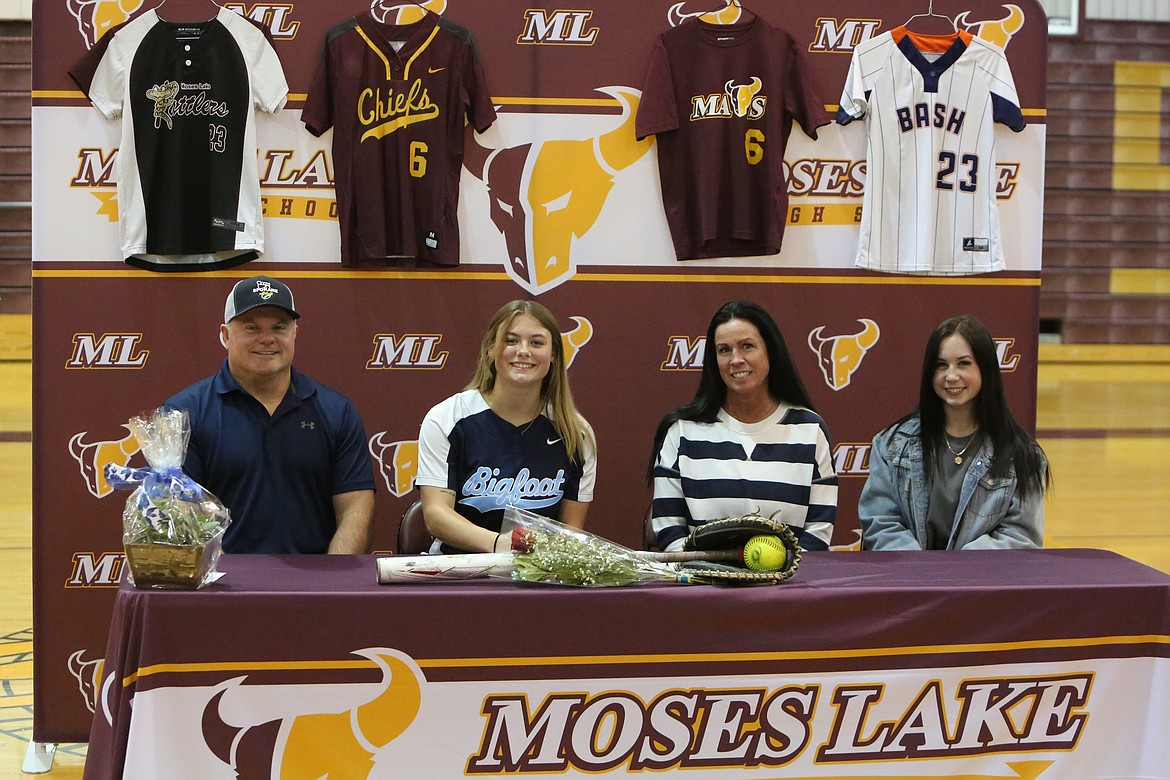 Moses Lake senior catcher Katelyn Kriete, center left, signed on to play for the Community Colleges of Spokane on Thursday.
Ian Bivona/Columbia Basin Herald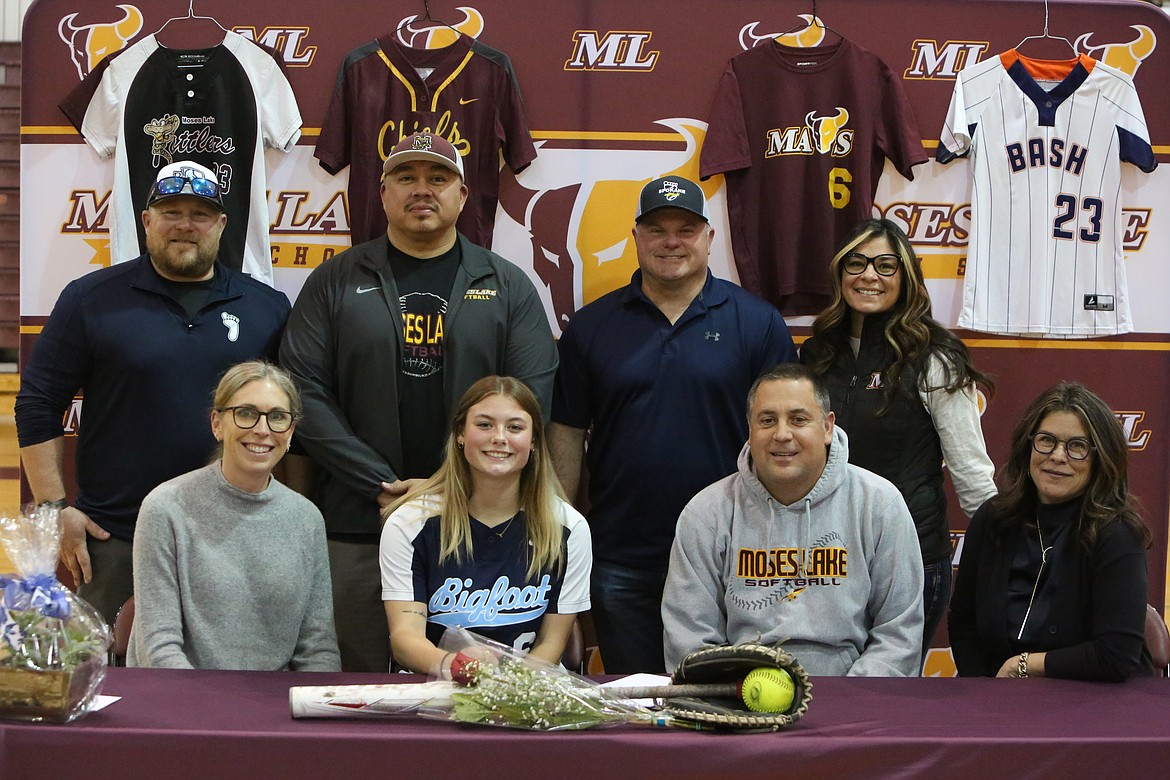 Former, current and future coaches pose for photos at Katelyn Kriete's collegiate signing on Thursday.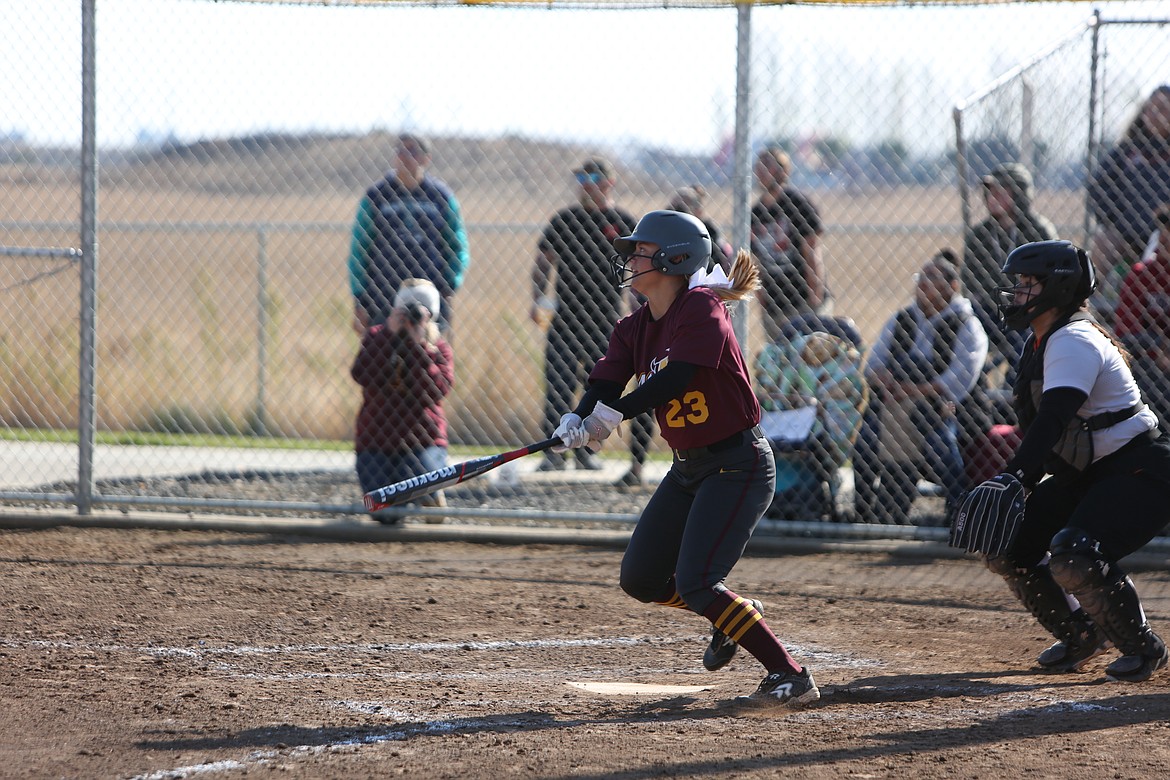 Katelyn Kriete, who signed to play collegiately for the Community Colleges of Spokane on Thursday, looks on after hitting a ball during slowpitch district playoffs in October.
Previous
Next
by
IAN BIVONA
Sports Reporter
|
January 19, 2023 5:14 PM
MOSES LAKE — Moses Lake High School catcher Katelyn Kriete signed to play on at the collegiate level on Thursday, committing to play softball for the Community Colleges of Spokane and study at Spokane Falls Community College.
"I'm just super excited to get on the field and play with them," Kriete said.
Community Colleges of Spokane Assistant Coach Steve Sebesta said that Kriete originally stood out to the coaching staff while playing in the outfield, and it was "pretty amazing to see her catch" at her true position.
"Seeing her as a teammate and interacting with her team was one of the biggest things that us coaches really value in a player," Sebesta said. "But when I saw her swing the bat I thought 'Oh goodness, we've got to get this one.'"
Kriete's athleticism stood out to Sebesta and the CCS coaching staff, but it's been in the forefront of the Mavericks during her high school career under Head Coach Mike Hofheins.
"One thing I appreciate about Katelyn is how she's matured as a student-athlete," Hofheins said. "She's really grown from her freshman year to her senior year, and that improvement has really paid off. She's a bulldog as a catcher, she hits for power – she's your classic clean-up type hitter. She has arm strength that's impressive."
The newest member of the Sasquatch softball team said she began playing softball to bond with her dad Joey Kriete, who played baseball while at Big Bend Community College.
"The team environment and the team energy," Kriete said of what made her want to keep playing. "All the coaches that helped me in my career and gave me so many skills, and helped me throughout this journey."
One of those coaches was her father.
"I coached her since she was 9; it was fun to see her growth year after year," Joey Kriete said. "It was very exciting to see her growth not only as an athlete, but as an individual, and maturing as an individual and as an athlete over time."
As she continued to play softball throughout the years Kriete played on more and more teams, including playing four travel teams last year.
"We were committed to taking her wherever she wanted to go, wherever she wanted to play," her mother Jennifer Kriete said. "We've supported her all the time throughout her whole career, she started when she was nine. She loves it and just keeps growing. Stronger, more passionate and understanding the game. We're super excited and proud of her."
Along with having "nice" training facilities and weight rooms, it was the people in the athletic department that sold Kriete on playing in Spokane.
"Their coaching and their athletic director (stood out to me)," Kriete said. "They're very personable."
While Hofheins and Sebesta noted what an excellent athlete Kriete is, the senior said her best skill on the field is instilling confidence in her teammates.
"I really try to uplift people and tell them 'Hey, you got this! Get ready for the next play!' Kriete said. "Always looking forward to the next thing."
Hitting a walk-off against West Valley (Yakima) in a comeback win for the Maverick slowpitch team was a high point in her softball career, Kriete said.
"I loved having all the team surround me, and it was one of the best moments," Kriete said.
Kriete joined her Moses Lake teammate Ali Stanley in signing with a Northwest Athletic Conference school. Stanley signed with Big Bend last week.
"That's been a goal as an athlete as far back as she's played softball, and to see it come to reality – it's fun to celebrate that with her teammates," Hofheins said.
Ian Bivona can be reached via email at ibivona@columbiabasinherald.com.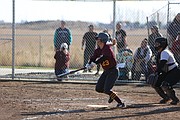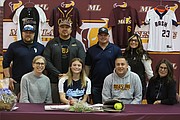 Recent Headlines
---