Huskies take down Mavericks in dual meet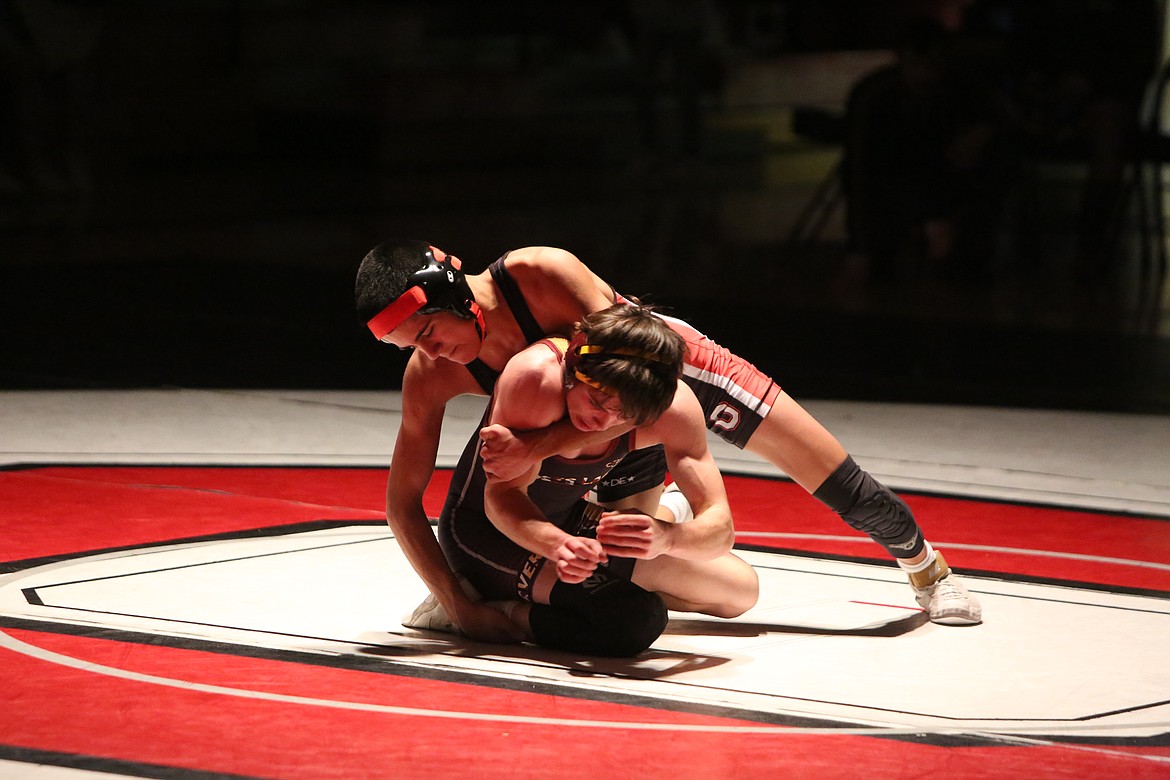 Othello freshman Daniel Gonzalez, top, won his match in the 113 weight class by a major decision on Tuesday night.
IAN BIVONA/COLUMBIA BASIN HERALD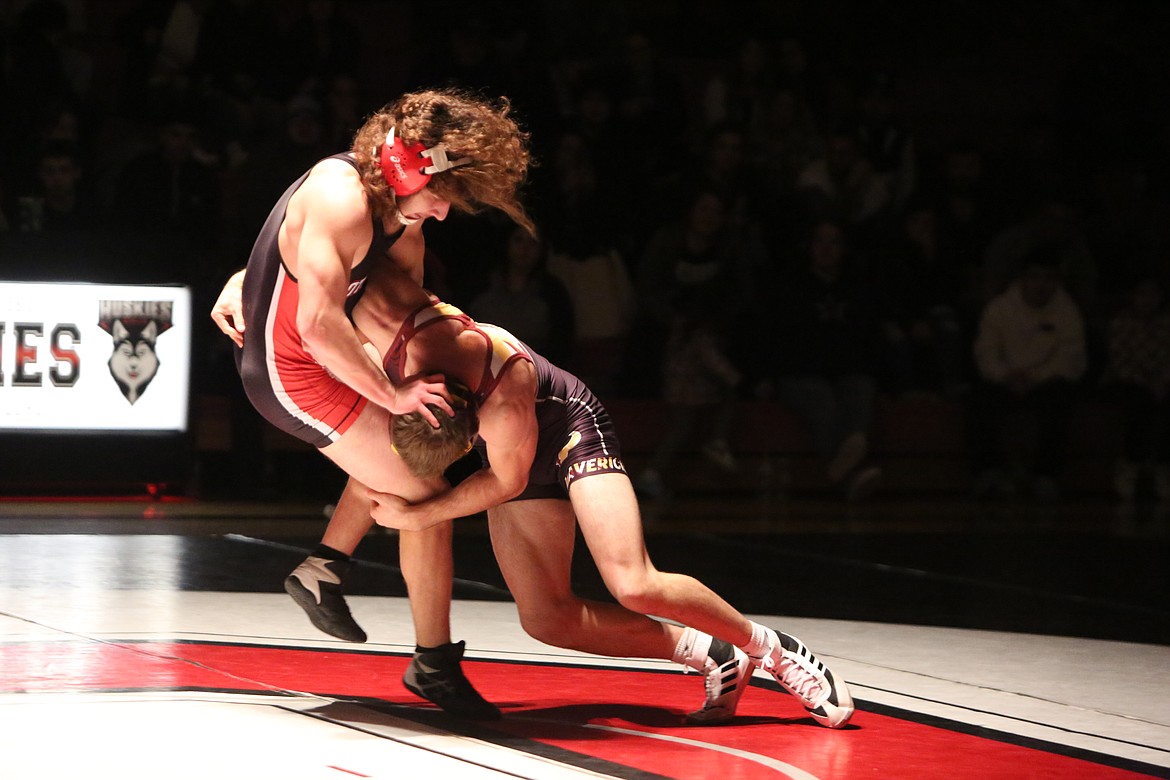 Moses Lake senior Brock Clark, right, takes down Othello's Jaden Perez during a dual between the Huskies and Mavericks. Clark won the match in a 5-3 decision.
Previous
Next
by
IAN BIVONA
Sports Reporter
|
January 18, 2023 10:09 AM
OTHELLO – After taking down Connell earlier on Tuesday night, the Othello Huskies took down Moses Lake in a home dual, winning 44-24 over the Mavericks.
"Credit to Moses Lake, they've improved so much since we saw them at the jamboree," Othello Head Coach Rudy Ochoa II said. "I think their coach (Jose Tanguma) is doing a great job."
Tanguma also saw the improvement from the Maverick squad, noting their performances in aggressiveness, pinning and winning in the third round.
"They improved a lot, they were in a fight in this dual," Tanguma said. "We knew Othello was good, so I'm proud of the guys. They stayed in there and fought, kept the dual pretty close. We fell short, but I feel proud of them."
Ochoa said the Huskies were missing some of their varsity wrestlers on Tuesday night due to injury or illness but had wrestlers step in to fill their shoes in the dual win.
"Our lineup looked a little different than it normally does, but these guys rose to the occasion and performed really well," Ochoa said.
Freshman Daniel Gonzalez was one of the younger wrestlers to step up on Tuesday night, going on to win his match by a major decision and lock on a dual win for the Huskies.
"It was a must-win, we needed him to at least get a major to secure the win and (Gonzalez) did that," Ochoa said. "He was one point away from a technical fall. Being a freshman stepping in for a kid who was hurt, that match stood out."
Moses Lake senior Ashton Sanchez was one of five Mavericks to win their matches on Tuesday night, joining junior Dayton Regan (152), Brock Clark (170), Ian Garza (106) and Drayden Gaither (120). Sanchez battled back to pin his opponent.
"I'm very proud of Ashton Sanchez," Tanguma said. "He was losing, close to a major (decision), came back and got a pin. That just shows that you've got to fight until the end, and it shows a lot of heart."
The senior Sanchez said once he saw n opportunity for a trip he went for it, leading to his pin.
"I just found the over-under, and I saw that his foot was too close," Sanchez said. "I decided tripping him would be the best option because I was down by 11."
Earlier in the night against Connell, Othello senior Terrill Freeman took on Connell's Adrian Magaña in the 195 finals at the Ray Westberg Invitational in Ellensburg. The two matched up again on Tuesday night, with Freeman repeating his win.
"It's pretty intense because I just wrestled this guy," Freeman said. "Even though I beat him the first time, I know he probably analyzed his match and was getting ready for me, trying to stop and block me."
A focus on takedowns over the past week is what lead to Freeman's win, he said.
"I've worked on takedowns a lot this week, and I think that was a big thing," Freeman said. "I was able to take him down to his back a couple times that got me some extra points that I needed."
The Huskies return to the mat on the road against Prosser on Thursday. Matches begin at 7 p.m.
"It always feels good to win here under the lights," Ochoa said. "Especially against a storied program like Moses Lake and Connell. I think it's good for the Columbia Basin and wrestling."
Ian Bivona may be reched at ibivona@columbiabasinherald.com.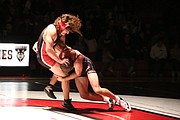 Recent Headlines
---