Buzzing on Broadway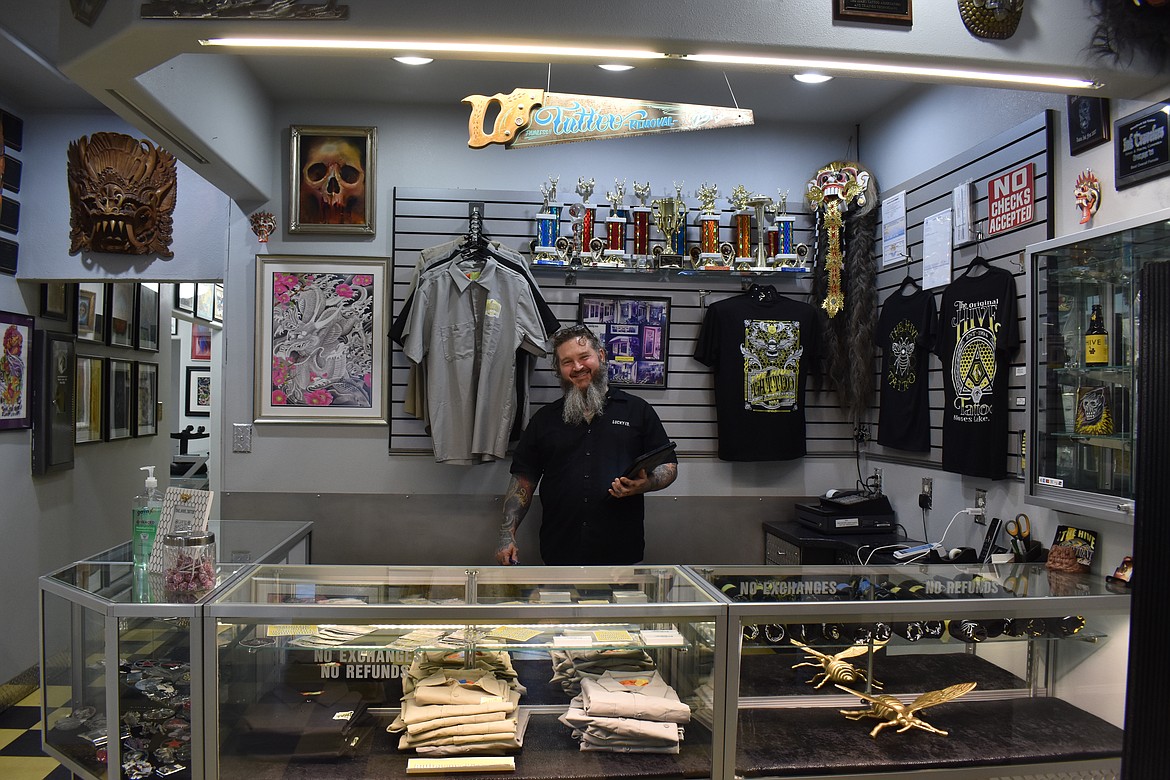 Shawn Willmorth, owner of The Hive, has been tattooing since he was 18 years old.
REBECCA PETTINGILL/COLUMBIA BASIN HERALD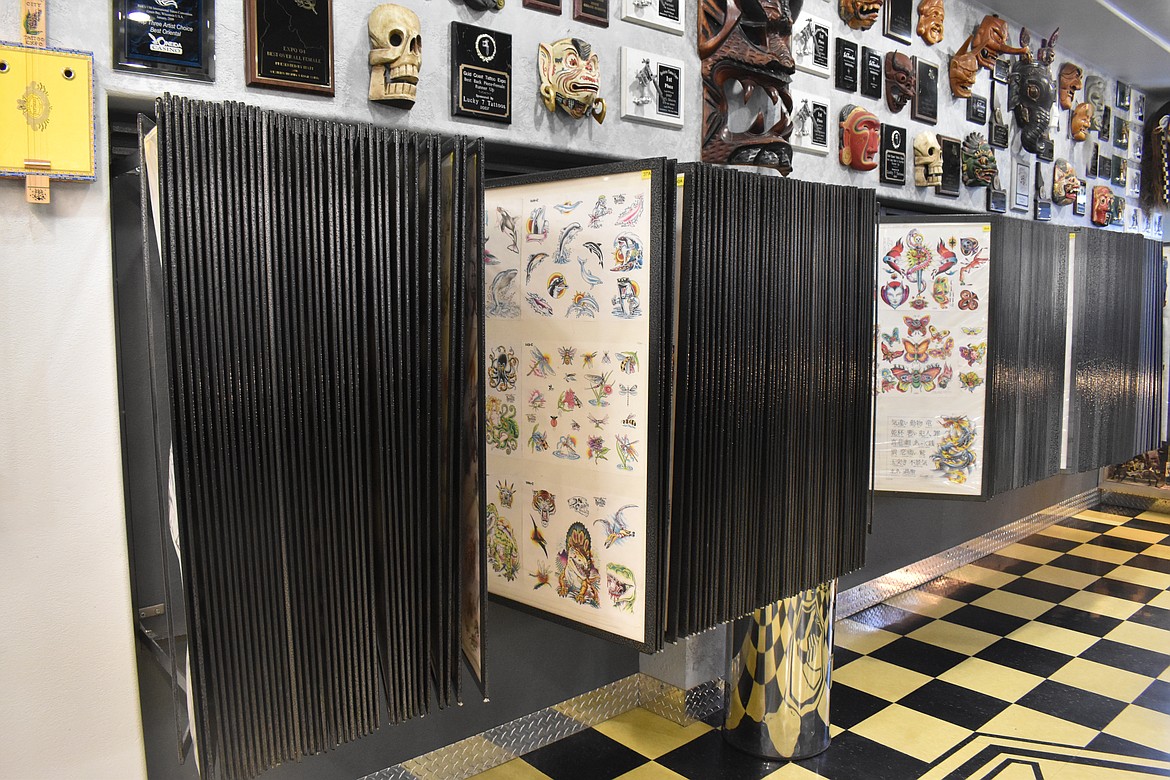 After nearly 30 years in business, Shawn Willmorth has plenty of awards and art to show for it. Clients can view a selection of art for inspiration or to choose a piece he's already prepared.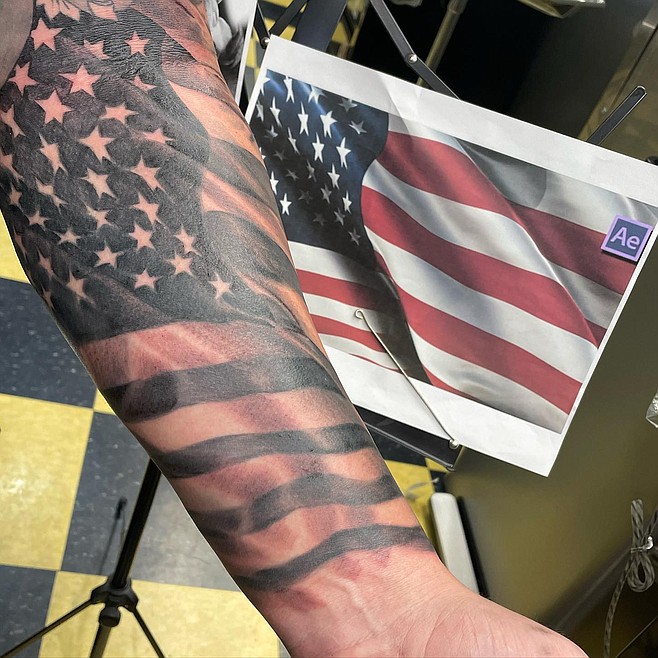 A flag tattoo completed on Oct. 26.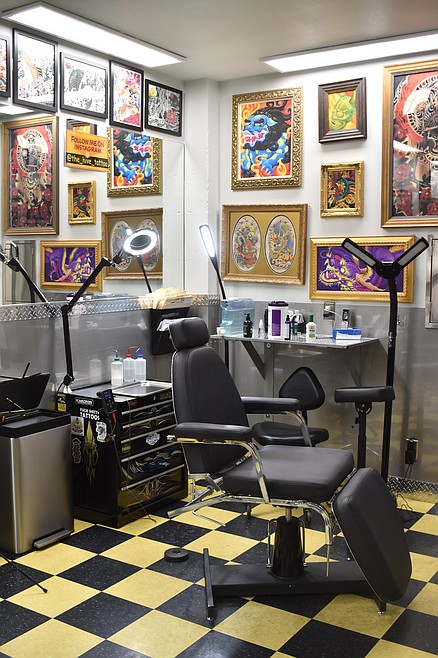 The studio sticks to the theme of its name, with yellow and black checkered floors, custom logo doors and even custom floor mats.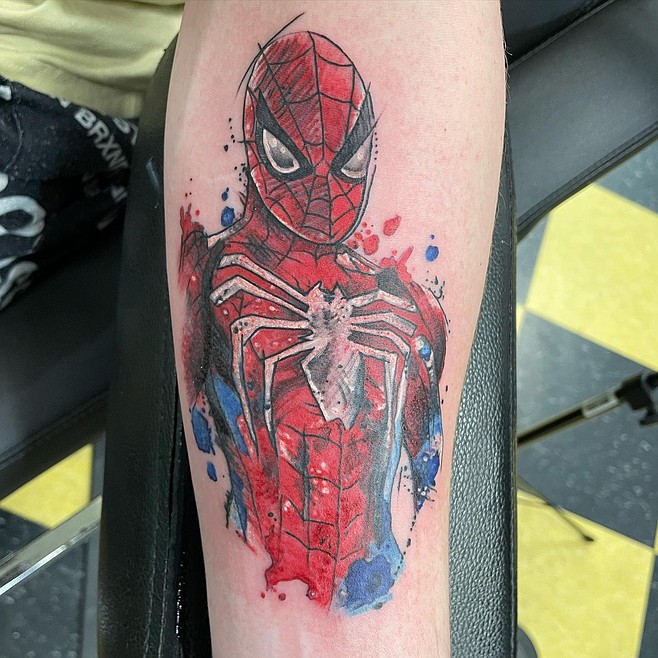 A tattoo completed on Jan. 3 of a watercolor Spiderman.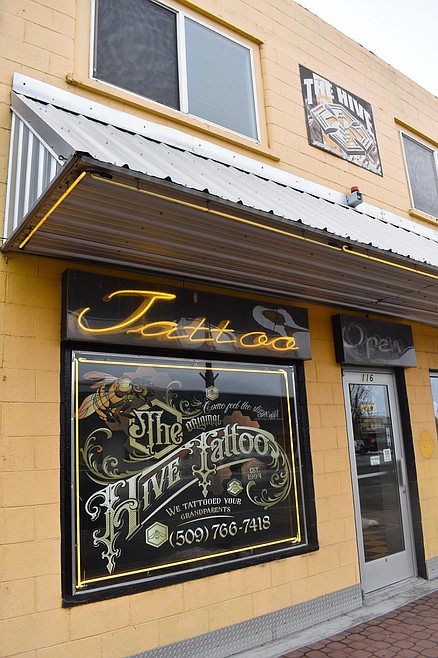 The Hive has been a fixture on Broadway Avenue in Moses Lake since 1994. The shop focuses on tattoos and does not offer jewelry or body piercing like many other studios.
Previous
Next
by
REBECCA PETTINGILL
|
January 18, 2023 1:52 PM
MOSES LAKE — The Hive, an eye-catching yellow building along Broadway Avenue in Moses Lake, is home to tattoo artist and owner Shawn Willmorth.
"I've always known since I was about 12 years old that (tattooing) was what I wanted to do and mainly, I blame rock 'n' roll and Harley Davidson," said Willmorth. "Secondly, my stepdad was a tattoo collector so I was exposed to that pretty early on."
Willmorth was only 22 years old when he opened his shop and had been tattooing since he was 18. He said when he initially opened his studio in 1994 at 116 Broadway Ave. it was called A Mark of Distinction, but that no one could relate to that name.
A year earlier, in 1993, Willmorth had had some bumble bees with a honeycomb tattooed on the back of his head by an artist in Spokane. That tattoo, along with a bee tattoo he did for someone else a few years later, both won awards, which led to him changing the name of his shop in 1997.
"After the first award for a tattoo on me and my first award for a tattoo by me were both bees, that's when I changed the name to The Hive," he said.
He said not only has his shop been in Moses Lake all that time, but that it is notable that it's stayed in the same place for the duration.
"We are definitely one of the oldest, same-location tattoo studios in the state," Willmorth said. "There's obviously a lot of shops older than I am in Spokane and Seattle but they've all moved around multiple times. I think the record was like 20 years in one spot. This year will be 29 (for me)."
Willmorth grew up in Wenatchee but decided to move and start his studio in Moses Lake.
"It was kind of the final frontier; it was like the last untapped market," Willmorth said. "I was the first tattoo shop in Grant County."
In those 29 years, Willmorth has seen a lot of change. He said when he opened in 1994, Wenatchee only had two tattoo shops and Spokane only had three, not counting artists who worked out of their homes.
Willmorth said he couldn't pick one favorite tattoo he's done.
"I don't know that I can pick a favorite; it's like picking a favorite child when you have more than one," he said.
Willmorth said The Hive has policies in place to ensure smooth experiences for clients. Those seeking a tattoo are encouraged to reserve a time. A non-refundable deposit is required for an appointment – $50 for small pieces and $150 for larger tattoos. He does not book appointments more than six weeks in advance. The minimum cost for a tattoo is $80 and the hourly rate is $150, and only those aged 18 and older may obtain body art at the shop. Willmorth strongly encourages clients to bring source material for the art they want, whether that's a sketch, photos or any other reference he can use.
The Hive is a tatto shop only and does not offer piercings or jewelry
Recently, the shop held its first giveaway on Instagram for a three-hour tattoo. Willmorth said he plans to hold another one later this year. He also plans to have new Hive Tattoo shirts available for purchase this fall.
Customer Cody Hansen, of Moses Lake, said all his tattoos have been done by Willmorth.
"Quality," said Hansen on why he consistently returns to Willmorth. "He's very professional, on-time, works when he's supposed to for as long as he's supposed to."
Willmorth is also reliable and personable, Hansen added.
"He wants you to make your own decision (about the tattoo) because it's your own body but he's not afraid to give you his opinion on things like placement, style, size," Hansen said.
Rebecca Pettingill may be reached at rpettingill@columbiabasinherald.com.
The Hive
116 W Broadway Ave, Moses Lake
Tuesday through Saturday, 12 p.m. - 7 p.m.
(509) 766-7418
facebook.com/HiveTattoo
instagram.com/theoriginal_hivetattoo/
Recent Headlines
---