Adams Co. sheriff pleased with agency's response to challenging times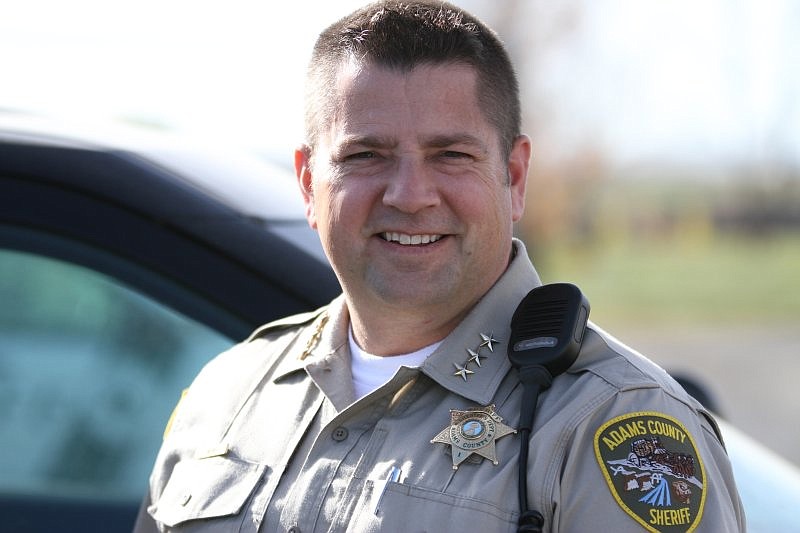 Adams County Sheriff Dale Wagner has been with ACSO for more than two decades. He stopped by the Columbia Basin Herald's office on Jan. 13 to be a guest on the Studio Basin podcast.
COURTESY PHOTO/ACSO
by
CHERYL SCHWEIZER
Staff Writer
|
January 17, 2023 3:23 PM
OTHELLO — Adams County Sheriff Dale Wagner said he originally intended a career in medicine, but he really wanted to be a law enforcement officer.
"I got into law enforcement pretty early due to my brother, who was a Pierce County sergeant for many years," Wagner said. "When he was in Pierce County I was a teen, and I was able at that time to go with him on ride-alongs. It just piqued my interest and it really stuck with me."
Wagner was interviewed on the Columbia Basin Herald's Studio Basin podcast Jan. 13. He was reelected for another term as Adams County Sheriff in November 2022.
Wagner said he started as a reserve officer for the city of Kennewick. In Washington, reserve officers do not work full-time in law enforcement, according to the Revised Code of Washington.
Wagner said Adams County was the first agency to offer him a full-time job.
"And I've been there ever since," he said. "I've been there for 25 years, going on 26 this year."
As of 2021, Adams County has 20,621 residents, according to the U.S. Census Bureau. Law enforcement in a rural county has both challenges and opportunities, Wagner said.
An altercation between two inmates in July 2022 left one of them seriously injured, and Wagner said that had effects on ACSO staff.
"We lost six deputies just because it was a bad situation," he said. "Our jail currently is not housing inmates. We have to put (inmates) in other agencies' (facilities) because we don't have the manpower to man our jail currently."
ACSO is a small agency in a rural county, the kind of place where a lot of people will start a career, but not necessarily stay. Wagner said his department has a good retention rate, and he's pleased with the quality of his officers.
"When people leave a small agency to go somewhere else, it's not always because they don't like where they're at; it's because there are opportunities elsewhere," he said. "One thing I'm proud of, if my guys do go somewhere else, you're getting a good person. You're getting somebody that has no background issues. You're getting somebody who has no issues with the courts or anything like that."
Wagner said he would rather retain them though.
"I don't want to lose them, but if I do, the next (agency) is getting somebody who's very good," he said.
While the ACSO is retaining its staff, there's a manpower shortage in law enforcement just like many other professions. State law enforcement agencies, or departments in bigger cities, are recruiting, and Wagner said that will eventually have an impact on smaller departments like ACSO.
He said he's pleased with the way the department's deputies have dealt with the challenges they've faced in the last few years.
"We had a lot of big cases in the last couple of years that made national news, that we handled as a department, as a small agency. And we handled them well, with really good convictions on the suspects that were involved in those. We're handling huge cases with very limited resources," he said.
It's important for deputies to be connected to the community they work in, Wagner said, and as a result, he requires ACSO personnel to live in Adams County. Those connections can be crucial when deputies are called upon to mediate a situation or help a person in crisis.
"In small communities, we tend to get to know a lot more people," he said. "We see each other quite a bit. And I think that's very important because when a deputy knows that somebody is going through a crisis or dealing with those things, they have a little bit more sympathy. They have a little bit more care. They're dealing with the situation a little differently."
Adams County faces many of the same challenges as other locations, including an influx of drugs and increases in crime, which Wagner attributed in part to changes in state law. He cited drug laws as an example, saying the state's decriminalization of marijuana spurred additional illegal marijuana growing operations.
He urged people to pay attention to their surroundings, and to report activities they find suspicious.
"I'm a believer in following your gut. When you feel like something is wrong, it's usually wrong," he said. "So I would say, if you're feeling like something is wrong with a situation, it does not hurt one iota to report something. And you can remain anonymous."
To listen to the full conversation with Wagner, visit bit.ly/SBWAGNER.
Cheryl Schweizer can be reached via email at education@columbiabasinherald.com.
Recent Headlines
---