Othello Sandhill Crane Festival to celebrate 25 years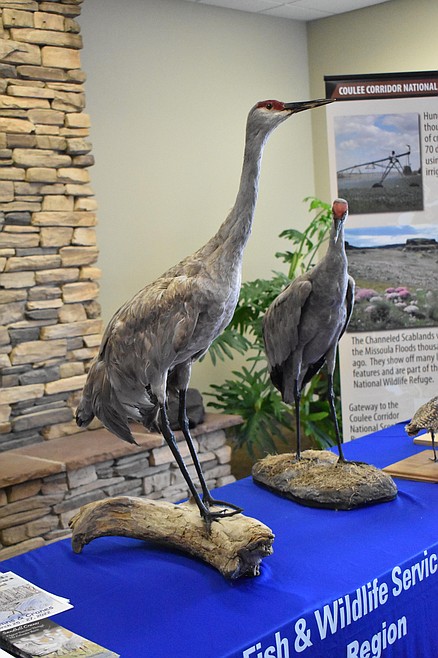 The taxidermied cranes displayed at the Othello Community Museum during the 2022 Sandhill Crane Festival showed visitors what the cranes looked like close up.
FILE PHOTO
by
REBECCA PETTINGILL
|
January 12, 2023 12:56 PM
OTHELLO - The 2023 theme of the annual Othello Sandhill Crane Festival will be 'Silver Anniversary, Celebrating Our Annual Visitors' and will be held March 24-26.
In the announcement made on Jan. 6 by the festival, online registration for the event opens on Feb. 6 and will be available on the website.
The festival will be in the same locations as the previous year, the release states. The lectures will be held at the Othello Nazarene Church, 835 S 10th Ave, Othello. The Church is next door to McFarland Middle School where there will be children's art projects, vendors, a photo booth, the Rotary breakfast and an art contest display. Food trucks will also be available on-site at lunchtime.
Dr. Kaeli Swift will be a featured speaker on March 24, at 7:30 p.m. Swift will explore commonly asked questions about crows, how crows have co-evolved with people and what crows and other corvids can teach us about the nature of intelligence. Masks will be required at this lecture.
Cathy Nowak will be another featured speaker. She will speak on March 25, at 7:30 p.m. about "Sandhill Crane Nests - Experience Matters," with both words and photos.

Other lectures on March 25, will address cranes, birds, Ice Age Floods, the Drumheller Channels and more, the release states.
Visit the Othello Sandhill Crane Festival website for more information on the events at Website: othellosandhillcranefestival.org.
Recent Headlines
---