"I love softball, and I love working hard"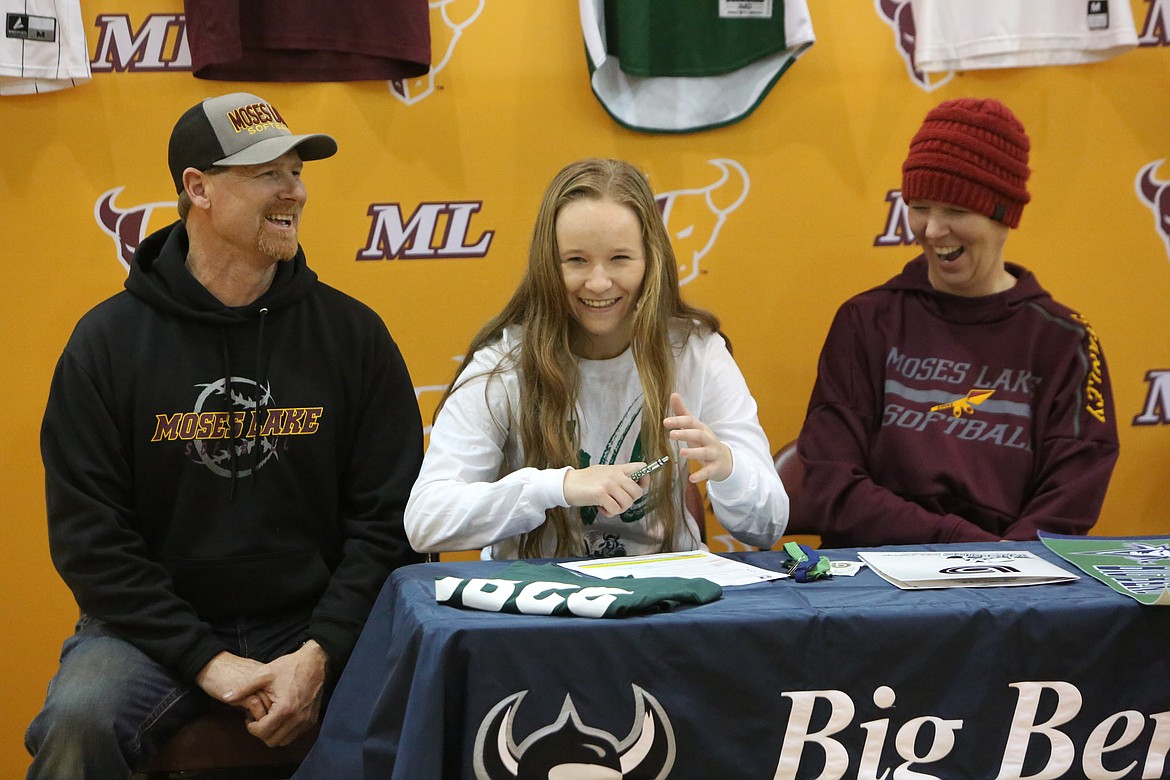 Ali Stanley, center, smiles after signing on to play collegiate softball at Big Bend Community College on Monday afternoon.
IAN BIVONA/COLUMBIA BASIN HERALD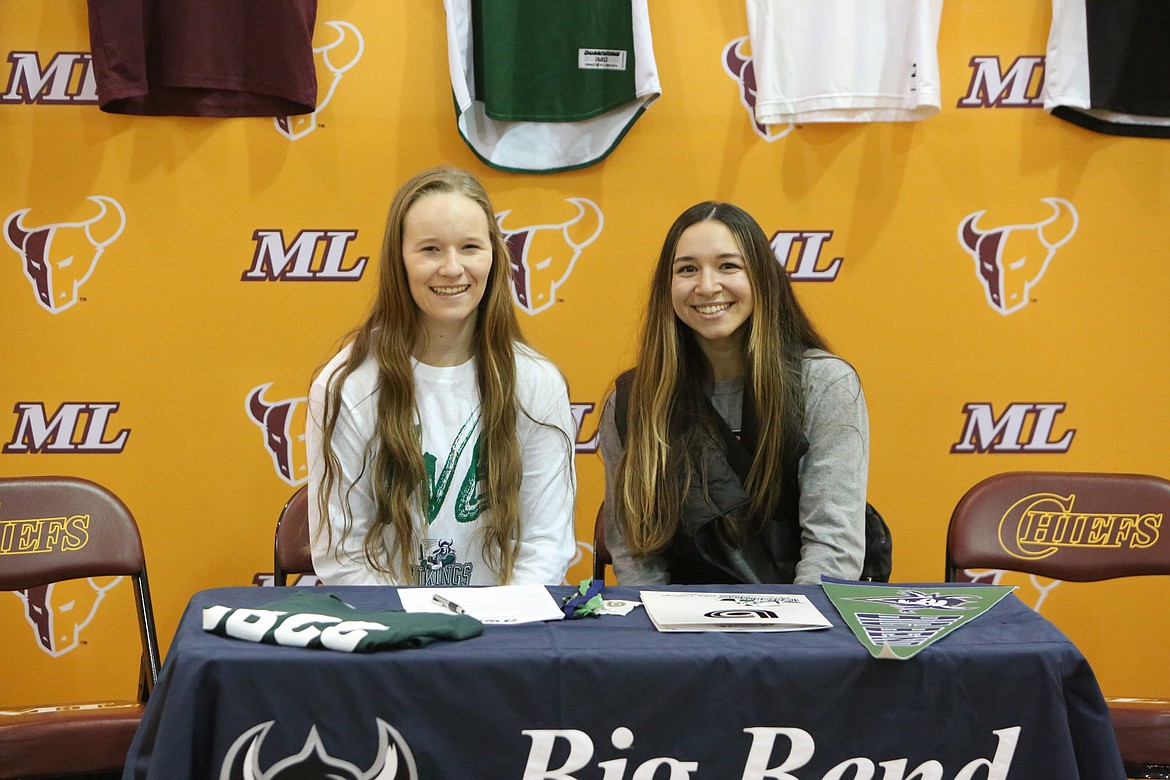 Senior Ali Stanley, left, and Big Bend Head Coach Kylee Brulotte, right, smile at Stanley's signing ceremony on Monday at Moses Lake High School.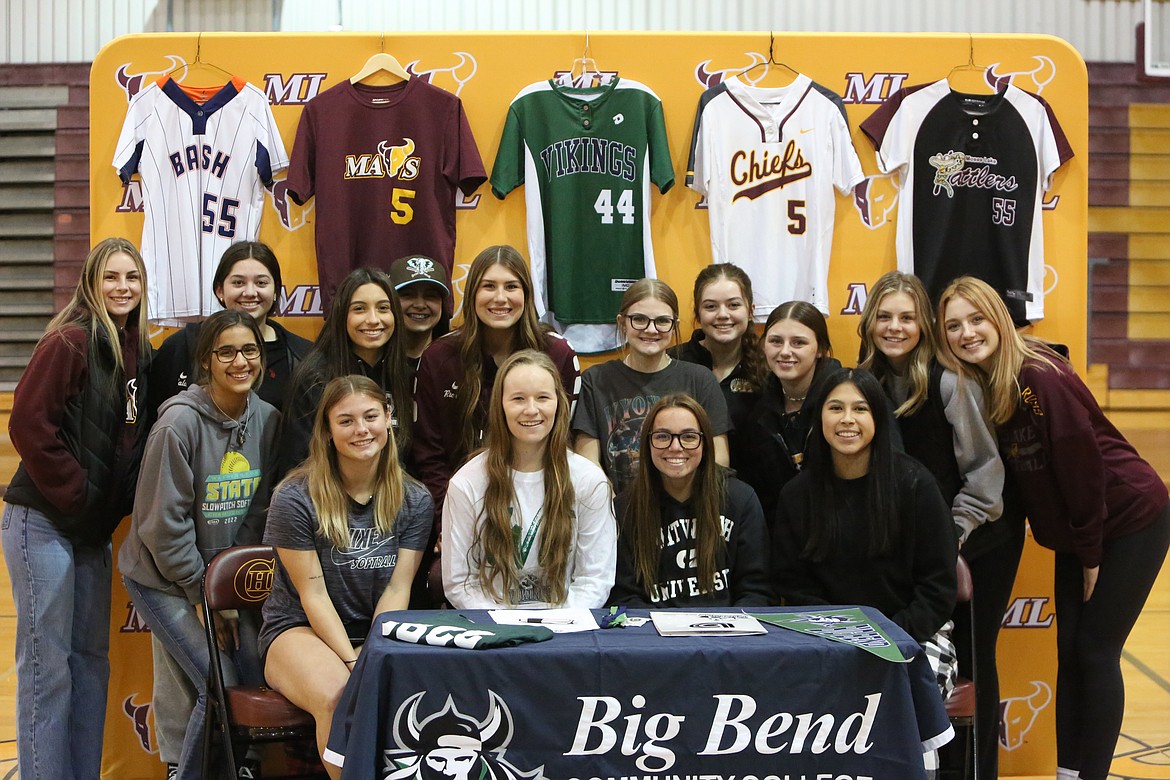 Numerous former teammates pose for photos with Big Bend's newly-signed softball player Ali Stanley during her signing ceremony on Monday afternoon.
Previous
Next
by
IAN BIVONA
Sports Reporter
|
January 11, 2023 1:30 AM
MOSES LAKE – Surrounded by friends and family inside the Maverick Gym at Moses Lake High School, senior Ali Stanley signed to play collegiate softball at Big Bend Community College on Monday afternoon.
"It's very exciting," Stanley said. "All I can think about is how God has blessed me with these amazing abilities that he's given me, and all those amazing coaches I've had to help me progress through ever since I was a little kid. Being able to sign with my hometown college is even more crazy, being able to play in my hometown instead of going somewhere else seems even more surreal to me."
Stanley, who Moses Lake softball Head Coach Mike Hofheins described as a do-it-all type of player, has brought strong leadership and unity to the Maverick softball teams during her high school career.
"As her softball coach, both in slowpitch and fastpitch, from day one she just belongs," Hofheins said. "She's one of the most coachable kids I've ever coached in any sport, extremely team-oriented. If you had a team full of kids with (Stanley's) attitude, and that coachability and that effort, you'd win a lot of championships. She's the whole package."
While Stanley began playing softball when she was "about 9-10 years old," it initially competed with another sport – basketball. However, once Stanley stepped onto the field, she was hooked.
"I was kind of skeptical playing it at first, I originally wanted to play basketball when I was younger," Stanley said. "But, softball kind of swept me under its feet and I've been playing softball since as long as I can remember."
The mental aspect of the game is what captured Stanley's attention, she said.
"It's very action-packed, you always have to be thinking about the next play, or the next pitch," Stanley said. "Where the ball's coming, where the ball's going – you have to do a lot of thinking mentally, it's mostly mental instead of physical, which I like."
It's not just the excitement and mental aspect of the game that draws Stanley to the field, it's the relationships with coaches and teammates as well.
"If I was having a hard day, I could always count on them to make me smile," Stanley said. "They're just that great of people, and being able to play with them has been so amazing. Such a blessing."
Both Hofheins and Big Bend softball Head Coach Kylee Brulotte spoke to family members, friends, former coaches and teammates at the ceremony on Monday, with both of the coaches noting Stanley's leadership.
"What I see her bringing to Big Bend is personality," Brulotte said. "She is someone who came in and our players absolutely love who she is as a person and it's incredible to see where she comes from. Just from talking to her family, she's a great one."
Stanley said she has a goal of moving on to playing at a four-year school, something that Brulotte hopes to help guide her to.
"I see her as a leader," Brulotte said. "Next year coming in, I know that she has what it takes to transfer on and I want to get her to that level. I know that she has the skills and determination to go far, and I'm really happy to have her at Big Bend."
Stanley shared a similar thought with her new head coach.
"I really think (Brulotte) can help me get to the next level, get to play at a four-year (school)," Stanley said. "I'm hoping that she can help me excel as a person, an athlete and also a student."
"It'll take a lot of hard work in the classroom, in the weight room and on the field, just putting in all the extra hours – which I'm willing to do," Stanley said. "I love softball, and I love working hard."
Playing collegiate ball less than 10 miles from where she played in high school will also allow for past teammates and coaches to watch her play as well.
"It's cool that she's going to be close to home, and hopefully us and her teammates will get to see her play," Hofheins said.
Ian Bivona may be reached at ibivona@columbiabasinherald.com. Find more Columbia Basin sports coverage on the Columbia Basin Herald app – available for iOS and Android.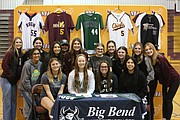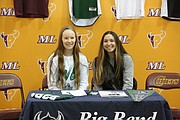 Recent Headlines
---