Vikings use strong frontcourt play to take down Central women's hoops
by
IAN BIVONA
Sports Reporter
|
January 7, 2023 1:50 PM
MOSES LAKE — Despite a 36-point outing by redshirt senior center Samantha Bowman, the Central Washington Wildcats were unable to keep up with an experienced Western Washington Vikings frontcourt on Thursday night, falling 82-70 to the Vikings in Moses Lake.
"We were getting the ball inside to Sam, a massive strength to us," CWU Head Coach Randi Richardson-Thornley said. "We weren't forcing things, and also we were able to defend them inside in the first quarter, and force them into tough shots and rebound out of it."
After the Wildcats held up against the WWU frontcourt in the first quarter, the Vikings began using their experience in transition to get back in the game, later taking the lead after being down 20-11 at the end of the first quarter.
The two squads found themselves tied five times in the second quarter before the Vikings took a 33-32 lead into the halftime locker room.
"After (the first quarter) they started getting out in transition, and I think the pace of the game and the physicality just wore on our young group after a while," Richardson-Thornley said.
Freshman forward Ashley Schow got the start alongside Bowman, but the Wildcats ran into depth troubles when sophomore small forward Claire Heitschmidt got hit with two early fouls.
"They're a very experienced group in the post, and they started going at our inexperience inside a little bit and took advantage of that," Richardson-Thornley said.
Western opened the second half with a 15-0 run, extending its lead to double digits. Central closed out the quarter on an 8-2 run to close the gap to seven points on two layups by Heitschmidt and free throws by Tori Maeda and Asher Cai.
"We did not defend well in transition, and that was a massive reason why they went on that run as well as they did a really good job of taking advantage of their size in their guard spot as well, getting into the paint and scoring over our smaller guards," Richardson-Thornley said.
To account for the size advantage held by the Vikings, Richardson-Thornley said she made the choice to start playing small ball with four guards on the floor. Central began the fourth quarter with layups by Bowman and Cai, and a free throw by Bowman cut the WWU lead to only four points, leading 62-58. However, the Vikings outscored Central 17-10 down the stretch to keep the game out of reach for the Wildcats.
"As they were having advantage in terms of their size inside, we decided that because we couldn't hang with them in this game with our foul trouble. We decided to go against that and see if we could have an advantage by going small, and we went zone and put four guards out in the game," Richardson-Thornley said. "I think what that was able to do was open up the lane for Sam to do her thing as well as get to score some buckets with our guards."
Ian Bivona can be reached at ibivona@columbiabasinherald.com.
Box Score
Central Washington 20-12-21-17 70
Western Washington 11-22-28-22 82
For stories on CWU's Saturday games, check out the Tuesday edition of the paper or columbiabasinherald.com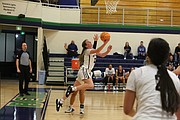 Recent Headlines
---