Sarah Alvina Miller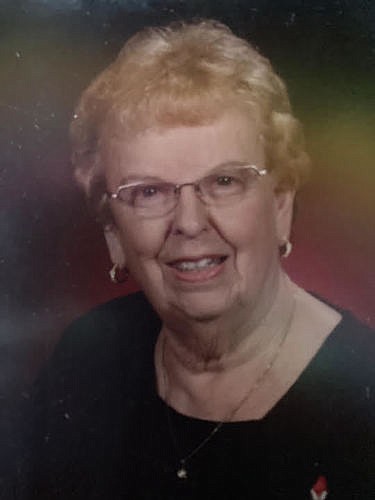 Sarah Alvina Miller, known as Alvina to all, passed away peacefully to join our Lord and Savior Jesus Christ on Feb. 15, 2023.
|
February 27, 2023 10:09 AM
May 6, 1934 – February 15, 2023
Sarah Alvina Miller, known as Alvina to all, passed away peacefully to join our Lord and Savior Jesus Christ on Feb. 15, 2023. Her family visited her in her final days and were able to express their love and say their goodbyes.
Alvina was born in Bayard, Nebraska to David and Anna Brening. Her parents were both immigrants of German descent. She was the seventh of 11 children in her family. Alvina knew the Lord from a very early age. Her early life was busy playing with her siblings, helping at home and attending school. Her dad worked at a sugar beet factory in Bayard and her mom was a busy homemaker. She left school during her high school years to help her mother and her family after her father died unexpectedly. She worked as a clerk during her early adult years in Bayard to supplement the family income. It was with great joy that she welcomed her daughter Debbie into her life in 1955. They shared many happy times living with her mom, sister Anne and brother Dave.
Alvina met the love of her life Robert (Bob) Miller and happily they were married in 1968. Bob was a farmer with his dad Alex. They made their first home in Bayard. Alvina also became the loving mother of Bob's two children, Karla and Rob. She was always known lovingly as Mom to both of them. The family moved to Othello in the winter of 1969-70 to farm. Bob's brothers had settled as farmers in the Othello/Franklin County area earlier. In 1970, the family was overjoyed to welcome Connie Lynn into their lives. She made the family complete.
The family moved to a ranch-style home with horse corrals for Bob in 1976. They enjoyed their big home and gladly welcomed grandchildren into their lives. They loved their grandchildren dearly and shared many happy holidays, celebrations and visits with them through the years.
Bob retired from farming in 1988 due to health issues. Soon after, they moved into their comfortable home in Othello. Alvina was known as the Avon lady in Othello and worked as a cook in the Othello School District until her retirement. She was active in her church in many roles. She also worked hard and earned her GED, which was a lifelong goal for her. Alvina and Bob traveled to Nebraska, as well as the southeastern part of the U.S. including Branson and Nashville. They also traveled to Las Vegas and California among other places. Their favorite short trip was to Jackpot.
Sadly, Bob passed away due to his health in 2001. Although deeply saddened and lonesome for her cowboy, Alvina was determined to live her remaining years enjoying her children, grandchildren, great grandchildren and her friends. She especially enjoyed visits from her grandchildren and great grandchildren and watching them grow up. She was a great cook, especially of German food. She loved to read. She was also very gifted with crocheting and knitting. She gave her beautiful and colorful afghans, stocking hats and other knitted treasures to her family. She also traveled with family and friends to Hawaii, Arizona, Nebraska and Branson and even a cruise in the Caribbean. She will be missed for her unconditional love for her family and her close friends. Her loving, giving heart and gentle ways were her best qualities. Her legacy is her family that loved her dearly and will remember her fondly forever.
Alvina was preceded in death by her husband Bob; her parents; her brothers Alex, Rheinhold, Ed, Dave and Bob; her sisters Eleanor and Wilma andher grandson Trevor. She is survived by her brother John; sisters Norma and Anne; her children Debbie (Dan) Roche, Karla (Dan) Better, Rob (Beckie) Miller and Connie (Rick) Mianecki; her grandchildren Steve Roche, Shannon Roche, Marcus Roche, Danielle Jelinek, Chrystal Dodge, Missy Whittingslow, Terra Jewell, Marina Jewell Ohran and Meghan Mianecki and her great grandchildren Grace Roche, Abby Roche, Hannah Roche, Shaun Roche, Caden Roche, Elijah Roche, Torin Roche, Jordan Jelinek, Dusty Dodge, Korbin McComas, Maraia Jewell, Zoe Jacobsen and Hazel Jewell.
There will be a celebration of life in honor of Alvina at the Othello Presbyterian Church on March 11, 2023, at 2 p.m. A reception will follow.
Recent Headlines
---