Lady Vikings wrap up home slate in style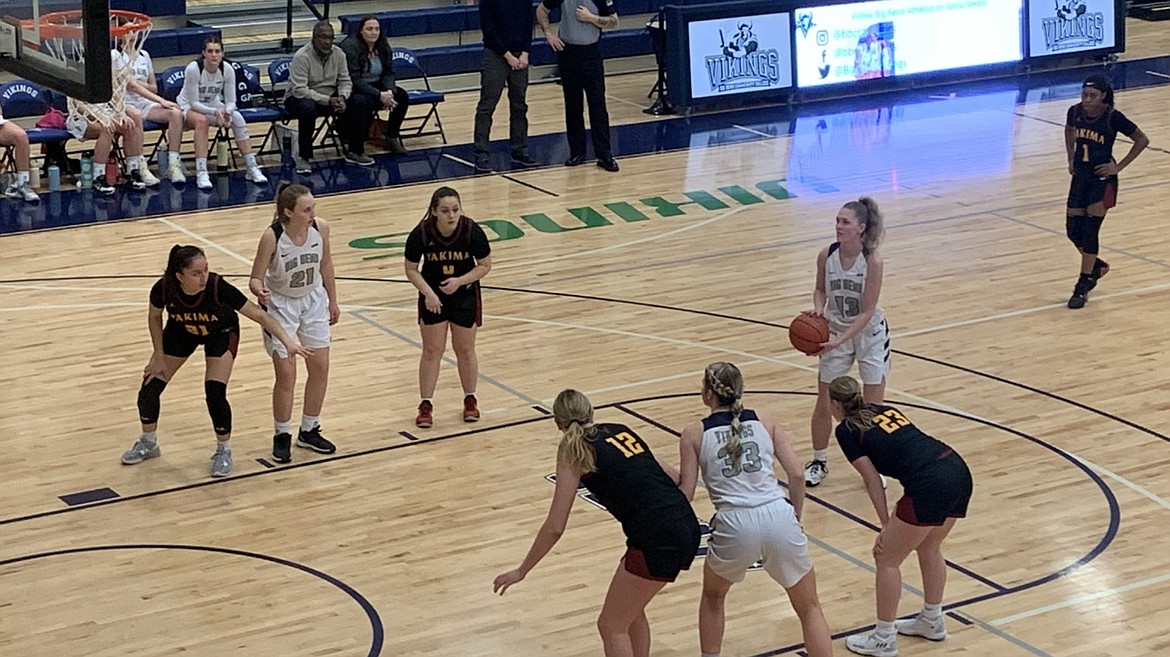 Big Bend sophomore Gracie Rigby attempts a free throw against Yakima Valley on Saturday.
COURTESY PHOTO/BBCC ATHLETICS
|
February 23, 2023 2:57 PM
The Big Bend Community College Lady Vikings basketball team proved, once again, that it's not how you start but how you finish, overcoming an eight-point first quarter deficit to outscore the visiting Yakima Valley College Lady Yaks in the subsequent three quarters, on their way to an 83-71 NWAC East victory on Saturday (February 18), in their final home game of the season.
Feeding off the shear emotion of sophomore night, as well as one of the largest crowds of the season, the Lady Vikings' offensive was stellar over the final three quarters, as they outscored the visiting Lady Yaks 65-45, in addition to shooting over 50% from the field for the game, to notch a critical win in the final weeks of the season.
Freshman Macy Hellstern (22 points) and sophomore Ambra Hacker (21 points) combined for more than half of the Lady Vikings offense, as they shot a scorching 73% (19/26) from the field. Hellstern also added six rebounds and six assists to her stat line. Freshman Dakota Killian finished with 13 points, to round out the double-figure scoring for the Lady Vikings. However, the highlight of the night came via Gracie Rigby, as the sophomore scored her first points of the season, after being unable to play for most of the year. For the Lady Yaks, Aliyah Finch finished with 26 points on the night.
The Lady Vikings (15-11 overall, 9-5 NWAC East) hit the road next week for two crucial road contests to finish up the regular season. The first leg of the road swing features a Wednesday (February 22) stop at Wenatchee Valley College (11-13 overall, 8-5 NWAC East), a team the Lady Vikings defeated 75-73 in the final minute back on January 21. Additionally, the Lady Vikings hold a half-game lead on the Lady Knights in the NWAC East standings, heading into the final week. Wednesday's game is scheduled to tip at 5:30pm, with the men's game to follow.
Recent Headlines
---