Riparian bill moves out of House Ag Committee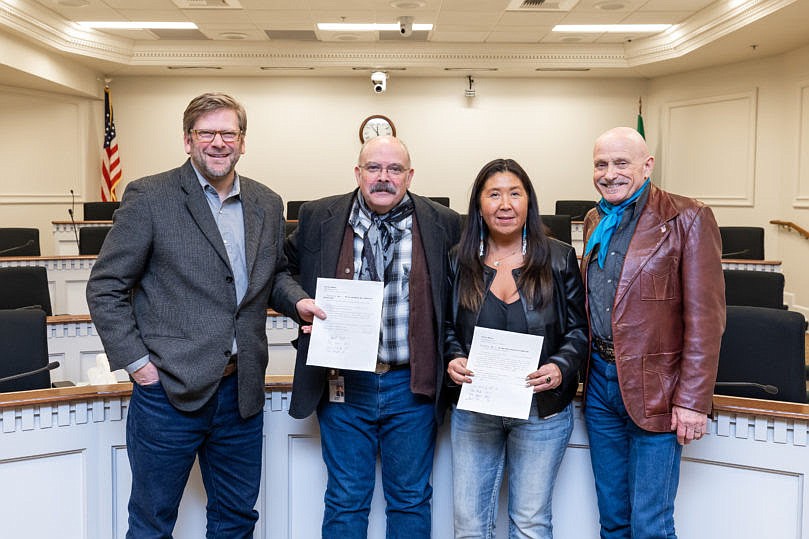 House Bill 1720, a bill to protect and restore riparian areas has garnered bipartisan support. Primary sponsors of the bill, from left to right, Joel Kretz (R-Wauconda), Mike Chapman (D-Port Angeles), Debra Lekanoff (D-Bow) and Tom Dent (R-Moses Lake), pose after signing the capital budget provisos for House Bill 1720.
COURTESY PHOTO/WASHINGTON HOUSE OF REPRESENTATIVES
by
REBECCA PETTINGILL
Staff Writer
|
February 22, 2023 4:26 PM
OLYMPIA – Four legislators have come together, in a bipartisan effort, to protect and restore Washington's riparian areas – land located adjacent to rivers – with House Bill 1720.
"We believed that the people engaged (and) involved in this effort can make decisions and do things and we believe that we can trust them to do those things and that we can work together and find solutions," said Representative Tom Dent (R-Moses Lake), a primary sponsor of the bill. "That's why there were four of us on there; two Democrats, two Republicans. We're still there. We're lockstep because we believe in the people."
HB 1720, if passed, would protect and restore riparian areas by establishing a voluntary, regionally focused riparian grant program designed to improve the ecological functions of critical riparian management zones, according to a joint press release from Dent, Joel Kretz (R-Wauconda), Mike Chapman (D-Port Angeles) and Debra Lekanoff (D-Bow). The release said the substitute bill passed the House Agriculture and Natural Resources Committee on Friday unanimously. All four representatives are members of that committee.
"Protecting private property rights and restoring riparian habitat for the benefit of salmon do not have to be mutually exclusive," said Kretz in the release. "As a result of bipartisan work and trust, we have arrived at a proposal that is voluntary rather than regulatory. This is a win for salmon recovery and restoration, and it's a win for farmers, ranchers, and private property owners who want to see riparian improvements on their land."
The bill was scheduled for executive session in the House Committee on Capital Budget Wednesday but no action was taken.
According to the release, the capital budget provisos to fund the legislation includes $200 million in requested funding; $100 million for the Salmon Recovery Funding Board to fund grants and $100 million to the Washington State Conservation Commission to fund the riparian grant program.
"The bill has garnered strong support and has gained numerous co-sponsors, but it began with the good faith and genuine trust of two Democrats and two Republicans," said Chapman in the release. "It doesn't get more bipartisan than this and that was my goal for this important legislation. The only way this plan works is if everyone is on board and I think we are there."
The bill has more than 20 additional sponsors on both sides of the aisle, which was the hope of Dent and Chapman, Dent said. Chapman serves as the Chair of the House Committee on Agriculture and Natural Resources and Dent is the ranking member.
"(Chapman) and I, we shook hands that we were going to run this committee in a bipartisan fashion," said Dent. "That's what we've done and other people have caught on. We believe we should do more of this; we have to work together. If we don't work together, then we don't have anything."
Rebecca Pettingill may be reached at rpettingill@columbiabasinherald.com.
Recent Headlines
---