MLHS Torres signs with Wenatchee Valley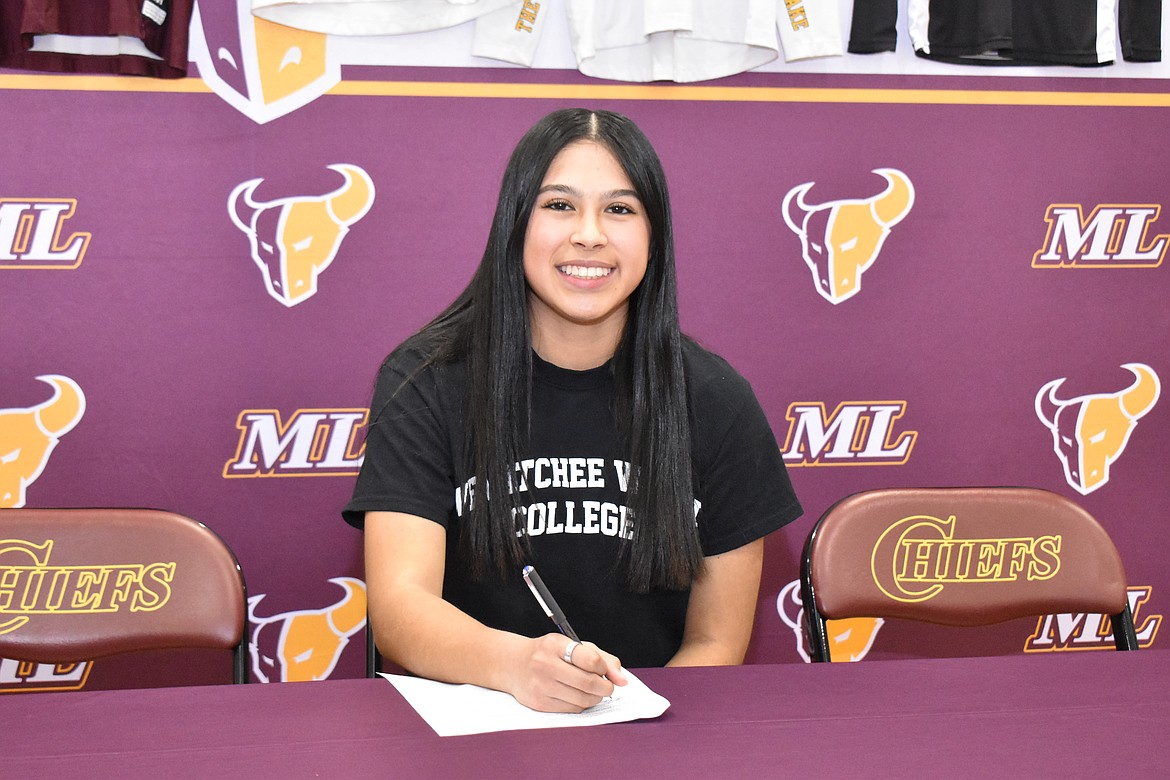 Jazlynn Torres signed with WVCC to play both volleyball and softball.
Rebecca Pettingill/Columbia Basin Herald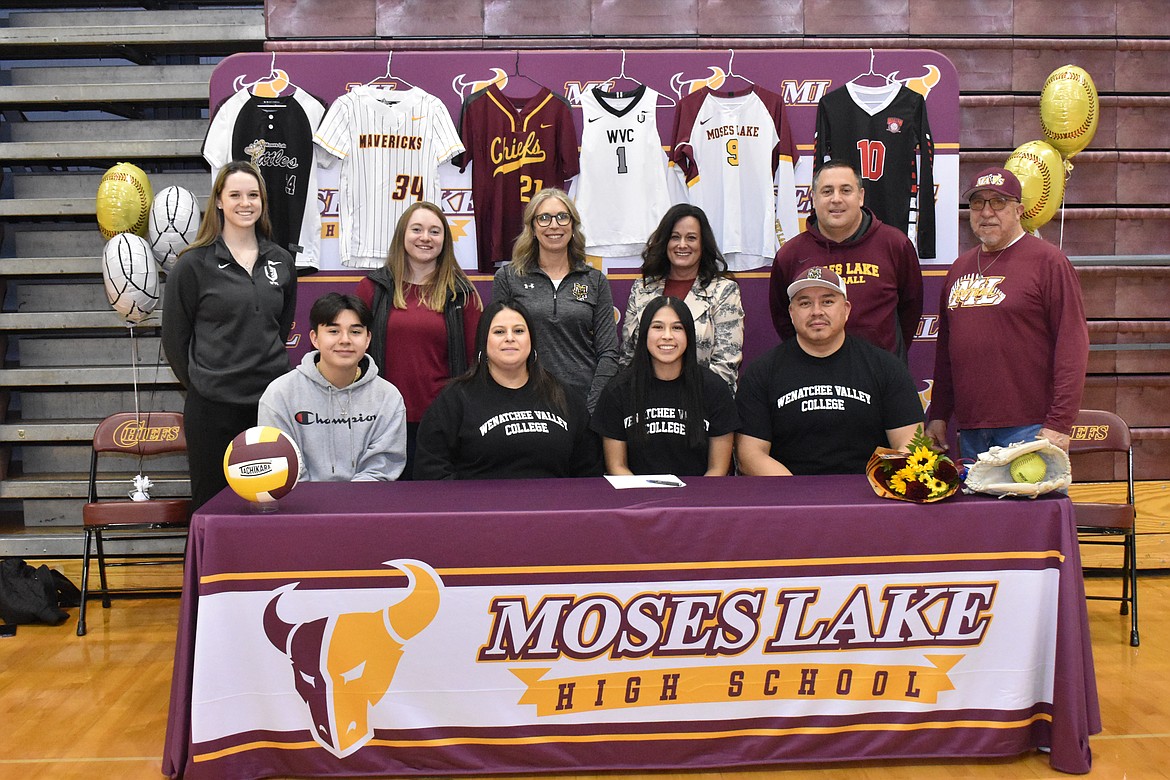 Many people turned out Tuesday to support Jazlynn including her coaches for softball and volleyball.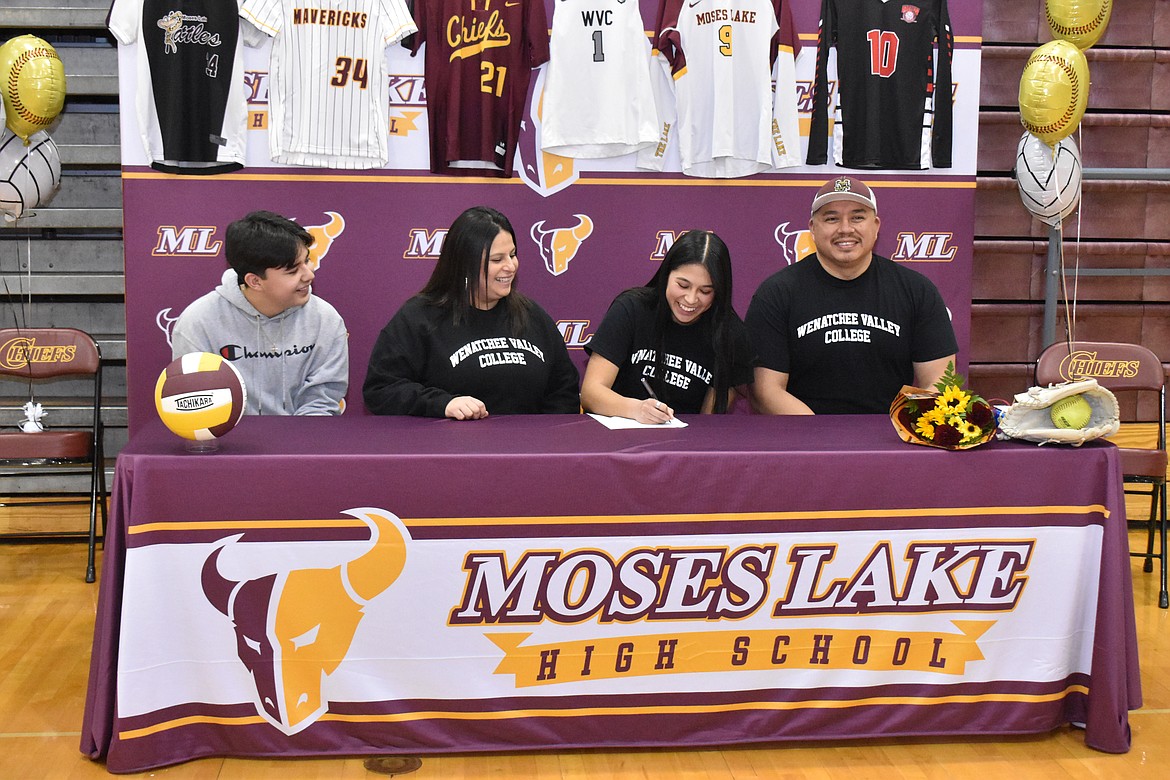 Moses Lake High School's Jazlynn Torres was surrounded by her family Tuesday when she signed with Wenatchee Valley Community College. From left to right, Manuel Torres IV, Jessica Torres, Jazlynn Torres and Manuel Torres V.
Previous
Next
by
REBECCA PETTINGILL
Staff Writer
|
February 21, 2023 5:02 PM
MOSES LAKE – Moses Lake High School's Jazlynn Torres signed to play both volleyball and softball with Wenatchee Valley Community College Tuesday.
"She's consistent, she's coachable, she's a leader," said MLHS softball coach Mike Hofheins. "I mean, she's got all those things, those check marks you want for a college athlete so she's going to be a huge asset to Wenatchee."
Being able to play both sports was a large part of her decision to choose WVCC, Torres said. She also added that she felt like she was able to connect with both the WVCC volleyball and softball coach more than the other coaches she met when looking at postsecondary schools.
"People always ask me, and I always say that whatever season I'm in, that's (my favorite)," said Torres. "They're so different but I like them for different reasons."
Torres said she had the goal to be the first in her family to attend college and wants to be a radiology technician and ultrasound technician.
Torres' high school coaches, Hofheins and MLHS volleyball coach Krystal Trammell, both agree that whatever sport she is in, she puts her all into it rather it is a game or practice. Both coaches have seen her grow from a young age in club or travel teams until their time as her coach in high school.
Hofheins called her a quiet leader because she leads by example and has the respect of her teammates.
"Like Mike said, she's a competitor," said Trammell. "When she steps onto the court she knows what the ultimate goal is and there's better effort every single time out."
They also noted her outstanding academics, boasting a 3.7 GPA.
On and off the field Torres is a leader and both her coaches are confident she has the skills to do great things at WVCC and beyond.
"She was voted by her peers as team captain in both sports which obviously is a testament to who she is as a person," Hofheins said.
Rebecca Pettingill may be reached at rpettingill@columbiabasinherald.com.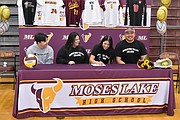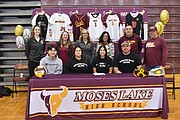 Recent Headlines
---